Bottas leads Mercedes 1-2 in final British GP Practice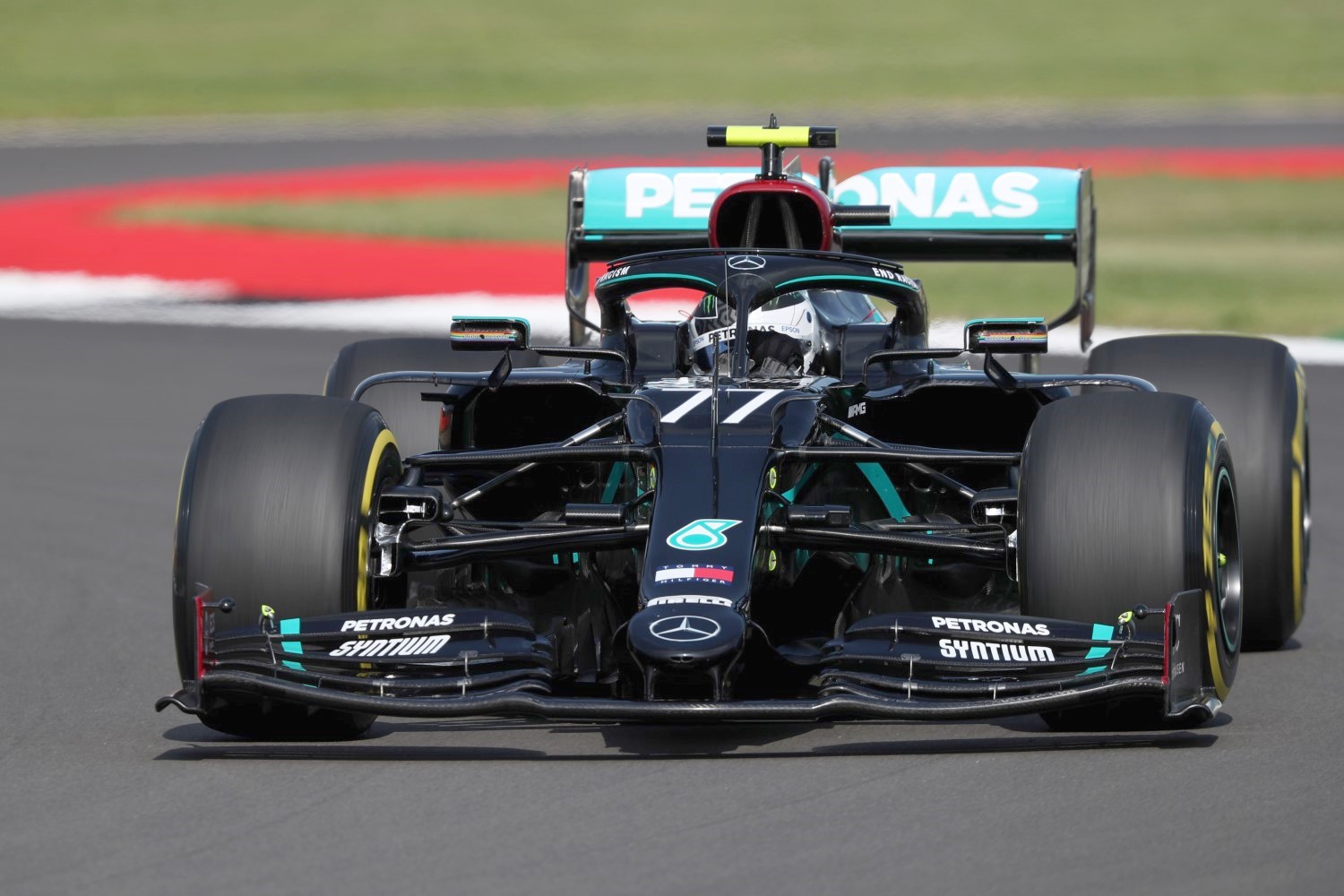 Valtteri Bottas quickest in practice until Hamilton beats him in qualifying
One knew it would not be long before the sandbagging Mercedes team would start to show their hand. We say start because we will not see the true pace of the superior unbeatable Mercedes cars until qualifying for the British GP.
In cooler conditions Saturday morning at Silverstone Valtteri Bottas turned a lap of 1m25.873s to lead his teammate Lewis Hamilton by 0.138s.
Max Verstappen was third for Red Bull 0.3 sec off the pace.
Today saw Racing Point fall back slightly in the cooler temperatures that seem to favor their rivals. Nonetheless, Lance Stroll (4th this morning) looks there or thereabouts and could give Verstappen a run for his money later on in qualifying.
Carlos Sainz Jr. rounded out the top-5 for McLaren with Charles Leclerc 6th for Ferrari.
Sebastian Vettel in the 2nd Ferrari was only 14th, 1.3 sec off the pace. There were rumors Ferrari was sabotaging his car on Friday (to ensure Leclerc was faster) and Saturday that appeared to continue. There was something "loose" in his cockpit yesterday that led to a change of pedals in FP2, and he had engine problems all day. The German was been back on the radio complaining again that something isn't quite right Saturday morning. He was in the pits as the team investigated.
Practice 3 Results
| | | | | | | |
| --- | --- | --- | --- | --- | --- | --- |
| POS | NO | DRIVER | CAR | TIME | GAP | LAPS |
| 1 | 77 | Valtteri Bottas | Mercedes | 1:25.873 | +0.000s | 18 |
| 2 | 44 | Lewis Hamilton | Mercedes | 1:26.011 | +0.138s | 21 |
| 3 | 33 | Max Verstappen | Red Bull Racing Honda | 1:26.173 | +0.300s | 15 |
| 4 | 18 | Lance Stroll | Racing Point BWT Mercedes | 1:26.576 | +0.703s | 13 |
| 5 | 55 | Carlos Sainz Jr. | McLaren Renault | 1:26.664 | +0.791s | 22 |
| 6 | 16 | Charles Leclerc | Ferrari | 1:26.771 | +0.898s | 19 |
| 7 | 4 | Lando Norris | McLaren Renault | 1:26.798 | +0.925s | 22 |
| 8 | 3 | Daniel Ricciardo | Renault | 1:26.841 | +0.968s | 14 |
| 9 | 27 | Nico Hulkenberg | Racing Point BWT Mercedes | 1:26.872 | +0.999s | 14 |
| 10 | 10 | Pierre Gasly | AlphaTauri Honda | 1:27.046 | +1.173s | 19 |
| 11 | 26 | Daniil Kvyat | AlphaTauri Honda | 1:27.076 | +1.203s | 17 |
| 12 | 31 | Esteban Ocon | Renault | 1:27.158 | +1.285s | 15 |
| 13 | 23 | Alexander Albon | Red Bull Racing Honda | 1:27.178 | +1.305s | 9 |
| 14 | 5 | Sebastian Vettel | Ferrari | 1:27.251 | +1.378s | 20 |
| 15 | 8 | Romain Grosjean | Haas Ferrari | 1:27.537 | +1.664s | 17 |
| 16 | 63 | George Russell | Williams Mercedes | 1:27.738 | +1.865s | 16 |
| 17 | 99 | Antonio Giovinazzi | Alfa Romeo Racing Ferrari | 1:27.825 | +1.952s | 15 |
| 18 | 20 | Kevin Magnussen | Haas Ferrari | 1:27.860 | +1.987s | 15 |
| 19 | 7 | Kimi Raikkonen | Alfa Romeo Racing Ferrari | 1:27.976 | +2.103s | 19 |
| 20 | 6 | Nicholas Latifi | Williams Mercedes | 1:28.112 | +2.239s | 15 |