Stroll tops 2nd British GP practice in hot conditions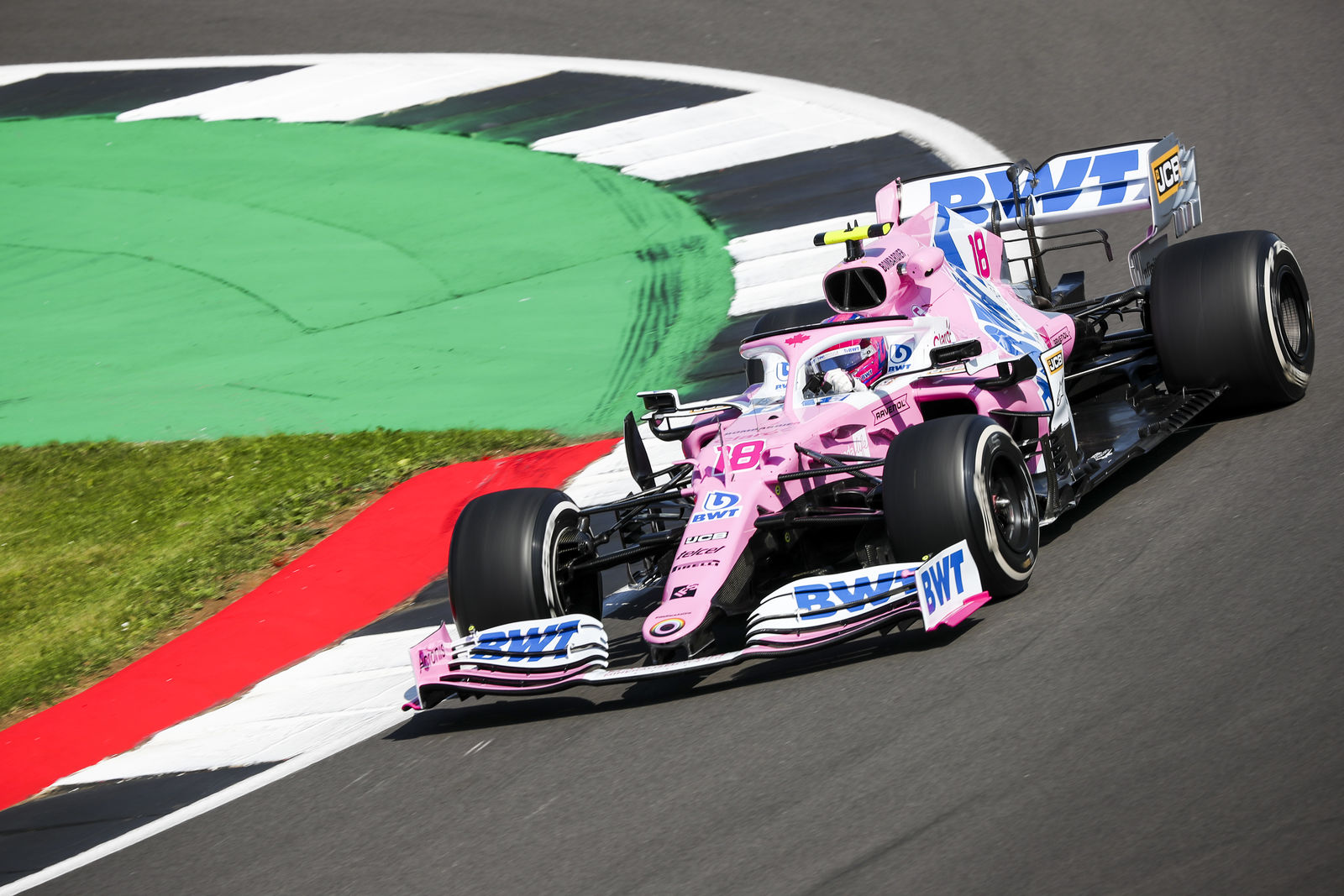 Lance Stroll
While all the drivers struggled with handling in the high temperatures at Silverstone Friday, Lance Stroll, in last year's Mercedes painted pink, turned the fastest lap at 1m27.274s on the Pirelli red tires to lead the 2nd practice session for the British GP. Even this year's Mercedes was suffering in the heat, which should subside for the weekend.
The hotter the track became the slower everyone went, with the top drivers setting their times earlier in the session.
Alex Albon was 2nd quick in the Red Bull Honda, just 0.090s back, and then he promptly stuffed it into the Stowe Barriers, doing significant damage to the left side suspension front and rear.
The incident brought out a red flag period that ruined the majority of the driver's qualifying simulation runs, leading to a relatively mixed up FP2 order.
Valtteri Bottas was third quick for Mercedes, not far behind while Charles Leclerc and Lewis Hamilton rounded out the top-5.
"It's so, so, so difficult," Leclerc told his team as replays showed the youngster having yet another moment. That Ferrari is looking difficult to handle once again, as it was for Vettel in the opening race (see related rumor).
Carlos Sainz Jr. turned in a strong lap to take sixth for McLaren, ahead of the returning Nico Hulkenberg, who was a solid seventh and just 0.636s off the pace of his Racing Point teammate and session-leader Stroll.
AlphaTauri's Pierre Gasly also impressed with a lap good-enough to put his AT01 inside the top-10 in P8, as the Frenchman edged out Renault driver Daniel Ricciardo and Kimi Raikkonen, who was a decent P10 for Alfa Romeo.
Select Quotes
Valtteri Bottas
The car is feeling good out there, the first session was a bit trickier balance wise, but the feeling wasn't too bad during the second session. But the gaps are quite small, with both Racing Point and Red Bull looking strong. So, we obviously have some work to do. Normally we are able to make some good steps for Qualifying, so I'm optimistic that we can make some progress overnight. Conditions are going to be completely different for the rest of the weekend with lower track temperatures and a change in wind direction. That normally has quite a big effect on this track and it's going to be about who can react to those changes the quickest. We'll get to work tonight and see how much more performance we can squeeze out of the car, and hopefully it's going to be enough.
Lewis Hamilton
It was quite a difficult day to be honest. The balance didn't feel quite right, and the wind made things really tricky out there today. So, we're going to work on it tonight and try to figure out why I haven't been feeling as comfortable as I would like. It's been a hard day of driving, but it's not a disaster and what's so great about this team is we continue to dive deep into the details – hopefully we'll make some good changes overnight. It's going to be cooler tomorrow and the Red Bull and Racing Points look strong, so hopefully it'll be close out there.
Andrew Shovlin
You never know what others are up to on a Friday in terms of fuel loads and power, but it seems that we don't have the same pace advantage that we had in Budapest. Red Bull in particular look close on a long run. There doesn't appear to be anything wrong with the car, and it's the same basic aero package, so we'll probably end up concluding that we've not adapted to the very hot conditions here as well as some others. Valtteri seemed happier with his car than Lewis but both feel that the tires are running hot and that's making the car a bit of a handful at times on low and high fuel. It's quite a balancing act in terms of how you respond because we're expecting cooler weather tomorrow and need to be careful not to over-react. This car is competitive when we land it in the right window, and we've got a bit of time this evening and another session in the morning to work out how to do that. Hopefully we can finish tomorrow a bit higher up the timesheets.
Alex Albon
"There are a lot of positives to take from today despite the incident at the end of FP2. I'm fine and it wasn't that bad. The rear just went away quite quickly and I struggled to correct it. I thought I caught it and then I just got sent into a tank slapper. We'll have a look at the data and see what happened there. As a Team though I think we've definitely made a step. We expected worse coming into today but the car feels good and it was hooked up straight away from the first lap in FP1. Obviously I'm pretty sure the Mercedes are hiding a lot so we'll be watching them tomorrow but otherwise on our side the car feels more balanced and I think we have a better understanding of it. The wind and temperatures tomorrow will be very different to what we've had today so it will be a little bit of a reset but it's looking good so far."
Max Verstappen
"I got blocked on my fast lap and then moved on to race runs, so I don't have a proper time on the board for FP2 but in the end that doesn't matter on a Friday and it wasn't a bad day for us. We keep developing and bringing new parts to the car and they seem like they are working a bit better, so I'm happy with that and the direction. There are of course still things that we can improve and on a Friday you don't know what the others are doing. We will keep working but overall the car looked and felt better today. On the long runs we also looked quite decent but who knows what the weather will be like for the rest of the weekend and how that will change things! Overall, I would say it was a positive day but we will see where we really are tomorrow."
Pierre Gasly
"It feels great to be back in Silverstone, which I think is one of the best tracks of the season and overall it was a good start to the weekend for us with many laps and tests completed. However, I still don't feel like I got the car exactly where I want it to be, so I'm confident that if we manage to make the right improvements overnight there's a bit more performance to come for tomorrow."
Daniil Kvyat
"I think it was a productive day, even if the red flag compromised my session a bit when I was on my new tire run. I had to abort my lap and go again with the used tires, so that was a bit unfortunate. Other than that, I think we worked on a good number of things and I was also quite pleased with the balance of the car today, so we have to analyze everything tonight and see what we can do to improve more tomorrow."
Charles Leclerc
"It has been a reasonably good day as far as quali performance is concerned, but our race pace seems to be less strong. In the long run the car was extremely hard to drive, balance wasn't great and it was difficult not to make mistakes. Tomorrow and on Sunday, the temperature is going to be quite different and I believe we can still change quite a lot of things to see how to gain some race pace, probably by sacrificing some quali pace."
Sebastian Vettel
"It was a disjointed day and a shame to lose the morning session. Then in the afternoon, there was an issue with the brake pedal and that cost us some time so it was a bit difficult to get into a rhythm. All the same, even though we didn't do many laps, we learned a little bit that will be useful to help us improve the car for tomorrow and then we can see where we are. The track should be cooler tomorrow and we should also have a better day. Hulkenberg? There was a time when there were maybe six or seven German drivers around, so it's nice that I'm not the only one! It's good for Nico but for sure we also hope Sergio (Perez) gets better soon."
Lance Stroll
"It's been a positive day and it feels great to be on top in FP2. The car was strong on both the short and long runs today, so it's a promising start to the weekend for us. We knew coming into the weekend that Silverstone could suit the car and it looks like we've got a good shot at some big points this weekend, although qualifying and the race are where it really matters! My heart goes out to Checo: we'll definitely miss having him around, but it's great to welcome Nico back to the team. I'm sure he's enjoying driving this car – and he's looking competitive, which is great."
Nico Hulkenberg
"It's been a really special last 24 hours. At 4.30pm yesterday, I took the call from Otmar and got on the plane. I arrived at the factory and had my seat fit until 2am. I got in the simulator at 8am this morning and had some useful prep work. I want to thank the team for their amazing work to get me into the car today, and the FIA for their help with the superlicense and turning it around so quickly. The main positive today is that we completed our program and that I completed plenty of laps. It was a jump into the deep end, but I was able to see the potential of the car – even if I feel like I could have got more out of the soft tire today. It's been great to work with some old faces again and that's been a help in getting up to speed too. I'm looking forward to working with everyone tonight to make sure we extract everything from the car tomorrow."
Practice 2 Results
| | | | | |
| --- | --- | --- | --- | --- |
| POS | DRIVER | NAT. | TEAM | TIME |
| 1 | Lance Stroll | CAN | BWT Racing Point F1 | 1m 27.274 |
| 2 | Alexander Albon | THA | Aston Martin Red Bull | 1m 27.364 |
| 3 | Valtteri Bottas | FIN | Mercedes AMG | 1m 27.431 |
| 4 | Charles Leclerc | MON | Scuderia Ferrari | 1m 27.570 |
| 5 | Lewis Hamilton | GBR | Mercedes AMG | 1m 27.581 |
| 6 | Carlos Sainz | ESP | McLaren F1 Team | 1m 27.820 |
| 7 | Nico Hulkenberg | GER | BWT Racing Point F1 | 1m 27.910 |
| 8 | Pierre Gasly | FRA | AlphaTauri Honda | 1m 27.997 |
| 9 | Daniel Ricciardo | AUS | Renault F1 Team | 1m 28.112 |
| 10 | Kimi Raikkonen | FIN | Alfa Romeo Racing Orlen | 1m 28.159 |
| 11 | Lando Norris | GBR | McLaren F1 Team | 1m 28.169 |
| 12 | Esteban Ocon | FRA | Renault F1 Team | 1m 28.219 |
| 13 | Antonio Giovinazzi | ITA | Alfa Romeo Racing Orlen | 1m 28.256 |
| 14 | Max Verstappen | NED | Aston Martin Red Bull | 1m 28.390 |
| 15 | Daniil Kvyat | RUS | AlphaTauri Honda | 1m 28.426 |
| 16 | Romain Grosjean | FRA | Haas F1 Team | 1m 28.564 |
| 17 | George Russell | GBR | Williams Racing | 1m 28.771 |
| 18 | Sebastian Vettel | GER | Scuderia Ferrari | 1m 28.860 |
| 19 | Kevin Magnussen | DEN | Haas F1 Team | 1m 28.898 |
| 20 | Nicholas Latifi | CAN | Williams Racing | 1m 29.958 |