Tsunoda leads Carlin 1-2 in Silverstone Free Practice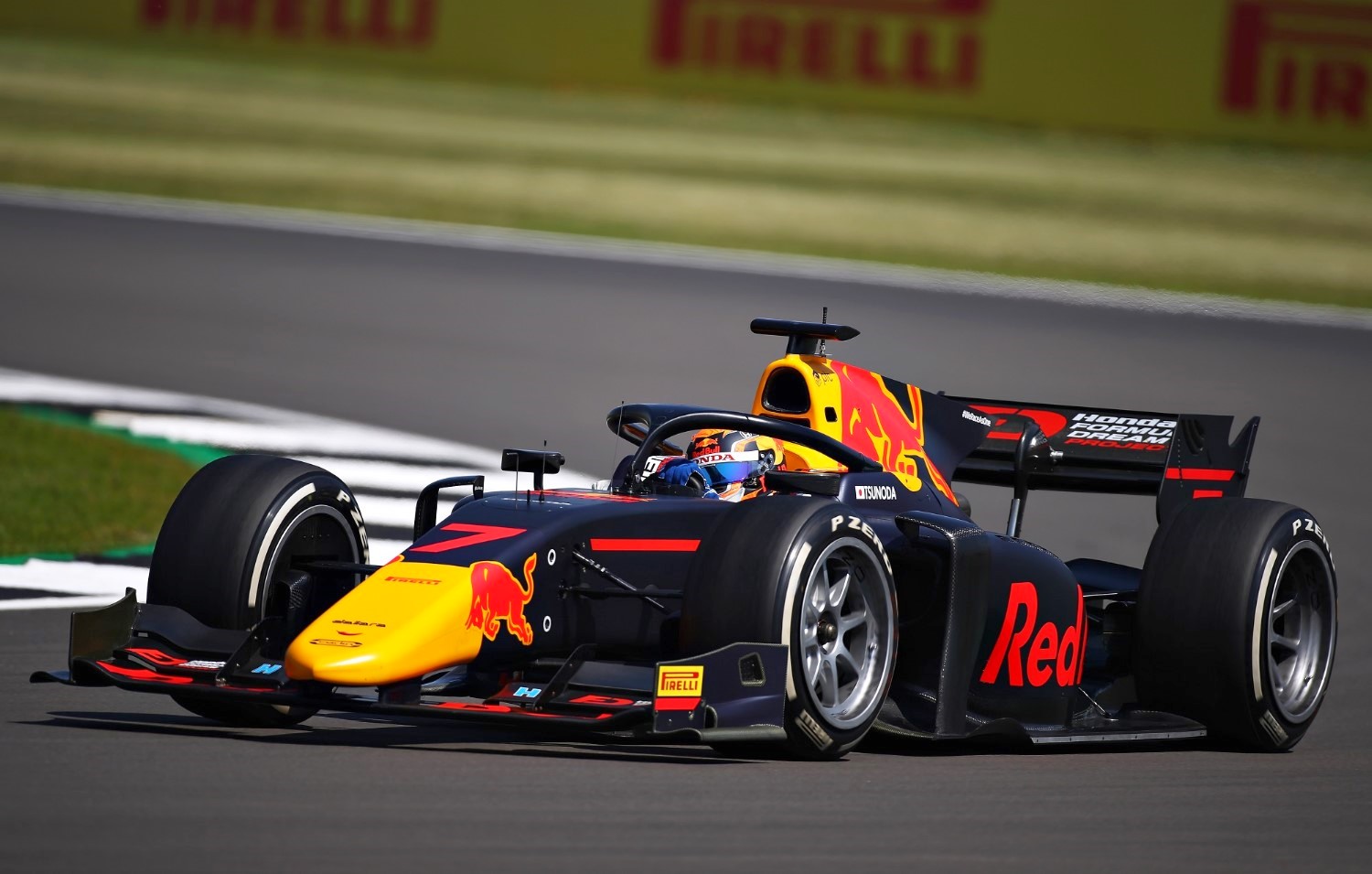 Yuki Tsunoda
Yuki Tsunoda topped Free Practice for the third time in four rounds, as Carlin claimed a 1-2 finish at their home event, with teammate Jehan Daruvala in second place, 0.4s further back.
The field were glad to see some sunshine after a rather wet start to the 2020 season, and wasted no time in getting out on track, with all 22 of the grid setting a flying lap at the first opportunity.
Mick Schumacher was the first around the British circuit, stretching his legs and taking a scenic tour of Silverstone as he tried to warm up his tires.
There was an early yellow flag as Giuliano Alesi spun off track and came to a halt on his second lap of the circuit. When things got back underway, we got the familiar sight of Tsunoda at the top of the Free Practice leaderboard.
Daruvala nestled in behind him, while UNI-Virtuosi looked in solid form once more, taking third and fourth in the early stages.
Tsunoda pushed the limits slightly too hard, spinning at Copse and bringing out a brief yellow flag. The Red Bull junior did well to keep the car running and get going again.
Felipe Drugovich managed to get a lap in ahead of the spin, jumping up to third. The MP Motorsport racer looks much more confident on the hard tires, which brought him great success in the opening two rounds in Austria.
Tsunoda's time of 1:40.563 could not be bettered in the second half of the session, as the field focused on gathering data and getting laps under their belts.
Callum Ilott and Guanyu Zhou remained fourth and fifth, ahead of Dan Ticktum, Louis Delétraz and Nikita Mazepin. Christian Lundgaard and Marcus Armstrong completed the top ten.
Tsunoda will look to turn his early form into pole position, when Qualifying takes place at 5pm (local time).
Practice Results
| | | | | | | |
| --- | --- | --- | --- | --- | --- | --- |
| POS | NO | DRIVER | TEAM | TIME | GAP | INT |
| 1 | 7 | Yuki TSUNODA | Carlin | 1:40.563 | 0.000s | 0.000s |
| 2 | 8 | Jehan DARUVALA | Carlin | 1:41.033 | 0.470 | 0.470 |
| 3 | 15 | Felipe DRUGOVICH | MP Motorsport | 1:41.063 | 0.500 | 0.030 |
| 4 | 4 | Callum ILOTT | UNI-Virtuosi | 1:41.182 | 0.619 | 0.119 |
| 5 | 3 | Guanyu ZHOU | UNI-Virtuosi | 1:41.348 | 0.785 | 0.166 |
| 6 | 2 | Dan TICKTUM | DAMS | 1:41.357 | 0.794 | 0.009 |
| 7 | 11 | Louis DELETRAZ | Charouz Racing System | 1:41.428 | 0.865 | 0.071 |
| 8 | 24 | Nikita MAZEPIN | Hitech Grand Prix | 1:41.496 | 0.933 | 0.068 |
| 9 | 6 | Christian LUNDGAARD | ART Grand Prix | 1:41.512 | 0.949 | 0.016 |
| 10 | 5 | Marcus ARMSTRONG | ART Grand Prix | 1:41.557 | 0.994 | 0.045 |
| 11 | 20 | Mick SCHUMACHER | PREMA Racing | 1:41.671 | 1.108 | 0.114 |
| 12 | 1 | Sean GELAEL | DAMS | 1:41.718 | 1.155 | 0.047 |
| 13 | 25 | Luca GHIOTTO | Hitech Grand Prix | 1:41.767 | 1.204 | 0.049 |
| 14 | 21 | Robert SHWARTZMAN | PREMA Racing | 1:41.778 | 1.215 | 0.011 |
| 15 | 12 | Pedro PIQUET | Charouz Racing System | 1:41.972 | 1.409 | 0.194 |
| 16 | 14 | Nobuharu MATSUSHITA | MP Motorsport | 1:41.994 | 1.431 | 0.022 |
| 17 | 22 | Roy NISSANY | Trident | 1:42.221 | 1.658 | 0.227 |
| 18 | 16 | Artem MARKELOV | BWT HWA RACELAB | 1:42.408 | 1.845 | 0.187 |
| 19 | 9 | Jack AITKEN | Campos Racing | 1:42.687 | 2.124 | 0.279 |
| 20 | 23 | Marino SATO | Trident | 1:43.326 | 2.763 | 0.639 |
| 21 | 10 | Guilherme SAMAIA | Campos Racing | 1:44.556 | 3.993 | 1.230 |
| 22 | 17 | Giuliano ALESI | BWT HWA RACELAB | 1:59.029 | 18.466 | 14.473 |