Albuquerque Gives United Autosports Pole in Le Castellet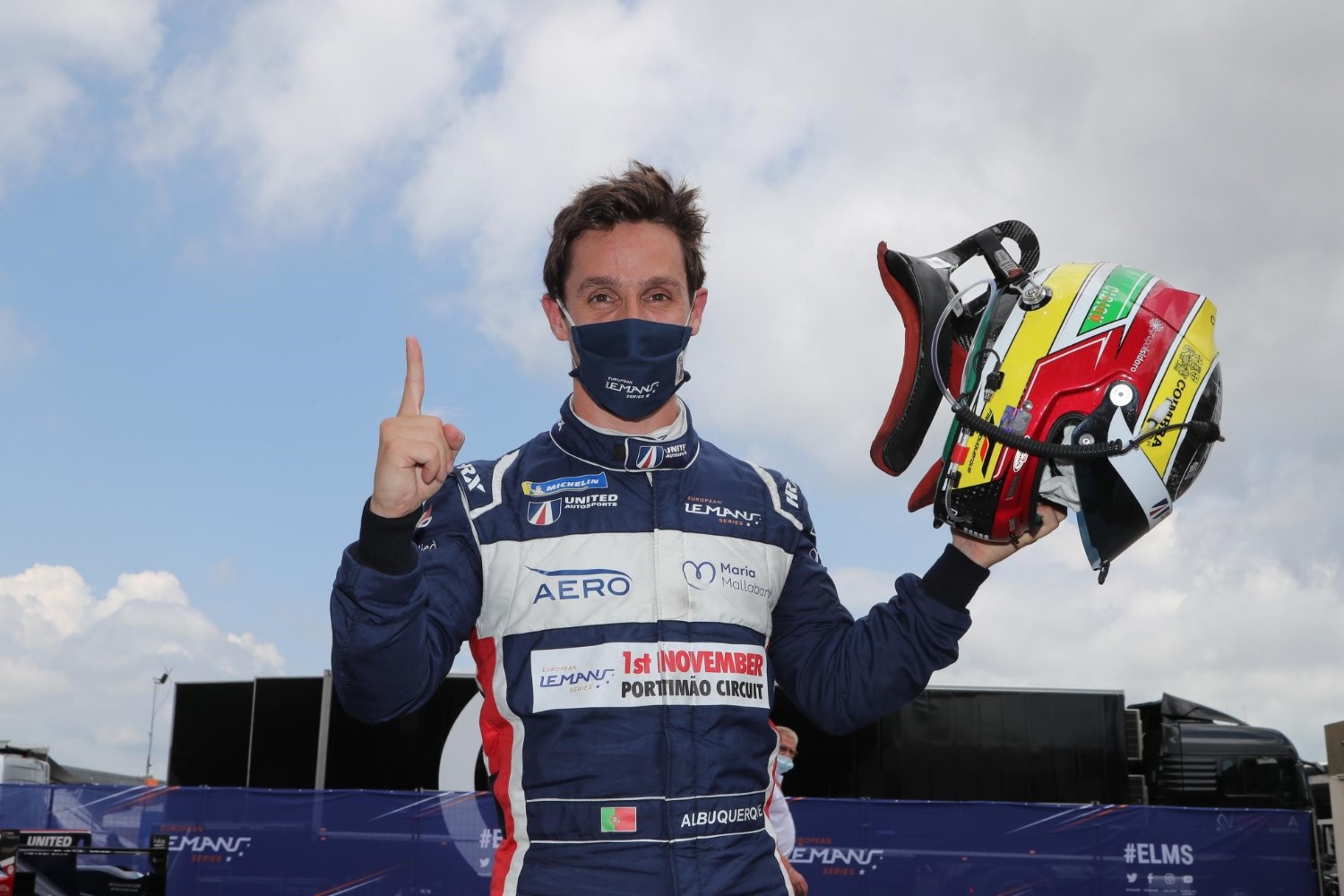 Filipe Albuquerque
The no22 United Autosports Oreca 07-Gibson snatched pole position at the checkered flag when Filipe Albuquerque crossed the line to record a 1m38.268 lap and push the pole sitting no26 G-Drive Racing Aurus 01-Gibson into second place by two tenths.
Albuquerque had led the 10-minute session but elected to come into the pits to take on a second set of tires. Nyck de Vries in the no26 Aurus took advantage with a lap that was four tenths quicker than the Portuguese drivers best, with Paul Loup Chatin in the no28 Idec Sport Oreca moving up to second spot.
LMP3 Pole for United Autosports in Le Castellet
The LMP3 pole position for the 4 Hours of Le Castellet was claimed by Wayne Boyd in the no2 United Autosports Ligier JS P320-Nissan after a great battle with the no4 DKR Engineering Duqueine M30-D08 Nissan of Laurents Hoerr.
Hoerr went to the top of the timing screens at the start of the session and improved he best lap to 1m48.399 as the checkered flag approached. Boyd had moved up to second spot ahead of the no15 RLR MSport Ligier of Malthe Jakobsen by just 0.004s as the clock counted down.
Fierce Battle for LMGTE Pole in Le Castellet
The fight for the LMGTE class pole position for tomorrow's 4 Hours of Le Castellet saw the top six cars split by just 0.163 seconds with the no74 Kessel Racing Ferrari of Nicola Cadei snatching pole at the checkered flag by just 0.016s.
The no74 Ferrari was quickest on the first lap but Cadai was judged to have gone beyond track limits and the Italian lost his lap time. Ross Gunn in the no98 Aston Martin Racing Vantage was quickly on the pace and the British driver went to the top of the timing screens with a 1m51.745.
Qualifying Results
| | | | | | | |
| --- | --- | --- | --- | --- | --- | --- |
| Pos | No. | Drivers | Team | Class | Time | Behind |
| 1 | 22 | P. HANSON/F. ALBUQUERQUE | United Autosports | LMP2 | 1:38.268 | 0.000 |
| 2 | 26 | R. RUSINOV/M. JENSEN/N. DE VRIES | G-Drive Racing | LMP2 | 1:38.505 | 0.237 |
| 3 | 32 | W. OWEN/A. BRUNDLE/J. VAN UITERT | United Autosports | LMP2 | 1:38.736 | 0.468 |
| 4 | 28 | P. LAFARGUE/P. CHATIN/R. BRADLEY | IDEC Sport | LMP2 | 1:38.887 | 0.619 |
| 5 | 21 | M. ROJAS/B. HANLEY/R. CULLEN | DragonSpeed | LMP2 | 1:39.005 | 0.737 |
| 6 | 37 | N. LAPIERRE/A. BORGA/A. COIGNY | CoolRacing | LMP2 | 1:39.115 | 0.847 |
| 7 | 31 | J. CANAL/N. JAMIN/W. STEVENS | Panis Racing | LMP2 | 1:39.400 | 1.132 |
| 8 | 24 | H. ENQVIST/L. DUVAL/J. LANCASTER | Algarve Pro Racing | LMP2 | 1:39.430 | 1.162 |
| 9 | 25 | J. FALB/S. TRUMMER/G. AUBRY | Algarve Pro Racing | LMP2 | 1:39.476 | 1.208 |
| 10 | 30 | T. GOMMENDY/J. HIRSCHI/K. TERESCHENKO | Duqueine Team | LMP2 | 1:39.506 | 1.238 |
| 11 | 39 | J. ALLEN/T. LAURENT/A. COUGNAUD | Graff | LMP2 | 1:39.573 | 1.305 |
| 12 | 20 | A. FJORDBACH/D. ANDERSEN | High Class Racing | LMP2 | 1:39.957 | 1.689 |
| 13 | 50 | A. NEGRÃO/T. CALDERON | Richard Mille Racing Team | LMP2 | 1:40.123 | 1.855 |
| 14 | 34 | J. SMIECHOWSKI/R. BINDER/M. ISAAKYAN | Inter Europol Competition | LMP2 | 1:40.129 | 1.861 |
| 15 | 35 | F. DRACONE/S. CAMPANA | BHK Motorsport | LMP2 | 1:40.777 | 2.509 |
| 16 | 2 | W. BOYD/T. GAMBLE/R. WHELDON | United Autosports | LMP3 | 1:48.315 | 10.047 |
| 17 | 4 | L. HOERR/F. KIRMANN/W. TRILLER | DKR Engineering | LMP3 | 1:48.399 | 10.131 |
| 18 | 15 | M. JAKOBSEN/J. DAYSON/R. HARPER-ELLAM | RLR MSport | LMP3 | 1:48.457 | 10.189 |
| 19 | 8 | E. GARCIA/D. DROUX | Realteam Racing | LMP3 | 1:48.485 | 10.217 |
| 20 | 3 | J. McGUIRE/D. TAPPY/A. BENTLEY | United Autosports | LMP3 | 1:48.833 | 10.565 |
| 21 | 11 | T. ERDOS/N. KARI | Eurointernational | LMP3 | 1:48.842 | 10.574 |
| 22 | 13 | N. MOORE/M. HIPPE | Inter Europol Competition | LMP3 | 1:48.874 | 10.606 |
| 23 | 10 | R. HODES/G. GRIST/C. CREWS | Nielsen Racing | LMP3 | 1:49.611 | 11.343 |
| 24 | 9 | V. CAPILLAIRE/A. ROBIN/M. ROBIN | Graff | LMP3 | 1:49.632 | 11.364 |
| 25 | 7 | A. WELLS/C. NOBLE | Nielsen Racing | LMP3 | 1:49.806 | 11.538 |
| 26 | 16 | L. VEGLIA/A. FONTANA/J. BARATTO | BHK Motorsport | LMP3 | 1:50.082 | 11.814 |
| 27 | 5 | E. TROUILLET/L. SANJUAN/S. PAGE | Graff | LMP3 | 1:50.673 | 12.405 |
| 28 | 74 | M. BRONISZEWSKI/N. CADEI/D. PEREL | Kessel Racing | LMGTE | 1:51.729 | 13.461 |
| 29 | 98 | P. DALLA LANA/M. LAUDA/R. GUNN | Aston Martin Racing | LMGTE | 1:51.745 | 13.477 |
| 30 | 55 | D. CAMERON/M. GRIFFIN/A. SCOTT | Spirit of Race | LMGTE | 1:51.780 | 13.512 |
| 31 | 77 | C. RIED/M. BERETTA/A. PICARIELLO | Proton Competition | LMGTE | 1:51.781 | 13.513 |
| 32 | 60 | C. SCHIAVONI/S. PIANEZZOLA/A. PICCINI | Iron Lynx | LMGTE | 1:51.843 | 13.575 |
| 33 | 93 | M. FASSBENDER/F. LASER/R. LIETZ | Proton Competition | LMGTE | 1:51.892 | 13.624 |
| 34 | 83 | M. GOSTNER/M. GATTING/R. FREY | Iron Lynx | LMGTE | 1:52.437 | 14.169 |
| 35 | 66 | J. FANNIN/F. HUTCHISON/H. ABBOTT | JMW Motorsport | LMGTE | 1:52.820 | 14.552 |
| 36 | 51 | C. ULRICH/A. WEST/S. GÃ-RIG | AF Corse | LMGTE | 1:53.870 | 15.602 |