IndyCar Iowa 250 Race 2 Warmup Times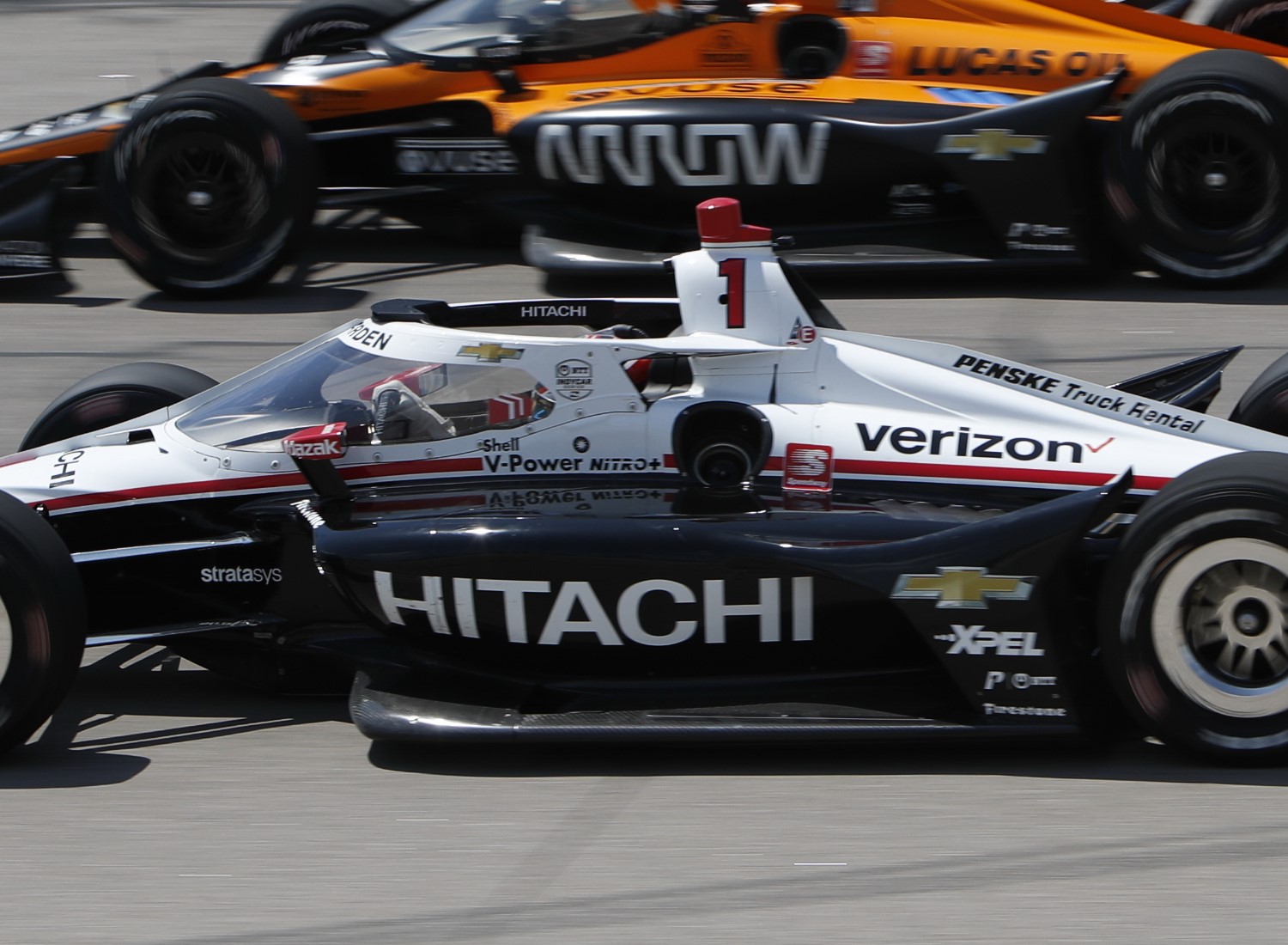 Newgarden dominated last year, can he do it again tonight?
Polesitter Josef Newgarden was easily quickest in warmups for tonight's 2nd of two Iowa Twin 250 IndyCar races driving his #1 Penske Chevy.
Last night's winner Simon Pagenaud, in the #22 Penske Chevy was 2nd quick, followed by last night's 2nd place finisher Scott Dixon in his #9 Ganassi Honda.
The Penske Chevy drivers will be hard to beat tonight, if caution flags fall their way.
Tony Kanaan in the #14 AJ Foyt Chevy was 4th quick while Takuma Sato rounded out the top-5 in his #30 Rahal Honda.
Results
| | | | | | | | |
| --- | --- | --- | --- | --- | --- | --- | --- |
| Pos | No. | Driver Name | Engine | Time | Speed | Diff | Gap |
| 1 | 1 | Newgarden, Josef | Chevy | 00:18.9096 | 170.199 | –.—- | –.—- |
| 2 | 22 | Pagenaud, Simon | Chevy | 00:19.0986 | 168.515 | 0.1890 | 0.1890 |
| 3 | 9 | Dixon, Scott | Honda | 00:19.1394 | 168.156 | 0.2298 | 0.0408 |
| 4 | 14 | Kanaan, Tony | Chevy | 00:19.2330 | 167.337 | 0.3234 | 0.0936 |
| 5 | 30 | Sato, Takuma | Honda | 00:19.2870 | 166.869 | 0.3774 | 0.0540 |
| 6 | 27 | Rossi, Alexander | Honda | 00:19.4183 | 165.741 | 0.5087 | 0.1313 |
| 7 | 10 | Rosenqvist, Felix | Honda | 00:19.5735 | 164.426 | 0.6639 | 0.1552 |
| 8 | 15 | Rahal, Graham | Honda | 00:19.5845 | 164.334 | 0.6749 | 0.0110 |
| 9 | 28 | Hunter-Reay, Ryan | Honda | 00:19.6049 | 164.163 | 0.6953 | 0.0204 |
| 10 | 59 | Daly, Conor | Chevy | 00:19.6105 | 164.116 | 0.7009 | 0.0056 |
| 11 | 8 | Ericsson, Marcus | Honda | 00:19.6648 | 163.663 | 0.7552 | 0.0543 |
| 12 | 55 | Palou, Alex (R) | Honda | 00:19.6702 | 163.618 | 0.7606 | 0.0054 |
| 13 | 88 | Herta, Colton | Honda | 00:19.6789 | 163.546 | 0.7693 | 0.0087 |
| 14 | 21 | VeeKay, Rinus (R) | Chevy | 00:19.7539 | 162.925 | 0.8443 | 0.0750 |
| 15 | 5 | O'Ward, Pato | Chevy | 00:19.7827 | 162.688 | 0.8731 | 0.0288 |
| 16 | 60 | Harvey, Jack | Honda | 00:19.7867 | 162.655 | 0.8771 | 0.0040 |
| 17 | 4 | Kimball, Charlie | Chevy | 00:19.8344 | 162.264 | 0.9248 | 0.0477 |
| 18 | 98 | Andretti, Marco | Honda | 00:19.8565 | 162.083 | 0.9469 | 0.0221 |
| 19 | 20 | Carpenter, Ed | Chevy | 00:19.8648 | 162.015 | 0.9552 | 0.0083 |
| 20 | 12 | Power, Will | Chevy | 00:19.9413 | 161.394 | 1.0317 | 0.0765 |
| 21 | 7 | Askew, Oliver (R) | Chevy | 00:19.9517 | 161.310 | 1.0421 | 0.0104 |
| 22 | 18 | Ferrucci, Santino | Honda | 00:19.9932 | 160.975 | 1.0836 | 0.0415 |
| 23 | 26 | Veach, Zach | Honda | 00:20.1681 | 159.579 | 1.2585 | 0.1749 |