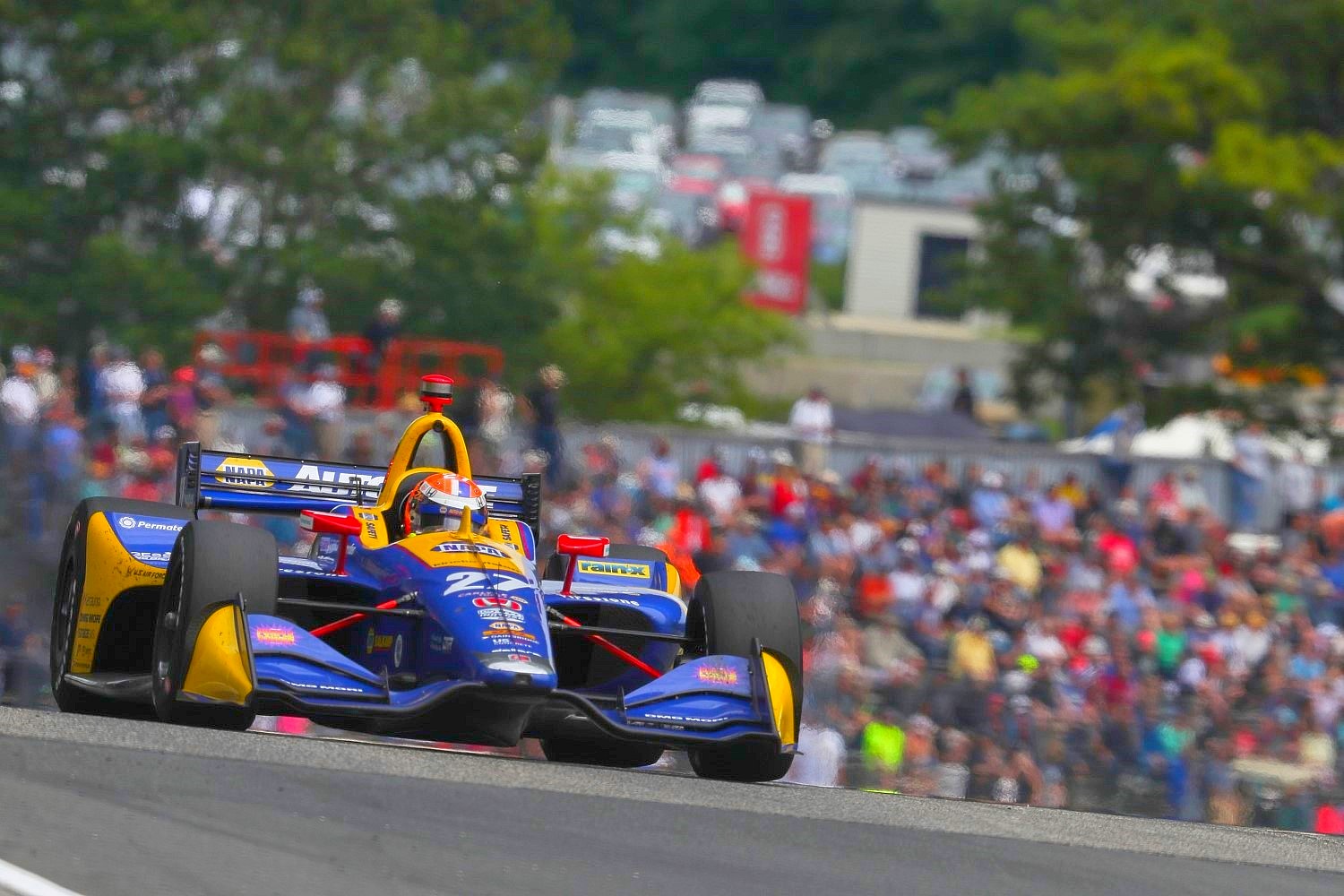 Alexander Rossi dominated Road America n 2019, but has not led a lap since.
The schedule below lists all the major motorsports events on TV this weekend, including their re-air times.
It is a busy weekend of racing on tap with F1, NASCAR (all three series), IndyCar (2 races) and NHRA all on tap.
If you can't watch it, set your DVRs.
All times Eastern
| | | | |
| --- | --- | --- | --- |
| Saturday, July 11, 2020 | Location | TV Times | Network |
| F1 Styrian Grand Prix Practice 3 | Austria | 5:55am – 7:00am (Live) | ESPN2 |
| F1 Styrian Grand Prix Qualifying | Austria | 8:55am – 10:00am (Live) | ESPN |
| IndyCar Practice | Road America | 11:00am – 12:15pm (Live) | NBC Gold |
| NASCAR XFINITY Alsco 300 | Kentucky | 12:30pm – 3:30pm (Replay) | FS1 |
| GT America Race 1 | VIR | 1:30pm – 3:30pm (Live) | CBSSN |
| IndyCar Qualifying Race 1 | Road America | 2:30pm – 3:00pm (Live) | NBCSN |
| ARCA series General Tire 150 | Elko, MN | 2:30pm – 4:30pm (Live) | FS1 |
| IndyCar: REV Group Grand Prix 1 | Road America | 5:00pm – 7:00pm (Live) | NBCSN |
| NASCAR Truck Buckle Up in Your Truck 225 | Kentucky | 6:00pm – 9:00pm (Live) | FS1 |
| ARCA series General Tire 150 | Elko, MN | 9:00pm – 11:00pm (Live) | FS1 |
| ARCA West ENEOS 125 | Irwindale | 11:00pm – 12:00am (New) | NBCSN |
| Sunday, July 12, 2020 | Location | TV Times | Network |
| ARCA series General Tire 150 | Elko, MN | 6:30am – 8:00am (Replay) | FS1 |
| NASCAR Truck Buckle Up in Your Truck 225 | Kentucky | 8:00am – 9:30am (Replay) | FS1 |
| F1 Styrian Grand Prix Pre-Race | Austria | 8:05am – 9:05am (Live) | ESPN |
| F1 Styrian Grand Prix | Austria | 9:05am – 11:00am (Live) | ESPN |
| IndyCar Qualifying Race 2 | Road America | 10:00am-11:30am (Live) | NBC Gold |
| GT America Race 1 | VIR | 11:30am – 1:30pm (Replay) | CBSSN |
| NHRA | Indianapolis | 12:00pm – 2:30pm (Live) | FOX |
| NASCAR XFINITY Alsco 300 | Kentucky | 12:30pm – 3:30pm (Replay) | FS1 |
| IndyCar REV Group Grand Prix 2 | Road America | 12:30pm – 2:30pm (Live) | NBC |
| GT America Race 2 | VIR | 1:30pm – 3:30pm (Live) | CBSSN |
| NASCAR Quaker State 400 Cup Race | Kentucky | 2:30pm – 5:30pm (Live) | FS1 |
| NASCAR Quaker State 400 Cup Race | Kentucky | 6:00pm – 9:00pm (Replay) | FS1 |
| F1 Austrian Grand Prix | Austria | 9:30pm – 12:00am (Replay) | ESPN News |
| GT America Race 2 | VIR | 10:00pm – 12:00am (Replay) | CBSSN |