'Majority' of MotoE fleet destroyed by fire (Update)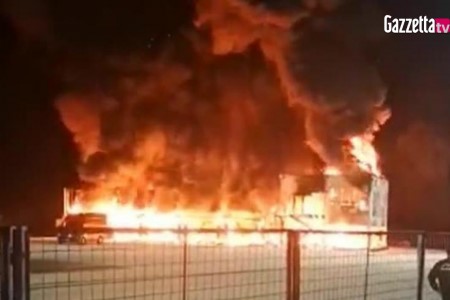 Photo courtesy La Gazzetta dello Sport
UPDATE The cause of the fire that destroyed the entire fleet of electric motorcycles for the inaugural MotoE season at Jerez has been revealed by the series..
In a brief statement issued on Friday, the series revealed that the fire started as a result of a short circuit.
"Initial evidence regarding the cause of the fire at the E-paddock of the FIM Enel MotoE World Cup at the Circuito de Jerez-Angel Nieto on March 14 seems to point to a short circuit as the main cause of the incident," it said.
"The source of the short circuit has yet to be identified but, once the fire broke out, it ignited the high-density battery which is part of the high-performance charger used at MotoE events.
"The motorbikes were not connected to the charging infrastructure at the time the fire began."
03/14/19 A majority of the MotoE bikes have been 'destroyed' by a fire less than two months out from the electric motorcycle series' inaugural race date.
The field had gathered at the Circuito de Jerez for the first test of 2019, with Round 1 set to take place at the same Spanish circuit on May 3-5.
A day of testing had already been completed before a fire in the early hours of Thursday morning (local time) ripped through the paddock area.
According to Italy's La Gazzetta dello Sport, all 18 bikes have in fact been destroyed.
MotoGP organizers confirmed reports of the event a short time ago, providing a brief statement which advised of "major damage and losses" but no injuries.
Full statement from Dorna
Fire forces early conclusion to MotoE Test
A fire in the newly-built E-paddock has destroyed the majority of material for the FIM Enel MotoE World Cup.
At around 00:15 early on the 14th of March during the second pre-season MotoE test at the Circuito de Jerez – Angel Nieto, the E-Paddock for the FIM Enel MotoE World Cup caught fire, causing major damages and losses. The cause of the fire is currently under investigation.
Fortunately there have been no injuries. An update will follow in the coming hours regarding the exact causes of the fire and any subsequent changes to the calendar.