Shwartzman wins last European F3 race of 2018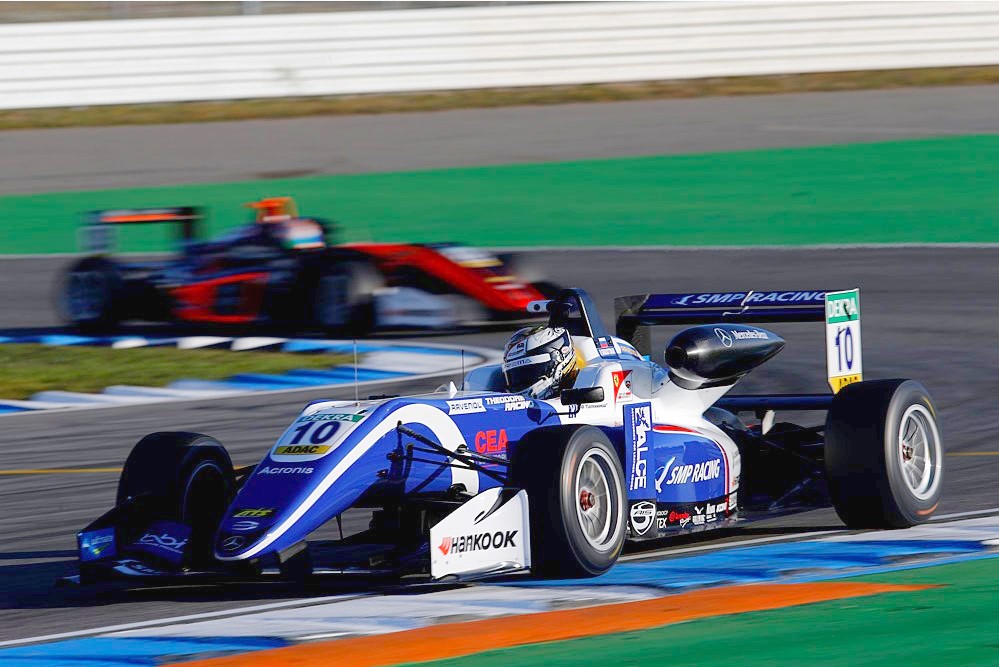 Robert Shwartzman
Prema driver Robert Shwartzman beat his Prema teammate Mick Schumacher easily to win the last-ever Formula 3 European Championship race at Hockenheim.
While Ferrari junior Shwartzman took victory by an incredible 10.5 seconds, Prema Powerteam stablemate and new champion Mick Schumacher had to fight hard for second.
Schumacher lost significant chunks of time on at least two occasions, each time allowing the squabbling Alex Palou and Ralf Aron onto his tail.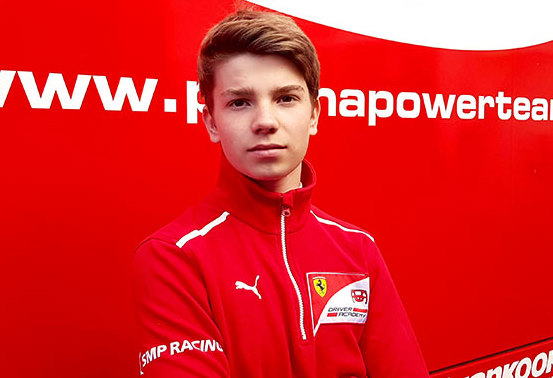 Shwartzman is another good Ferrari junior driver
"I did the same mistake again [as race two] in Turn 1 – it feels a bit embarrassing to be honest!" said Schumacher.
Shwartzman added: "I kept my fresh set of tires for this race because I was starting from pole, so I had an advantage over Mick.
"Mick was quite close in Turn 1 at the start, but I just kept it flat, then I started to pick up quite a good pace and pulled away.
"I could see the guys fighting behind, and the car felt good all race and I didn't have much degradation at all – I was just enjoying the ride."
Full report to follow…….
Result – 22 laps
| POS | DRIVER | TEAM | CAR | GAP |
| --- | --- | --- | --- | --- |
| 1 | Robert Shwartzman | PREMA Theodore Racing | Dallara/Mercedes | 0.000s |
| 2 | Mick Schumacher | PREMA Theodore Racing | Dallara/Mercedes | 10.511s |
| 3 | Alex Palou | Hitech Bullfrog GP | Dallara/Mercedes | 11.585s |
| 4 | Ralf Aron | PREMA Theodore Racing | Dallara/Mercedes | 12.016s |
| 5 | Dan Ticktum | Motopark | Dallara/Volkswagen | 12.726s |
| 6 | Guan Yu Zhou | PREMA Theodore Racing | Dallara/Mercedes | 13.181s |
| 7 | Ferdinand Habsburg | Carlin | Dallara/Volkswagen | 13.552s |
| 8 | Jonathan Aberdein | Motopark | Dallara/Volkswagen | 14.834s |
| 9 | Enaam Ahmed | Hitech Bullfrog GP | Dallara/Mercedes | 16.731s |
| 10 | Juri Vips | Motopark | Dallara/Volkswagen | 17.950s |
| 11 | Sophia Florsch | Van Amersfoort Racing | Dallara/Mercedes | 20.754s |
| 12 | Artem Petrov | Van Amersfoort Racing | Dallara/Mercedes | 21.762s |
| 13 | Fabio Scherer | Motopark | Dallara/Volkswagen | 27.044s |
| 14 | Sebastian Fernandez | Motopark | Dallara/Volkswagen | 27.412s |
| 15 | Julian Hanses | Carlin | Dallara/Volkswagen | 27.741s |
| 16 | Frederik Vesti | Van Amersfoort Racing | Dallara/Mercedes | 28.280s |
| 17 | Marino Sato | Motopark | Dallara/Volkswagen | 32.236s |
| 18 | Ameya Vaidyanathan | Carlin | Dallara/Volkswagen | 33.151s |
| 19 | Ben Hingeley | Hitech Bullfrog GP | Dallara/Mercedes | 48.698s |
| 20 | Keyvan Andres | Van Amersfoort Racing | Dallara/Mercedes | 49.745s |
| 21 | Nikita Troitskiy | Carlin | Dallara/Volkswagen | 1m10.951s |
| 22 | Jehan Daruvala | Carlin | Dallara/Volkswagen | DNF |
| 23 | Marcus Armstrong | PREMA Theodore Racing | Dallara/Mercedes | DNF |
| 24 | Sacha Fenestraz | Carlin | Dallara/Volkswagen | DNF |
Final drivers' standings
| POS | DRIVER | POINTS |
| --- | --- | --- |
| 1 | Mick Schumacher | 365 |
| 2 | Dan Ticktum | 306 |
| 3 | Robert Shwartzman | 294 |
| 4 | Juri Vips | 283 |
| 5 | Marcus Armstrong | 260 |
| 6 | Ralf Aron | 254.5 |
| 7 | Alex Palou | 204 |
| 8 | Guan Yu Zhou | 201 |
| 9 | Enaam Ahmed | 172 |
| 10 | Jehan Daruvala | 136.5 |
| 11 | Sacha Fenestraz | 121 |
| 12 | Jonathan Aberdein | 106 |
| 13 | Ferdinand Habsburg | 85 |
| 14 | Fabio Scherer | 64 |
| 15 | Nikita Troitskiy | 37 |
| 16 | Marino Sato | 31.5 |
| 17 | Ben Hingeley | 22 |
| 18 | Keyvan Andres | 18 |
| 19 | Julian Hanses | 6 |
| 20 | Artem Petrov | 6 |
| 21 | Sebastian Fernandez | 5 |
| 22 | Sophia Florsch | 1 |
| 23 | Frederik Vesti | 1 |