Schumacher wins F3 title with 2nd place finish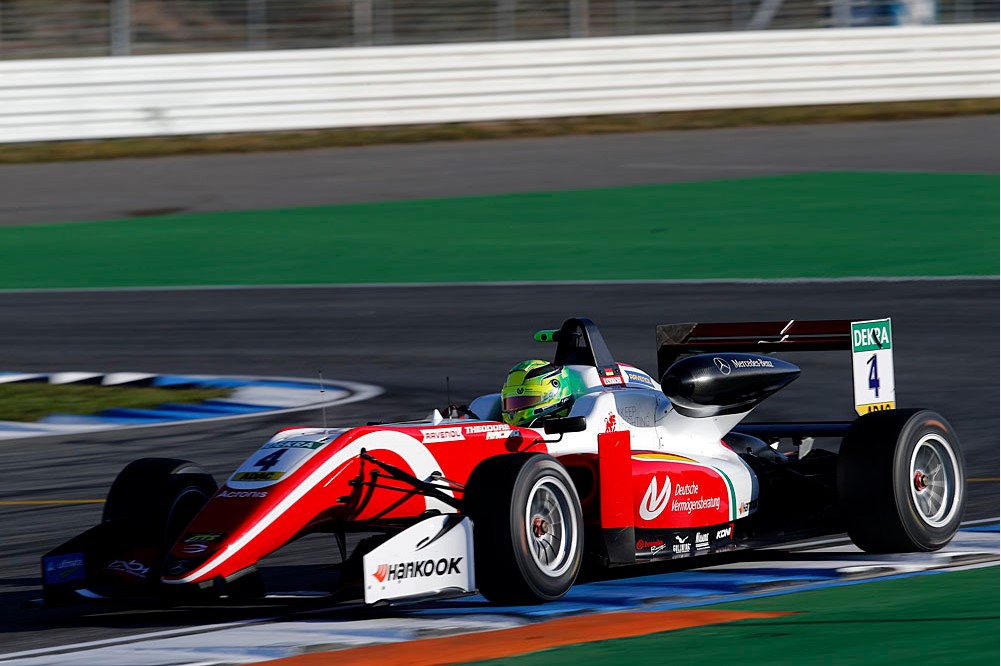 Mick Schumacher locks up title with 2nd place finish
Hockenheim: Mick Schumacher clinched the Formula 3 European championship after finishing second to Juri Vips in the second race of the series finale at Hockenheim.
Second place in the second race on the final weekend of the campaign at Hockenheim was enough for Mick Schumacher to claim his first title in a junior formula series. At the end of his second season as a member of the PREMA Theodore Racing squad, driving a car powered by a Mercedes-AMG Formula 3 engine, the 19-year-old German became the new champion with a points tally of 347.
"It's a slightly unreal feeling – I'm absolutely delighted," said Mick. "I still can't quite believe it. All I can say is thank you to everyone in the team for your support during this incredible season."
Mick was undoubtedly the standout driver of the second half of the 2018 FIA Formula 3 European Championship. His first win of the campaign came as late as the 15th round contested on the legendary Spa-Francorchamps rollercoaster in the Belgian Ardennes, a circuit on which he had driven a demo lap in the 1994 Benetton B194 Formula 1 championship-winning car the year before.
After his maiden victory in the racing series at Spa, he then went on to win at least one race on each of the subsequent weekends, including Silverstone, Misano, the Nurburgring and Spielberg. The impressive statistics behind this late surge to the top are eight wins in twelve races, five of them in a row. In the context of the race weekend at the Nurburgring, Mick also put in a number of demo laps at the wheel of a Mercedes-AMG C 63 DTM race taxi.
"Congratulations to Mick on winning the FIA Formula 3 European Championship title," said Head of Mercedes-Benz Motorsport Toto Wolff. "Attention was focused on the youngster right from the start, and he was under a lot of pressure. It's not easy coping with all that, especially if the season does not get off to the best of starts, as in this case. His performance in the second half of the season was therefore all the more impressive. He has shown that he has what it takes and that he can become one of the greats in our sport. We are also obviously delighted that he registered a 500th race win for Mercedes in F3 and that he secured the title in a Mercedes-powered car."
Race 2 Result:
| POS | DRIVER | TEAM | CAR | LAPS | GAP |
| --- | --- | --- | --- | --- | --- |
| 1 | Juri Vips | Motopark | Dallara/Volkswagen | 21 | 35m34.771s |
| 2 | Mick Schumacher | PREMA Theodore Racing | Dallara/Mercedes | 21 | 3.472s |
| 3 | Ralf Aron | PREMA Theodore Racing | Dallara/Mercedes | 21 | 6.299s |
| 4 | Jehan Daruvala | Carlin | Dallara/Volkswagen | 21 | 7.775s |
| 5 | Robert Shwartzman | PREMA Theodore Racing | Dallara/Mercedes | 21 | 9.021s |
| 6 | Fabio Scherer | Motopark | Dallara/Volkswagen | 21 | 10.179s |
| 7 | Dan Ticktum | Motopark | Dallara/Volkswagen | 21 | 10.925s |
| 8 | Alex Palou | Hitech Bullfrog GP | Dallara/Mercedes | 21 | 14.618s |
| 9 | Jonathan Aberdein | Motopark | Dallara/Volkswagen | 21 | 17.794s |
| 10 | Nikita Troitskiy | Carlin | Dallara/Volkswagen | 21 | 21.752s |
| 11 | Guan Yu Zhou | PREMA Theodore Racing | Dallara/Mercedes | 21 | 22.548s |
| 12 | Ferdinand Habsburg | Carlin | Dallara/Volkswagen | 21 | 25.226s |
| 13 | Ben Hingeley | Hitech Bullfrog GP | Dallara/Mercedes | 21 | 30.297s |
| 14 | Marino Sato | Motopark | Dallara/Volkswagen | 21 | 30.952s |
| 15 | Sebastian Fernandez | Motopark | Dallara/Volkswagen | 21 | 31.353s |
| 16 | Artem Petrov | Van Amersfoort Racing | Dallara/Mercedes | 21 | 31.675s |
| 17 | Keyvan Andres | Van Amersfoort Racing | Dallara/Mercedes | 21 | 33.657s |
| 18 | Ameya Vaidyanathan | Carlin | Dallara/Volkswagen | 21 | 35.129s |
| 19 | Sophia Florsch | Van Amersfoort Racing | Dallara/Mercedes | 21 | 37.704s |
| 20 | Frederik Vesti | Van Amersfoort Racing | Dallara/Mercedes | 21 | 1m19.269s |
| – | Marcus Armstrong | PREMA Theodore Racing | Dallara/Mercedes | 16 | Retirement |
| – | Enaam Ahmed | Hitech Bullfrog GP | Dallara/Mercedes | 7 | Retirement |
| – | Sacha Fenestraz | Carlin | Dallara/Volkswagen | 0 | Retirement |
| – | Julian Hanses | Carlin | Dallara/Volkswagen | 0 | Retirement |