Mick Schumacher makes it 2-for-2 at Nurburgring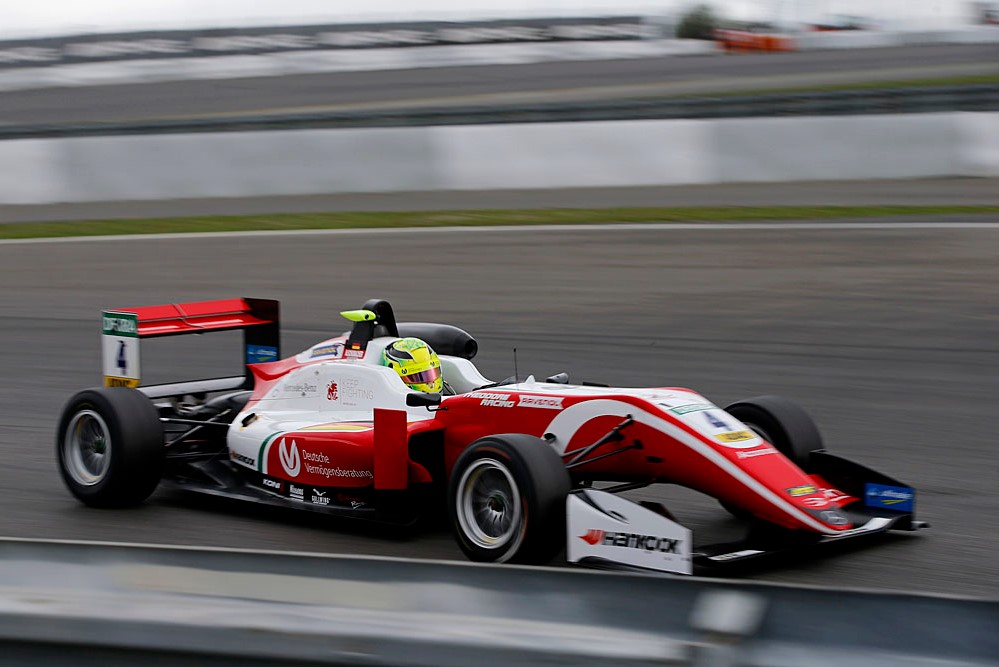 Mick Schumacher
In the 23rd race of the FIA Formula 3 European Championship season, Mick Schumacher (PREMA Theodore Racing) claimed his fifth win of the year. At the 3.629 kilometers long Nurburgring sprint circuit, the 19-year-old came out on top from the best-placed rookie Robert Shvartzman (PREMA Theodore Racing) and Daniel Ticktum (Motopark). The British Red Bull junior remains in the lead of the drivers' standings, but second-placed Schumacher managed to reduce the gap to only 16 points.
At the start, Mick Schumacher took the lead. Daniel Ticktum and Robert Shvartzman battled for second place that eventually went to the Russian. A collision between Juri Vups (Motopark) and Enaam Ahmed (Hitech Bullfrog GP) in the first corner after the start saw the Hitech driver ending his race in the gravel bed. The safety car was deployed as a result.
Racing resumed at the start of lap three and Schumacher immediately pulled clear from Shvartzman. On lap 16, Marino Sato (Motopark) collided with Ben Hingeley (Hitech Bullfrog GP) after which both youngsters retired. A brief safety car intervention followed and Schumacher successfully defended his lead at the restart. He then went on to drive an undisputed victory home while Shvartzman had to defend his second place from a charging Ticktum in the final stages of the race. There were no more position changes in the top three, so that Schumacher won from Shvartzman and Ticktum.
Marcus Armstrong (PREMA Theodore Racing) came fourth from Ralf Aron (PREMA Theodore Racing), Alex Palou (Hitech Bullfrog GP), Jonathan Aberdein (Motopark), Guanyu Zhou (PREMA Theodore Racing), Sacha Fenestraz (Carlin) and Ferdinand Habsburg (Carlin).
Mick Schumacher (PREMA Theodore Racing): "I am very happy with my victory and with my great car. My team has done a great job. In the race, we had two safety car interventions and I had two good restarts. Every time, I managed to pull away from Robert, which was important. Now, I will try to win the third race of the weekend this afternoon as well.
Robert Shvartzman (PREMA Theodore Racing): "My race wasn't really special. My start was relatively normal, but things got a bit tight with Daniel in the first corner. During the two restarts after the safety cars, Mick was faster and managed to pull clear. At the end, I had some problems with tyre degradation that allowed Daniel to close up. Generally, however, I am happy with second place."
Daniel Ticktum (Motopark): "Prema has an incredibly fast car here and we couldn't really keep up with them in this race. In the first corner after the start, I was a bit optimistic and I have to thank Robert for leaving me enough room. For the third race, we have to ensure that we are fast enough during the first ten laps as well. Apart from that, finishing on the podium is good as it enables me to score many points."
Race 2 result
| POS | DRIVER | TEAM | CAR | LAPS | GAP |
| --- | --- | --- | --- | --- | --- |
| 1 | Mick Schumacher | PREMA Theodore Racing | Dallara/Mercedes | 24 | 0.000s |
| 2 | Robert Shwartzman | PREMA Theodore Racing | Dallara/Mercedes | 24 | 3.229s |
| 3 | Dan Ticktum | Motopark | Dallara/Volkswagen | 24 | 3.745s |
| 4 | Marcus Armstrong | PREMA Theodore Racing | Dallara/Mercedes | 24 | 5.334s |
| 5 | Ralf Aron | PREMA Theodore Racing | Dallara/Mercedes | 24 | 6.316s |
| 6 | Alex Palou | Hitech Bullfrog GP | Dallara/Mercedes | 24 | 9.631s |
| 7 | Jonathan Aberdein | Motopark | Dallara/Volkswagen | 24 | 10.151s |
| 8 | Guan Yu Zhou | PREMA Theodore Racing | Dallara/Mercedes | 24 | 10.698s |
| 9 | Sacha Fenestraz | Carlin | Dallara/Volkswagen | 24 | 11.569s |
| 10 | Ferdinand Habsburg | Carlin | Dallara/Volkswagen | 24 | 12.806s |
| 11 | Fabio Scherer | Motopark | Dallara/Volkswagen | 24 | 14.605s |
| 12 | Keyvan Andres | Van Amersfoort Racing | Dallara/Mercedes | 24 | 16.452s |
| 13 | Artem Petrov | Van Amersfoort Racing | Dallara/Mercedes | 24 | 17.202s |
| 14 | Jehan Daruvala | Carlin | Dallara/Volkswagen | 24 | 17.811s |
| 15 | Sophia Florsch | Van Amersfoort Racing | Dallara/Mercedes | 24 | 19.734s |
| 16 | Nikita Troitskiy | Carlin | Dallara/Volkswagen | 24 | 20.712s |
| 17 | Ameya Vaidyanathan | Carlin | Dallara/Volkswagen | 24 | 21.737s |
| 18 | Juri Vips | Motopark | Dallara/Volkswagen | 24 | 38.952s |
| DNF | Sebastian Fernandez | Motopark | Dallara/Volkswagen | 19 | DNF |
| DNF | Ben Hingeley | Hitech Bullfrog GP | Dallara/Mercedes | 15 | DNF |
| DNF | Marino Sato | Motopark | Dallara/Volkswagen | 14 | DNF |
| DNF | Enaam Ahmed | Hitech Bullfrog GP | Dallara/Mercedes | 0 | DNF |