Order of Daytona 500 pole qualifying (Update)
UPDATE
As predicted by AR1.com, Alex Bowman has been put on the pole for the Daytona 500. The #88 Dale Jr. fans will be happy, but will they now buy tickets for the race? Denny Hamlin will start 2nd.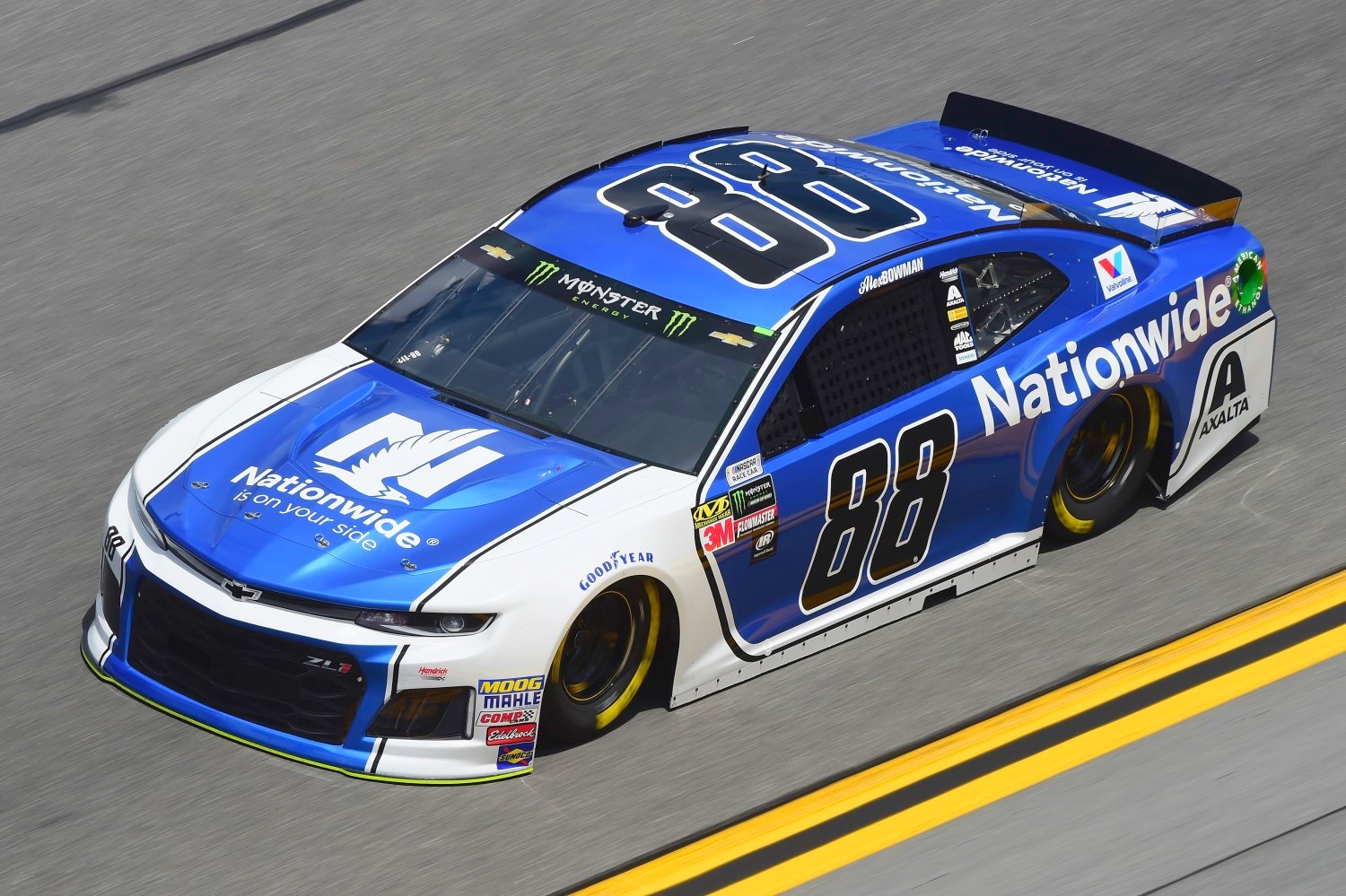 Will the T&S computers put 'Heir Apparent' Alex Bowman on pole?
02/11/18
Forty cars will attempt to qualify on the front row of the 60th Daytona 500 on Sunday at noon during pole qualifying at Daytona International Speedway.
No drivers will fail to make the field.
The full Daytona 500 starting lineup will be established on Thursday in the Can-Am qualifying duels.
| | | | |
| --- | --- | --- | --- |
| Order | No. | Driver | Sponsor/Make |
| 1 | 23 | Gray Gaulding | Toyota |
| 2 | 72 | Corey LaJoie | Schluter Systems Chevrolet |
| 3 | 66 | Mark Thompson | Phoenix Air Racing Ford |
| 4 | 47 | AJ Allmendinger | Kroger ClickList Chevrolet |
| 5 | 37 | Chris Buescher | Kleenex Chevrolet |
| 6 | 92 | David Gilliland | Black's Tire Service/Carquest Auto Parts Ford |
| 7 | 78 | Martin Truex Jr. | Bass Pro Shops/5-hour Energy Toyota |
| 8 | 31 | Ryan Newman | Bass Pro Shops/Cabela's Chevrolet |
| 9 | 41 | Kurt Busch | Haas Automation/Monster Energy Ford |
| 10 | 48 | Jimmie Johnson | Lowe's for Pros Chevrolet |
| 11 | 9 | Chase Elliott | NAPA Auto Parts Chevrolet |
| 12 | 42 | Kyle Larson | Credit One Bank Chevrolet |
| 13 | 88 | Alex Bowman | Nationwide Chevrolet |
| 14 | 95 | Kasey Kahne | Procore Chevrolet |
| 15 | 43 | Darrell Wallace Jr. | Click n' Close Chevrolet |
| 16 | 00 | Jeffrey Earnhardt | VRX Simulators Chevrolet |
| 17 | 96 | DJ Kennington | LORDCO/Castrol Toyota |
| 18 | 62 | Brendan Gaughan | Beard Oil Distributing/South Point Hotel & Casino Chevrolet |
| 19 | 32 | Matt DiBenedetto | The Hurricane Heist Ford |
| 20 | 1 | Jamie McMurray | McDonald's/Cessna Chevrolet |
| 21 | 3 | Austin Dillon | DOW Chevrolet |
| 22 | 13 | Ty Dillon | GEICO Chevrolet |
| 23 | 7 | Danica Patrick | GoDaddy Chevrolet |
| 24 | 51 | Justin Marks | HARRY'S Chevrolet |
| 25 | 14 | Clint Bowyer | Rush Truck Centers Ford |
| 26 | 4 | Kevin Harvick | Jimmy John's Ford |
| 27 | 10 | Aric Almirola | Smithfield Ford |
| 28 | 2 | Brad Keselowski | Discount Tire Ford |
| 29 | 34 | Michael McDowell | Love's Travel Stops Ford |
| 30 | 20 | Erik Jones | DeWalt Toyota |
| 31 | 18 | Kyle Busch | M&M's Toyota |
| 32 | 12 | Ryan Blaney | Menards/Peak Ford |
| 33 | 19 | Daniel Suarez | ARRIS Toyota |
| 34 | 6 | Trevor Bayne | AdvoCare Ford |
| 35 | 21 | Paul Menard | Omnicraft Auto Parts/Quick Lane Tire & Auto Center Ford |
| 36 | 38 | David Ragan | Speedco Ford |
| 37 | 11 | Denny Hamlin | FedEx Express Toyota |
| 38 | 22 | Joey Logano | Shell Pennzoil Ford |
| 39 | 17 | Ricky Stenhouse Jr. | Fastenal Ford |
| 40 | 24 | William Byron | AXALTA Chevrolet |