McLaren lands Gulf sponsorship for F1 team (Update)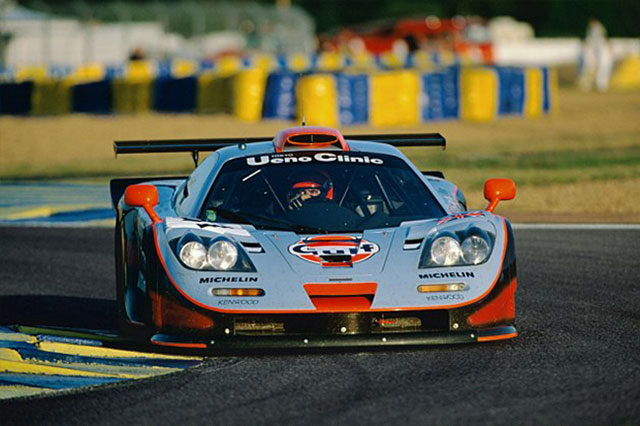 Gulf has a rich history in racing
UPDATE This rumor is upgraded to 'fact' with today's announcement.
07/23/20 McLaren is set to bring the iconic Gulf Oil brand back to Formula 1 as part of a new sponsorship deal.
In the tweet below Jeroen van Kesteren spotted a McLaren Gulf photo shoot at his local Gulf Station and we expect an announcement soon that Gulf has replaced Petrobras as McLaren's petroleum sponsor.
GULF Racing History
The story of 'Gulf Racing' is unique and stretches back to the 1930's, but it was in the 1960's that the distinctive blue and orange livery became prominent and the iconic brand truly started to form.
In 1966 Grady Davis, vice-president of Gulf Oil bought himself a Ford GT40 and formed a lasting friendship with John Wyer. Nine eventful years followed with arguably the most successful commercial partnership in racing history. With Ford GT40's, Porsche 917's, three world championships, three outright victories at Le Mans and an association with some of the world's greatest drivers – this was the golden era of sports car racing.
Pedro Rodriguez and Jo Siffert established new records everywhere they raced the Gulf Porsche 917, their exploits at Brands Hatch, Le Mans, Spa Francorchamps, the Nurburgring and Daytona are now legendary.
Steve McQueen's film 'Le Mans' gave the Gulf Porsche 917 iconic status.
Gulf went on to win the 24 hours of Le Mans again in 1975, sponsoring the Mirage Ford driven by Jacky Ickx and Derek Bell and returned to Le Mans again with Derek in 1994 when he drove a Kremer Porsche K8 to sixth place.
In the late sixties and early seventies, Gulf had a hugely successful partnership with Bruce McLaren's team in the fields of Can-Am, Indy cars and Formula One. This liaison produced numerous victories and championships and was resurrected in 1995 when Gulf Oil returned to a racing partnership with McLaren and the privately owned race team of Ray Bellm. For three years the Gulf McLaren F1 GTR was dominant, winning 1996 BPR Global Endurance Series and the GT Class at Le Mans in 1997.
In their centenary year of 2001, Gulf Oil sponsored an Audi R8 in which Stefan Johansson won the European Le Mans Series.
In 2007, Aston Martin Racing took a GT1 class win at Le Mans with the DBR9, in the iconic colors of Gulf Oil.
In 2008, the Gulf Aston Martin Racing Team wins the GT1-class at the 24 Hours of Le Mans! Gulf celebrated the 40th anniversary of its first win at Le Mans in the finest possible style, with an incredibly hard fought victory in the GT1-class with an Aston Martin DBR 9, driven by David Brabham, Darren Turner and Antonio Garcia. With this glorious victory, they created another memorable chapter in Gulf's long and glorious motorsport history, something that David Brabham was quick to mention in his victory interview on the winners podium.
In 2011 Mike Wainwright and Roald Goethe, gentlemen drivers with a huge passion for motorsport and the heritage the team now represents, formed a team under the name Gulf Racing to compete in the Intercontinental Le Mans Cup, the precursor to the World Endurance Championship. Carrying the distinctive blue and Orange livery once again and with the support of Gulf Oil international the pair contested the championship with an Aston Martin Vantage GT2.
Since then the team has evolved and developed, working with McLaren, Lamborghini and Aston Martin competing under the name of Gulf Racing. The team co-founders have contested all the top European and International Endurance races and championships alongside an array of contemporary professional GT racing drivers. The story continues as Gulf Racing takes the iconic blue and orange colors in 2016 back to the World Endurance Championship ( WEC ) and Le Mans with their Partner Porsche.