Weekend TV Schedule (Revised)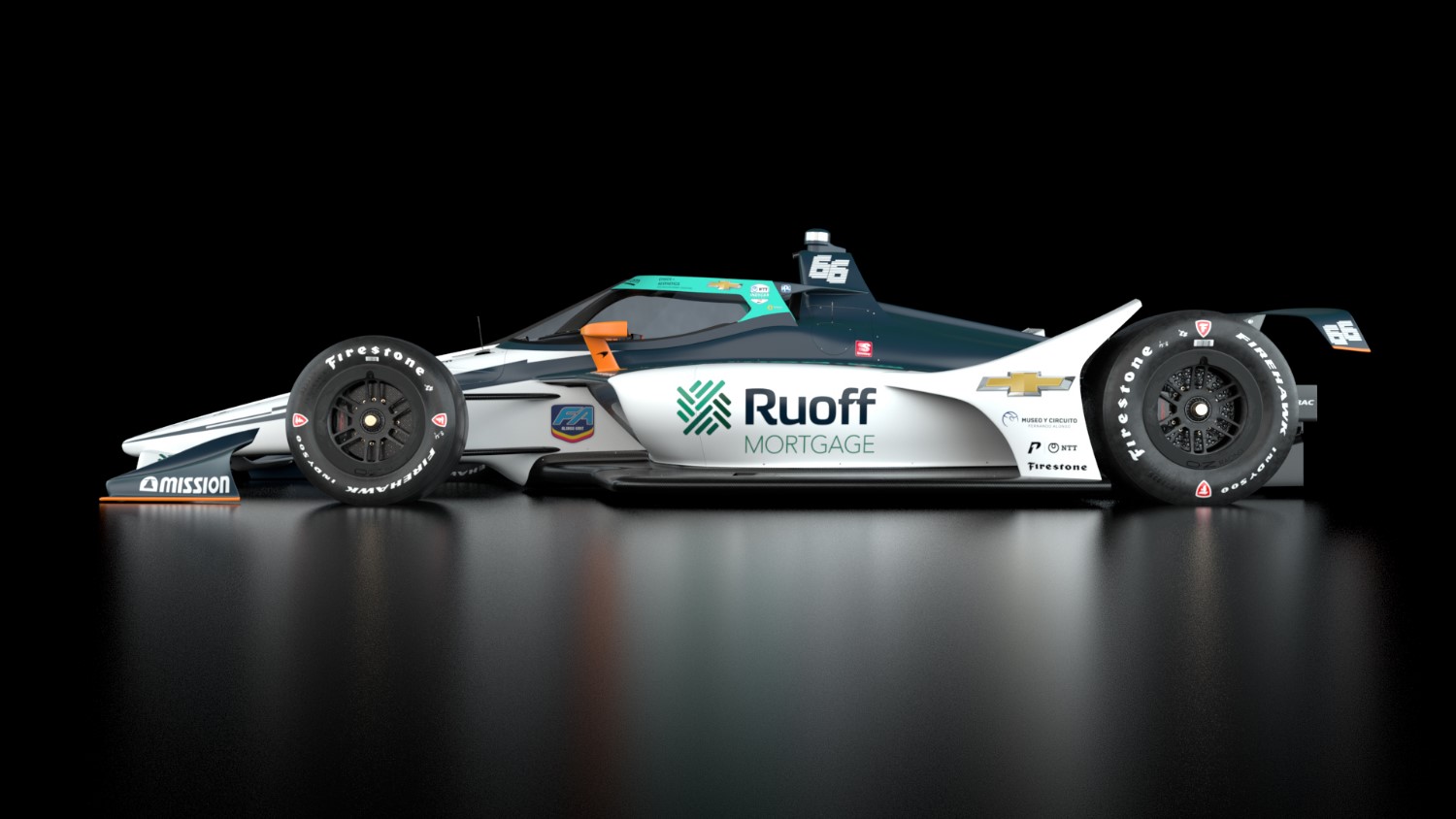 Fernando Alonso will be carrying Ruoff Insurance backing this weekend
All Times Eastern. A big weekend of racing ahead.
F1 is in Barcelona Spain, IndyCar is qualifying for the Indy 500 and NASCAR is racing on the Daytona Road Course for the first time – all three divisions.
MotoGP is in Austria and the World Endurance Championship is at Spa while Formula E wraps up its season in Berlin.
| | | | |
| --- | --- | --- | --- |
| Wednesday, August 12, 2020 | Location | TV Times | Network |
| Indy 500 Practice – Oval Veterans | Indianapolis | 11:00am – 1:00pm (Live Stream) | NBCSN Gold |
| FIA Formula E Qualifying | Berlin | 11:00am – 12:00pm | FS2 |
| Dale Jr. Download | Studio | 12:30pm – 6:30pm | NBCSN |
| Indy 500 Practice – Rookie Practice | Indianapolis | 1:00pm – 3:00pm (Live Stream) | NBCSN Gold |
| FIA Formula E Round 10 | Berlin | 1:00pm – 2:00pm (Live) | FS2 |
| Indy 500 Practice Day 1 – all | Indianapolis | 3:00pm – 6:00pm (Live Stream) | NBCSN Gold |
| NASCAR Race Hub | Studio | 6:00pm – 7:00pm (Live) | FS1 |
| I Pace eTrophy Series | Berlin | 8:30pm – 9:30pm | FS2 |
| Thursday, August 13, 2020 | Location | TV Times | Network |
| FIA Formula E Round 9 | Berlin | 4:30am – 5:30am (Replay) | FS1 |
| Indy 500 Practice 2 | Indianapolis | 11:00am – 5:30pm (Live Stream) | NBCSN Gold |
| FIA Formula E | Berlin | 12:00pm – 1:00pm | FS2 |
| ARCA "ENEOS/NAPA Auto Parts 150" | Roseburg, Oregon | 5:00pm – 6:00pm | NBCSN |
| NASCAR Race Hub | Studio | 6:00pm – 7:00pm | FS1 |
| Formula E: Round 11 | Berlin | 7:00pm – 8:00pm | FS1 |
| I Pace eTrophy Series | Berlin | 8:00pm – 9:00pm | FS2 |
| British GT Championship | Oulton Park | 8:00pm – 9:00pm | CBS SN |
| NHRA Dodge Nationals | Indianapolis | 9:00pm – 12:00am | FS1 |
| Friday, August 14, 2020 | Location | TV Times | Network |
| F1 Practice 1 | Barcelona | 4:55am – 6:30am (Live) | ESPN2 |
| F1 Practice 2 | Barcelona | 8:55am – 10:30am (Live) | ESPN2 |
| Indy 500 Practice 3 | Indianapolis | 11:00am – 5:30pm (Live Stream) | NBCSN Gold |
| ARCA race | Daytona | 5:00pm – 7:00pm (Live) | MavTV |
| Saturday, August 15, 2020 | Location | TV Times | Network |
| F1 Practice 3 | Barcelona | 5:55am – 7:00am (Live) | ESPN2 |
| WEC 6h(First Hour) | Spa | 7:00am – 8:30am (Live) | MotorTrend |
| Indy 500 Group 1 Practice | Indianapolis | 8:30am – 9:00am (Live Stream) | NBCSN Gold |
| Indy 500 Group 2 Practice | Indianapolis | 9:00am – 9:30am (Live Stream) | NBCSN Gold |
| F1:Spanish GP Qualifying | Barcelona | 8:55am – 10:00am (Live) | ESPN |
| Indy 500 Qualifications (Day 1) | Indianapolis | 11:00am – 5:00pm (Live) | NBC Gold |
| WEC 6h (Last Hour) | Spa | 12:30pm – 2:00pm (Live) | MotorTrend |
| Inside MotoAmerica | Pittsburgh | 12:30pm – 1:30pm (New) | NBCSN |
| Pirelli GT4 America Sprint X | Sonoma CA | 2:00pm – 4:00pm | CBS SN |
| NASCAR Xfinity "UNOH 188" | Dayton RC | 3:00pm 5:30pm (Live) | NBCSN |
| Indy 500 Qualifications (Day 1) | Indianapolis | 3:00pm – 5:00pm (Live) | NBC |
| NHRA in 30 – Indy | Studio | 3:30pm – 4:00pm | FS2 |
| MotoAmerica Rewind | Pittsburgh | 4:00pm – 5:00pm | FS2 |
| GT World Challenge Sprint Europe | Misano Italy | 4:00pm – 6:00pm | CBS SN |
| IMSA | Road America | 5:30pm – 10:30pm | NBCSN |
| Sunday, August 16, 2020 | Location | TV Times | Network |
| MotoGP | Brno | 6:00pm – 7:30pm (Replay) | NBCSN |
| MotoGP Race | Austria | 7:30am – 9:00am (Live) | NBCSN |
| F1 Spanish GP | Barcelona | 8:00am – 9:05am (Live) | ESPN |
| 1979 Daytona 500 | Daytona | 8:00am – 8:30am | FS1 |
| 2010: Daytona 500 | Daytona | 8:30am – 9:00am | FS1 |
| F1 Spanish GP | Barcelona | 9:05am – 11:00am (Live) | ESPN |
| British GT Championship | Oulton Park | 10:00am – 11:00am | CBS SN |
| Indy 500 Fast Nine Shootout Practice | Indianapolis | 11:00am – 11:30am (Live Stream) | NBCSN Gold |
| NASCAR Truck Race | Daytona RC | 12:00pm – 2:00pm (Live) | FS1 |
| TC America | Sonoma CA | 12:00pm – 1:30pm | CBS SN |
| 2020 Indy 500 Qualifications (Day 2) | Indianapolis | 12:30pm – 3:00pm (Live Stream) | NBCSN Gold |
| Indy 500 Fast Nine Qualifying | Indianapolis | 1:00pm – 3:00pm (Live) | NBC |
| Indy 500 Fast Nine Qualifying | Indianapolis | 1:15pm – 2:15pm (Live) | NBC Gold |
| Pirelli GT4 America Sprint | Sonoma CA | 1:30pm – 3:00pm | CBS SN |
| I Pace eTrophy Series | Berlin | 2:00pm – 4:00pm | FS2 |
| F1 :Spanish GP | Barcelona | 2:00pm – 4:30pm (Replay) | ESPN2 |
| DTM Race | Eurospeedway | 3:00pm – 5:00pm | CBS SN |
| NASCAR Cup Series Race | Daytona RC | 3:00pm – 6:00pm (Live) | NBC |
| Indy 500 Practice – all | Indianapolis | 3:30pm – 6:00pm (Live) | NBC Gold, NBCSN |
| Formula E: Round 10 | Berlin | 4:00pm – 6:00pm | FS2 |
| NASCAR Truck Series | Daytona | 6:30pm – 8:30pm (Replay) | FS2 |
| 2010: Daytona 500 | Daytona | 8:30pm – 11:30pm | FS2 |
| F1 Spanish GP | Barcelona | 10:00pm – 12:30am (Replay) | ESPN News |
| Pirelli GT4 America Sprint | Sonoma | 11:00pm – 12:30am | CBS SN |