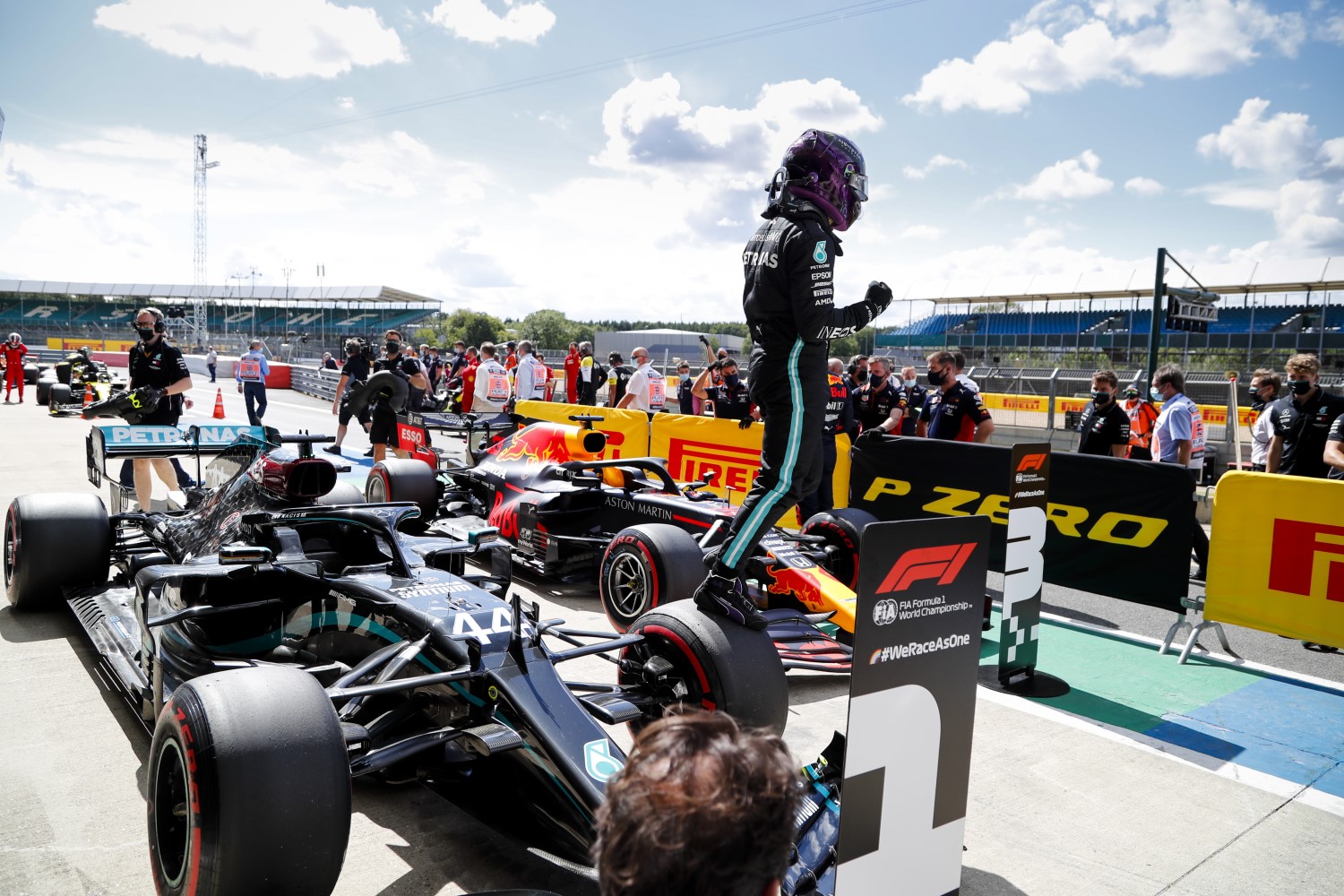 Lewis Hamilton is guaranteed to win again this weekend at Silverstone, his superior Mercedes cannot be beaten
All Times Eastern.
F1 is back in England for what will be called the Emirates GP. Formula E is in Berlin for a series of 6 races over 9 days.
All three top series of NASCAR are at Michigan Speedway. IndyCar was to be at Mid-Ohio for a doubleheader but that was cancelled.
| | | | |
| --- | --- | --- | --- |
| Sunday, August 9, 2020 | Location | TV Times | Network |
| FIA Formula E Round 8 | Berlin | 7:00am – 8:00am (Replay) | FS2 |
| Formula 1 Emirates GP | Silverstone | 9:05am – 11:00am (Live) | ESPN |
| NHRA Qualifying | Indianapolis | 11:00am – 1:00pm | FS1 |
| Honda Indy 200 Race 2 (Postponed) | Mid-Ohio | 12:45pm – 3:00pm | NBCSN |
| FIA Formula E Round 9 | Berlin | 1:00pm – 2:00pm (Live) | FS1 |
| GT World Challenge Sprint Europe | Misano Italy | 2:00pm – 4:00pm | CBSSN |
| Superbike Race | Pittsburgh | 3:00pm – 4:00pm (Live) | FS1 |
| GT World Challenge America | Sonoma | 4:00pm – 6:00pm (Live) | CBSSN |
| NASCAR Cup Race 2 "Consumers Energy 400" | Michigan | 4:30pm – 7:00pm (Live) | NBCSN |
| I Pace eTrophy Series Rnd 8&9 | Berlin | 7:00pm – 9:00pm | FS2 |
| Motocross: FIM MX2 | Latvia | 8:00pm – 9:00pm | CBSSN |
| Motocross: FIM MXGP | Latvia | 9:00pm – 10:00pm | CBSSN |
| NHRA Drag Racing | Indianapolis | 9:00pm – 12:00am | FS1 |
| Formula 1 Emirates GP | Silverstone | 9:00pm – 10:30pm (Replay) | ESPN2 |
| GT World Challenge America | Sonoma | 11:00pm – 1:00am | CBSSN |