'Sources' say Daimler happy with Wolff
(2nd Update)
(GMM) Toto Wolff looks set to remain at Mercedes beyond 2020.
The team boss has made clear that he has been discussing his contract renewal over the past weeks with new Daimler CEO Ola Kallenius.
Earlier, he even weighed up the top job at Liberty Media.
"(Sergio) Marchionne wanted me out of Mercedes to manage Liberty and make the team less strong," Wolff admitted to La Gazzetta dello Sport.
"I thought about it for a year, but I came to the conclusion that the place I am happiest is at the heart of the team, in the garage, seeing the mechanics work, being a silent observer, being part of the analysis with the engineers.
"At the moment I can confirm that I will stay," he added.
Wolff also hints that his relationship with Ferrari team boss Mattia Binotto is strained.
"The relationship with Marchionne and (former Ferrari boss Maurizio) Arrivabene was special," he said.
"I learned a lot from Maurizio in terms of marketing and we still have contract, and of course there were difficult moments, especially with Sergio before he died.
"The last message I received from him was 'We will meet again'. I never deleted it. With Mattia perhaps there is a different approach – we have different characters," Wolff added.
---
August 15, 2020
(GMM) Toto Wolff has admitted he might step down as Mercedes' team boss.
It is well known that the Austrian is discussing his future with Daimler CEO Ola Kallenius, amid rumors their relationship is shaky.
Wolff denies that, but he does admit that after many years of leading the dominant works team to multiple titles, it "takes a toll".
"As it stands, there is no reason not to continue with Mercedes," he said. "We will find out in which role."
The immediate implication of that is that Lewis Hamilton has warned that Wolff's future will weigh into his own deliberations about a new Mercedes contract.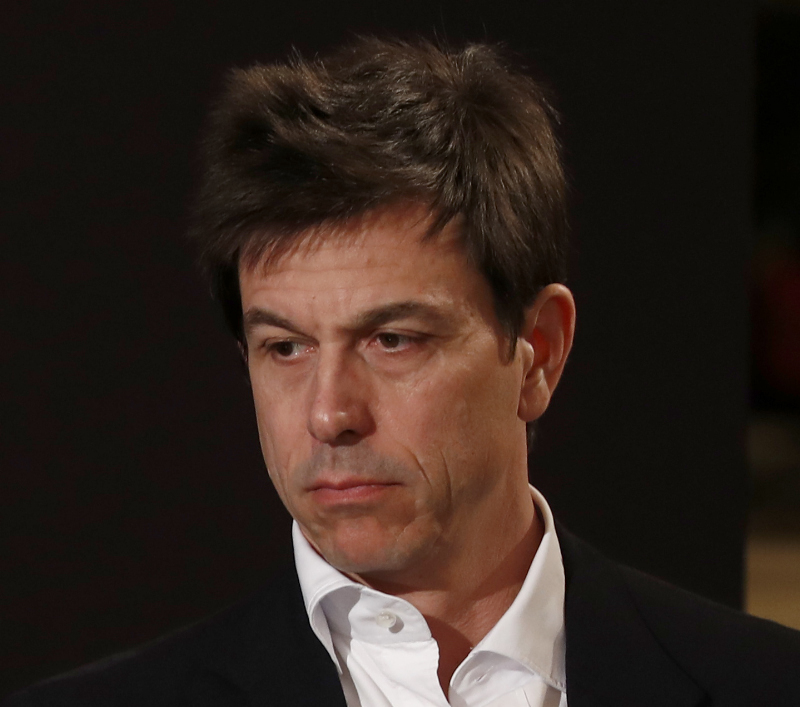 "It's flattering that he says that," Wolff said in Barcelona, "but I don't think he needs me.
"He has a great team that will always support him but as I said before, I haven't taken the decision yet.
"I don't want to give it a spin that I am leaving because that's not the case, it's just that I'm in a moment of reflection."
Wolff said the situation with coronavirus, F1's future, and his young family with wife Susie Wolff will all weigh into his ultimate decision.
"I've been to God knows how many races, I think 120 races in the last eight years, and that is something we are thinking about," he said.
It is not known what alternative role he is contemplating, but he admits that his non-Mercedes activities – including buying into the new Aston Martin project – "p**ses some people off".
"There is no conflict of interest," Wolff insisted, "but if I were on the other side I would also pick on these things."
(GMM) Toto Wolff's relationship with Daimler could be souring, according to the respected Dutch publication nu.nl.
Firstly, the Mercedes team boss is at the center of the 'pink Mercedes' car copying scandal, with five teams already siding against Wolff's support for Racing Point.
"It's a small revolution. Small in every way," Wolff was quoted as saying.
"I guess they're just annoyed that they cannot match Racing Point's performance."
Even the small team Haas is annoyed with Wolff. In defending Racing Point's actions, Wolff had alleged that the American team "got the entire car from Ferrari" when it entered F1.
Haas boss Gunther Steiner called that accusation "nonsense".
"We only ever used what we could legally buy," he said. "I think that's his guilty conscience speaking.
"It seems to me that Toto has his back to the wall, so he's trying to distract with other things."
Indeed, nu.nl correspondent Patrick Moeke says that while Mercedes parent Daimler "expresses confidence in Wolff to the outside", there is actually "dissatisfaction within the company" about the Austrian.
The claim, backed by "several sources close to Mercedes", is that Daimler does not appreciate some of Wolff's other activities.
One of them might be buying into Lawrence Stroll's new Aston Martin project. Wolff and Daimler are currently in talks about the 48-year-old's contract beyond 2020.
Olav Mol, the F1 commentator for Dutch television Ziggo Sport, says Wolff and new Daimler CEO Ola Kallenius do not particularly get along.
"But something like that will only become a real problem if the results start to disappoint," he said.