6H Spa: Rebellion Racing leads FP1; Porsche tops LMGTE Pro
The FIA World Endurance Championship made its eagerly-anticipated return to racing this afternoon for the TOTAL 6 Hours of Spa-Francorchamps in Belgium.
In very warm and dry track conditions, 29 cars took to the 4.352 mile (7.004km) track for the first free practice session of the three-day race meeting.
The main headlines from FP1 can be found below.
LMP1
–    Rebellion Racing placed on top in LMP1 as French driver Noman Nato set a time of 2:02.488 early on in the No. 1 Rebellion R13 Gibson he shares with Bruno Senna and Gustavo Menezes
–    ByKolles Racing Team's No. 4 second quickest with Oli Webb at the wheel of the Enso CLM P1/01, 1.046s behind Nato's pace-setting time
–    No. 7 and No 8 Toyota Gazoo Racing TS050 HYBRID cars third and fourth fastest, hampered by the success handicap system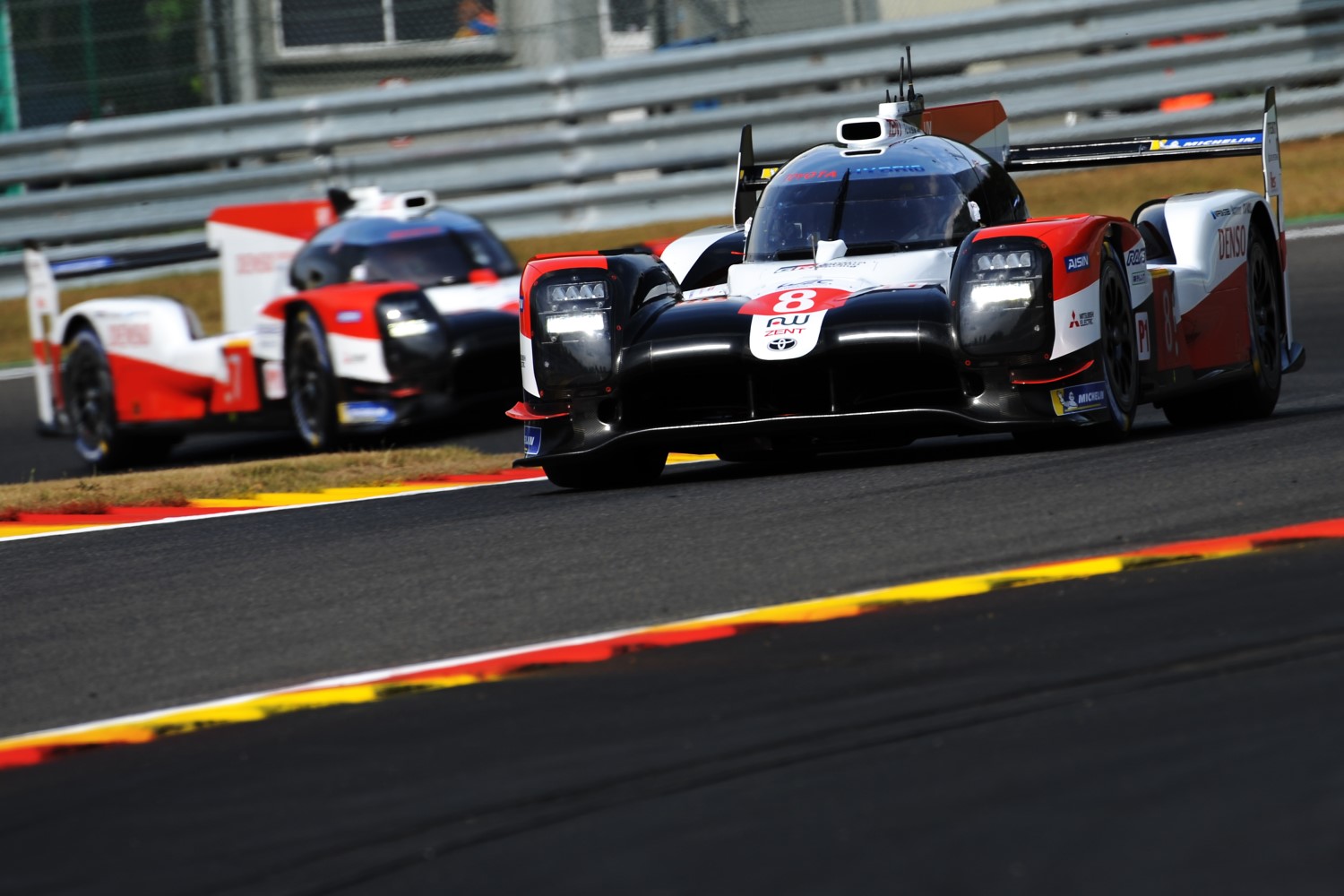 LMGTE Pro
–    In LMGTE Pro Porsche lead the way, with Michael Christensen setting a lap time of 2:16.057 in the No. 92 Porsche 911 RSR – 19 he shares with Kevin Estre
–    Aston Martin Racing clocked the second fastest time with home driver Maxime Martin at the wheel of the No. 97 Aston Martin Vantage AMR he shares with Alex Lynn
–    Martin's lap was 0.41s ahead of the No.91 Porsche driven by Gimmi Bruni and Richard Lietz
–    AF Corse Ferrari placed fourth with James Calado and Alessandro Pier Guidi driving the No. 51 Ferrari 488 GTE Evo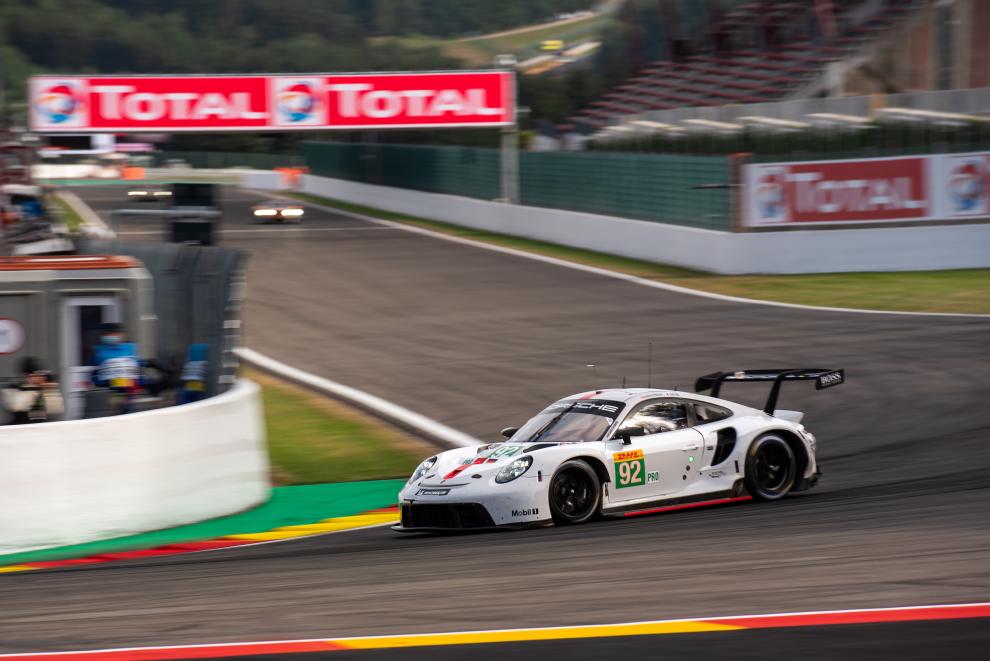 LMP2
–    Racing Team Nederland top LMP2 times as Giedo Van Der Garde sets the pace early in the session with a time of 2:03.888 in the ORECA 07 – Gibson
–    The Dutch team completed a total of 36 laps during the session – most out of all the teams competing
–    No. 38 JOTA Sport car entry second quickest as Anthony Davidson posted a second-fastest time of 2:03.935 on fresh Goodyear tyres
–    Third in LMP2 was category leaders United Autosport as Phil Hanson posted a time of 2:04.119 early in the session
Same question, Eau Rouge or Raidillon? 😜#6hSpa #WEC #WECRacesForYou pic.twitter.com/pxL9QnK6tH

— WEC (@FIAWEC) August 13, 2020
LMGTE Am
–    The No. 83 AF Corse Ferrari 488 GTE Evo driven by Nicklas Nielsen set the pace out of the 10 LMGTE Am entries, the Dane setting an unbeatable time of 2:17.853
–    No. 98 Aston Martin Racing shared by Paul Dalla Lana, Augusto Farfus and Ross Gunn was second fastest with a time of 2:18.020
–    Third quickest was the No. 56 Team Project 1 entry with Matteo Cairoli piloting the Porsche 911 RSR which is sporting a new Mentos-themed livery for this event
–    Several of the teams across the LMGTE Am and GTE Pro classes were given black and white flags or stop and go penalties for abusing track limits throughout the session
Toyota Quotes
Mike Conway (TS050 HYBRID #7): "It's been a long time since we raced in Austin. Being back at Spa feels good and it's great to get back on track, especially here because it's such a cool track. I just wanted to keep doing laps but with two team-mates and only a 90-minute session, that's not easy. We have made a decent start. Now we will be doing our best and we'll see where we are at the end of Saturday evening."
Kamui Kobayashi (TS050 HYBRID #7): "We all worked hard over the last couple of weeks to prepare as well as we can for this race and it feels great to drive the TS050 HYBRID. In terms of performance, the success handicap is making life difficult for us. It won't be the easiest weekend but we will keep focused and do everything we can to be in the best possible shape for the race."
José María López (TS050 HYBRID #7): "It went okay but today's session is only the first laps of the event. We had a few challenges in the beginning to get the set-up going in the right direction. We haven't been here for more than a year and the track has changed a bit. It's going to be a tough race for us on car #7 because of the success handicap as World Championship leaders and we have some work to do to extract the maximum from the car."
Kazuki Nakajima (TS050 HYBRID #8): "We tried to evaluate different downforce levels and played with the balance. We are on the way to get back to the rhythm and I hope that we can improve tomorrow to put ourselves in a good position for the race. At the moment we are not quite where we want to be, but it was nice to be back in the car after a long time without racing; I really enjoyed driving the TS050 HYBRID again."
Brendon Hartley (TS050 HYBRID #8): "It felt good to be back on the track with the other cars. It was already nice to do our test at Paul Ricard last month and everything came back quickly today. We ran through our programme, comparing different things on each car to get familiar with the low-downforce package. There were no dramas; of course we were not as quick as we would like but we still have time to find."
Results
| | | | | | |
| --- | --- | --- | --- | --- | --- |
| POS | CLASS | DRIVER | TEAM | CAR | GAP |
| 1 | LMP1 | B.Senna, G.Menezes, N.Nato | Rebellion Racing | Rebellion/Gibson | 2m02.469s |
| 2 | LMP1 | T.Dillmann, B.Spengler, O.Webb | ByKOLLES Racing Team | ENSO CLM/NISMO | 1.046s |
| 3 | LMP1 | M.Conway, K.Kobayashi, J.M.Lopez | Toyota Gazoo Racing | Toyota | 1.163s |
| 4 | LMP1 | S.Buemi, K.Nakajima, B.Hartley | Toyota Gazoo Racing | Toyota | 1.355s |
| 5 | LMP2 | F.van Eerd, G.van der Garde, J.van Uitert | Racing Team Nederland | ORECA/Gibson | 1.419s |
| 6 | LMP2 | R.Gonzalez, A.F.da Costa, A.Davidson | JOTA | ORECA/Gibson | 1.466s |
| 7 | LMP2 | P.Hanson, F.Albuquerque, P.Di Resta | United Autosports | ORECA/Gibson | 1.650s |
| 8 | LMP2 | T.Laurent, A.Negrao, P.Ragues | Signatech Alpine Elf | Alpine/Gibson | 1.712s |
| 9 | LMP2 | N.Lapierre, A.Borga, A.Coigny | COOL Racing | ORECA/Gibson | 1.842s |
| 10 | LMP2 | H-Pin Tung, G.Aubry, W.Stevens | Jackie Chan DC Racing | ORECA/Gibson | 2.063s |
| 11 | LMP2 | M.Patterson, K.Yamashita, A.Fjordbach | High Class Racing | ORECA/Gibson | 3.578s |
| 12 | LMP2 | N.Yamanaka, N.Foster, R.Merhi | Eurasia Motorsport | Ligier/Gibson | 4.127s |
| 13 | LMP2 | R.Lacorte, A.Belicchi, G.Sernagiotto | Cetilar Racing | Dallara/Gibson | 4.742s |
| 14 | GTE Pro | M.Christensen, K.Estre | Porsche GT Team | Porsche | 13.588s |
| 15 | GTE Pro | A.Lynn, M.Martin | Aston Martin Racing | Aston Martin | 13.839s |
| 16 | GTE Pro | G.Bruni, R.Lietz | Porsche GT Team | Porsche | 13.880s |
| 17 | GTE Pro | J.Calado, A.P.Guidi | AF Corse | Ferrari | 14.310s |
| 18 | GTE Pro | D.Rigon, M.Molina | AF Corse | Ferrari | 14.653s |
| 19 | GTE Pro | M.Sorensen, N.Thiim | Aston Martin Racing | Aston Martin | 14.719s |
| 20 | GTE Am | F.Perrodo, E.Collard, N.Nielsen | AF Corse | Ferrari | 15.384s |
| 21 | GTE Am | P.D.Lana, A.Farfus, R.Gunn | Aston Martin Racing | Aston Martin | 15.551s |
| 22 | GTE Am | E.Perfetti, L.Horr, M.Cairoli | Team Project 1 | Porsche | 15.713s |
| 23 | GTE Am | C.Ried, R.Pera, M.Campbell | Dempsey-Proton Racing | Porsche | 15.778s |
| 24 | GTE Am | M.Wainwright, A.Watson, B.Barker | Gulf Racing | Porsche | 16.053s |
| 25 | GTE Am | T.Flohr, F.Castellacci, G.Fisichella | AF Corse | Ferrari | 16.064s |
| 26 | GTE Am | S.Yoluc, C.Eastwood, J.Adam | TF Sport | Aston Martin | 16.106s |
| 27 | GTE Am | B.Keating, F.Fraga, J.Bleekemolen | Team Project 1 | Porsche | 16.929s |
| 28 | GTE Am | B.Grimes, J.Mowlem, C.Hollings | Red River Sport | Ferrari | 17.242s |
| 29 | GTE Am | G.Giraudi, R.Sanchez, L.Legeret | Dempsey-Proton Racing | Porsche | 17.392s |
| 30 | LMP2 | J.Falb, S.Trummer, J.Lancaster | Algarve Pro Racing | ORECA/Gibson | – |