Indy Day 2: Dixon tops 226 mph
2020 IndyCar points leader Scott Dixon, driving the #9 Ganassi Honda, turned the fastest lap Thursday in practice for the 104th running of the Indy 500.  Dixon was the only driver to top 226 mph, which was fast enough to beat two other Honda powered cars of #30 Takuma Sato and #98 Marco Andretti.
Sato sat atop the charts much of the day and Dixon put up the fastest lap of 226.102mph  in the final hour when temperatures were a bit cooler.
#47 Conor Daly was the quickest Chevy in 4th while rookie Alex Palou was an impressive 5th in his #55 Dale Coyne Honda.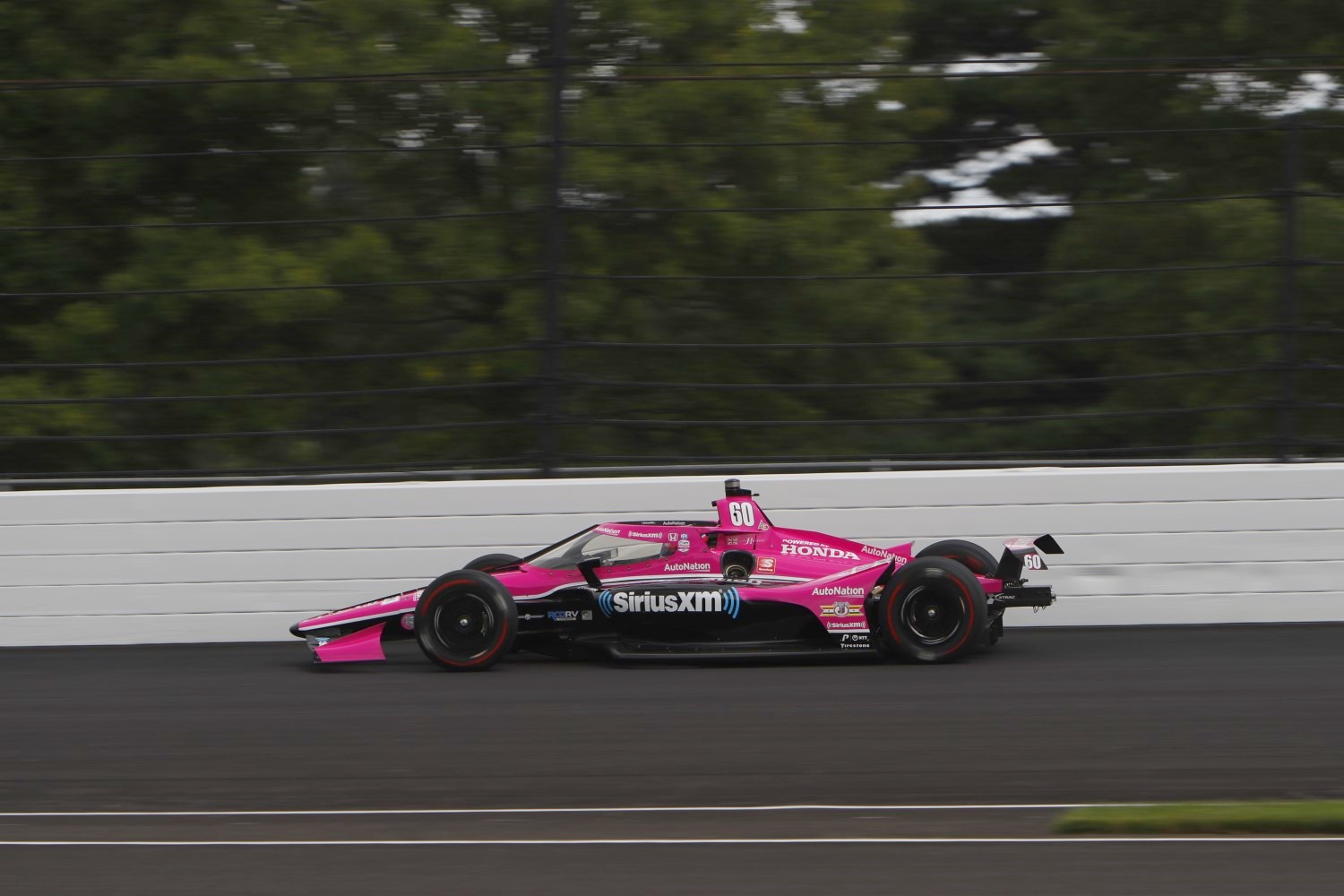 Dixon, who opened the 2020 season with three straight victories, rose to the No. 1 spot on the 2.5-mile oval after recording the third-fastest speed Wednesday on Opening Day at 224.047. He looks to be a prime contender for both pole position during Armed Forces Qualifying Weekend this Saturday and Sunday and for his second Indy 500 victory on Race Day, Sunday, Aug. 23.
"Today, we made some minor changes and tried to figure out some different balances," Dixon said. "We're also focusing on how the car feels. The No. 8 car had some changes yesterday that (teammate Marcus Ericsson) liked and we tried them, but I'm on the fence. We're just running through those variations and trying to run in as much traffic as possible and get the car as comfortable as possible for the race.
"We're really just working hard on race setup. We've had a lot of options to work through, and we also wanted to run some of the things the other two cars have tried. We also worked on finding traffic today to see how the car would respond."
The first incident over two days of practice came at 4:40 p.m. – 50 minutes before the end of practice – when two-time Formula One World Champion Fernando Alonso was unhurt in an accident. Alonso made right-side contact with the SAFER Barrier exiting Turn 4 after clipping the concrete apron in Turn 4 with his left front wheel, with his No. 66 Ruoff Arrow McLaren SP Chevrolet then doing a half-spin to the left at pit entry and sliding into the inside pit wall, making secondary right-front contact.
The car suffered moderate damage.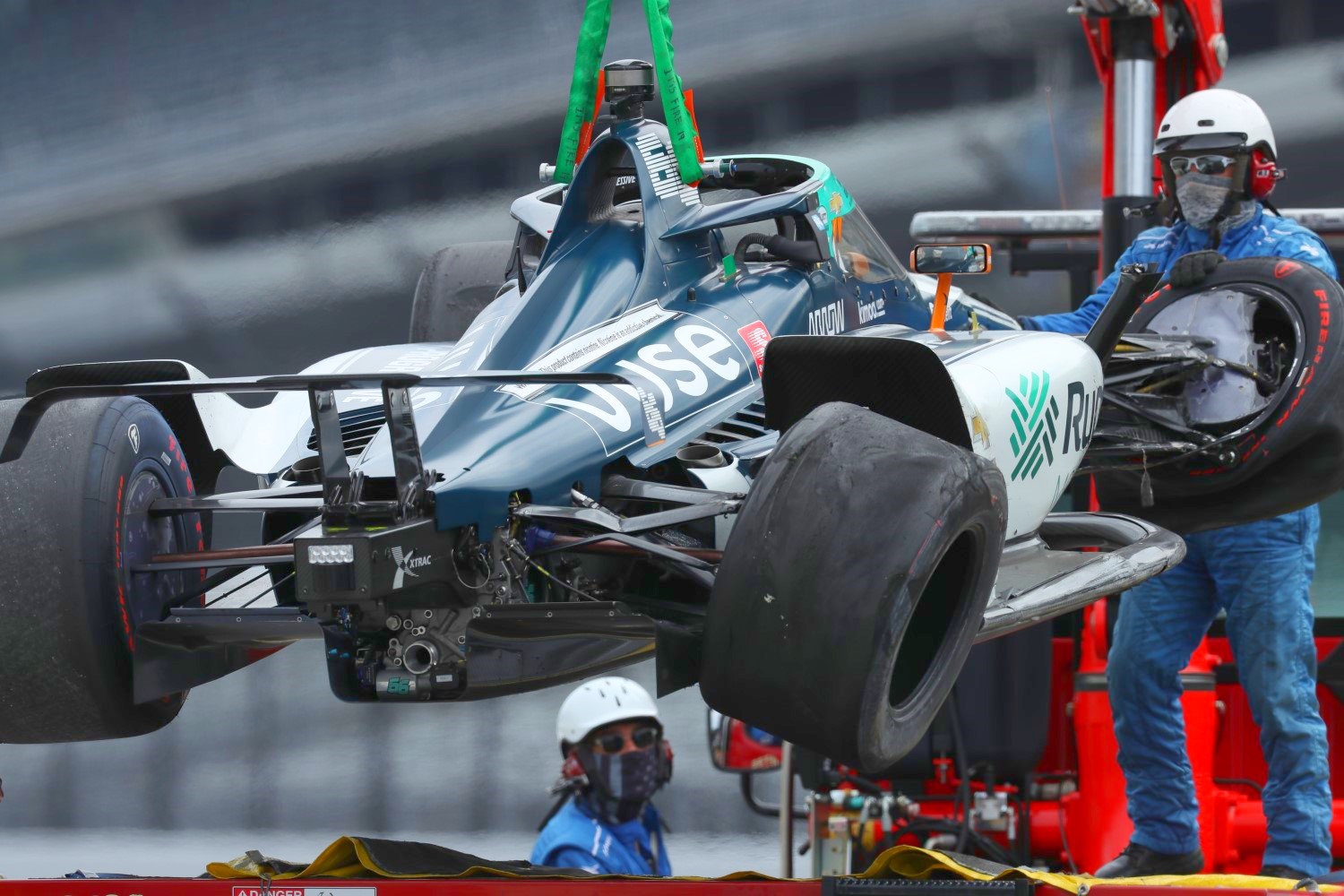 Alonso, who also crashed in practice last year, was eighth fastest today at 224.363 before his accident.
"It was the car, the grip of the car," Alonso said. "This place, the walls are coming very close. This is the way it is. Unfortunately, it happened again today. Hopefully it happens today instead of Sunday the 23rd.
"You learn every lap you do around here, and we learned from this. Tomorrow we start again. I think everything tomorrow is going to be OK. Let's keep up the good work, and hopefully no more issues."
Cars will receive increased turbocharger boost – generating approximately 50 horsepower and higher speeds – on "Fast Friday" practice in preparation for Crown Armed Forces Qualifying Weekend on Saturday and Sunday.
"It's going to be cool," Dixon said. "It's a big jump (in power). We're pretty low speeds (today). I expect to see some pretty big speeds tomorrow, especially in tows. Everybody will be trying to get a clear track, but that's going to be tough to get. I'm excited for tomorrow – Fast Friday."
Day 2 Speeds
| | | | | | | | | |
| --- | --- | --- | --- | --- | --- | --- | --- | --- |
| Pos | No | Name | Time | Diff | Gap | Speed | Engine | Team |
| 1 | 9 | Scott Dixon | 39.805 | –.—- | –.—- | 226.102 | Honda | Chip Ganassi Racing |
| 2 | 30 | Takuma Sato | 39.877 | 0.0722 | 0.0722 | 225.693 | Honda | Rahal Letterman Lanigan Racing |
| 3 | 98 | Marco Andretti | 39.956 | 0.1508 | 0.0786 | 225.249 | Honda | Andretti Herta with Marco & Curb-Agajanian |
| 4 | 47 | Conor Daly | 39.981 | 0.1762 | 0.0254 | 225.106 | Chevy | Ed Carpenter Racing |
| 5 | 55 | Alex Palou | 40.005 | 0.2001 | 0.0239 | 224.971 | Honda | Dale Coyne Racing with Team Goh |
| 6 | 88 | Colton Herta | 40.063 | 0.2576 | 0.0575 | 224.648 | Honda | Andretti Harding Steinbrenner Autosport |
| 7 | 4 | Charlie Kimball | 40.069 | 0.2640 | 0.0064 | 224.613 | Chevy | AJ Foyt Enterprises |
| 8 | 66 | Fernando Alonso | 40.114 | 0.3085 | 0.0445 | 224.363 | Chevy | Arrow McLaren SP |
| 9 | 51 | James Davison | 40.122 | 0.3172 | 0.0087 | 224.315 | Honda | Dale Coyne w/Rick Ware /Byrd/Belardi |
| 10 | 7 | Oliver Askew | 40.150 | 0.3451 | 0.0279 | 224.159 | Chevy | Arrow McLaren SP |
| 11 | 28 | Ryan Hunter-Reay | 40.151 | 0.3459 | 0.0008 | 224.154 | Honda | Andretti Autosport |
| 12 | 21 | Rinus VeeKay | 40.166 | 0.3613 | 0.0154 | 224.068 | Chevy | Ed Carpenter Racing |
| 13 | 60 | Jack Harvey | 40.209 | 0.4044 | 0.0431 | 223.828 | Honda | Meyer Shank Racing |
| 14 | 14 | Tony Kanaan | 40.237 | 0.4318 | 0.0274 | 223.676 | Chevy | AJ Foyt Enterprises |
| 15 | 26 | Zach Veach | 40.240 | 0.4351 | 0.0033 | 223.657 | Honda | Andretti Autosport |
| 16 | 3 | Helio Castroneves | 40.244 | 0.4395 | 0.0044 | 223.633 | Chevy | Team Penske |
| 17 | 29 | James Hinchcliffe | 40.245 | 0.4401 | 0.0006 | 223.630 | Honda | Andretti Autosport |
| 18 | 1 | Josef Newgarden | 40.247 | 0.4424 | 0.0023 | 223.617 | Chevy | Team Penske |
| 19 | 15 | Graham Rahal | 40.305 | 0.5000 | 0.0576 | 223.297 | Honda | Rahal Letterman Lanigan Racing |
| 20 | 5 | Pato O'Ward | 40.319 | 0.5138 | 0.0138 | 223.221 | Chevy | Arrow McLaren SP |
| 21 | 18 | Santino Ferrucci | 40.346 | 0.5410 | 0.0272 | 223.070 | Honda | Dale Coyne Racing with Vasser Sullivan |
| 22 | 45 | Spencer Pigot | 40.351 | 0.5460 | 0.0050 | 223.043 | Honda | RLL with Citrone/Buhl Autosport |
| 23 | 12 | Will Power | 40.363 | 0.5577 | 0.0117 | 222.978 | Chevy | Team Penske |
| 24 | 10 | Felix Rosenqvist | 40.423 | 0.6181 | 0.0604 | 222.645 | Honda | Chip Ganassi Racing |
| 25 | 8 | Marcus Ericsson | 40.426 | 0.6208 | 0.0027 | 222.630 | Honda | Chip Ganassi Racing |
| 26 | 27 | Alexander Rossi | 40.435 | 0.6297 | 0.0089 | 222.581 | Honda | Andretti Autosport |
| 27 | 22 | Simon Pagenaud | 40.501 | 0.6961 | 0.0664 | 222.216 | Chevy | Team Penske |
| 28 | 41 | Dalton Kellett | 40.548 | 0.7430 | 0.0469 | 221.959 | Chevy | AJ Foyt Enterprises |
| 29 | 67 | JR Hildebrand | 40.617 | 0.8118 | 0.0688 | 221.583 | Chevy | Dreyer & Reinbold Racing |
| 30 | 20 | Ed Carpenter | 40.620 | 0.8155 | 0.0037 | 221.563 | Chevy | Ed Carpenter Racing |
| 31 | 24 | Sage Karam | 40.630 | 0.8253 | 0.0098 | 221.510 | Chevy | Dreyer & Reinbold Racing |
| 32 | 59 | Max Chilton | 40.797 | 0.9917 | 0.1664 | 220.606 | Chevy | Carlin |
| 33 | 81 | Ben Hanley | No Time | — | — | — | Chevy | DragonSpeed USA |