Indy Day 3: Hondas dominate Fast Friday at Indy
They call it Fast Friday for a reason. With the Turbo Boost turned up on the Honda and Chevy IndyCar engines in preparation for qualifying Saturday for the 104th Indy 500, speeds jumped substantially.
Marco Andretti's (shown above) top speed of 233.491mph  from early in the day stood up until the end.  However, that was with a slight tow and his top non-tow speed of 231.754mph was third best behind his Andretti Autosport Honda teammate Ryan Hunter-Reay (232.124mph) and Scott Dixon (232.027mph).
"Fast Friday was good, especially with the top speed of the day," Andretti said. "We seem to be looking good on no-tow speeds, as well. Although I wanted to end the day with runs better than we did, and we have a few things to work out. But we just need to nail tomorrow, and the No. 98 car has enough speed for the Fast Nine."
Officially Conor Daly was 2nd quick at 232.337mph with a tow but his non-tow speed was only 228.521mph.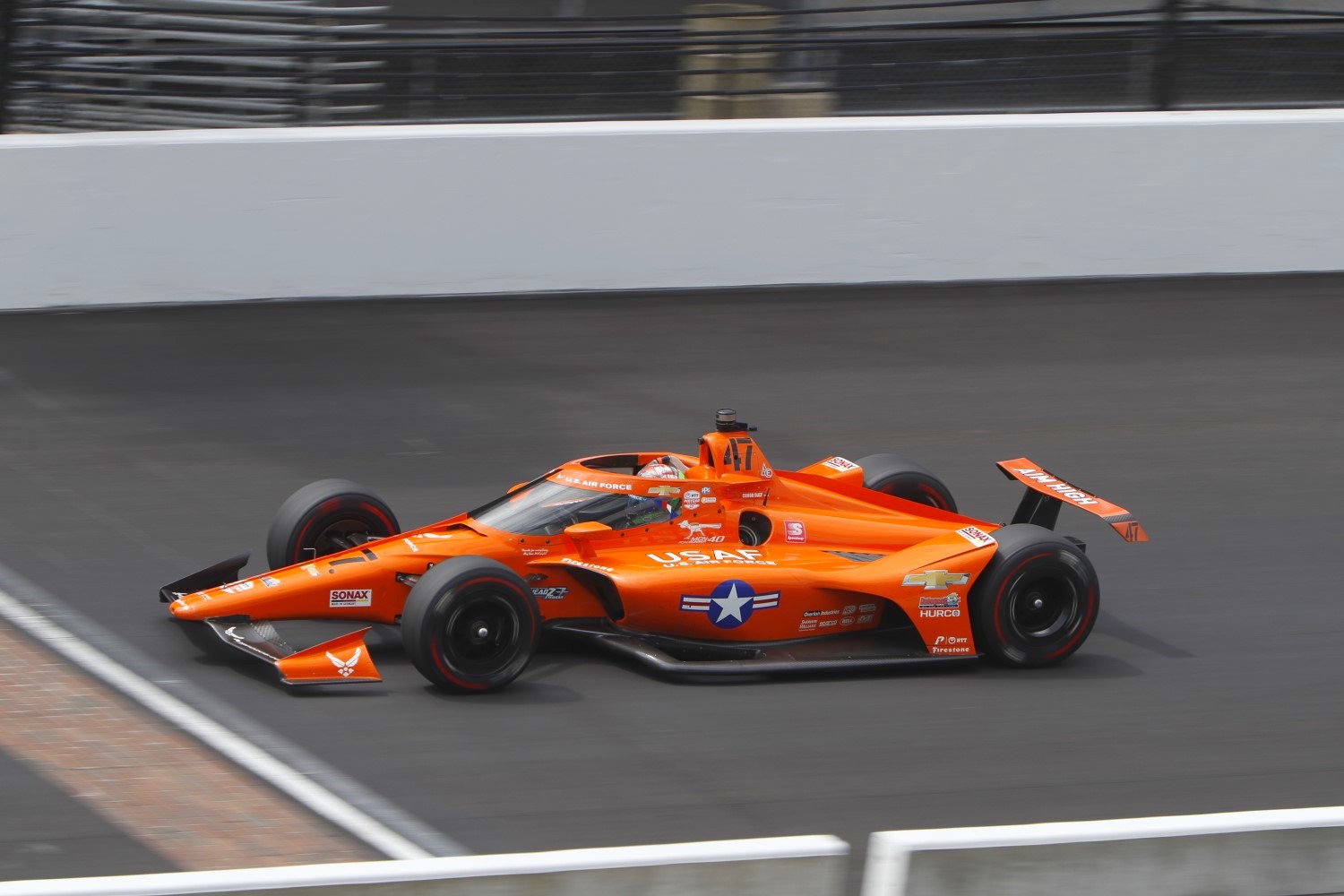 Scott Dixon had the overall 3rd best time with Hunter-Reay and a spectacular rookie Alex Palou rounding out the top-5.
"I hope things keep going in this direction," said Dixon.  "I'm always proud to be powered by Honda and HPD, and hope this is some indication that we have the upper hand on power this year. It's always tough here at Indy, and the race is obviously where it counts. The PNC Bank car is good right now and we're trying to get some more balance, so that's kind of where we're at. We were second or third most the day on the no-tow speed report for outright speed, so we hope that ends up holding true."
9 of the 10 fastest times for the day were Honda powered cars, but it is thought there is more to come from Chevy.
Two-time Formula One World Champion Fernando Alonso returned to the track today after hitting the SAFER Barrier in Turn 4 on Thursday in his No. 66 Ruoff Arrow McLaren SP Chevrolet. He was 25th fastest at 229.788.
Fans Can Enjoy Indy 500 Qualifying on NBC Sports, Pennzoil INDYCAR Radio Network
Fans of the 104th Indianapolis 500 presented by Gainbridge will have multiple options to watch and listen to Crown Royal Armed Forces Qualifying this weekend at Indianapolis Motor Speedway.
Each of the 33 car-and-driver combinations will attempt at least one four-lap qualifying run to post a time for the "500" on Sunday, Aug. 23. The fastest nine cars from qualifying Saturday, which starts at 11 a.m. (ET), will transfer to Sunday's Fast Nine Shootout to determine the first nine starting positions for the race. The Fast Nine Shootout starts at 1 p.m. Sunday.
NBC will air qualifying from 3-5 p.m. Saturday and 1-3 p.m. Sunday. NBC's NTT INDYCAR SERIES streaming platform, INDYCAR Pass on NBC Sports Gold, will cover qualifying from 11 a.m.-5 p.m. Saturday and from 1-3 p.m. Sunday.
The NBC Sports Network and INDYCAR Pass on NBC Sports Gold will have Sunday's post-qualifying practice from 3:30-6 p.m. INDYCAR Pass on NBC Sports Gold will cover Saturday's first practice from 8:30-9:30 a.m. and Fast Nine Shootout practice from 11-11:30 a.m. Sunday.
The Pennzoil INDYCAR Radio Network will air broadcasts of all track activity this weekend.
Qualifying coverage starts from 11 a.m.-1 p.m. and 3:30-5 p.m. Saturday on national affiliates, XM 205, indycar.com and the INDYCAR Mobile App powered by NTT DATA. Fast Nine Shootout coverage will air from 12:30-2:30 p.m. Sunday.
More Saturday qualifying coverage from the Pennzoil INDYCAR Radio Network will be available from 1-3:30 p.m. on indycar.com and the INDYCAR Mobile App. Practice coverage on indycar.com and the INDYCAR Mobile App will be available from 8:30-9:30 a.m. Saturday, 11-11:30 a.m. Sunday and 3:30-6 p.m. Sunday.
Fans also can find the complete TV and radio broadcast schedule for the entire event by clicking here.
Day 3 (Fast Friday) Practice Times
| | | | | | | | | |
| --- | --- | --- | --- | --- | --- | --- | --- | --- |
| Pos | No | Name | Time | Diff | Gap | Speed | Engine | Team |
| 1 | 98 | Marco Andretti | 38.545 | –.—- | –.—- | 233.491 | Honda | Andretti Herta with Marco & Curb-Agajanian |
| 2 | 47 | Conor Daly | 38.737 | 0.1914 | 0.1914 | 232.337 | Chevy | Ed Carpenter Racing |
| 3 | 9 | Scott Dixon | 38.745 | 0.1992 | 0.0078 | 232.290 | Honda | Chip Ganassi Racing |
| 4 | 28 | Ryan Hunter-Reay | 38.772 | 0.2269 | 0.0277 | 232.124 | Honda | Andretti Autosport |
| 5 | 45 | Spencer Pigot | 38.774 | 0.2283 | 0.0014 | 232.116 | Honda | RLL with Citrone/Buhl Autosport |
| 6 | 55 | Alex Palou | 38.795 | 0.2495 | 0.0212 | 231.989 | Honda | Dale Coyne Racing with Team Goh |
| 7 | 29 | James Hinchcliffe | 38.799 | 0.2533 | 0.0038 | 231.967 | Honda | Andretti Autosport |
| 8 | 30 | Takuma Sato | 38.813 | 0.2678 | 0.0145 | 231.880 | Honda | Rahal Letterman Lanigan Racing |
| 9 | 27 | Alexander Rossi | 38.817 | 0.2713 | 0.0035 | 231.859 | Honda | Andretti Autosport |
| 10 | 8 | Marcus Ericsson | 38.833 | 0.2873 | 0.0160 | 231.763 | Honda | Chip Ganassi Racing |
| 11 | 12 | Will Power | 38.859 | 0.3138 | 0.0265 | 231.605 | Chevy | Team Penske |
| 12 | 60 | Jack Harvey | 38.860 | 0.3147 | 0.0009 | 231.600 | Honda | Meyer Shank Racing |
| 13 | 88 | Colton Herta | 38.861 | 0.3156 | 0.0009 | 231.595 | Honda | Andretti Harding Steinbrenner Autosport |
| 14 | 15 | Graham Rahal | 38.921 | 0.3754 | 0.0598 | 231.239 | Honda | Rahal Letterman Lanigan Racing |
| 15 | 26 | Zach Veach | 38.929 | 0.3836 | 0.0082 | 231.190 | Honda | Andretti Autosport |
| 16 | 4 | Charlie Kimball | 38.985 | 0.4391 | 0.0555 | 230.861 | Chevy | AJ Foyt Enterprises |
| 17 | 1 | Josef Newgarden | 39.032 | 0.4861 | 0.0470 | 230.583 | Chevy | Team Penske |
| 18 | 5 | Pato O'Ward | 39.032 | 0.4864 | 0.0003 | 230.581 | Chevy | Arrow McLaren SP |
| 19 | 7 | Oliver Askew | 39.044 | 0.4989 | 0.0125 | 230.507 | Chevy | Arrow McLaren SP |
| 20 | 10 | Felix Rosenqvist | 39.057 | 0.5117 | 0.0128 | 230.432 | Honda | Chip Ganassi Racing |
| 21 | 21 | Rinus VeeKay | 39.074 | 0.5288 | 0.0171 | 230.331 | Chevy | Ed Carpenter Racing |
| 22 | 22 | Simon Pagenaud | 39.098 | 0.5529 | 0.0241 | 230.189 | Chevy | Team Penske |
| 23 | 18 | Santino Ferrucci | 39.104 | 0.5589 | 0.0060 | 230.154 | Honda | Dale Coyne Racing with Vasser Sullivan |
| 24 | 14 | Tony Kanaan | 39.140 | 0.5942 | 0.0353 | 229.946 | Chevy | AJ Foyt Enterprises |
| 25 | 66 | Fernando Alonso | 39.167 | 0.6212 | 0.0270 | 229.788 | Chevy | Arrow McLaren SP |
| 26 | 51 | James Davison | 39.170 | 0.6249 | 0.0037 | 229.766 | Honda | Dale Coyne Racing w/Rick Ware Racing/Byrd/Belardi |
| 27 | 20 | Ed Carpenter | 39.205 | 0.6596 | 0.0347 | 229.563 | Chevy | Ed Carpenter Racing |
| 28 | 41 | Dalton Kellett | 39.284 | 0.7390 | 0.0794 | 229.099 | Chevy | AJ Foyt Enterprises |
| 29 | 3 | Helio Castroneves | 39.396 | 0.8503 | 0.1113 | 228.451 | Chevy | Team Penske |
| 30 | 67 | JR Hildebrand | 39.426 | 0.8807 | 0.0304 | 228.275 | Chevy | Dreyer & Reinbold Racing |
| 31 | 24 | Sage Karam | 39.441 | 0.8959 | 0.0152 | 228.187 | Chevy | Dreyer & Reinbold Racing |
| 32 | 59 | Max Chilton | 39.541 | 0.9959 | 0.1000 | 227.610 | Chevy | Carlin |
| 33 | 81 | Ben Hanley | 40.525 | 1.9794 | 0.9835 | 222.086 | Chevy | DragonSpeed USA |