Whincup claims Darwin glory by slimmest of margins after 'great battle'
Jamie Whincup showed why many regard him as the greatest Supercar driver of all time, bouncing back from a heavy crash yesterday morning to today claim the coveted BetEasy Darwin Triple Crown title.
The Red Bull Holden Racing Team ace won the final race of the event this afternoon to finish the weekend equal on top of the round's points table with Shell Ford's Fabian Coulthard.
Whincup's career victory #120 in the final race meant in a count back, he was awarded the Triple Crown title for 2020.
It capped off a roller coaster weekend for the seven-time Virgin Australia Supercars Champion, who yesterday in practice crashed heavily into a wall after skidding off the Hidden Valley circuit.
The final result of the weekend saw Whincup win Race 15 from two-time defending Supercars Champion Scott McLaughlin, Whincup's kiwi teammate Shane van Gisbergen was third.
"That was a great battle," said Whincup. "That reminded me of the old 2017/18 days when we were going head-to-head with these boys.
"We just kept chipping away at the car all weekend and made it fastest for race three.
"I thought after the penalty yesterday we were done and dusted for the Triple Crown but fantastic to have a great day and get right up there."
With tire strategy key to the weekend's results, the top teams played it to perfection to come out on top.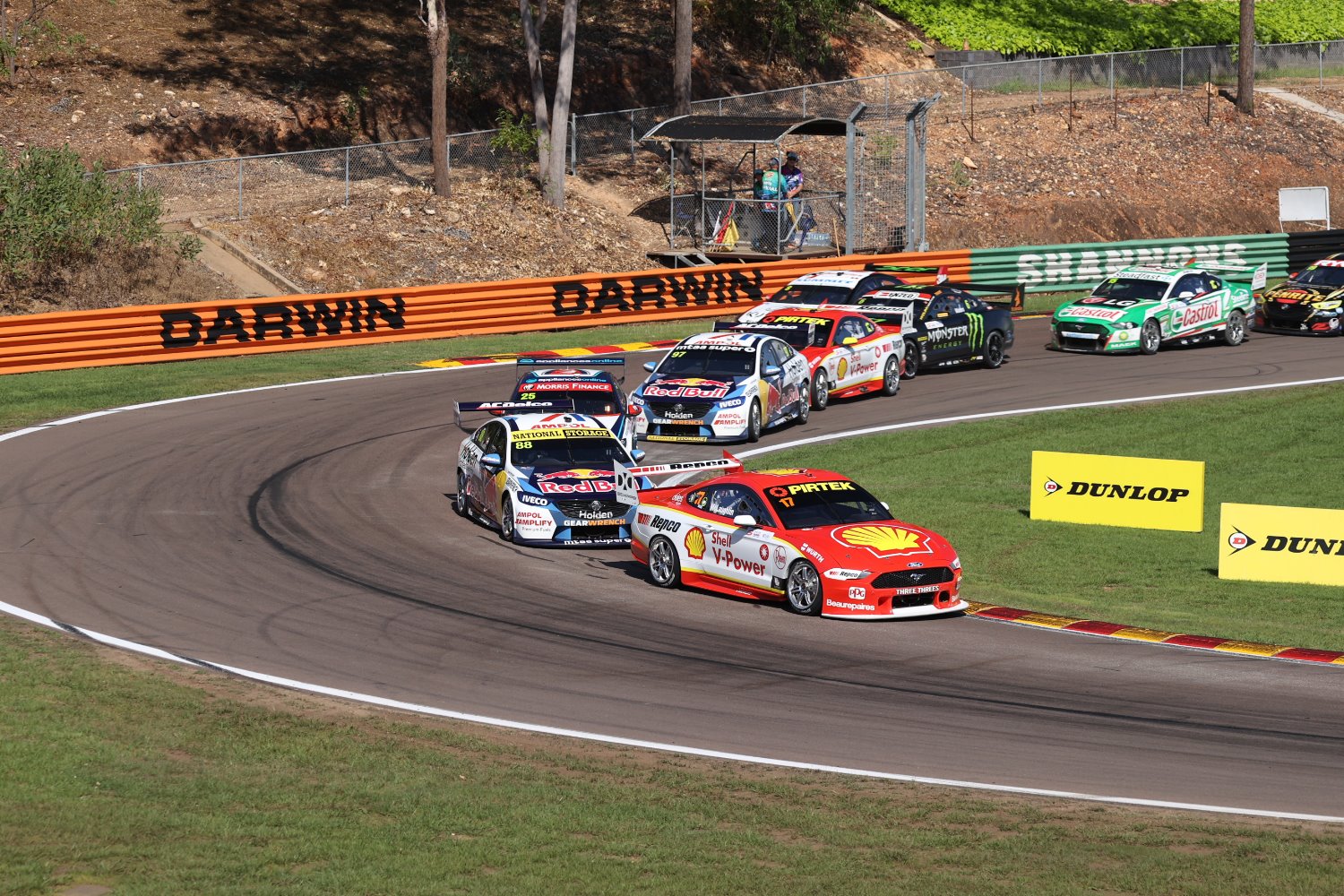 Penrite Racing's Anton De Pasquale who won his maiden Supercars race yesterday, entered the final race of the weekend holding a 10-point lead over Coulthard in the Triple Crown standings, but had no quality tires in hand, in the end De Pasquale finished the final race of the event back in 23rd position.
The critical moment of today's final race was a pit stop where Whincup and Coulthard almost collided as the Red Bull Holden was exiting and the Shell Mustang was entering.
Coulthard slowed to avoid a collision with the #88 Commodore. Post-race the kiwi said things could have been very different had Whincup waited a second longer.
"I think the witness mark on the front of my car and the skid mark to stop to avoid him (Whincup) is pretty clear," said Coulthard post-race.
"Blind Freddie could have seen that I was impeded. That cost me the position to Chaz. If I'd stayed in front of Chaz, the outcome would have been very different.
"Who knows what's going to happen? It might not be the last you hear of this."
McLaughlin now holds a 101-point Championship lead over Whincup, Chaz Mostert is third and van Gisbergen is fourth.
After a chaotic and drama-filled weekend, teams will now have five days to prepare for the second event of the Darwin double-header, the CoreStaff SuperSprint to be held next weekend, 22-23 August at Hidden Valley.
Darwin Race 2 Results
| | | | | |
| --- | --- | --- | --- | --- |
| POS | # | DRIVER | TEAM | BEHIND |
| 1 | 17 | McLaughlin | Shell V-Power Racing Team | +0.000s |
| 2 | 88 | Whincup | Red Bull Holden Racing Team | +1.409 |
| 3 | 12 | Coulthard | Shell V-Power Racing Team | +7.209 |
| 4 | 97 | Van Gisbergen | Red Bull Holden Racing Team | +12.440 |
| 5 | 9 | Reynolds | Penrite Racing | +13.293 |
| 6 | 8 | Percat | R&J Batteries | +17.179 |
| 7 | 99 | A. de Pasquale | Penrite Racing | +17.536 |
| 8 | 25 | Mostert | Mobil 1 TM Appliances Online | +18.011 |
| 9 | 6 | C. Waters | Monster Energy Racing | +18.619 |
| 10 | 7 | Heimgartner | NED Whisky Racing | +19.028 |
| 11 | 18 | Winterbottom | IRWIN Racing | +19.901 |
| 12 | 44 | Courtney | Boost Mobile Racing | +22.611 |
| 13 | 15 | R. Kelly | Castrol Racing | +23.152 |
| 14 | 5 | Holdsworth | Truck Assist Racing | +23.601 |
| 15 | 55 | J. Le Brocq | Supercheap Auto Racing | +24.140 |
| 16 | 20 | S. Pye | DEWALT Racing | +24.704 |
| 17 | 19 | A. Davison | Local Legends Racing | +29.745 |
| 18 | 2 | B. Fullwood | Mobil 1 TM Middy's Racing | +34.882 |
| 19 | 35 | G. Jacobson | Yellow Cover Racing | +1 Lap |
| 20 | 14 | T. Hazelwood | Brut Military Grade | +1 Lap |
| 21 | 22 | C. Pither | Team SYDNEY | +1 Lap |
| 22 | 34 | J. Kostecki | UNIT Racing | +1 Lap |
| 23 | 3 | M. Jones | Team CoolDrive | +1 Lap |
| 24 | 4 | J. Smith | SCT Motor Sports | +1 Lap |
Darwin Race 3 Results
| | | | | |
| --- | --- | --- | --- | --- |
| POS | # | DRIVER | TEAM | Behind |
| 1 | 88 | Whincup | Red Bull Holden Racing Team | +0.000s |
| 2 | 17 | McLaughlin | Shell V-Power Racing Team | +2.122 |
| 3 | 97 | Van Gisbergen | Red Bull Holden Racing Team | +14.356 |
| 4 | 25 | Mostert | Mobil 1 TM Appliances Online | +17.259 |
| 5 | 12 | Coulthard | Shell V-Power Racing Team | +17.759 |
| 6 | 8 | Percat | R&J Batteries | +22.615 |
| 7 | 18 | Winterbottom | IRWIN Racing | +22.983 |
| 8 | 55 | J. Le Brocq | Supercheap Auto Racing | +23.858 |
| 9 | 9 | Reynolds | Penrite Racing | +25.469 |
| 10 | 15 | R. Kelly | Castrol Racing | +26.691 |
| 11 | 6 | C. Waters | Monster Energy Racing | +28.475 |
| 12 | 5 | Holdsworth | Truck Assist Racing | +29.520 |
| 13 | 35 | G. Jacobson | Yellow Cover Racing | +29.906 |
| 14 | 34 | J. Kostecki | UNIT Racing | +36.046 |
| 15 | 4 | J. Smith | SCT Motor Sports | +39.939 |
| 16 | 7 | Heimgartner | NED Whisky Racing | +40.951 |
| 17 | 44 | Courtney | Boost Mobile Racing | +42.010 |
| 18 | 3 | M. Jones | Team CoolDrive | +42.454 |
| 19 | 2 | B. Fullwood | Mobil 1 TM Middy's Racing | +42.785 |
| 20 | 14 | T. Hazelwood | Brut Military Grade | +44.627 |
| 21 | 22 | C. Pither | Team SYDNEY | +45.728 |
| 22 | 20 | S. Pye | DEWALT Racing | +47.251 |
| 23 | 99 | A. de Pasquale | Penrite Racing | +1:01.439 |
| 24 | 19 | A. Davison | Local Legends Racing | +2 Laps |
Current Supercars Standings after five rounds
Scott McLaughlin – 1024
Jamie Whincup – 923
Chaz Mostert – 814
Shane van Gisbergen – 753
David Reynolds – 736
Cam Waters – 733
Mark Winterbottom – 706
Nick Percat – 705
Fabian Coulthard – 682
Lee Holdsworth – 675
Andre Heimgartner
Anton De Pasquale
Jack Le Brocq
Rick Kelly
James Courtney
Todd Hazelwood
Scott Pye
Bryce Fullwood
Jack Smith
Macauley Jones
Garry Jacobson
Chris Pither
Alex Davison
Will Davison
Zane Goddard