Mario Andretti ecstatic over grandson Marco's Indy 500 pole
Motorsport legend Mario Andretti was elated when grandson Marco put the family name back at the top of Indy's scoring pylon on Sunday in pole qualifying for the Indy 500.
Marco Andretti's 231.068 mph run to pole at the Speedway in Sunday's Fast Nine Shootout was the first such achievement realized by an Andretti since Mario's similar feat at the Brickyard in 1987. Mario Andretti won the Indy 500 pole three times – 1966, 1967 and 1987.
"I slammed my fist down so hard on the table, I think I broke it," Mario told INDYCAR after his grandson's epic run to pole that just beat Ganassi Racing's Scott Dixon.
"And I have to drive the two-seater next week when I come out there to Indianapolis!"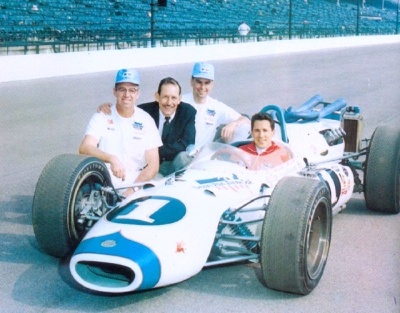 Marco's charge edged Dixon by 0.113s, over four laps! And the run certainly brought out the excitement and emotions in the Andretti clan's most distinguished member.
"I was as emotional as I've ever been," said the F1 world champion and 1969 Indy 500 winner.
"I've never been so nervous in my life, especially after I saw his teammates go out there and somehow, they lost speed. I thought, 'Oh, my God.'
"But he did a spectacular drive. He really drove beautifully. He kept his composure all the way.
"Old Marco really showed something to me yesterday and today. Look at the conditions Saturday when he went out. Nobody was close to his speed when he went out yesterday.
"They were dropping off. Then, he cranks one to put it on top.
"He did the same thing today. He really showed me something."
"I'm happier now than I've ever been all during my days at Indy, believe it or not," 80-year-old Mario told NBC Sports after Marco won the pole. "When he crossed that line and he was on pole, I jumped so high that I hit my head on the ceiling, and it's a nine-foot ceiling."
When asked where Marco's Indy 500 pole ranks in his mind, Mario said:
"I don't know how to to explain it as far as the excitement because, you know, you're here biting your fingernails. You know, usually, you're nervous and so forth, but you know you have control of your own situation when you're doing it yourself. But sitting here and watching it and being so helpless, I was never so nervous in my life because I felt he had a shot at it."