Valkyrie Joins DEForce Racing as Official Technology Partner
Today, Valkyrie, an applied science firm solving global challenges through AI and machine learning, partnered with DEForce Racing, an open-wheel racing team, to become its official Technology Partner for the 2020 Road to Indy season. Through this partnership, Valkyrie's racing division, Valkyrie Velocity, will create applied science solutions to help DEForce analyze and optimize car and driver performance, bolstering driving techniques, engineering capabilities and lap time. Valkyrie Velocity's "Wings" and logo will be displayed across DEForce's full fleet of race cars competing in the Indy Pro 2000 Championship Presented by Cooper Tires, the Cooper Tires USF2000 Championship and the F4 United States Championship Powered by Honda.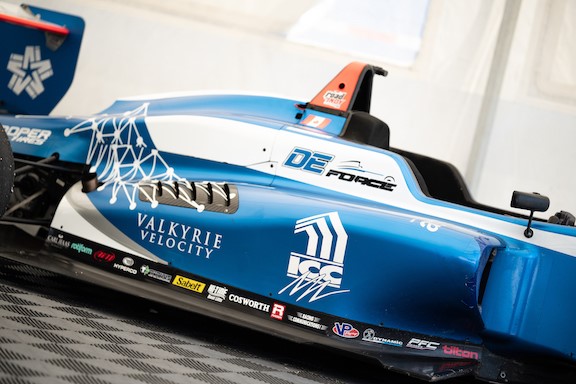 Valkyrie Velocity pairs state-of-the-art scientific capabilities with the unprecedented precision of premiere racing. The division has a dedicated team of data scientists focused on creating custom AI solutions for racing teams and drivers. Valkyrie Velocity's parent company, Valkyrie Intelligence, also addresses strategic operational challenges across healthcare, finance, defense, environmental regulation, retail, hospitality and other industries.
"We've known the DEForce team for a while and we share the vision for excellence and growth in our respective industries, which makes the partnership a natural fit for us", said Charlie Burgoyne, Valkyrie's founder and CEO. "AI has been exclusively limited to a handful of motorsport teams that have an abundance of resources, with smaller teams lacking access to these technologies that dramatically improve racing results. As such, this partnership will create affordable solutions for the DEForce team that will maximize the use of their data through science, and transform their racing performance as a result."
Valkyrie's scientists and DEForce's engineers will work together to find hidden insights within the team's respective drivers, cars, and timing data to strengthen driver and car performance. The group will look to use data and science to find additional advantages over the competition in what have proven to be extremely competitive Road to Indy grids in 2020.
"Partnering with Valkyrie is a massive step forward for the growth of our team and provides a competitive advantage that will greatly impact our track performance", said Ernesto Martinez, DEForce Team Principal. "This type of relationship is rarely seen outside of Formula 1 or IndyCar and will help our team reach new heights across all our championships. Massive amounts of information are produced every time a car goes out on track, and being able to understand, interpret and act on this data is crucial for teams and drivers to stay ahead of competition. Using the data in the right way can help teams better understand their performance, while isolating external variables, and thus narrow down their focus to make more informed decisions," continued Martinez. "Valkyrie will give us the tools to accomplish this and will give us an edge that no one else in the paddock has."
###
About Valkyrie
Founded in 2017 in Austin, Texas, Valkyrie is an applied science firm that aims to solve organizational and global challenges through AI and machine learning. Leveraging research and expertise from their team of top data scientists and strategists, Valkyrie develops custom machine learning solutions that help organizations make challenging business decisions, optimize efficiencies and automate tedious processes. By extracting meaningful insights from proprietary data, Valkyrie can assist organizations of all sizes and industries in cutting costs, increasing revenue, lowering risk and engaging more effectively with their customers. For more information about Valkyrie's products and services visit www.valkyrie.ai.
About DEForce Racing
DEForce Racing is a Houston, Texas-based professional racing team that competes in the US F4 Championship, the Nacam Mexican F4 Championship and in USF 2000 and Indy Pro 2000 in the Road to Indy Program. Operating in three different countries, DEForce's world-class drivers and technical staff are a benchmark team in the American open-wheel feeding series. For more information about DEForce Racing visit deforceracing.com