Auer passes Glock on last lap for BMW 1-2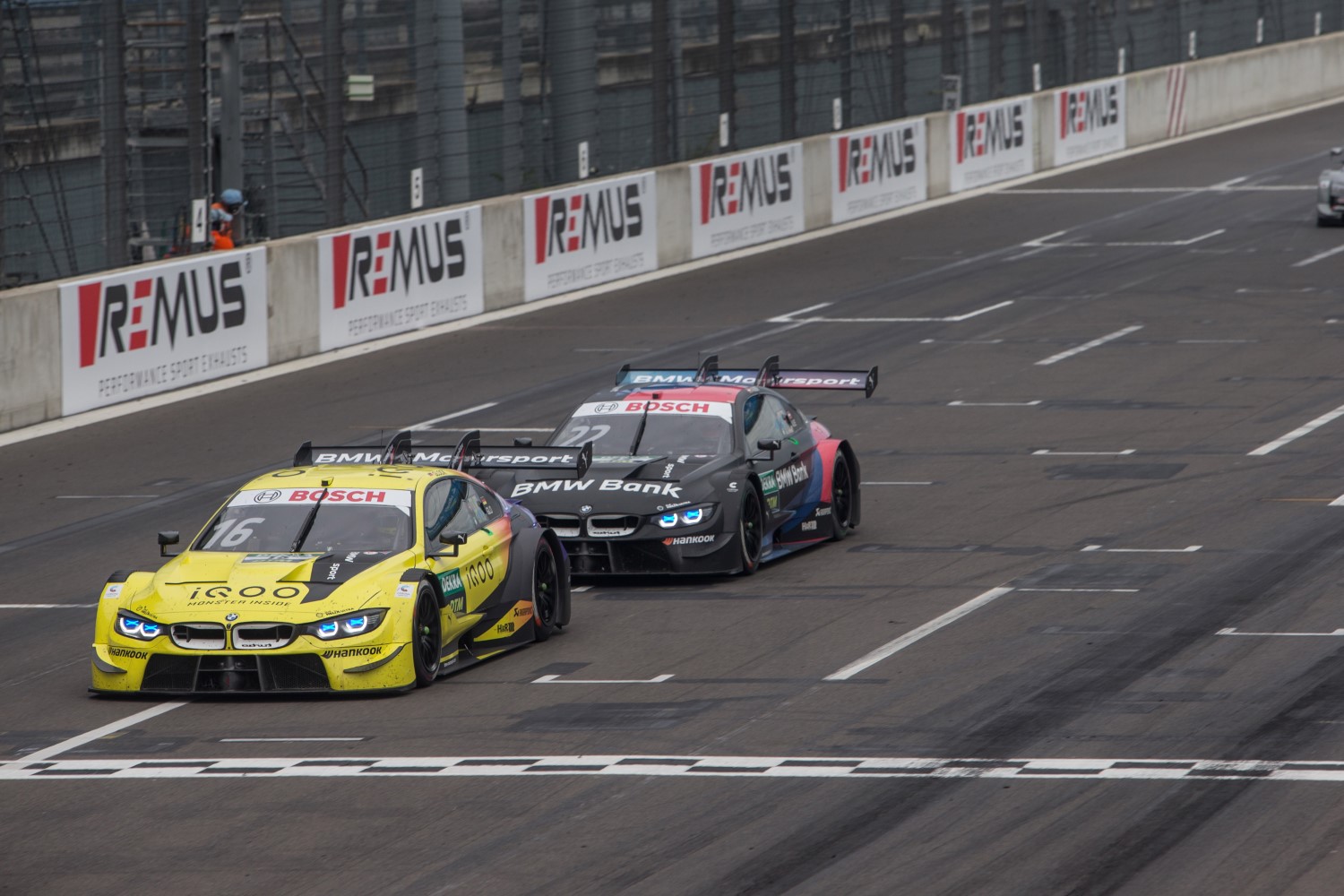 Lucas Auer delivered BMW's first victory of the 2020 DTM season in a thrilling finish at the Lausitzring after overtaking teammate Timo Glock on the final lap of the race to win by 1.210s.
Having started the race from ninth and seventh on the grid, Auer and Glock were able to gain a few places at the start and kept pace with the leading group. Unlike their competitors, the pair decided to go for an early tire change and made their mandatory pit stops on the tenth lap. The fresh tires then helped them to make up those decisive seconds on the cars ahead on subsequent laps.
Once all drivers had made their pits tops, the duo had moved up to second and third positions and it did not take long for them to pass leader Jamie Green (GBR, Audi). Glock was on course for victory until one lap from the end, when Auer made a thrilling move to overtake him and secure his first win for BMW.
More to follow…..
Quotes
Lucas Auer
"I am still lost for words. I think that was the most intense race I have ever experienced in the DTM, as an error could have been fatal. I was able to manage the tires well, the strategy and pit stop were perfect. The car was also spot-on. And putting it all together on the final lap – it doesn't get any better than that."
Timo Glock
"Of course, it hurts when you have to surrender victory on the final lap. In the middle part of the race I tried to pull away a bit and increase the gap between me and Lucas. I suddenly got a bit of pick-up that made the car understeer. That allowed Lucas to close the gap and I realized that he still had one DRS opportunity left. He was able to mount an attack at the finish. I could have pushed back against it but overall, I wanted to think about the bigger picture. If I had started a battle with Lucas, the Audis behind us would have nipped past us on both sides with their fresh tires. It was important for me to claim this one-two result for BMW."
Results – 34 laps
| | | | | |
| --- | --- | --- | --- | --- |
| POS | DRIVER | TEAM | CAR | GAP |
| 1 | Lucas Auer | RMR | BMW | 0.000s |
| 2 | Timo Glock | RMG | BMW | 1.210s |
| 3 | Robin Frijns | Abt | Audi | 1.775s |
| 4 | Jamie Green | Rosberg | Audi | 1.977s |
| 5 | Nico Muller | Abt | Audi | 2.464s |
| 6 | Rene Rast | Rosberg | Audi | 2.475s |
| 7 | Jonathan Aberdein | RMR | BMW | 3.236s |
| 8 | Loic Duval | Phoenix | Audi | 4.096s |
| 9 | Marco Wittmann | RMG | BMW | 4.205s |
| 10 | Sheldon van der Linde | RBM | BMW | 9.090s |
| 11 | Mike Rockenfeller | Phoenix | Audi | 9.155s |
| 12 | Philipp Eng | RBM | BMW | 9.821s |
| 13 | Harrison Newey | WRT | Audi | 12.303s |
| 14 | Ferdinand Habsburg | WRT | Audi | 13.230s |
| 15 | Fabio Scherer | WRT | Audi | 15.396s |
| 16 | Robert Kubica | ART | BMW | 28.090s |