Sato outduels Dixon and Rahal to win 104th Indy 500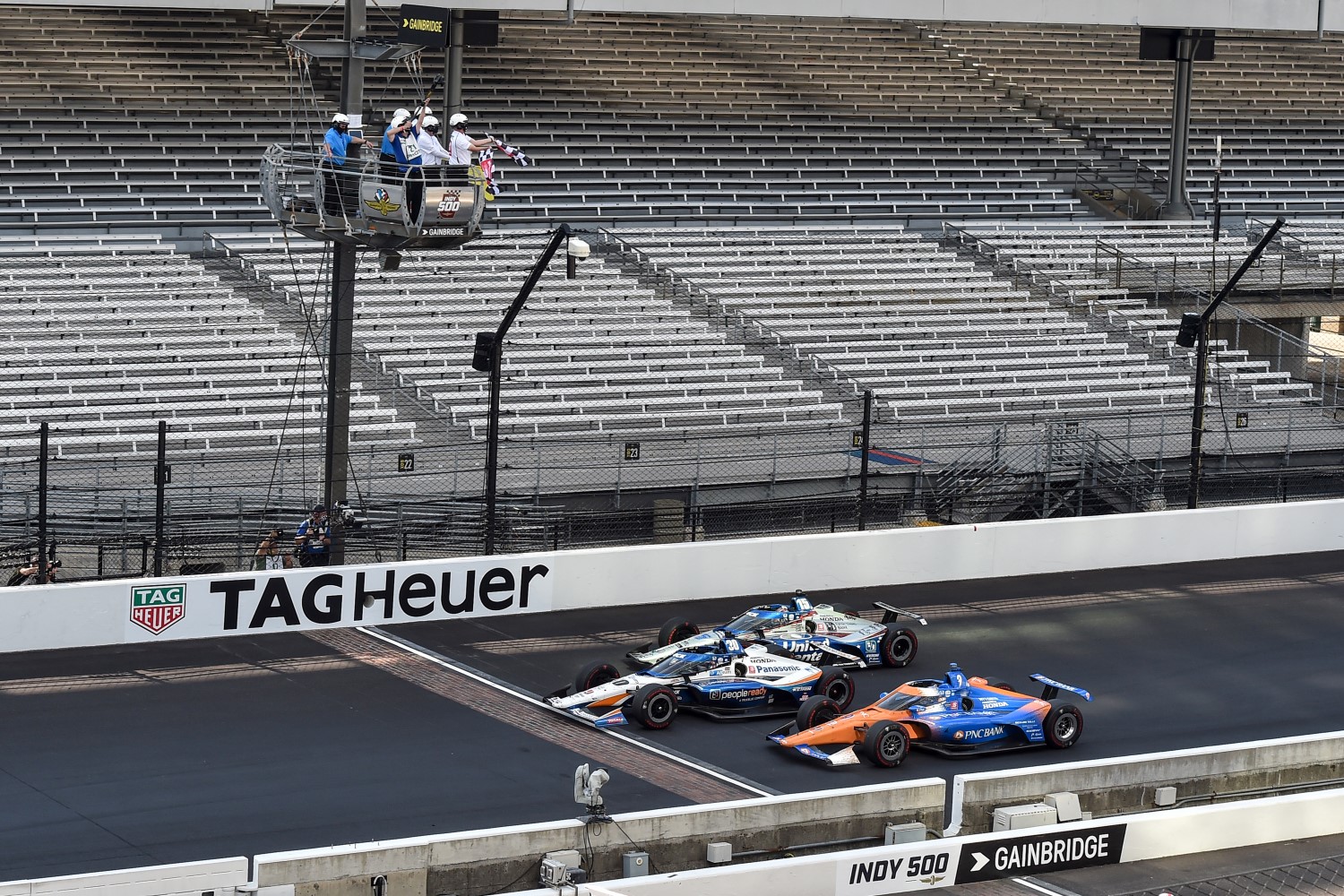 Rahal Letterman Lanigan #30 Honda driver Takuma Sato from Japan made his move on Scott Dixon with 15 laps to go and held off the Iceman masterfully to win the 104th Indy 500 – his 2nd Indy 500 win in the past three years to lead a 1-2-3-4 Honda finish.
A big crash by Spencer Pigot with 5 laps to go forced the race to finish under caution and cemented Sato's win as Dixon, who led a race high 111 laps, never had a chance to go for the win leaving the fans on TV with an anti-climatic finish.
IndyCar has some explaining to do about why the race was not red-flagged so the fans could see a green flag battle for the finish.
Pigot was sent to Methodist Hospital for further examination, but he was awake and alert.
The late race duel was set up when Alexander Rossi ran out of talent and plastered the Turn 2 wall on lap 144.  After bumping Sato when exiting his pit box (unsafe release by his pit crew) on everyone's next to last pit stop, Rossi was sent to the back of the field, and in trying to race back to the front he crashed on his own – wiping out the complete right side of his #27 NAPA Honda.
That left the Hondas of Dixon, Sato, Rahal, Ferrucci and the Chevy of Newgarden at the front to battle through the final round of stops with about 35 laps to go.
"Congratulation to Sato who drove his pants off today," said a disappointed Dixon. "I am not sure he would have had enough fuel to make it to the end. We pitted one lap later, and we were marginal on fuel, but Sato went for it and it worked out for him. I am surprised they didn't throw a red flag there at the end."
It was small consolation for Dixon, but he jumped from ninth to third on the all-time Indianapolis 500 lap leaders list with 563 career laps led, behind only Al Unser (644) and Ralph DePalma (612).
Sato continued an impressive run of recent success in "The Greatest Spectacle in Racing," with three top-three finishes in the last four years. Besides his wins today and in 2017, he finished third last year.
Two of the three front-row starters ended up in the top three at the finish, as Sato started third and Dixon second. Pole sitter Marco Andretti finished 13th in the No. 98 U.S. Concrete/Curb Honda.
Santino Ferrucci drove a phenomenal race in the No. 18 Team SealMaster-Dale Coyne Vasser-Sullivan entry passing the most cars on track, 29, and improving the second most positions, 15, to finish fourth.
"Just an incredible race," said Ferrucci. "The SealMaster Honda was insane today. We started 19th and finished fourth. The guys worked really hard on pit lane, on the timing stand and the strategy was perfect.  I'm just really happy, after two incredibly long weeks of focusing on the SealMaster car we ended really good. During the first pit stop I got caught in neutral, and it was like a blessing in disguise. It set us way back, but the momentum we had just carried us. On the restart we went from 25th right back into the top-10 where we needed to be, and we just fought our way into the top-four."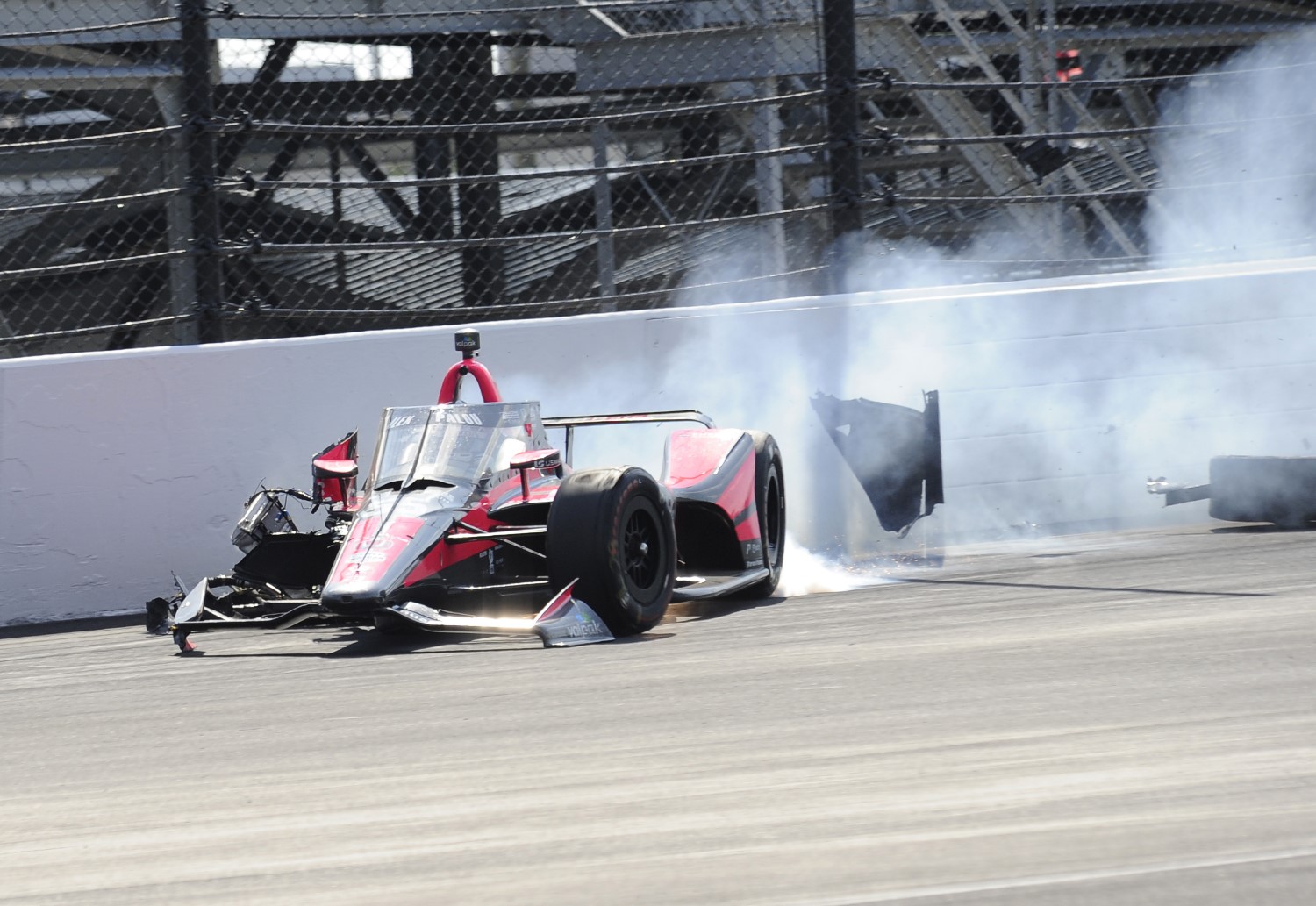 Dale Coyne Racing with Team Goh driver Alex Palou saw his impressive performance at his first Indianapolis 500 end in heartbreak after contact with the wall.
The rookie was running ninth when he lost control of his #55 Guaranteed Rate Honda coming out of Turn 1 on Lap 122, putting an end to what has been an impressive debut for the rookie at the Indianapolis Motor Speedway. Palou, who ended up 28th, still leads the Rookie of the Year standings with 127 points.
A combination of aggressive restarts, flawless pit stops and perfectly played out strategy were the recipe for Jack Harvey's head turning run at Indianapolis Motor Speedway. Starting from 20th on the grid, Harvey and the No. 60 MSR crew performed five near perfect pit stops which allowed the Brit to leap frog ahead of competition on more than half of the stops.
James Davison rolled off for the Indy 500 from the 27th position in the No. 51 Dale Coyne Racing with Rick Ware Racing, BYRD & Belardi but had his race cut short when one of his brakes exploded with only a handful of laps completed.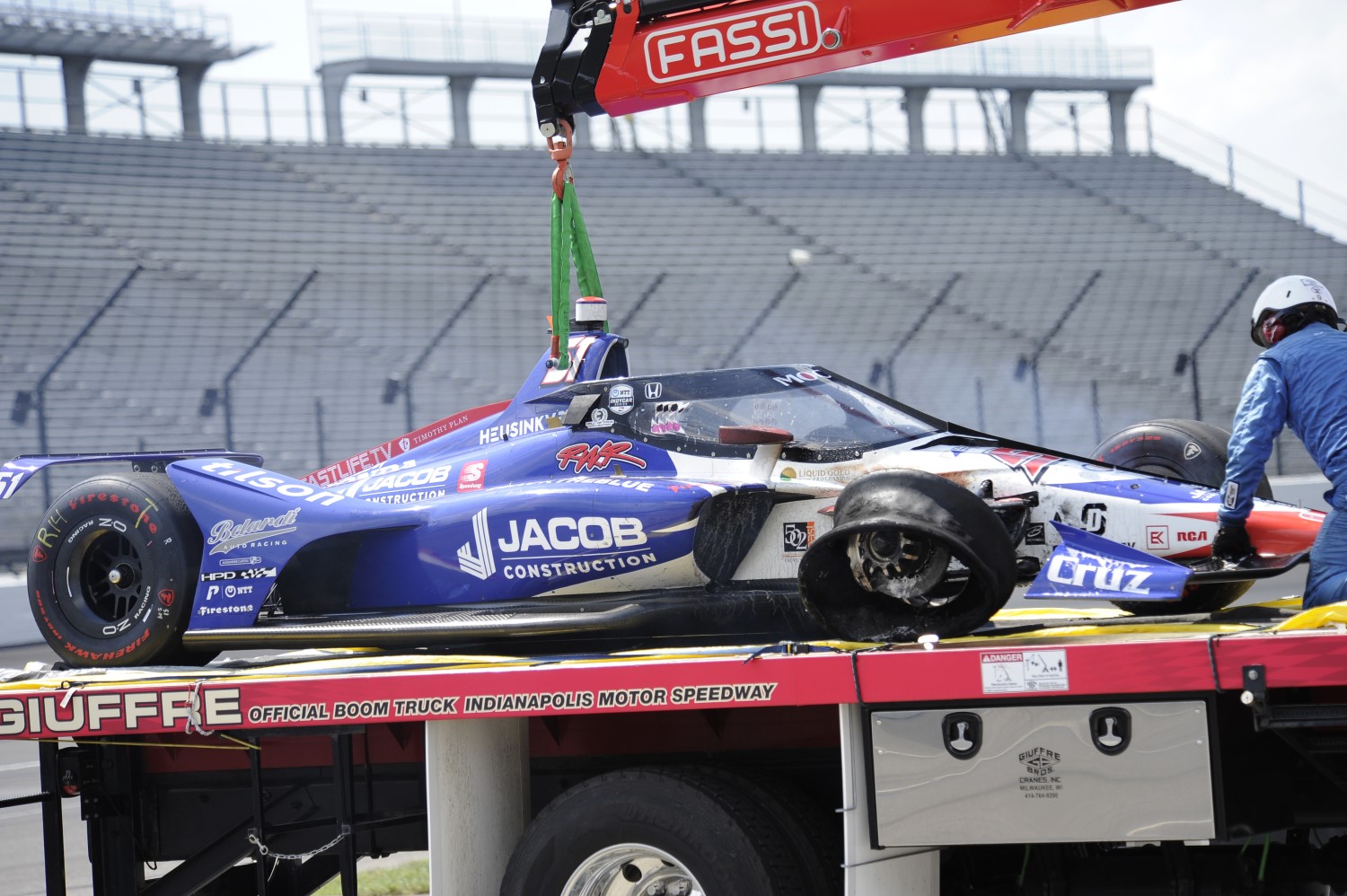 The crew radioed to Davison informing him that his front brakes were glowing bright red indicating they were engaged but, unfortunately Davison didn't have time to make it back to pit lane.
Davison did manage to make it off track onto the warm-up lane before his right front brake burst into a ball of flame putting an end to their day.
"Well, that's obviously heart-braking to go out of the Indy 500 in the first handful of laps with a mechanical issue. I've got to thank my team for all their hard work throughout the event, our car felt good, and we had gotten by Alonso, and I was pretty excited for the race ahead. Unfortunately, it just wasn't meant to be, but hopefully we will be back next year with the Jacob Construction car running a bit stronger," said James Davison.
While an ex-F1 driver won the race, F1 star Fernando Alonso was never a factor, struggling with an ill-handling car most of the race.
"It was a very eventful race for us, we didn't have one lap of kindness let's say. We were struggling from the very beginning with the balance of the car with a lot oversteer. We kept changing that balance in the pit stops, reducing the front flap, doing tire adjustments and then we started to be happy with the car. We were up to P15 around Lap 110, which is where we wanted to be. We spent half the race going from P26 to P15 and then we had a clutch problem on the car that we didn't know how to solve. We finished the race without the clutch, so from that point on every pit stop we had to push the car, engage the gear and go. That cost us a lap and unfortunately, we kept that lap down until the end and we could not achieve anything more.
I'm happy to finish the race, cross the line and have one 500 miles in the pocket, that's the positive thing. The negative is that we were out of contention very quickly with the clutch problem. Anyway, I think the Arrow McLaren SP team was fantastic during the race, the strategy and pit stops meant we were always gaining positions. I'm very proud of the work we've done over the last couple of weeks. We tried to race but luck was not with us today, but I'm proud of the effort from everyone in the team."
Results
| | | | | | | | | | | |
| --- | --- | --- | --- | --- | --- | --- | --- | --- | --- | --- |
| Pos | No | Name | Laps | Diff | Gap | Led | ST | Engine | Points | Team |
| 1 | 30 | Takuma Sato | 200 | 0.0000 | 0.0000 | 27 | 3 | Honda | 207 | Rahal Letterman Lanigan Racing |
| 2 | 9 | Scott Dixon | 200 | 0.0577 | 0.0577 | 111 | 2 | Honda | 335 | Chip Ganassi Racing |
| 3 | 15 | Graham Rahal | 200 | 0.0953 | 0.0376 | 0 | 8 | Honda | 214 | Rahal Letterman Lanigan Racing |
| 4 | 18 | Santino Ferrucci | 200 | 0.3929 | 0.2976 | 1 | 19 | Honda | 181 | Dale Coyne Racing with Vasser Sullivan |
| 5 | 1 | Josef Newgarden | 200 | 1.6619 | 1.2690 | 0 | 13 | Chevy | 251 | Team Penske |
| 6 | 5 | Pato O'Ward | 200 | 3.2496 | 1.5877 | 0 | 15 | Chevy | 218 | Arrow McLaren SP |
| 7 | 29 | James Hinchcliffe | 200 | 4.2694 | 1.0198 | 1 | 6 | Honda | 88 | Andretti Autosport |
| 8 | 88 | Colton Herta | 200 | 5.1918 | 0.9224 | 1 | 10 | Honda | 189 | Andretti Harding Steinbrenner Autosport |
| 9 | 60 | Jack Harvey | 200 | 6.8131 | 1.6213 | 0 | 20 | Honda | 145 | Meyer Shank Racing |
| 10 | 28 | Ryan Hunter-Reay | 200 | 7.9613 | 1.1482 | 0 | 5 | Honda | 149 | Andretti Autosport |
| 11 | 3 | Helio Castroneves | 200 | 10.3143 | 2.3530 | 0 | 28 | Chevy | 38 | Team Penske |
| 12 | 10 | Felix Rosenqvist | 200 | 13.9668 | 3.6525 | 8 | 14 | Honda | 157 | Chip Ganassi Racing |
| 13 | 98 | Marco Andretti | 200 | 16.0657 | 2.0989 | 0 | 1 | Honda | 114 | Andretti Herta with Marco & Curb-Agajanian |
| 14 | 12 | Will Power | 200 | 17.6439 | 1.5782 | 2 | 22 | Chevy | 175 | Team Penske |
| 15 | 26 | Zach Veach | 200 | 19.3960 | 1.7521 | 14 | 17 | Honda | 126 | Andretti Autosport |
| 16 | 67 | JR Hildebrand | 200 | 20.2342 | 0.8382 | 0 | 32 | Chevy | 28 | Dreyer & Reinbold Racing |
| 17 | 59 | Max Chilton | 200 | 21.4917 | 1.2575 | 0 | 30 | Chevy | 68 | Carlin |
| 18 | 4 | Charlie Kimball | 200 | 24.7017 | 3.2100 | 0 | 29 | Chevy | 121 | AJ Foyt Enterprises |
| 19 | 14 | Tony Kanaan | 199 | 1 LAPS | 100.8209 | 0 | 23 | Chevy | 73 | AJ Foyt Enterprises |
| 20 | 21 | Rinus VeeKay | 199 | 1 LAPS | 7.6431 | 0 | 4 | Chevy | 121 | Ed Carpenter Racing |
| 21 | 66 | Fernando Alonso | 199 | 1 LAPS | 13.5580 | 0 | 26 | Chevy | 18 | Arrow McLaren SP |
| 22 | 22 | Simon Pagenaud | 198 | 2 LAPS | 114.2179 | 14 | 25 | Chevy | 212 | Team Penske |
| 23 | 81 | Ben Hanley | 198 | 2 LAPS | 1.9527 | 0 | 33 | Chevy | 14 | DragonSpeed USA |
| 24 | 24 | Sage Karam | 198 | 2 LAPS | 5.1568 | 0 | 31 | Chevy | 19 | Dreyer & Reinbold Racing |
| 25 | 45 | Spencer Pigot | 194 | 5 LAPS | 3 LAPS | 0 | 12 | Honda | 17 | RLL with Citrone/Buhl Autosport |
| 26 | 20 | Ed Carpenter | 187 | 13 LAPS | 7 LAPS | 0 | 16 | Chevy | 62 | Ed Carpenter Racing |
| 27 | 27 | Alexander Rossi | 143 | 14.8069 | 0.3533 | 17 | 9 | Honda | 130 | Andretti Autosport |
| 28 | 55 | Alex Palou | 121 | 3.8828 | 0.3835 | 0 | 7 | Honda | 127 | Dale Coyne Racing with Team Goh |
| 29 | 47 | Conor Daly | 91 | 10.6920 | 1.0180 | 0 | 18 | Chevy | 121 | Ed Carpenter Racing |
| 30 | 7 | Oliver Askew | 91 | 18.2473 | 0.3741 | 4 | 21 | Chevy | 126 | Arrow McLaren SP |
| 31 | 41 | Dalton Kellett | 82 | 5 LAPS | 3 LAPS | 0 | 24 | Chevy | 39 | AJ Foyt Enterprises |
| 32 | 8 | Marcus Ericsson | 24 | 3.1697 | 0.3681 | 0 | 11 | Honda | 147 | Chip Ganassi Racing |
| 33 | 51 | James Davison | 4 | 4 LAPS | 4 LAPS | 0 | 27 | Honda | 10 | Dale Coyne Racing w/Rick Ware Racing/Byrd/Belardi |
Race Statistics
Winner's average speed: 157.824 mph
Time of Race: 3:10:05.0880
Margin of victory: Under caution
Cautions: 7 for 51 laps
Lead changes: 21 among 11 drivers
Lead Change Summary
| | | |
| --- | --- | --- |
| On Lap | Car | Leader |
| 1 | 9 | Dixon, Scott |
| 27 | 7 | Askew, Oliver |
| 31 | 22 | Pagenaud, Simon |
| 45 | 12 | Power, Will |
| 47 | 9 | Dixon, Scott |
| 64 | 88 | Herta, Colton |
| 65 | 9 | Dixon, Scott |
| 102 | 27 | Rossi, Alexander |
| 106 | 9 | Dixon, Scott |
| 107 | 27 | Rossi, Alexander |
| 115 | 9 | Dixon, Scott |
| 118 | 27 | Rossi, Alexander |
| 121 | 9 | Dixon, Scott |
| 122 | 27 | Rossi, Alexander |
| 124 | 10 | Rosenqvist, Felix |
| 132 | 9 | Dixon, Scott |
| 157 | 30 | Sato, Takuma |
| 168 | 9 | Dixon, Scott |
| 169 | 18 | Ferrucci, Santino |
| 170 | 29 | Hinchcliffe, James |
| 171 | 26 | Veach, Zach |
| 185 | 30 | Sato, Takuma |
Cautions
| | |
| --- | --- |
| No | Duration Total Reason for Caution |
| 1 | 6 to 11 6 Debris on Back Stretch |
| 2 | 25 to 30 6 Contact: Car 8 in Turn 2 |
| 3 | 84 to 91 8 Contact: Car 41 in Turn 3 |
| 4 | 92 to 99 8 Contact: Cars 7 and 47 in Turn 4 |
| 5 | 122 to 130 9 Contact: Car 55 in Turn 1 |
| 6 | 144 to 153 10 Contact: Car 27 in Turn 2 |
| 7 | 196 to 200 5 Contact: Car 45 in Turn 4 |