Harvick gets 7th NASCAR Cup win in Dover race 2
Kevin Harvick rolled to his seventh victory of the NASCAR Cup Series season Sunday, securing the second race of a weekend doubleheader for the circuit at Dover International Speedway.
Harvick set the pace for 223 of the 311 laps, pushing his Stewart-Haas Racing No. 4 Ford to a 3.525-second margin of victory in Sunday's Drydene 311. His third win at the 1-mile Delaware track was the 56th in his Cup Series career. The victory also marked Ford's 700th in Cup Series competition.
Martin Truex Jr. placed second for the second consecutive race in the Joe Gibbs Racing No. 19 Toyota. Jimmie Johnson was third with teammates William Byron and Alex Bowman filling out the top five on the leaderboard.
Harvick swept to wins in Stage 1 and 2, clinching the Regular-Season Championship by the race's midway point. The title comes with a 15-point bonus in playoff points, adding to his series-leading stockpile.
Denny Hamlin, who won Saturday's opening race in the series' weekend doubleheader, finished 19th after making an unscheduled stop for a loose wheel early in the final stage.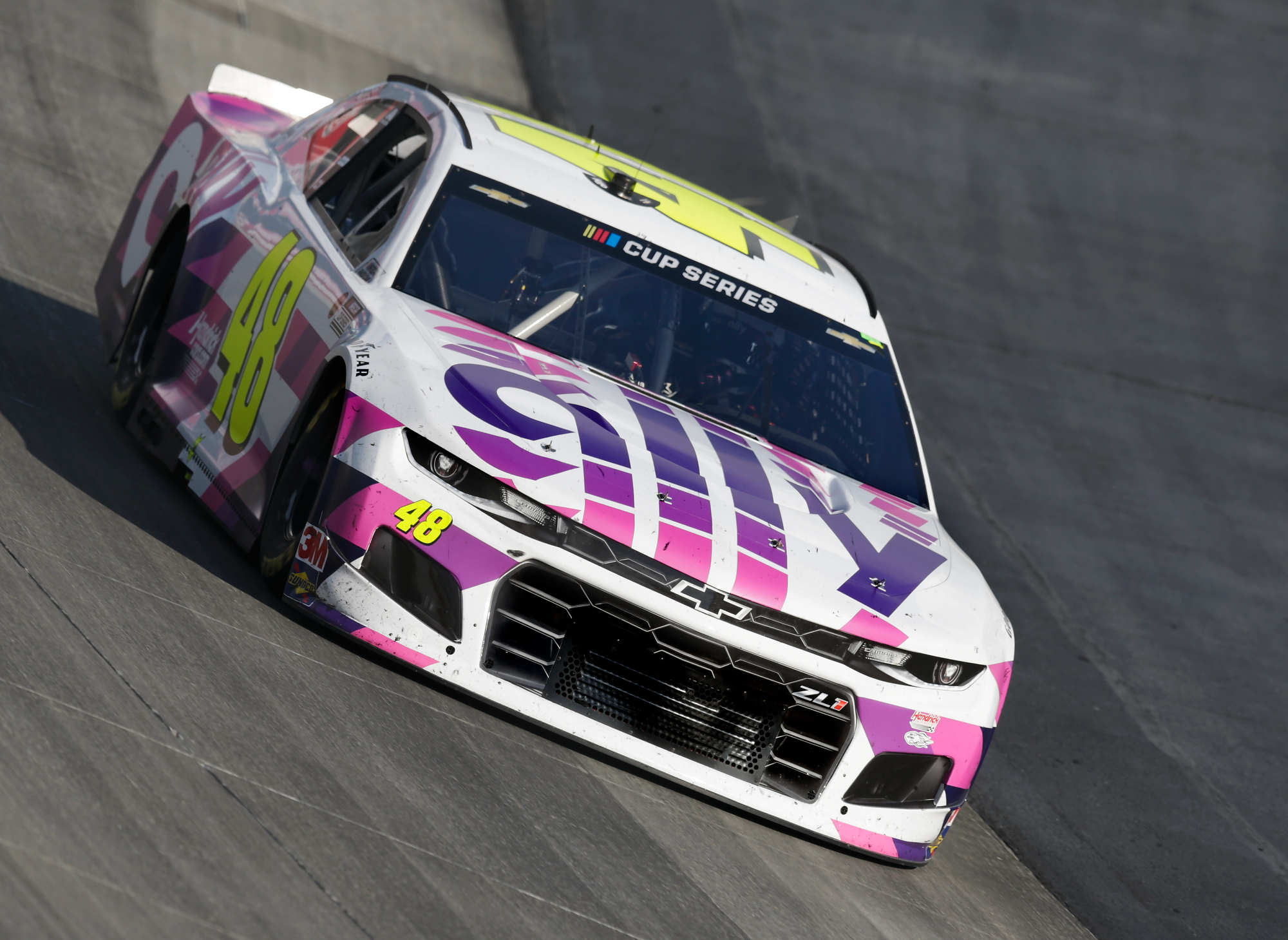 Johnson, an 11-time Dover winner in his final full Cup Series season, rallied from a pit-road speeding penalty early in Stage 2 to finish in the top five. He gained track position with a two-tire pit stop on his final trip to pit road, briefly taking the lead before Harvick regained control.
Teammate Byron finished ahead of Johnson in both stages, and his fourth-place finish helped him regain his hold on the final provisional playoff spot with one race left in the regular season.
Their Hendrick Motorsports teammate Chase Elliott was among the first drivers out, with his No. 9 Chevrolet sustaining front-end damage in a collision with Kyle Busch's No. 18 Toyota. Those two tangled behind contact in front of them when Joey Logano nudged Ricky Stenhouse Jr.'s No. 47 Chevrolet into the inside retaining wall. Elliott finished 39th in the 40-car field, completing just six laps.
The race was stopped for 12 minutes, 19 seconds for track workers to repair a portion of the concrete surface during the Stage 1 intermission.
More to follow…..
Select Quotes
MARTIN TRUEX JR., No. 19 Bass Pro Shops Toyota Camry, Joe Gibbs Racing
Finishing Position: 2nd
How was your race today?
"Second or third, it seems like every week here. On one hand, it's good obviously and you want to be running up front and having good finishes. On the other hand, we didn't get any better than we were yesterday, it was actually a little bit worse. I was a little disappointed in that. These things are really, really tricky to figure out to get them right. We just had to battle hard all day long and it took us a long time to get up towards the front in our Bass Pro Shops Camry. We just battled hard with an ill-handling car all day long. Just tried to hang onto what we could and came out with a decent finish."
Was the team able to make any improvements to the car from yesterday?
"I thought if anything, we were probably a little worse today. We tried some different things overnight and definitely didn't do what we hoped it would do. Live and learn. It was a tough day. The Bass Pro Camry had good speed; it was just a handful again. Just never could get it to do what we wanted it to do. We fought hard, we battled and we executed well. Came home with a good result. We'll keep working to try to get a little better."
What do you hope for at Daytona next week?
"A finish would be fabulous. If not, hopefully we'll pay it forward with a little luck at Talladega in the Playoffs."
Race 2 Results
| | | | | | | | |
| --- | --- | --- | --- | --- | --- | --- | --- |
| Pos | Str | No. | Driver | Team | Laps | Status | Led |
| 1 | 17 | 4 | Kevin Harvick | Mobil 1 Ford | 311 | Running | 223 |
| 2 | 19 | 19 | Martin Truex Jr. | Bass Pro Shops Toyota | 311 | Running | 0 |
| 3 | 14 | 48 | Jimmie Johnson | Ally Chevrolet | 311 | Running | 3 |
| 4 | 23 | 24 | William Byron | Axalta Chevrolet | 311 | Running | 0 |
| 5 | 21 | 88 | Alex Bowman | Acronis Chevrolet | 311 | Running | 0 |
| 6 | 13 | 22 | Joey Logano | Shell Pennzoil Ford | 311 | Running | 15 |
| 7 | 4 | 10 | Aric Almirola | Smithfield Hometown Original Ford | 311 | Running | 22 |
| 8 | 12 | 2 | Brad Keselowski | Wurth Ford | 311 | Running | 0 |
| 9 | 6 | 3 | Austin Dillon | Dow/Behr Ultra Scuff Defense Chevrolet | 311 | Running | 0 |
| 10 | 10 | 41 | Cole Custer # | HaasTooling.com/Jacom Co Ford | 311 | Running | 0 |
| 11 | 18 | 18 | Kyle Busch | Interstate Batteries Toyota | 311 | Running | 0 |
| 12 | 7 | 12 | Ryan Blaney | Advance Auto Parts Ford | 311 | Running | 37 |
| 13 | 28 | 1 | Kurt Busch | GEARWRENCH Chevrolet | 311 | Running | 0 |
| 14 | 5 | 17 | Chris Buescher | Fastenal Ford | 311 | Running | 0 |
| 15 | 22 | 42 | Matt Kenseth | Clover Chevrolet | 311 | Running | 0 |
| 16 | 15 | 14 | Clint Bowyer | Haas Automation Ford | 311 | Running | 0 |
| 17 | 1 | 21 | Matt DiBenedetto | Menards/Monster Energy Ford | 311 | Running | 11 |
| 18 | 8 | 8 | Tyler Reddick # | Cat App Chevrolet | 311 | Running | 0 |
| 19 | 20 | 11 | Denny Hamlin | FedEx Office Toyota | 311 | Running | 0 |
| 20 | 27 | 38 | John Hunter Nemechek # | ACME Ford | 311 | Running | 0 |
| 21 | 26 | 43 | Bubba Wallace | Columbia Chevrolet | 311 | Running | 0 |
| 22 | 9 | 20 | Erik Jones | Reser's Fine Foods Toyota | 310 | Running | 0 |
| 23 | 30 | 32 | Corey LaJoie | Drydene Ford | 310 | Running | 0 |
| 24 | 2 | 6 | Ryan Newman | Guaranteed Rate Ford | 310 | Running | 0 |
| 25 | 25 | 34 | Michael McDowell | Digital Ally Shield Cleansers Ford | 310 | Running | 0 |
| 26 | 29 | 37 | Ryan Preece | Scott Brand Chevrolet | 310 | Running | 0 |
| 27 | 24 | 95 | Christopher Bell # | Rheem Toyota | 310 | Running | 0 |
| 28 | 31 | 96 | * Daniel Suarez | CommScope Toyota | 309 | Running | 0 |
| 29 | 3 | 13 | Ty Dillon | GEICO Chevrolet | 309 | Running | 0 |
| 30 | 34 | 15 | Brennan Poole # | RememberEveryoneDeployed. Today Chevrolet | 305 | Running | 0 |
| 31 | 40 | 78 | * BJ McLeod(i) | Chevrolet | 303 | Running | 0 |
| 32 | 33 | 53 | Josh Bilicki(i) | Chevrolet | 302 | Running | 0 |
| 33 | 37 | 77 | Reed Sorenson | Spire Motorsports Chevrolet | 302 | Running | 0 |
| 34 | 35 | 0 | Quin Houff # | Eagle Rock Wealth Chevrolet | 302 | Running | 0 |
| 35 | 39 | 7 | * Garrett Smithley(i) | Chevrolet | 296 | Running | 0 |
| 36 | 36 | 66 | * Timmy Hill(i) | Manscaped Toyota | 252 | Engine | 0 |
| 37 | 11 | 47 | Ricky Stenhouse Jr. | Kroger Chevrolet | 215 | Running | 0 |
| 38 | 32 | 27 | JJ Yeley(i) | Thriv5 Ford | 110 | Handling | 0 |
| 39 | 16 | 9 | Chase Elliott | NAPA Auto Parts Chevrolet | 6 | Accident | 0 |
| 40 | 38 | 51 | Joey Gase(i) | Ford | 4 | Accident | 0 |