Indy 500 post-race press conferences
Participants
1st – Takuma Sato, Rahal Letterman Lanigan Racing
Bobby Rahal, Rahal Letterman Lanigan Racing
David Letterman, Rahal Letterman Lanigan Racing
2nd – Scott Dixon, Chip Ganassi Racing
6th – Pato O'Ward, Arrow McLaren SP (Top Rookie)
Takuma Sato
THE MODERATOR: We are joined by Takuma Sato, 2020 Indianapolis 500 winner. This is his second win. He is the only Japanese driver to ever win the Indianapolis 500. And he is the 20th driver to win multiple times.
Tell us about your wonderful day.
TAKUMA SATO: Simply an amazing day. I just can't put words for it. Big thank you to everyone. Obviously the Speedway, Roger Penske, and the Hulman-George family. To get this race going this year, I know it's a lot of people's commitment. But we really appreciate it. So happy to be part of this organization.
First of all, I mean, what an amazing team, Rahal Letterman Lanigan Racing is. I know it's everything a team and a driver can dream winning the 500. Achieving one and three in this fashion is simply amazing. Thanks Bobby, Mike Lanigan, and of course David Letterman. The entire team, especially the 30 boys, my Panasonic Peopleready Honda was extremely strong and competitive.
It was a little bit fast on the last few laps. Before getting the yellow because we (indiscernible) the race a little too long, then we had to drive into the pit one lap before Scott. That put us a lot of difficulty in terms of the fuel mileage. I wanted to go to the full power, which Honda and HPD give us incredible performance, but still I have to save the fuel. I was back and forth. Best power when Dixie is coming.
Pull off that way, it is simply amazing. I want to say thank you so much for everyone who support.
THE MODERATOR: We'll take some questions for Takuma.
Q. Because of what we're living with with COVID, the fact there were no fans in the stands, where did you get the energy that empowered you to win today?
TAKUMA SATO: It's tough on everyone, not only for us, everyone fighting with the COVID-19. It was just fortunate, so fortunate, to be able to perform as a sport, be able to show millions of people to watching TV today at home, get some energy on it.
I think I'm very proud to be a part of it. Obviously to get motivation out, there's no question, I mean, it is Indy 500. Yes, there's no spectators. If you go through Gasoline Alley each morning, there's no energy on it. It was a little sad. But we all understood. Also this wasn't the first race we had no spectator. We have been no spectator entire season, which we never want to get used to, but something that we have to do. There is no question.
However, like driver introduction, go to the walk, I love the atmosphere with 300,000 people, the energy, how can I say, the power, the voice, that's amazing, which we don't have today. But we still head down, do our job, know millions people watching on TV.
When you're driving, too, obviously we concentrating on what's happening on the track, but we see the grandstand all the time. Every driver, every single lap, every single corner, we watch the flag because of the wind direction, extremely important. Every time we watch the flag, just the gray grandstand. That was a little bit sad.
Once again, we raced for the fans, we raced for the team. For that moment I have no question, I know I can give the 100% commitment.
Q. I want an insight on what Dixon said. He thought you were running low on fuel by the end of the race. How was it from your end? When did you realize you have a shot at Dixon?
TAKUMA SATO: Well, I mean, we all knew, we all observed Scott. Scott was probably the best competitor entire really two weeks to be honest, from practice to qualifying. He showed speed. Even the Carb Day, with very tricky conditions, three of us actually struggled a lot. Ganassi and Dixie did a phenomenal job to put that car in the competitive situation.
Look today, he led the start, then he just disappear. I was able to hanging on. At that time I was playing with mixtures, also how much we can get the fuel mileage out of it.
Even Ryan actually call to us. Basically I wanted to see how the traffic, with single-car traffic, double traffic. I know we practice, but in the race situation, the same age of the tire, with mixture setting, I just wanted to learn it on that point.
First hundred lap, you want to be top three, top five. That was always my thought coming to this race. If I have opportunity, yes, you want to lead it, but you use too much fuel. That was my strategy.
Then after a hundred, I had opportunity to come around again with Scott. I just went to leading the race, see how it goes. So that moment I realize, yes, we have a very competitive package. Of course, every single pit stop we come in, we make some changes, just a back and forth, back and forth because we go too much greedy, then conservative, too much greedy again. Finally for the last three stints I was able to happy with the car, particularly second half of every stint I was very strong.
I knew towards the end of the stint I have a very good speed of it. However, after the restart, when I got lead, yeah, I got a voice from the pit basically using too much fuel. I had to back off with leaner mixture, which you can see immediately Scott caught me and tried to give it a go. At that point I had to switch back to the maximum power. He was three cars, four cars behind, I go with the leaner mixture. We were close. Even without it, I was hitting a number. If you scan my radio, we were on the number. Even we gone through the entire green, I think we be okay.
However, still I think I will be threatened from Dixie from the last few laps where he will be probably 100% to power, which I had some of that in the pocket, but otherwise it was very, very close.
Q. Does the 2012 race come into your mind when you're getting down toward the end of a race?
TAKUMA SATO: Indy 500 you never know till the last lap of the last corner. When you feel the acceleration coming out of turn four, that's the time you realize you're going to go for the win. Today, of course, under the yellow. It was a different circumstance.
Once again, the guy who listen to my radio, make sure the oil temperature, oil pressure, gearbox temperature was okay. I just telling myself to just calm down, do what I have to do. Radio tell me exact information I needed.
I know fans wanted to see checkered flag battling for the win. Sometimes happen. Really, how can I say, feel glad that my teammate Spencer got out of the car. Looked really bad angle, I was a little worried about it. Once again, improvement for the safety of INDYCAR, INDYCAR did a phenomenal job. Aeroscreen, we now feel so much protection. I think they done a fantastic job.
So that's what I felt today. I think big congrats to everyone who make this happen.
Q. You won this race in 2017 after coming close so many times. What does a second Indy 500 title do for you and your legacy in INDYCAR?
TAKUMA SATO: I mean, how many times you participate Indy 500, I think it never get old, never get bored, absolutely not. You always hungry to win the race, no matter who you are, how many races. You look at Helio. I mean, he won three times. He's still as hungry as the first one. We had a good chat before the race in the green room. He said, Wait, Taku, I'm going to catch you up.
There's just an energy that is Indy 500, how special is. Always the same. Of course, after my 2012, okay, whatever the reason, obviously didn't happen to me, I lost it. But then '17 Michael Andretti gave me a fantastic opportunity, seven cars, six cars, I don't remember, so many teammates, the cars we had, clearly we had advantage. There was a matter of who going to go to the win entire team?
We had advantage. Of course, in Indy 500, you never know who is going to get the best out of it in the end. This year, to be honest, I don't think nobody had advantage. We are very close each other. The first time with Aeroscreen, which made it quite challenging in terms of the engineering.
Also look at the speed we achieved in qualifying. Of course, obviously we had a higher boost. But that's made it so much challenging. Everyone was on a clean sheet of paper again. We didn't see any one car just outstanding. It was just all very competitive. It's like the name of INDYCAR, such a tight competition.
Then in working on everything, every tiny detail working for the very last stint, that is the key. We were fortunate. We made everything out of it. I think that was the key.
I feel very lucky to be able to driving for my No. 30 Panasonic Peopleready Honda car, because the boys done phenomenal job. Entire team. I just want to thank them for the team.
Q. You're one of just 20 two-time winners. How does it feel to be amongst such elite company?
TAKUMA SATO: Just amazing, amazing feeling. I don't know. I just don't feel yet. I think it's coming later on. Exactly same happening in '17. I think I was just too excited for the first one. Now, of course I realize what's coming.
I just so glad to be part of this organization. Once again, thank you for all the owners and the boys and the sponsors and fans that make me happen, still driving in very competitive manner.
No, I just feel so lucky.
Q. You said you had enough on power to compete with Scott towards the end. If Scott had gotten past, do you think you would have had enough on tires to keep up with him or compete with him?
TAKUMA SATO: Absolutely. That is exactly thing we were working on. The first four stint was a little bit tough for me. Let's say first one was obviously a little bit conservative. Towards the end it wasn't completely the stint because the yellow, but towards the end we were too good. We tried to be a little bit earlier in that stint. The next stint was too good in the beginning, then we basically, how can I say, degradate too much on the second stint. I think Alex was similar. Very competitive first few laps, then struggled.
I think everyone was trying to where you putting on a peak in a stint. We working on it, working on it. Obviously what we can do is very limited. You can have only tire pressure and front wing. Extreme case you can do rear wing, too, but I don't think anybody did.
Once you got a new tire, then how you use that tire, use your tool to make the peak where you want it to go. That's why when I overtake Scott, basically what I did is just save my resource. Of course, go fast as possible, but save my resource. That was a key.
Even we didn't have a yellow in the end, even maybe he caught me, perhaps he overtake me, but I'm confident I'll be fight back to him. In the end, going to the white flag, I don't know which one was leading the race, but at that point I was only hope my fuel was good, which I was told that the fuel number is good.
I'm confident we had enough max power, how can I say, the mixture, as well as my tire, Firestone tire, absolutely superb for the last few laps of the stint. I was fortunate.
Q. You've raced in some prestigious series, Formula 1, Monaco Grand Prix, a long time. Did you ever think you would be a two-time Indy 500 winner?
TAKUMA SATO: No way. No way. I never, never even imagine the situation like today. Look, after 40 years old, still driving, that is just living in a dream. People say 2012 was probably my peak and the best shot. Well, we'll see. We kept on going.
We had a second chance in life. I say just keep challenging, keep open the door, then you will get eventually the chance. But if you are in that chance, you have to grab it. It's always living on edge is my kind of lifestyle, to be honest. Hopefully I can compete a little bit more longer.
I've been so fortunate. Obviously I wasn't born in racing family, so many people obviously know by this stage or might not, but I start racing when I was 20. Before that I only had steel frame pedal bike, that was my only race car in life.
I never dream even get to the Formula 1. I was so lucky I went to the Honda racing school, got scholarship. I was fortunate enough to compete British Formula 3. That eventually made me happen to the Formula 1. I was so lucky to be very competitive organization, it was difficult times. Formula 1 was beautiful, great memory.
Then of course after that I had golden opportunity to come to the States, do INDYCAR. I never thought my racing life going on any longer than Formula 1. Now I'm competing here more than 10 years. That's just simply amazing support from the fans, sponsors, and the team owner gave me fantastic opportunity.
Answer your question, no, never thought I would be winning a 500, but twice. Crazy. No.
Q. A lot has been made about not having fans because of the atmosphere. Did it actually affect the driving experience? Does it seem even bigger without having the fans when you're turning laps?
TAKUMA SATO: We just simply experience at the moment without fans at IMS, which clearly sad. I mean, it's not a happy place, of course not. But at least racing I don't think any matter with or without fans in terms of competition level. The people, drivers' and teams' determination to win this race is no matter where you are, this is Indianapolis Motor Speedway.
I know, like, yesterday was fantastic. I think they did a great job in terms of delivering stuff, how do you say, souvenirs to the fans, long-time ticket holder. They were almost just crying. When we went to the Main Street, so many fans are cheering. A bit like parade in downtown Indianapolis. I was pleasantly surprised with that support.
A guy, 1964 he said he came here simply because he wanted to address Speedway and Indianapolis in his life. How this guy's commitment make this happen. Therefore, he said tomorrow, which is today, he will pull the chair out at the garden and watch the TV and actually physically he can hear from Indianapolis Motor Speedway. He's happy.
Of course, he wanted to come, but he's happy. It's great to see that. Therefore, even we don't have a fan here physically, we know their heart is here. I think every driver did 100% the commitment, and this was the result of a great race, I believe.
Q. NBC did a great job with the milk messages in a bottle. Could you share with us what yours is?
TAKUMA SATO: Oh, yes, it was great, for the time capsule stuff.
Of course, I race for every children who had a difficulty in their lives, whether that was in my case in Japan (indiscernible), worst-case scenario lost a parent. It's just difficult and tragic things, 10 years ago. Also worldwide now having so many difficulty. Sometimes war, obviously COVID-19.
The kids have rights to have their dream on it. We cannot be taken off because of sudden reason. I can do very little things. I can just pounding around on this Indianapolis Motor Speedway flat out, that's all I can do. If that gives the children some little passion where I was when I was 10 years old, my dad took me to Suzuka for the Formula 1. I got a passion from then.
Hopefully the children who have a difficulty have got some passion from our series, particularly for the Indy 500. That was my dream. So I raced for the children.
Q. Whether you rejoined Rahal Letterman Lanigan, you told me you really wanted to make up for the 2012 finish, you wanted to give Bobby, Mike Lanigan and David Letterman that Indy 500 win. Why was that so important to you?
TAKUMA SATO: Just a mission completed. My personal ambition was achieved in 2017 with Michael. Of course, you have something back your mind is always pulled in that way. You got to get it right in 2012. You got to fix it. I messed up, whatever. Whatever there is, there is a lot of science behind why I can win, but it's no point to talking about that. Now I know how to do it, right?
I just wanted to have Bobby and Mike, because Mike helped me a lot, of course David as well, that I just wanted to give them back what they have and they felt on that particular moment. I disappointed them.
I just wanted to fix it. It took eight years, to be honest. I couldn't believe still I drive. I just simply wanted to appreciate the team owners' commitment they put me in are a No. 30 car. I know they wanted Graham to win so badly. I'm pleased today the team did 1-3. I'm sorry for Graham I won today. But I still feel this is the moment mission completed that I really wanted, waiting for eight years for my team owners to give it back.
Q. Your best racing kind of started when you turned 40.
TAKUMA SATO: True. I don't know why. Look, Helio is still on the game. Tony is still on the game. I think this sport, just name of the sport, Olympic athletic things have to be premium ages, 20s, 30s, but in motor racing, as long as you're fit enough to drive the car, why not? My boss was driving in 50s, Mario was driving that age, too. The I know the car is different today, but 43 to me is just only number.
THE MODERATOR: Thanks, everyone, for joining us today for our post race press conferences.
Team Owners Bobby Rahal and David Letterman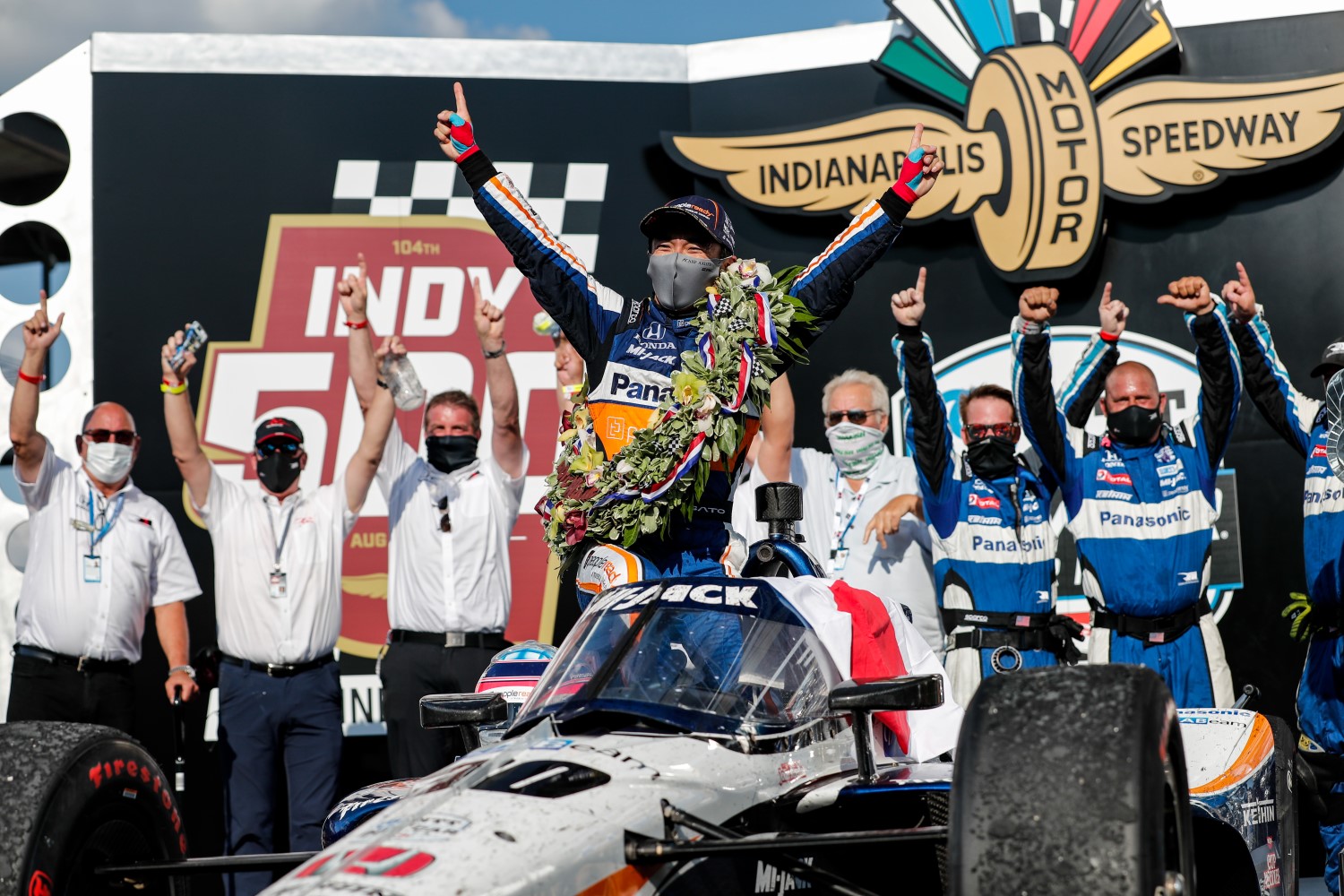 THE MODERATOR: At this point I'd like to bring in winning team owner Bobby Rahal. Tell us how excited you are.
BOBBY RAHAL: What a day for RLL. Graham drove great. Had to make changes to the car during the stops. The team did an awesome job, made his car more competitive. Thought we were going to make a good run at Dixie a couple times. Traffic came into the way.
Takuma did a super job. The pit stops for both cars were really good today, gained a lot of spots on that. I guess when it's time to go racing, we went racing. Just really pleased to have two cars in the top three at the Indy 500. Not a bad day.
THE MODERATOR: We'll take questions for Bobby.
Q. How big is this for your team? What did you think was going to happen at the end?
BOBBY RAHAL: I was worried if Spencer was okay. Seems he's okay. That was my first concern.
I don't know. Have a restart at the end of the race, who knows who's got the advantage, second-place guy, fourth-place guy, third-place guy. I think it's silly to sit there and try to predict what might have happened.
The reality is Takuma won. This isn't the first 500 that's been flagged under yellow. It was a hell of a mess out there.
But just really pleased for our team. A year ago May we made the commitment to strengthen our engineering group and make the investments in R&D. I think this month here in August at Indy, I think it showed with qualifying, then of course today in the race having two cars in the top three.
Q. What did it feel like to win at an empty Indianapolis Motor Speedway?
BOBBY RAHAL: It may sound odd, but frankly, I didn't notice there weren't people in the grandstands the last few laps. I was pretty intent on the racing.
In all seriousness, we've said this time and time again, it's eerie, it's weird. Nobody likes it. Feel bad. I hope our fans that watched it on TV really enjoyed the race. Yeah, I know it's not the same thing as being there, but I think everybody understands the situation that exists. We all have to make the best of it. I hope everybody enjoyed the race.
THE MODERATOR: We've been joined by another team owner from Rahal Letterman Lanigan, Mr. Letterman. Talk to us about your big win today.
DAVID LETTERMAN: I have quite a lot to say. First of all, I'm happy that Spencer is doing well, as we understand. It was quite a mess, as Bobby explained. First and foremost, our best thoughts for him.
Let me just say if somebody said to me this morning at the end of the Indianapolis 500, Takuma Sato and Scott Dixon and Graham Rahal would be racing for the lead, I would say, Well, that's a dream, that's a dream come true. I woke up and it turned out that we won the Indianapolis 500.
These three guys, what do you want? They're tremendous.
The other thing is nobody in the stands, we all know the reason for that, we're all sorry about that, we wish it could be otherwise, and I hope in some small way the joy that we're experiencing here can be shared by people who were able to watch this race in the United States and around the world. It's a small contribution, but maybe it's meaningful.
For us, it's like we've been struck by lightning.
THE MODERATOR: We'll continue with questions.
Q. Bobby, the fact that you were a winning driver in '86, now you are a three-time winning team owner of the Indianapolis 500, that's four victories, pretty elite company. Describe what it really means to you. Mr. Letterman is also a three-time winning Indy 500 team owner.
BOBBY RAHAL: We had a pep rally in our garage this morning. I said I've never been as pleased with where the team stands as it does right now. The people we have on board, everybody working together. The team results this year already with some good runs by Graham in particular.
But just really feel we're in a good spot. I told them that. We saw that in qualifying. So this gives our team a huge boost because of course we went out, went toe-to-toe with the Andretti team, which is obviously a great team, Ganassi, great team, the McLaren team. This was a tough crowd this year, I think, maybe tougher than normal. We were able to compete and win.
Tremendous sense of pride for the team. I think probably everybody can't wait to get to St. Louis.
Q. Mr. Letterman, you're a three-time winner as well. You got to be over the moon to not win it once but three times?
DAVID LETTERMAN: To even be here, to be in the field, to be in the pits, to be any part of this activity. Anybody who grows up in Indianapolis, this is some DNA we're talking about.
We were always as kids looking outside in. Now inside enjoying it, winning the race. For me it's a thrill. I said to my son last night when he was going to bed, I said, When I see you tomorrow, we may be Indy 500 champions.
He kind of rolled his eyes and went to bed (laughter). So I have leverage over the kid now.
Q. Bobby, the fact that Takuma Sato is now a two-time Indy 500 winner, this is a guy who for a lot of his career in INDYCAR was maligned, a guy that was known as going too far over the edge. He doesn't do that any more. It's paid off with two victories in the Indy 500.
BOBBY RAHAL: Obviously I'm really pleased he won a 500 with us. Previous team obviously was Andretti. But for Takuma, my God, I can't imagine what they're doing in Japan right now. I mean, he's a rock star there. Of course, to win the 500 again is just huge.
Of course, we're so pleased for our partners at Honda. We have a number of Japanese-based companies that support our team, so really pleased for them. It's a big deal for Takuma.
I've always said this about Takuma: he shows up and is ready to go. There's no 80%, 85%, 90%; it's 100% every time he gets in the car. That's what I love about him. He's a very simple guy to understand. He just wants to go out and do the best job he possibly can.
He did a really good job today. All day long he was in the top two or three pretty much. Really a threat to win at any stage of the race. A deserving winner.
Q. Bobby, how much fuel did Taku have?
BOBBY RAHAL: He had plenty. He had plenty. He only stopped one lap before Dixon did the final stop. I'm pretty sure it was one lap before. It was awesome. Dixon came in with Graham or Graham in with Dixon.
We were good. That was never an issue for Graham or for Takuma.
Q. Bobby, where does it rank for yourself in terms of your career highlights?
BOBBY RAHAL: I always tell people when they ask me what's the difference between me winning as a driver versus a team owner, I think when you're a team owner you have a much better appreciation for everything that goes into it. It's really hard, especially when you're going up against teams, as I said, like Ganassi, Andretti and others, Penske obviously.
I mean, I guess as a car owner, you're watching all this go on, you can't help but be very impressed by what you see these people that you've brought together do. So I just feel a great sense of pride of them and for them. Like I said, you win under conditions like this where you're going hammer and tongs all race long, that gives a team a lot of confidence.
For sure, as I say, going into the next race and also into the remainder of the season, I'm not sure where Graham is on points, but he scored a lot today, a lot of guys didn't that were ahead of him. In terms of the championship, that might put us in fairly good stead to be in the hunt at the end.
All in all you just have to feel a tremendous amount of pride. We want to do it again (smiling).
Q. You said about Honda, how happy have you been with the job they've done so far this season?
BOBBY RAHAL: Very happy. Very happy. Particularly here. It's no secret there have been times in the last several years, especially come qualifying, that the brand X has kind of had the upper hand in qualifying, maybe not so much in the race but in qualifying. This year that was 180 degrees.
Really pleased with the job that Honda has done all year. It's not just here, it was Elkhart Lake, Indy GP earlier in the year, Texas. I mean, they've really been on top of it. Very, very pleased.
THE MODERATOR: Bruce mentioned they were three-time champions, but they're actually two-time champions to clarify that.
Q. David, Bobby touched on what he sees different about this team this year. What do you see that's different about this team that you think will carry through?
DAVID LETTERMAN: What I've grown accustomed to over the last half a dozen years or so is sort of top third or midfield qualifying, then you turn Graham loose toward the end of the race and he hunts people down and passes them like a crazy man. The thing that has become obvious, I think Bobby alluded to talking with somebody else, the engineering improvements whereby the qualifying is better, consistently better, and gives him a better shot at the final hunt.
If that's not obvious, I mean, if I notice it, it's got to be something to it. I just want to thank Graham and the teams and the people who actually work and put this operation together. It's an amazing thing to witness and to be a part of. I'm very grateful to them all.
Q. Bobby, routinely they don't red flag Indy 500s, especially. What are your thoughts about that? A lot of emails, Twitter, that they should have red flagged.
BOBBY RAHAL: Well, I'm really pleased they checkered the thing, obviously, as any team owner would be, right? I don't know any team owner out there that would say, Let's…
You can prognosticate all you want about what if they red flagged it and you had a restart. Like I said earlier, maybe the guy in third would have been the guy in the upper hand, big tow, went by both of them. Who knows.
All I know is we won the Indy 500 today and that's what counts.
Q. Personally, what does this do for the team moving forward? You felt like things are different this year, right?
BOBBY RAHAL: Like I said, my partners and I, we've committed ourselves to really investing in the team and bringing good people in. We brought Piers Phillips in a little over a year ago, we brought young engineers into it. We kind of had a youth movement in our mechanics because frankly in INDYCAR racing a lot of mechanics are not my age, but not that far away from it. We're trying to build for the future. It's been working out.
This just gives all those young people, everybody, a huge buzz to have this happen. For the young guys especially, all that hard work all of a sudden seems worth it, doesn't it? It's a good day for us.
Q. Where does Takuma fit in the pantheon?
BOBBY RAHAL: I saw Takuma drive Formula 3 when I was at Jaguar Formula 1 in 2000, 2001. He lived in England for a long time. Of course, he drove Formula 1. Takuma, the guy has unbelievable work ethic. He's very serious about what he's doing. He works, as I said, really hard. He has a lot of sponsors. Sometimes I wish he didn't travel as much as he did because he's got so many sponsors and partners he needs to work with and take care of.
Takuma, hey, two-time winner at the Indy 500, there's not many of those guys out there. I don't care what you say. In '17 when he won, I don't think anybody can say he won that one by a fluke or anything. He drove around, who was it, a Penske car, managed to drive beautifully and win the race.
I think the guy deserves to be highly respected for his abilities, particularly on the ovals. I think a place like Indianapolis kind of suits his skills because he's very smooth, obviously he's quite brave. He really has a good feel. I think that really works well at a place like Indy.
Q. Bobby, Takuma's near miss with you guys at the 500 in 2012. Does your mind go back to ones that got away like that or has that race come into your head?
BOBBY RAHAL: I've got to tell you, that race in '12, he was doing something with a car that should not have been able to be done. That car was not anywhere near as good as the car we had today, yet there he was. In fact, I remember he and Dixon and Franchitti came out of four, and Takuma put a pass on Dixon that was just unbelievable. Of course he tried to do it again on Franchitti on the last lap. I think Dario made the track a little narrower than it was intended to be. Nevertheless, we lost control and crashed.
That's Takuma. If he sees it, smells it, he's going to go for it. Again, that car he drove that day was nowhere near as good of a car that we gave him today. He just tried to make the most of it. It kind of bit us.
As I say, that's Takuma. He's all fight. He's not a guy that's going to give up. I think we saw that today.
Q. Bobby, for people in media, that watch this sport, can you describe what it's like not only being a driver but winning as a car owner, as well.
BOBBY RAHAL: The best way I describe it to people is I'm never introduced as three-time INDYCAR champion. I'm always introduced as the 1986 Indy 500 champion. And, Oh, yeah, by the way, he won three INDYCAR championships.
Indy is Indy. There's a lot of great races around, but there's nothing like Indianapolis. When you win it, it just does tremendous things for you personally and professionally. For our team I think it does great things because it shows we belong in the conversation of who are the best teams out there. I take great pride in that.
Yeah, I think, again, I mentioned it a bit earlier, as an owner, you just know how hard it is to put an organization together to be able to do all this. When it happens, it's like, Wow, that's awesome. Let's do that again. It felt that good.
Q. Mr. Letterman, did you ever envision after you left the entertainment world to not only win the Indy 500 once but now twice?
DAVID LETTERMAN: It's interesting, to Bobby's point, how he's introduced, I'm typically introduced as television has-been. For me this is a delight. I'll tell you, if we had never won a race beginning to end, to be associated with Bobby and his team and Graham, there's not a better driver on the grid than Graham and Takuma, Spencer showing tremendous promise for a kid. We're all hoping that he's going to be okay. I think he is.
But it all is flattering to me. I think you probably know, I have very little to do with the daily functioning of this organization. All of this is reflected positively on me. When we won it in 2004, honest to God, it was like I'd been hooked up to some powerful electric generator. I thought that I will never experience this again in my life. For me, just a goon, it was a life-changing experience.
Now here we are 2020, I get to go through this again all because of the kindness and the generosity and hard work of Bobby and his team.
THE MODERATOR: We have been joined by our race winner, Takuma Sato.
We will let David and Bobby go.
2nd place Scott Dixon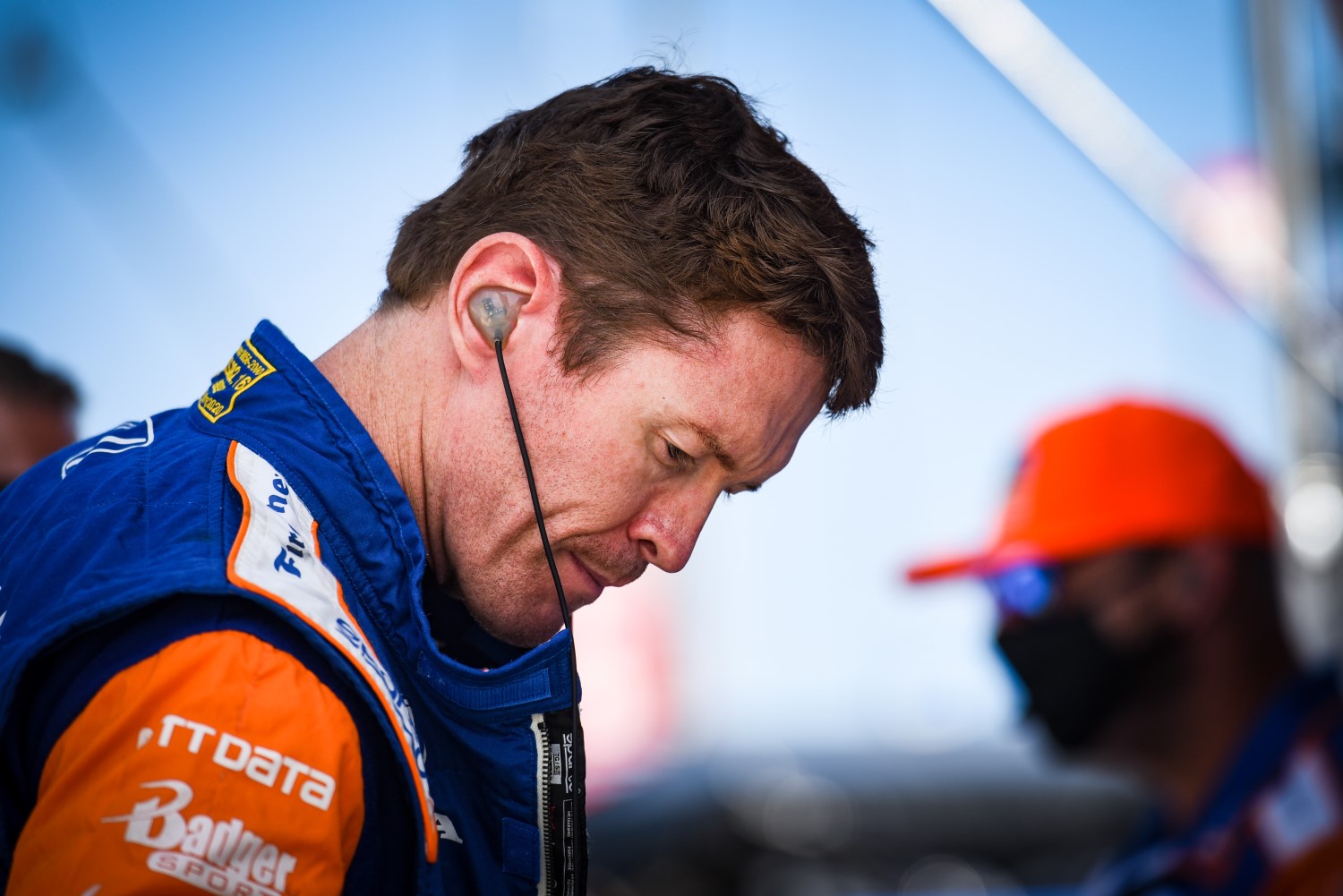 THE MODERATOR: We are joined by Scott Dixon, second-place finisher in today's Indianapolis 500 presented by Gainbridge.
Scott, go ahead and tell us about your day.
SCOTT DIXON: It was definitely a good day. Everything we did, strategy, was on point. We definitely had a pretty fast car. We knew it was always going to get tricky at this point of the day. We thought we kind of made the right call.
When we ran the first couple laps after the last restart, we couldn't get the fuel mileage we needed to finish the race. We went to a leaner mixture, just kind of sat there. We didn't think they were going to make it on fuel.
Seemed like there was a hesitation maybe about 15 to go or 12 to go where I got beside him on the straight. It's like they started to go to a lean mixture, then they decided it was just too slow, so they kind of went back at it.
I probably should have been a little more aggressive on that high side there. I think he would have just run me up anyway, which maybe would have put both of us in the fence, or maybe just me.
Maybe we should have gone harder. Maybe we would have run out of fuel and been in the same position. I don't know what was the right call. Just shows you, when I was asked if I wanted to be leading with five laps to go yesterday, absolutely, especially with a scenario like this.
Definitely hard to swallow for the team. Massive thank you to the 9 car crew. They did a tremendous job on pit road today, strategy, everything we could. Got to say congrats to Sato, too. He drove a hell of a race. They were victorious. He's drinking the milk, and that's what counts.
THE MODERATOR: Questions for Scott.
Q. Everyone here in New Zealand, we just want to say we're really proud of you, great job. What I noticed in the race was you were very close when you were dicing with Rossi, seemed to cope with the traffic better than you did later in the race when you were around Sato.
SCOTT DIXON: Yeah, I think the speeds are kind of all you have to look at. I think even when Rossi and I were actually trying to work together because I think we were trying to do it on two stops or three stops, whatever the remainder was, at that point. We were just trying to run in a lean mixture and kind of swap every other lap or every lap, whatever it was.
The problem is when you lead, you start to lean out, nobody else wants to pass, it gets the pack in a real big, angry, squashed-up pack. We were trying to avoid that. We tried to spread it out a little bit, worked together well for a period there.
Again, really comes down to this last scenario with pit stops and that kind of exchange. When you're going I think running 220s at the end, when Rossi and I were swapping for the lead, we were running 215 and 216.
We definitely could have changed or chased the car a little bit more in that scenario. I felt like I tried to use the tools. I would get loose on entry. Yeah, I don't know. The track changes a little bit, as well, with ambient. Once we started to chase or catch that pack ahead of us, there was about six cars maybe about 15 to 20 laps to go, the speeds jump up a lot. You also get a lot more disturbed air, so it becomes harder to pass that person in front or get a run.
Car could have been a little bit better at the end. Yeah, I don't know. Again, I don't think they would have made it on fuel. It's unfortunate that's the situation I chased.
Q. Upset there wasn't a red flag at the end? You were talking about Takuma being a bit short on fuel. Were you a little bit upset you didn't get a chance to race there or was it the right call under the circumstances?
SCOTT DIXON: I definitely thought with five to go, I thought they were going to immediately because, one, the size of the crash, and two, where it was, it wasn't going to be a quick cleanup. I was kind of surprised they didn't. I kind of heard they said, Normally we don't do that. History would tell you that's not true either.
For us it would have been really good because I think the leader would have been a sitting duck. That's kind of harsh on Sato. If they got out there and had a dash with three laps to go, I think all is fair in a situation like that.
I can't change that. It is what it is. I think it would have been interesting to see how that played out. It would have been much better for us rather than Sato.
Q. Your pit stops were pretty good for most of the race. You seemed to be managing pretty well all the way through. Is there a way you mentally deal with this kind of thing? Nothing you can point to that went massively wrong for you. Something you can do mentally to make sure you can bounce back quickly or is it something that is natural, you have to deal with it?
SCOTT DIXON: I think finishing second like this helps you big-time. Makes you pretty angry. You definitely want some redemption.
As you said, I think everybody did a fantastic job. Maybe I could have changed some of the things I did at the end of the race. But it's easy to second-guess yourself, also second-guess the situation.
Ultimately they did a fantastic job. It's a bit funky like this sometimes. You can't rely on being strong all day. You can't rely on past races or anything like that. It is what it is. It's definitely tough when you come up short in a situation like that.
That's just what it is.
Q. The red flag, you said they don't do that but know it's not unprecedented. Did you think you had a shot at them throwing the red?
SCOTT DIXON: I think if they had thrown a red, the restart, the car in second in a scenario like that where you're not trying to save fuel, going flat out, the leader would have been a bit of a sitting duck unless he did something very weird or strange that caused a bit of a chain reaction or an accordion effect. If there was a three-lap shootout, that would have been pretty fair.
I don't know how or why or how they do it in the past. Last few times it was maybe more laps to go in the race. I think if they called it pretty quickly like they typically do, you still could have had at least three laps to fight it out.
Q. Do you feel like you lost this race?
SCOTT DIXON: I don't know. I think there's always many turning points that you could have done a little bit different. Ultimately if it had gone green all the way maybe he would have run out of fuel. It seems like from our point of view that was definitely possible.
I definitely thought where they did lean out for a period, like maybe about a lap or three-quarters of a lap, that's where we got the big run on them, that's the pace they would have had to run till the end. I don't know.
I'm going to be bummed, I can tell you that. That's a given.
THE MODERATOR: We'll let Scott go.
SCOTT DIXON: Appreciate it. Everybody be safe.
6th Place Pato O'Ward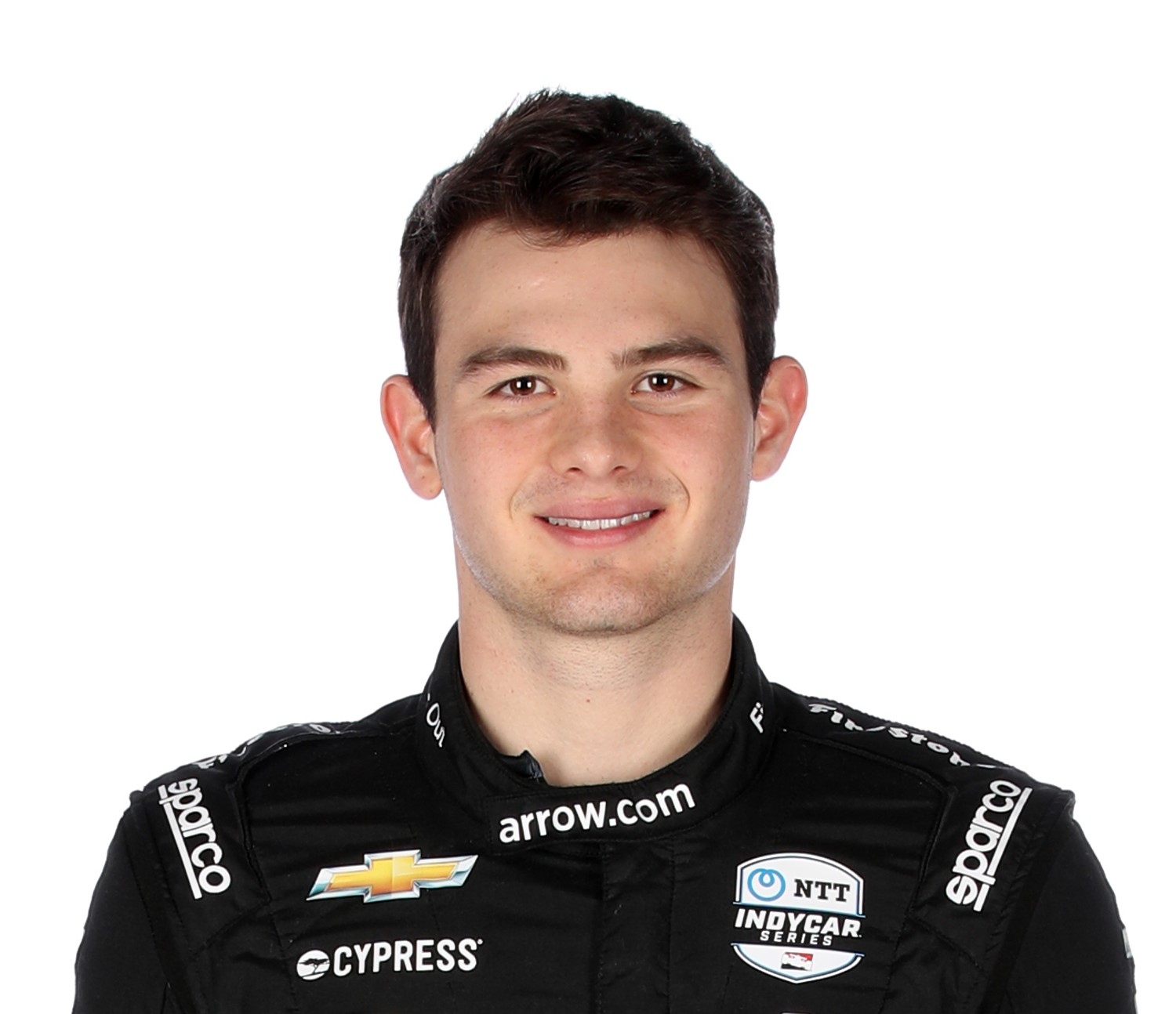 THE MODERATOR: Good evening, everyone. Welcome to the post race press conference for the 104th running of the Indianapolis 500 presented by Gainbridge.
I will be joined by our second- and third-place finishers as well as our winner, Takuma Sato. But first we are joined by our highest finishing rookie, Pato O'Ward.
Pato, can you tell us a little bit about your run today.
PATO O'WARD: I think we had a solid run today. We were running in the top five most of the race. We were fighting up there, mixing it up with Dixon, Rossi, Takuma. Great job to him. But man, you know, towards the end, I just didn't have quite enough to try and get those Hondas in front of us.
I think we juiced out the car. We got everything out of it. We were the second Chevy right behind Josef in fifth. I think it was a good job for my first-ever Indy 500. The only thing that matters here is winning, so…
Excited to come back next year and try to get that win because this place is pretty special. For now, move on to Gateway.
THE MODERATOR: Questions for Pato.
Q. What can you take from the race in terms of what you've learnt going ahead for the rest of the season, in particular to Gateway, another oval?
PATO O'WARD: Yeah, I think I just getting more and more comfortable with speedways. I think a lot of what I learned in Iowa is going to help at Gateway, short oval. For sure, in a speedway trim, feeling out what the car does with such high speeds, when you're really on the edge of the speed, the grip, it was a great learning curve. I'm way more prepared for next year.
But, yeah, I think it was a solid day. We finished really good points for the championship. Unfortunately Scott was in front of us. We kind of have to start making more points to actually catch him.
Q. It looked like you were making a run for the top three. I can't remember what lap it was, sometime after halfway, then you fell back a little bit after that. Talk through what happened there. Just balance and that kind of thing or strategy?
PATO O'WARD: Yeah, I think our highest possibility to actually get that win was midway through the race when we were sitting behind Rossi and Dixon. When I was sitting behind Dixon, I couldn't get runs. I couldn't catch up. I couldn't suck up to Dixon. Even when I was in the draft, it was so hard to keep Santino behind me, Graham. We just lost a lot of positions. I just couldn't catch them.
I truly thought I was getting decent restarts. They weren't amazing, but they weren't terrible. They should have been enough to at least just stay in position. But I couldn't. I got overtaken on the outside like by two cars at the same time. I was saving a lot of fuel. It was really hard to keep them behind me, honestly, in those circumstances.
So much more important to end the race than to risk something and end up in the wall.
Q. You mentioned good points for the championship. Coming into the year were you expecting to be a championship contender? I think you're going to be second or third in points.
PATO O'WARD: I think we should be third, really close to Graham. Graham was somewhere close to me in the championship, and he was third today.
But yeah, I mean, honestly I've always had faith in myself. I've always had faith in this team. Ever since I drove the car for the first time, I knew it was capable of race winning, poles, it was most likely a podium contender in a lot of the race weekends. We've proven that. We've almost won the past three races. Everything just hasn't really gone our way perfectly.
This race, the pit stop guys were fantastic. Hats off to them. They've been working really hard in the shop. They were, if not the best, one of the best out there for sure.
I think we've had a fantastic year so far, but we have to keep it going. We have to keep adding up points. Like I said, I mean, we have to start adding up more points than Dixon sometime if we want to catch him. If not, it's pretty much game over.
We're somewhat close to Josef, with Graham in there, Simon. I think the fight for second place is still in there. But Dixie is definitely up there. He just stretched out his lead even more for double points.
Q. I know the race just ended, there's a lot going through your mind. Have you had a chance to really check on Oliver? When you saw that crash, that was a massive hit he took.
PATO O'WARD: Honestly, the safety car, I was trying to look up. There's so many screens. Every time I would catch the onboard right before the crash so I couldn't actually see how it hit or happened. I saw him now. He's okay. Thankfully he's okay.
But yeah, I really haven't seen what happened. I will look later on. But the very important thing is that he's okay. These guys are going to put the car back together and we're going to be right back on it in Gateway. He just has to shake it off. We have to collect, we have to push each other in Gateway, try to build the strongest package, try to get a couple podiums there.
Q. The aero impact of these cars, once you get so far back, how far is it before you're able to lose that ability to suck back into the car in front of you? Is it almost like hitting a wall of air?
PATO O'WARD: Yeah, it just looked like we were struggling to suck up to even some guys that had more downforce than us. It was really tough. But we were also fuel saving, so that wasn't helping. You have to be pretty close to really feel the suck-up. If you're 300, 400 feet back, you won't completely fall back, but you won't really suck up either. They'll like tow you around.
But man, I couldn't be close to people because I would just start dancing on top of the surface. There were a few close calls where I almost got really, really close to the wall. It was tough out there in the middle of the race. It was super hot. It was really greasy out there, especially when the train of cars was like seven, eight cars. Pretty tough, for sure.
Q. Your first full Indy 500 that you got to complete, what do you think is the single most thing you learned throughout the race?
PATO O'WARD: I think just learning how to time tows, being proactive with your tools, honestly just being in the worst possible position sometimes to try and handle the car and keep it from hitting a wall or from spinning.
It was really greasy out there. It was definitely tough. I wasn't the only one struggling. Everyone was just really struggling to suck up and to pass people. As everybody saw, the passes were so late in the corners. I'm actually surprised of how everybody respected each other whenever the super late passes would happen. I thought that was a really good job by everybody.
But yeah, I think getting some laps under my belt in traffic running, in the heat of the day when the car isn't quite perfect, you kind of have to stay on top of it to try to maximize everything you can out of it.
Q. After last year where you didn't make the field, this year you made the field, how much does that do for your confidence the rest of the season?
PATO O'WARD: Last year it never really brought down my confidence. This year I had a very capable car, a car that deserves to be in the show, a car that deserves to be in the front. I was just doing what I was paid to do and what I always have done. It wasn't really much of a difference from last year in terms of speedway knowledge. I had Texas under my belt. But Indy is quite a bit faster and different.
I think just being patient all weekend, learning every session, being slow and working my way up in traffic was a very good thing that we did. We took care of the car. We finished the race. We had a good qualifying in terms of where we were Chevy-wise. I think we maximized everything we could in the race.
But yeah, I think it was a good job. Yeah, it wasn't really much of a knowledge difference from last year. I just think in an oval it is so important to have a strong car that makes you feel confident, that allows you to stay up into people, to tow up, to really just ride behind someone without just completely losing the rear out of nowhere.
It's not easy for sure. It's quick out there.
THE MODERATOR: We'll let Pato go. Thank you for joining. Congratulations.
PATO O'WARD: Thank you, everybody.