Once again Rossi's and Hunter-Reay's pit crews screwed up their Indy 500 chances
(Update)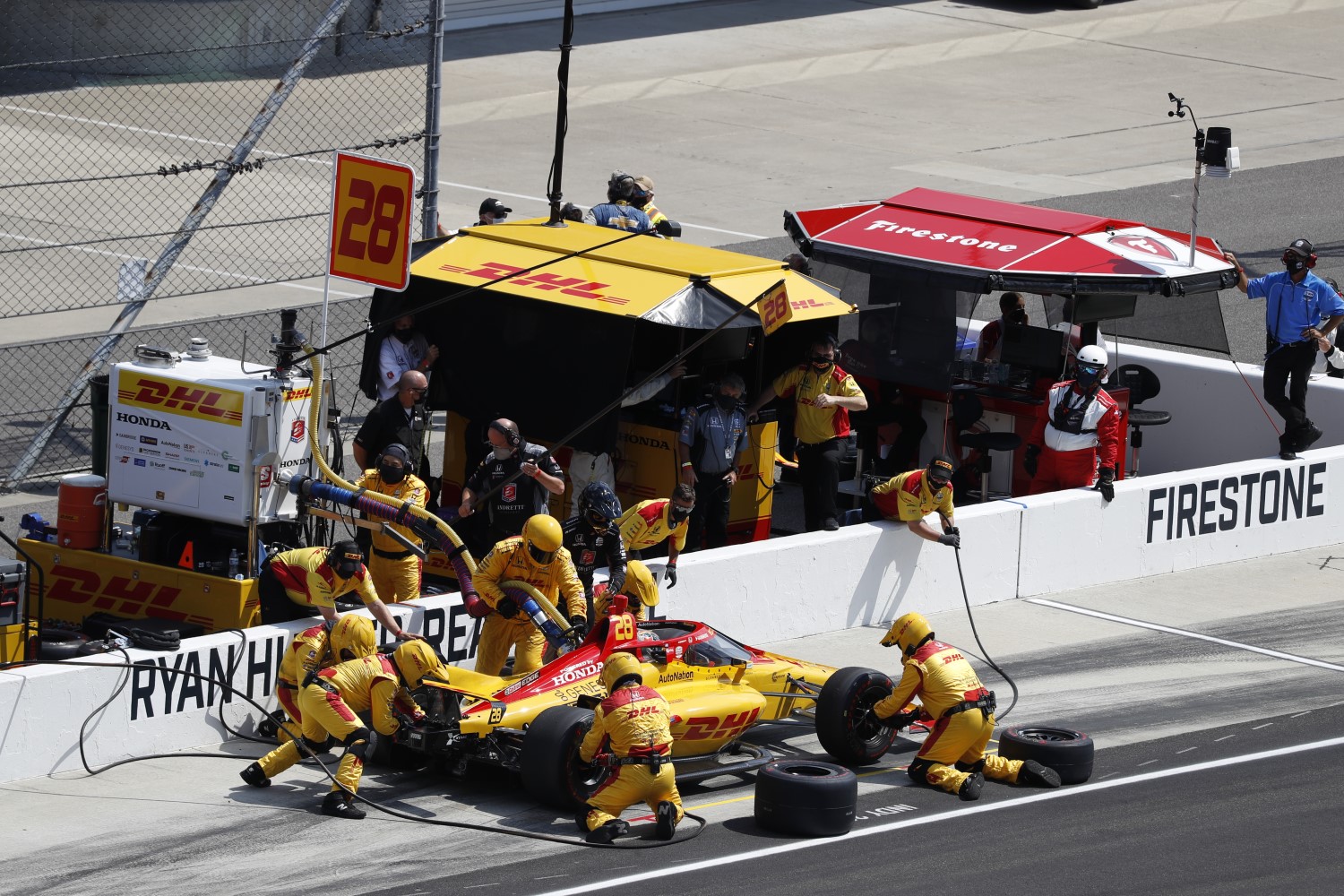 In examining the lap charts from Sunday's Indy 500 it looks like Ryan Hunter-Reay (RHR), Rossi's teammate, had even more issues with his pit stops.
We see that RHR passed three cars in the first half dozen laps, and it appeared RHR had the car to challenge for the win.
RHR entered the pits in second for his first stop and then lost FOUR positions on that first stop. Next three stops he lost ADDITIONAL POSITIONS on each stop.
RHR lost 13 positions in the pits yesterday, 4-3-4-2 lost positions on successive stops……
RHR said his car was set up, as was Rossi's, for running in clean air up front.
If RHR had not lost 13 positions in the pits he would have likely been running up front with Dixon and Sato challenging for the win, where he was before the debacle of pit stops.
Once RHR was relegated to mid-field by his pit crew, he had massive understeer and it was all he could do to hold onto the car as it was a handful in dirty air (as Rossi found out).
It's clear Michael Andretti needs to get his pit crew members additional training, or practice, or both
August 24, 2020
---
Every year Alexander Rossi has run in the Indy 500 the #27 NAPA Honda pit crew has screwed up his race.
Even the year he won (2016 – his rookie year) he had two terribly slow pit stops that put him way back in the field and the only way he won was driving like 'stroker-ace' saving fuel and skipping a late race pit stop.
It has been the same story every year, even last year when he finished 2nd his crew had a refueling issue that set him back, forcing him to make some daring passes to get back up front and at least challenge for the win. In the end Simon Pagenaud was too much for Rossi, and he had to settle for 2nd.
This year, his right rear wheel changer bobbled the lug nut and that split second loss of time while stationary meant when it was time to release Rossi from his box, Takuma Sato was already out of his pit box and in the lane. Then Rossi's crew made a 2nd mistake – an unsafe release of Rossi right into the path of eventual race winner Sato. They bumped but neither car was damaged.
Regardless, the race officials sent Rossi to the back of the field under caution as his penalty for the unsafe release. When the race went green Rossi made some daring moves to gain position and try to get back to the front, but eventually a loose handling car, setup to run fast at the front, was a handful in the dirty air at the back and Rossi lost control of the car on his own and plastered the #27 NAPA Honda all over the Turn 2 wall.
What looked like a 3-way battle for the win was setting up between Sato, Scott Dixon and Rossi, turned into a nightmare for the Californian and it all was the result of mistakes by his pit crew.
Again.
Mark C. reporting for AutoRacing1.com