Indy winner Sato and Power win poles for Bommarito 500 races
Indy 500 winner and defending race winner here at Gateway, Takuma Sato, has won the pole position for the Sunday half of the Bommarito 500 doubleheader, while Team Penske Chevy ace Will Power put up the fastest qualifying lap for today's race.
Rahal Letterman Lanigan Honda driver Sato turned the overall fastest speed of the day at 182.499 mph on his 2nd lap to nip Team Penske's Josef Newgarden for pole in race 2 on Sunday.
However, it was Will Power who had the fastest first lap at 182.394 mph to nail the pole for today's Race 1 while Sato was only 5th best.
The twin bills start at 3:30 pm Saturday and Sunday when the temperatures will be hotter than the past several years when the races were run at night when the track was cooler.
Handling as the fuel burns off and the track becomes more rubbered in will be a key factor in determining the winner.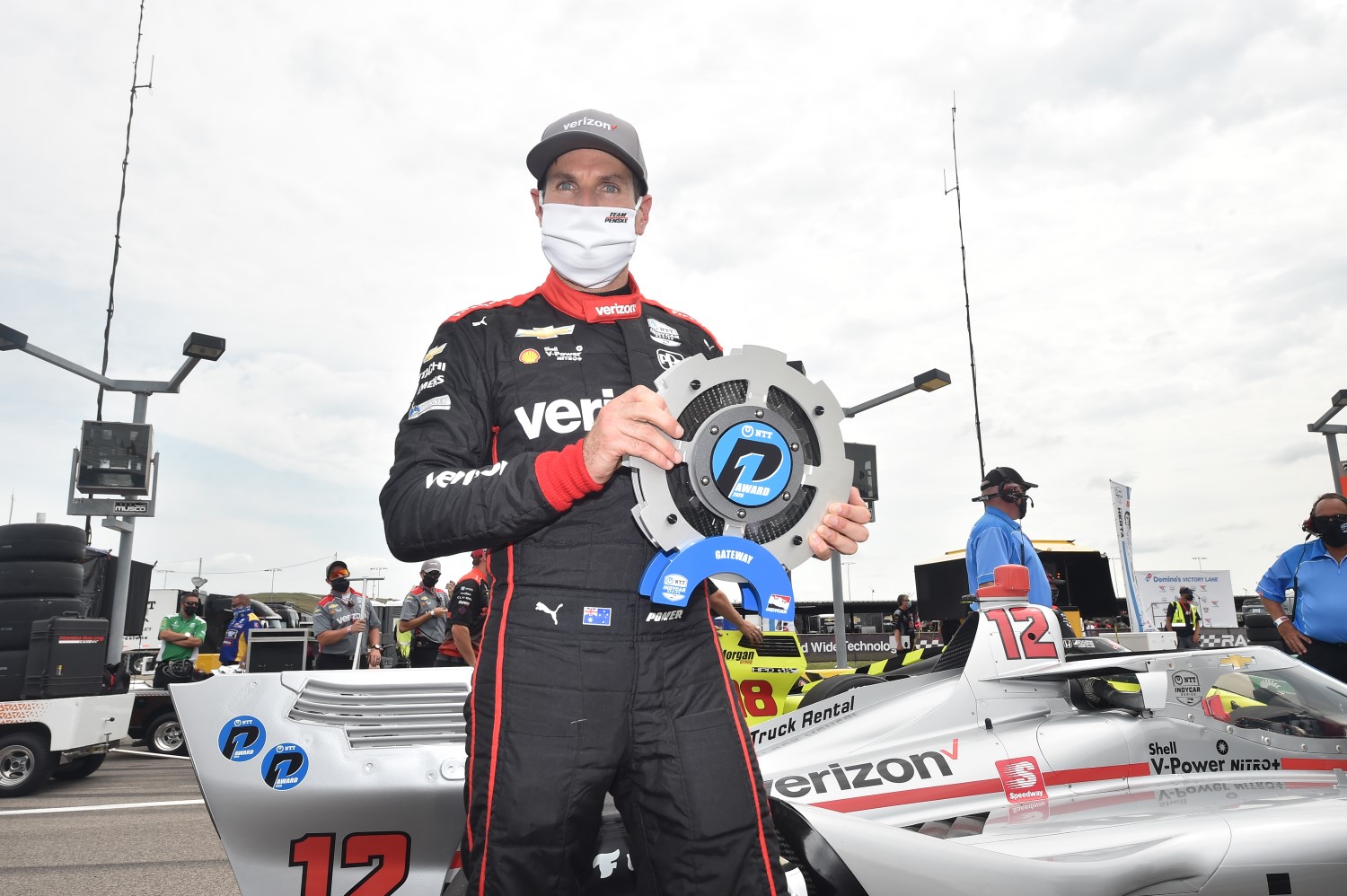 The other key factor will be pure dumb luck. Because of IndyCar's closed pit rule and lack of a virtual safety car – when a caution flies you could be completely dominating the race and end up at the back and a lap down at the finish if the yellows don't fall your way.
The technology is there to implement a virtual safety car system, as F1 has used it for years. However, IndyCar prefers to have many race results determined by luck rather than skill.
And because all the cars bunch up and pit at the same time when the pits open, the pit lane becomes extremely crowded resulting in crew members being hit and cars crashing into each other.
Just ask Alexander Rossi how that works. He tapped Takuma Sato exiting a crowded pit lane at Indy, got moved to the back for the infraction, and instead of racing for the win, they had to scrape his car off the Turn 2 wall when he crashed trying too hard to race back to the front.
Race 1 Lineup (Saturday)
| | | | | | | | |
| --- | --- | --- | --- | --- | --- | --- | --- |
| Rank | Car | Driver Name | Engine | Time | Speed | Diff | Gap |
| 1 | 12 | Power, Will | Chevy | 24.6718 | 182.394 | 0.0000 | 0.0000 |
| 2 | 5 | O'Ward, Pato | Chevy | 24.7149 | 182.076 | 0.0431 | 0.0431 |
| 3 | 9 | Dixon, Scott | Honda | 24.7244 | 182.006 | 0.0526 | 0.0095 |
| 4 | 8 | Ericsson, Marcus | Honda | 24.8120 | 181.364 | 0.1402 | 0.0876 |
| 5 | 30 | Sato, Takuma | Honda | 24.8226 | 181.286 | 0.1508 | 0.0106 |
| 6 | 1 | Newgarden, Josef | Chevy | 24.8314 | 181.222 | 0.1596 | 0.0088 |
| 7 | 60 | Harvey, Jack | Honda | 24.8736 | 180.915 | 0.2018 | 0.0422 |
| 8 | 28 | Hunter-Reay, Ryan | Honda | 24.9024 | 180.705 | 0.2306 | 0.0288 |
| 9 | 27 | Rossi, Alexander | Honda | 24.9038 | 180.695 | 0.2320 | 0.0014 |
| 10 | 88 | Herta, Colton | Honda | 24.9100 | 180.650 | 0.2382 | 0.0062 |
| 11 | 55 | Palou, Alex (R) | Honda | 24.9173 | 180.597 | 0.2455 | 0.0073 |
| 12 | 10 | Rosenqvist, Felix | Honda | 24.9591 | 180.295 | 0.2873 | 0.0418 |
| 13 | 22 | Pagenaud, Simon | Chevy | 24.9815 | 180.133 | 0.3097 | 0.0224 |
| 14 | 21 | VeeKay, Rinus (R) | Chevy | 24.9903 | 180.070 | 0.3185 | 0.0088 |
| 15 | 7 | Askew, Oliver (R) | Chevy | 24.9926 | 180.053 | 0.3208 | 0.0023 |
| 16 | 59 | Daly, Conor | Chevy | 25.0020 | 179.986 | 0.3302 | 0.0094 |
| 17 | 20 | Carpenter, Ed | Chevy | 25.0667 | 179.521 | 0.3949 | 0.0647 |
| 18 | 4 | Kimball, Charlie | Chevy | 25.0905 | 179.351 | 0.4187 | 0.0238 |
| 19 | 98 | Andretti, Marco | Honda | 25.2529 | 178.197 | 0.5811 | 0.1624 |
| 20 | 18 | Ferrucci, Santino | Honda | 25.2542 | 178.188 | 0.5824 | 0.0013 |
| 21 | 14 | Kanaan, Tony | Chevy | 25.3288 | 177.663 | 0.6570 | 0.0746 |
| 22 | 15 | Rahal, Graham | Honda | 25.4821 | 176.595 | 0.8103 | 0.1533 |
| 23 | 26 | Veach, Zach | Honda | 25.5661 | 176.014 | 0.8943 | 0.0840 |
Race 2 Lineup (Sunday)
| | | | | | | | |
| --- | --- | --- | --- | --- | --- | --- | --- |
| Rank | Car | Driver Name | Engine | Time | Speed | Diff | Gap |
| 1 | 30 | Sato, Takuma | Honda | 24.6577 | 182.499 | 0.0000 | 0.0000 |
| 2 | 1 | Newgarden, Josef | Chevy | 24.6607 | 182.477 | 0.0030 | 0.0030 |
| 3 | 12 | Power, Will | Chevy | 24.6611 | 182.474 | 0.0034 | 0.0004 |
| 4 | 5 | O'Ward, Pato | Chevy | 24.6873 | 182.280 | 0.0296 | 0.0262 |
| 5 | 60 | Harvey, Jack | Honda | 24.7525 | 181.800 | 0.0948 | 0.0652 |
| 6 | 9 | Dixon, Scott | Honda | 24.7613 | 181.735 | 0.1036 | 0.0088 |
| 7 | 8 | Ericsson, Marcus | Honda | 24.7630 | 181.723 | 0.1053 | 0.0017 |
| 8 | 22 | Pagenaud, Simon | Chevy | 24.7993 | 181.457 | 0.1416 | 0.0363 |
| 9 | 10 | Rosenqvist, Felix | Honda | 24.8088 | 181.387 | 0.1511 | 0.0095 |
| 10 | 88 | Herta, Colton | Honda | 24.8394 | 181.164 | 0.1817 | 0.0306 |
| 11 | 27 | Rossi, Alexander | Honda | 24.8860 | 180.825 | 0.2283 | 0.0466 |
| 12 | 28 | Hunter-Reay, Ryan | Honda | 24.9144 | 180.618 | 0.2567 | 0.0284 |
| 13 | 7 | Askew, Oliver (R) | Chevy | 24.9198 | 180.579 | 0.2621 | 0.0054 |
| 14 | 55 | Palou, Alex (R) | Honda | 24.9224 | 180.560 | 0.2647 | 0.0026 |
| 15 | 59 | Daly, Conor | Chevy | 24.9482 | 180.374 | 0.2905 | 0.0258 |
| 16 | 18 | Ferrucci, Santino | Honda | 24.9727 | 180.197 | 0.3150 | 0.0245 |
| 17 | 26 | Veach, Zach | Honda | 25.0291 | 179.791 | 0.3714 | 0.0564 |
| 18 | 21 | VeeKay, Rinus (R) | Chevy | 25.1833 | 178.690 | 0.5256 | 0.1542 |
| 19 | 14 | Kanaan, Tony | Chevy | 25.1918 | 178.630 | 0.5341 | 0.0085 |
| 20 | 98 | Andretti, Marco | Honda | 25.2012 | 178.563 | 0.5435 | 0.0094 |
| 21 | 4 | Kimball, Charlie | Chevy | 25.2390 | 178.295 | 0.5813 | 0.0378 |
| 22 | 20 | Carpenter, Ed | Chevy | 25.3196 | 177.728 | 0.6619 | 0.0806 |
| 23 | 15 | Rahal, Graham | Honda | 25.4521 | 176.803 | 0.7944 | 0.1325 |