Whincup and McLaughlin split wins, keeping title fight alive for 2020
Jamie Whincup continued his amazing winning run in Townsville today before two-time defending Virgin Australia Supercars Champion Scott McLaughlin returned to the winners' list in the final race of the NTI Townsville SuperSprint.
Seven-time Supercars Champion Whincup claimed his 12th win in North Queensland this afternoon and second consecutive after a win yesterday.
Like Saturday's opening encounter, it was a straightforward affair for the Red Bull Holden ace, leading away from ARMOR ALL Pole and not looking back.
Walkinshaw's Chaz Mostert had his second podium in as many days finishing runner up, while Shane van Gisbergen stormed home in the #97 Red Bull to claim 3rd place from Cam Waters and James Courtney.
McLaughlin, again struggled in qualifying for the early race as he did yesterday – but made up for it, finishing 6th to ensure Whincup didn't close the gap on the points tally too much.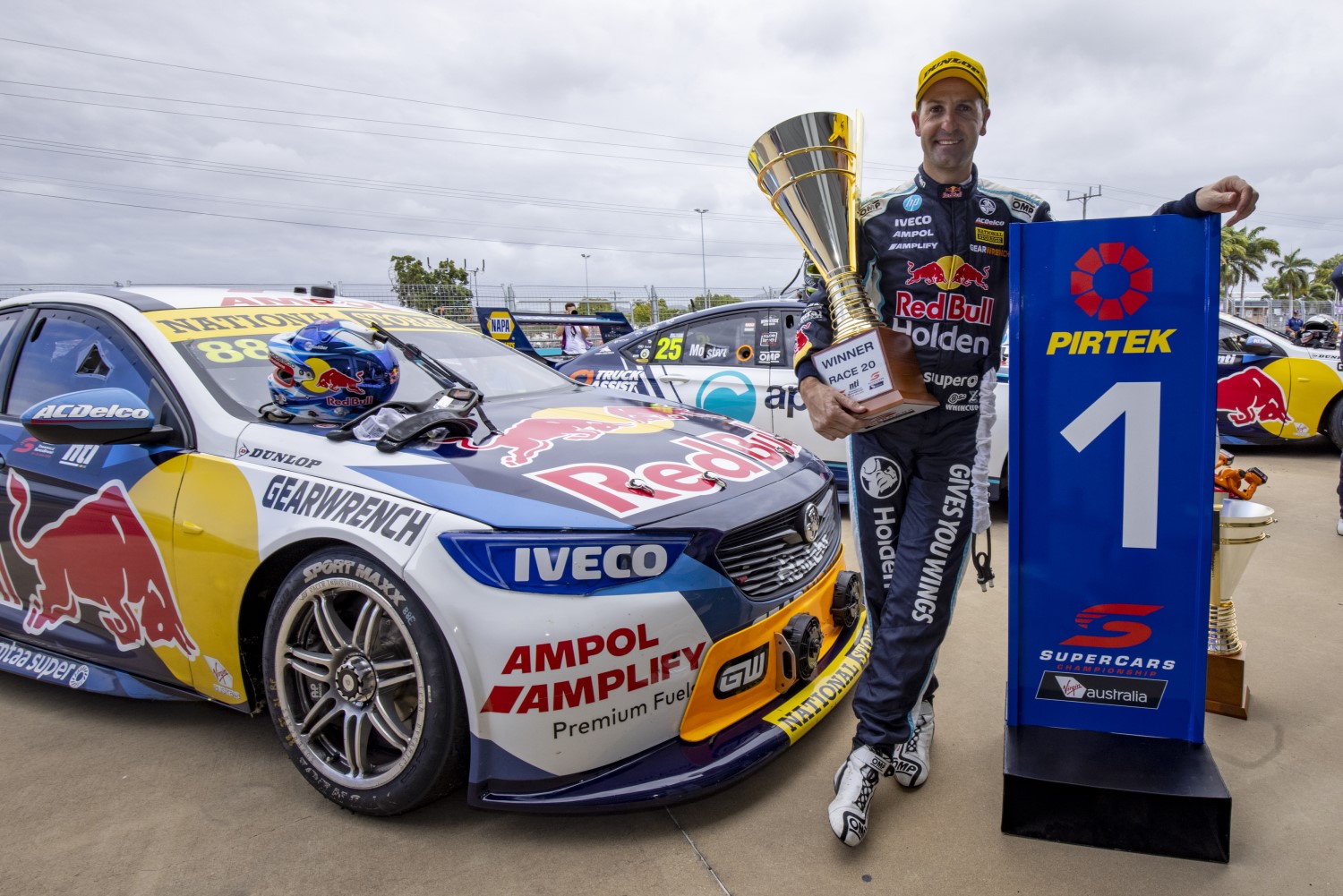 In the final race of the day, McLaughlin redeemed himself for a poor weekend by his lofty standards, by leading from ARMOR ALL Pole Position all the way to victory lane.
He was pushed throughout by Waters who was arguably one of the most consistent drivers of the weekend. Whincup made a late move on Nick Percat to claim third spot.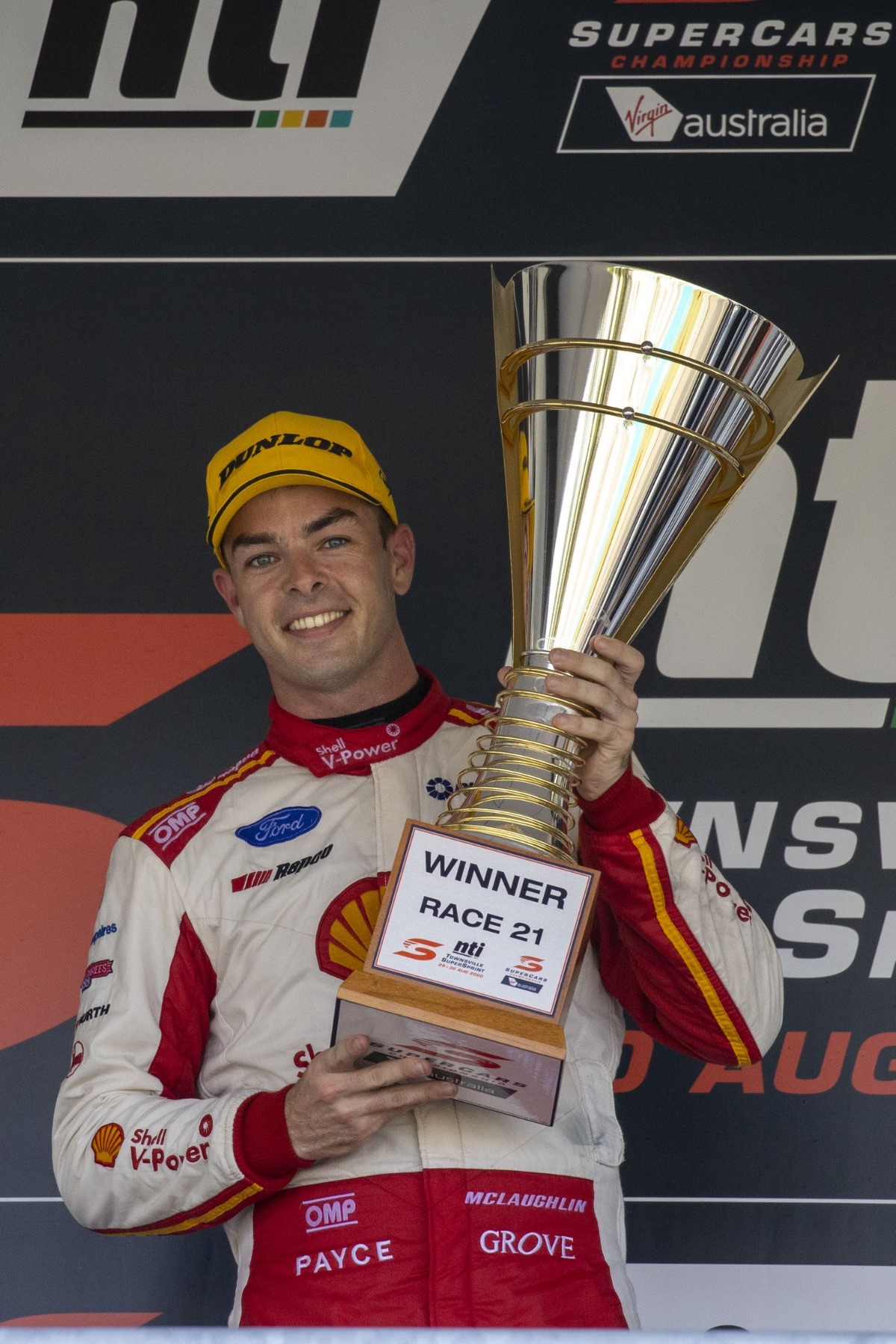 This weekend's results mean McLaughlin now leads Whincup by 123-points heading into next weekend's second event of the North Queensland double header – the Robson Civil Projects SuperSprint.
Townsville Race 2 Results
| | | | | | |
| --- | --- | --- | --- | --- | --- |
| POS | # | DRIVER | TEAM | TIME | POINTS |
| 1 | 88 | Whincup | Red Bull Holden Racing Team | 49:17.467 | 100 |
| 2 | 25 | Mostert | Mobil 1 TM Appliances Online | +3.014 | 92 |
| 3 | 97 | Van Gisbergen | Red Bull Holden Racing Team | +16.131 | 86 |
| 4 | 6 | C. Waters | Monster Energy Racing | +20.439 | 80 |
| 5 | 8 | Percat | R&J Batteries | +23.789 | 74 |
| 6 | 17 | McLaughlin | Shell V-Power Racing Team | +24.365 | 68 |
| 7 | 44 | Courtney | Boost Mobile Racing | +28.637 | 64 |
| 8 | 99 | A. de Pasquale | Penrite Racing | +29.104 | 60 |
| 9 | 20 | S. Pye | DEWALT Racing | +29.839 | 56 |
| 10 | 9 | Reynolds | Penrite Racing | +30.222 | 52 |
| 11 | 5 | Holdsworth | Truck Assist Racing | +31.298 | 48 |
| 12 | 55 | J. Le Brocq | Supercheap Auto Racing | +31.833 | 46 |
| 13 | 14 | T. Hazelwood | Team Black Duck | +33.564 | 44 |
| 14 | 7 | Heimgartner | NED Whisky Racing | +34.381 | 42 |
| 15 | 12 | Coulthard | Shell V-Power Racing Team | +39.634 | 40 |
| 16 | 35 | G. Jacobson | Yellow Cover Racing | +41.489 | 38 |
| 17 | 18 | Winterbottom | IRWIN Racing | +43.741 | 36 |
| 18 | 3 | M. Jones | Team CoolDrive | +43.944 | 34 |
| 19 | 2 | B. Fullwood | Mobil 1 TM Middy's Racing | +45.719 | 32 |
| 20 | 15 | R. Kelly | Castrol Racing | +47.010 | 30 |
| 21 | 34 | Z. Goddard | UNIT Racing | +52.108 | 28 |
| 22 | 19 | A. Davison | Local Legends Racing | +52.491 | 26 |
| 23 | 4 | J. Smith | SCT Motor Sports | +54.433 | 24 |
| 24 | 22 | C. Pither | Team SYDNEY | +55.237 | 22 |
Townsville Race 3 Results
| | | | | | |
| --- | --- | --- | --- | --- | --- |
| POS | # | DRIVER | TEAM | BEHIND | POINTS |
| 1 | 17 | McLaughlin | Shell V-Power Racing Team | +0.000s | 100 |
| 2 | 6 | C. Waters | Monster Energy Racing | +4.160 | 92 |
| 3 | 88 | Whincup | Red Bull Holden Racing Team | +5.914 | 86 |
| 4 | 8 | Percat | R&J Batteries | +12.520 | 80 |
| 5 | 14 | T. Hazelwood | Team Black Duck | +14.362 | 74 |
| 6 | 20 | S. Pye | DEWALT Racing | +16.107 | 68 |
| 7 | 99 | A. de Pasquale | Penrite Racing | +27.536 | 64 |
| 8 | 97 | Van Gisbergen | Red Bull Holden Racing Team | +28.804 | 60 |
| 9 | 5 | Holdsworth | Truck Assist Racing | +30.103 | 56 |
| 10 | 18 | Winterbottom | IRWIN Racing | +34.705 | 52 |
| 11 | 9 | Reynolds | Penrite Racing | +36.073 | 48 |
| 12 | 2 | B. Fullwood | Mobil 1 TM Middy's Racing | +38.083 | 46 |
| 13 | 44 | Courtney | Boost Mobile Racing | +38.272 | 44 |
| 14 | 15 | R. Kelly | Castrol Racing | +42.511 | 42 |
| 15 | 7 | Heimgartner | NED Whisky Racing | +42.840 | 40 |
| 16 | 55 | J. Le Brocq | Supercheap Auto Racing | +43.793 | 38 |
| 17 | 12 | Coulthard | Shell V-Power Racing Team | +48.414 | 36 |
| 18 | 35 | G. Jacobson | Yellow Cover Racing | +48.445 | 34 |
| 19 | 34 | Z. Goddard | UNIT Racing | +50.607 | 32 |
| 20 | 19 | A. Davison | Local Legends Racing | +50.975 | 30 |
| 21 | 3 | M. Jones | Team CoolDrive | +52.141 | 28 |
| 22 | 4 | J. Smith | SCT Motor Sports | +54.666 | 26 |
| 23 | 22 | C. Pither | Team SYDNEY | +58.848 | 24 |
| 24 | 25 | Mostert | Mobil 1 TM Appliances Online | +1:11.320 | 22 |