Justin Ashley Looking For Unique Indy Double Up at U.S. Nationals
Rookie of the year contender and driver of the Strutmasters.com powered by MANSCAPED™ Top Fuel dragster Justin Ashley will be looking for a unique double win this weekend during the prestigious NHRA U.S. Nationals. On Saturday he will face off with veteran driver TJ Zizzo in the final round of the postponed NHRA Summernationals. The race originally scheduled in mid-July will be contested at the conclusion of qualifying. Ashley will have a short window of celebration should the race go his way as the final round eliminations of a career defining race, the NHRA U.S. Nationals, will begin the next morning. It will be a whirlwind experience for the second generation driver.
"I have been waiting my whole life to win a professional race on the NHRA Mello Yello Series," said Ashley, a two-time Top Alcohol Dragster winner. "We thought we were going to get our shot in July but Mother Nature had other plans. I am looking forward to racing TJ on Saturday and hopefully having a long day on Sunday. I have a great team around me with Strutmasters.com and new sponsors Sanit, MANSCAPED and Guard Lab so we will have a lot of people to show off for."
The young driver dipped his toes in the professional ranks for three races at the conclusion of the 2019 NHRA season in order to get some experience and keep his rookie status intact. Bursting onto the scene at the beginning of this season Ashley has established himself and the Davis Motorsports team as a threat every time they roll out of the hauler. Through five races Ashley has advanced to the quarterfinals three times and is awaiting his first final round run.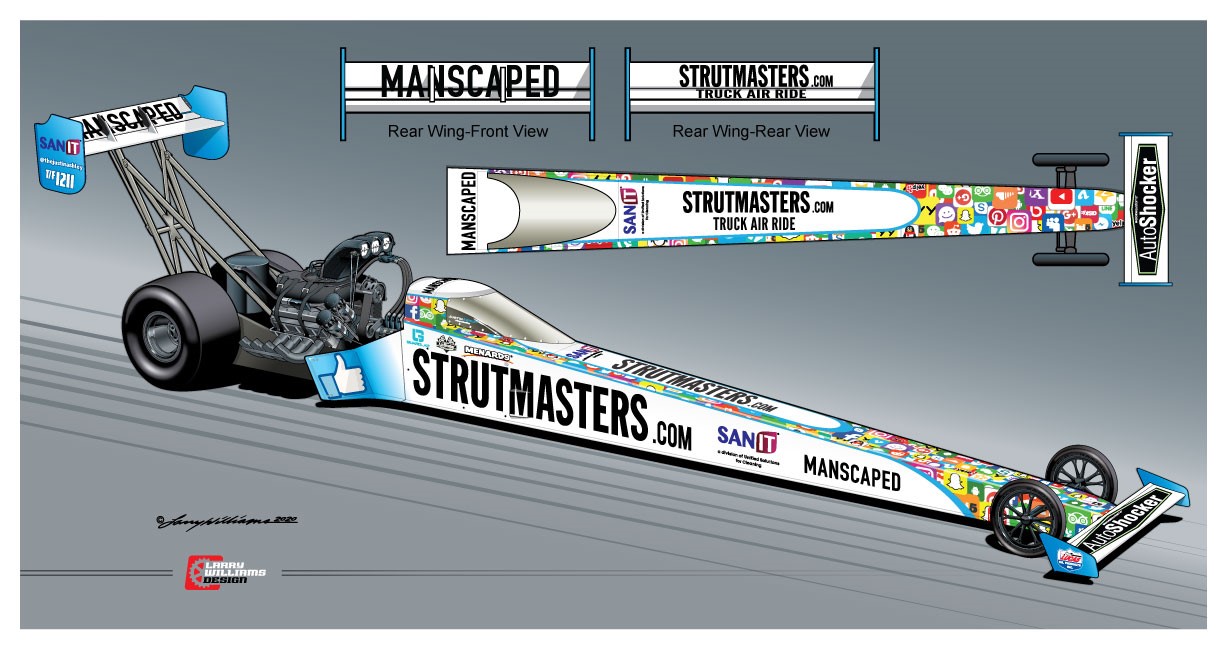 "We had a great start of the season in the first two races," said Ashley. "We got out of the first round and beat some tough competitors. You want to build momentum, which we were doing and then the season was put on hold. I focused on my real estate business and also stated in racing shape during the downtime. I was fired up when we went back to racing and we picked up right where we left off after a couple races. I have a lot of confidence in my team and I am excited to qualify and do well at my first U.S. Nationals in Top Fuel."
A savvy entrepreneur Ashley announced this week leading up to the race three new corporate sponsors with Guard Lab, Sanit and MANSCAPED joining his Strutsmasters.com backed team. All three companies will be with the team through the rest of the season and will being a variety of support levels to the team.
"I am excited to have added three new marketing partners this week. It just all came together before the biggest race of the year," explained Ashley. "I have been wearing a Guard Lab mouthpiece all season and I definitely think it gives me an advantage. The guys at Sanit Hand Sanitizer have been great through the whole pandemic of course. Our latest announcement with MANSCAPED was huge because they a great non-traditional, new to NHRA sponsor. We are excited to do some amazing things with all three companies."
The first thing Ashley will need to accomplish to start his weekend on the right foot is make a solid run during the lone Friday night qualifying session. Two more qualifying runs on Saturday with the last qualifying pass being the final round of the Summernationals. Final eliminations will begin at 10 a.m. ET on Sunday with live FOX broadcast from 1 p.m. – 4 p.m. ET.