Castroneves Takes Pole for 6H Road Atlanta
Helio Castroneves claimed the second consecutive WeatherTech SportsCar Championship pole for Acura Team Penske Saturday at Michelin Raceway Road Atlanta for Saturday's TireRack.com Grand Prix.
The three-time Indianapolis 500 winner turned a lap of 1m08.674s in the No. 7 Acura ARX-05 to edge out the No. 31 Action Express Racing Cadillac DPi-V.R of Felipe Nasr by 0.056 seconds. zzzz
It marked Castroneves' second pole of the IMSA WeatherTech SportsCar Championship season.
The winning lap in the No. 7 Acura Team Penske Acura DPi ARX-05 led to an uproarious celebration by the 45-year-old Castroneves, who jumped into the arms of teammate Ricky Taylor and mugged for cameras.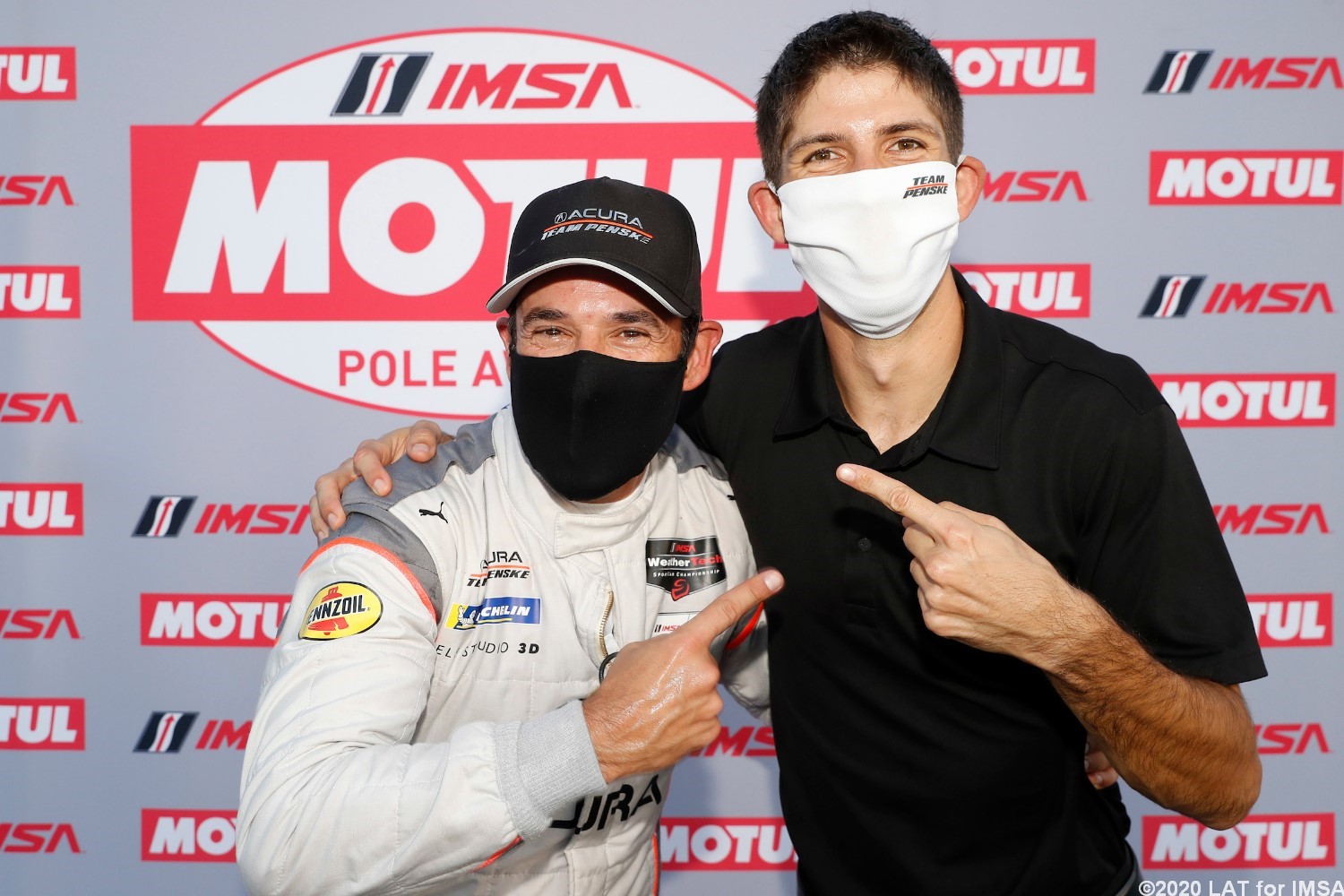 Joyous celebrations have become Castroneves' trademark in a racing career that spans more than two decades
"Every time you achieve something great, fun and special – what we love to do – it doesn't matter the age," Castroneves said. "Every time you're doing something that you love, it's always fun."
It was the fifth pole for Castroneves in IMSA WeatherTech SportsCar Championship competition. Known for his outstanding qualifying efforts, he's also won four poles in his 20 Indianapolis 500s.
This one, as with all the others, was cause for celebration – especially for the usually ebullient Castroneves.
"It's great to celebrate," he said. "You have to show that. Sometimes you get upset, as well, but it's more fun to show the positive side. It's a great way to do it."
The No. 7 Acura will start alongside the No. 31 Whelen Engineering Racing Cadillac DPi V.R, which Felipe Nasr drove to the front row with a lap just 0.056 seconds behind Castroneves' best. Nasr will share the car with Pipo Derani and Felipe Albuquerque when Saturday's race begins at 11:35 a.m. ET.
Dane Cameron brought the No. 6 Penske Acura home third in qualifying and will join Juan Pablo Montoya as the team tries to repeat the overall and Daytona Prototype international (DPi) class win Aug. 2 by Castroneves and Taylor in the IMSA SportsCar Weekend at Road America.
Patrick Kelly scored the pole position in the Le Mans Prototype 2 (LMP2) class, which is reduced to just two entries this weekend while other teams travel to and prepare for the 24 Hours of Le Mans on Sept. 19-20.
"The usual suspects aren't here," said Kelly, who will team with Simon Trummer and Scott Huffaker in the No. 52 PR1 Mathiasen Motorsports ORECA LMP2 07. "I understand it's between traveling to France for Le Mans, and COVID and getting in and out of the country. That's why they sat it out (this weekend), so it's unfortunate that they aren't here. Before I went out, the team said to me, 'Let's have a good car for tomorrow,' which I took to mean, 'Don't do anything stupid.' So, I just hit my marks."
Kyle Tilley drove the No. 18 Era Motorsport ORECA LMP2 07 to the second starting position. He'll share the ride with Dwight Merriman and Colin Braun.
For Castroneves, the DPi pole was about patience. Early in the session, he caught traffic on what he'd hoped would be his fastest laps. He finally got clear track and used information from the team's other car to claim the pole.
"I thought, 'I've got maybe one more lap to do it. We've just got to make sure we have a good lap again,'" he said. "And that's what I did. My team also gave a little bit of information since we have a sister car, so we could tell you're losing a bit of time here or there. It's a team sport, you have to take advantage of all the tools you have to improve."
Saturday's race also serves as the second of four in the Michelin Endurance Cup. Live coverage begins at 11:30 a.m. ET on NBCSN, shifts to TrackPass on NBC Sports Gold and the NBC Sports App from 12:30-230 p.m. and back to NBCSN for the exciting race conclusion from 2:30-6 p.m.
Tandy Takes GTLM Motul Pole
To say that GT Le Mans (GTLM) qualifying was decided by the blink of an eye Friday at Michelin Raceway Road Atlanta doesn't come close to doing it justice.
Nick Tandy captured the Motul Pole Award for the TireRack.com Grand Prix by the slimmest of margins, 0.014 seconds. The entire six-car class was separated by a miniscule 0.192 seconds, about half the time it takes a human to blink.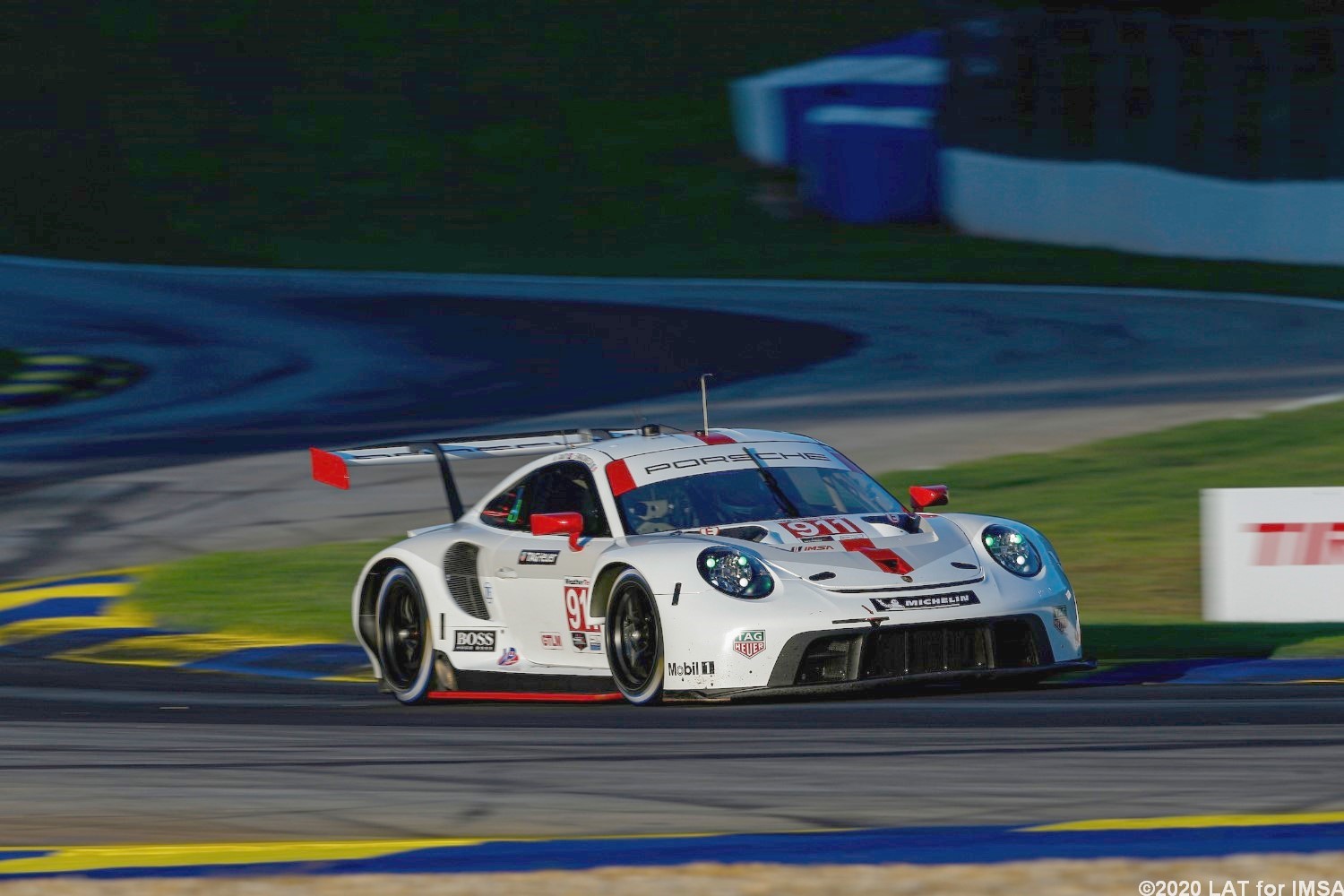 Tandy, who'll share the No. 911 Porsche GT Team Porsche 911 RSR-19 with Fred Makowiecki in Saturday's six-hour IMSA WeatherTech SportsCar Championship race, earned his 10th career pole with a sizzling lap of 1 minute, 16.167 seconds (120.051 mph) around Michelin Raceway's 2.54-mile, 12-turn road course. While the lap may not have been perfect – Tandy pointed out that none of his individual track segment time splits ranked best in class – the whole added up better than the sum of its parts.
"I guess I just got the lap together, really," Tandy said. "With the Michelin tires we run on, you tend to have a high-peak grip in a high-energy circuit like Road Atlanta. I was just happy to get my Michelins working when I did on the lap that I was pushing and was able to put a really good lap together. I guess that kind of made the difference. I'm really happy."
Antonio Garcia fell an eyelash shy of taking the pole award, qualifying second at 1:16.181 (120.029 mph) in the No. 3 Corvette Racing Chevrolet Corvette C8.R. Garcia and teammate Jordan Taylor hold a 19-point lead in GTLM going into Saturday's race that also serves as the second leg of the Michelin Endurance Cup.
Tommy Milner put the sister No. 4 Corvette in third with a lap of 1:16.212, ahead of Laurens Vanthoor in the No. 912 Porsche (1:16.241), Connor De Phillippi in the No. 25 BMW Team RLL BMW M8 GTE (1:16.253) and Jesse Krohn in the No. 24 BMW (1:16.359).
While Tandy was impressed with how tightly compressed and competitive the session was, he said it just proved one thing: "Qualifying doesn't really matter too much."
"If we see the temperatures (during Saturday's race) that we saw in the middle of the afternoon today, … in the 50-degree C (120 degrees Fahrenheit) track temperatures, single-lap pace will be irrelevant," he added. "It will all come down to who can keep the tires underneath them for a full stint; how fast you'll be in the final half of that stint and not the first half.
"But when you're out front you can, to a certain degree, control the strategy. That's why we put so much effort into qualifying. It's a long race. And typically, from Porsche's side and especially our side, we tend to do well in longer endurance races."
Montecalvo puts AIM Vasser Sullivan Lexus Back on Top in GTD Qualifying
Embroiled in a tight battle for the GT Daytona (GTD) title, Frankie Montecalvo put the No. 12 AIM Vasser Sullivan Lexus RC F GT3 in position to make up ground when he won the Motul Pole Award for his class on Friday. Montecalvo logged a best lap of 1:19.757 (114.647 mph) to earn the second pole of his season and career, following the one he claimed at the Cadillac Grand Prix of Sebring in July.
Montecalvo's lap was 0.15 seconds better than Madison Snow in the No. 48 Paul Miller Racing Lamborghini Huracán GT3. For the 29-year-old from New Jersey, the Motul Pole Award couldn't have come at a better place than Michelin Raceway, the track where he first swooned over endurance racing.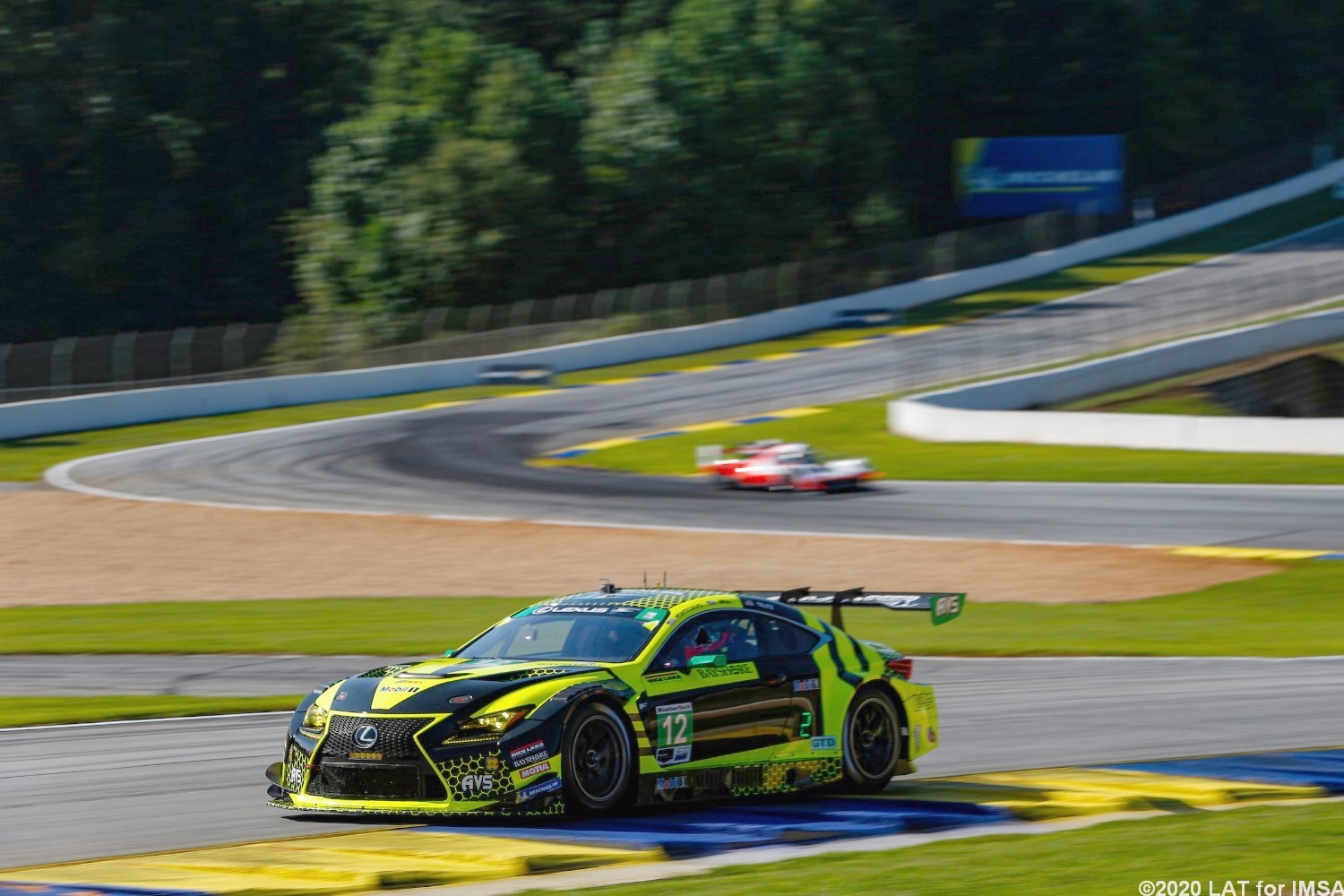 "It was the first track I ever came to, to see an endurance race (in 2008)," Montecalvo said. "So to come here and get a pole means a lot to me, and to everyone on the team. The AVS crew gave us the best out there. I was able to put together a great lap, great timing. We had no traffic out there thanks to Townsend (Bell, co-driver) and the guys on the pit box trying to get us a clear track and a clear gap, and it worked out today."
The logjam atop the GTD standings finds Jack Hawksworth, Mario Farnbacher and Matt McMurry tied for the lead. Hawksworth's car, with co-drivers Michael De Quesda – who qualified – and Daniel Morad, will start ninth in GTD in the No. 14 AIM Vasser Sullivan Lexus. Farnbacher, McMurry and Shinya Michimi qualified fourth in the No. 86 Meyer Shank Racing with Curb-Agajanian Acura NSX GT3.
Aaron Telitz, who has split his season between the two Lexuses, is three points behind the leaders and will be in the No. 12 Lexus with Montecalvo and Bell, who are seven points out of first. Stamina of man and machine will be paramount Saturday, battling for six hours in the stifling Georgia heat.
"It's hotter on us, the drivers. It's hotter on the cars, I feel like the tires are going away," Montecalvo said. "In an endurance race it will be tough on the cars, of course the brakes, too. To keep the car under you for the entire six hours is not going to be an easy feat."
Live coverage of the TireRack.com Grand Prix, part of the Michelin Endurance Challenge Weekend, begins at 11:30 a.m. ET Saturday on NBCSN. The action moves to TrackPass on NBC Sports Gold and the NBC Sports App from 12:30-2:30 p.m. before returning to NBCSN for the race conclusion from 2:30-6 p.m. IMSA Radio also has flag-to-flag coverage.
RESULTS: Qualifying