Bottas tops final Italian GP practice
Traffic was a massive issue in final practice for the Italian GP that saw Valtteri Bottas turn the fastest lap at 1m20.089s to beat the McLaren of Carlos Sainz Jr. by 0.229s.
The 2nd McLaren of Lando Norris was third quick 0.323s back ahead of Daniel Ricciardo's Renault and the 2nd Mercedes or Lewis Hamilton rounding out the top-5 0.350s back. However, Hamilton's lap was set without a tow.
Late in the session Ricciardo came to a stop on the track and brought out a red flag. "I have an issue," says the Aussie, and he is parked out on track… as the red flags come out. He has managed to pull over near an escape road, but that is really bad news for Renault. The onboard replays certainly indicate some sort of power unit problem.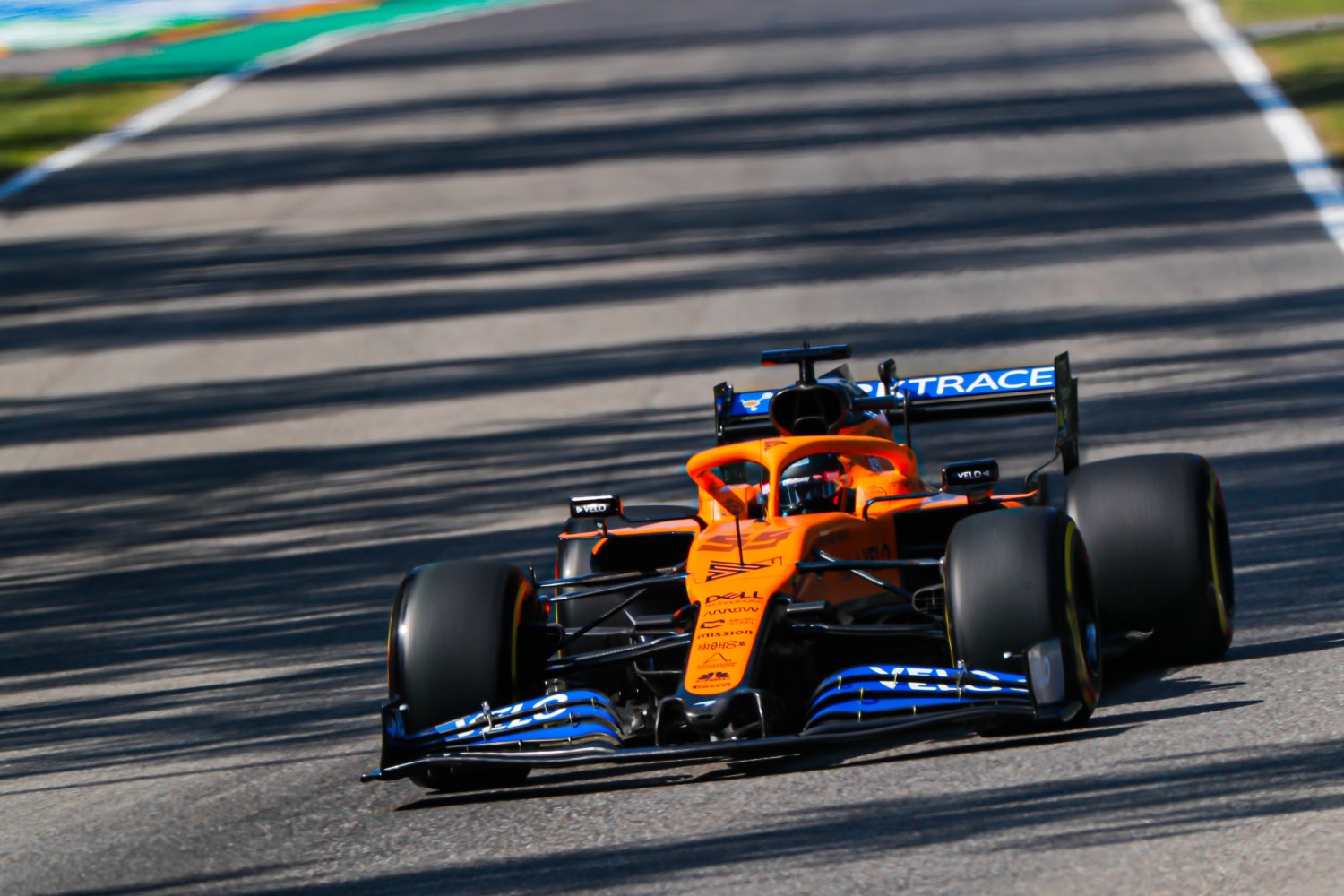 Sebastian Vettel gave his Ferrari teammate Charles Leclerc the tow to put the Monegasque driver in sixth, three tenths up on Vettel's time. And that is the perfect demonstration of how powerful the slipstream can be here.
So Mercedes look like favorites for pole, even without party modes. But who will make up the rest of the top 10? McLaren, Renault, AlphaTauri, Red Bull could all be in with a shout of the second row here.
Qualifying quite simply could be chaos, with everyone tripping over each other in a bid to gain that all-important tow. Mercedes look likely to head off into the distance, but as Hamilton's near-miss at the end of the session showed, you can't predict when and where the other cars will be.
Practice 3 Results
| | | | | | | |
| --- | --- | --- | --- | --- | --- | --- |
| POS | NO | DRIVER | CAR | TIME | GAP | LAPS |
| 1 | 77 | Valtteri Bottas | Mercedes | 1:20.089 | +0.000s | 14 |
| 2 | 55 | Carlos Sainz | McLaren Renault | 1:20.318 | +0.229s | 14 |
| 3 | 4 | Lando Norris | McLaren Renault | 1:20.412 | +0.323s | 15 |
| 4 | 3 | Daniel Ricciardo | Renault | 1:20.419 | +0.330s | 9 |
| 5 | 44 | Lewis Hamilton | Mercedes | 1:20.439 | +0.350s | 11 |
| 6 | 33 | Max Verstappen | Red Bull Racing Honda | 1:20.456 | +0.367s | 15 |
| 7 | 23 | Alexander Albon | Red Bull Racing Honda | 1:20.563 | +0.474s | 15 |
| 8 | 31 | Esteban Ocon | Renault | 1:20.693 | +0.604s | 13 |
| 9 | 18 | Lance Stroll | Racing Point Mercedes | 1:20.804 | +0.715s | 14 |
| 10 | 11 | Sergio Perez | Racing Point Mercedes | 1:20.897 | +0.808s | 13 |
| 11 | 16 | Charles Leclerc | Ferrari | 1:20.917 | +0.828s | 11 |
| 12 | 10 | Pierre Gasly | AlphaTauri Honda | 1:20.936 | +0.847s | 14 |
| 13 | 26 | Daniil Kvyat | AlphaTauri Honda | 1:20.953 | +0.864s | 13 |
| 14 | 8 | Romain Grosjean | Haas Ferrari | 1:21.205 | +1.116s | 14 |
| 15 | 5 | Sebastian Vettel | Ferrari | 1:21.263 | +1.174s | 13 |
| 16 | 20 | Kevin Magnussen | Haas Ferrari | 1:21.436 | +1.347s | 15 |
| 17 | 7 | Kimi Räikkönen | Alfa Romeo Racing Ferrari | 1:21.459 | +1.370s | 15 |
| 18 | 63 | George Russell | Williams Mercedes | 1:21.677 | +1.588s | 16 |
| 19 | 6 | Nicholas Latifi | Williams Mercedes | 1:21.764 | +1.675s | 15 |
| 20 | 99 | Antonio Giovinazzi | Alfa Romeo Racing Ferrari | 1:22.090 | +2.001s | 15 |