Langdon, Capps, Anderson, and Smith lead Friday qualifiers at Indy
The fourth-race of the year at Lucas Oil Raceway at Indianapolis is by far the biggest as the Denso Spark Plugs U.S. Nationals kicked off with under-the-lights qualifying on Friday evening. After the first of three qualifying runs, Shawn Langdon (above), Ron Capps, Greg Anderson, and Angie Smith are holding down the top spots in Top Fuel, Funny Car, Pro Stock, and Pro Stock Motorcycle, respectively.
2013 U.S. Nationals champ Shawn Langdon sits atop the Top Fuel field, pushing the DHL/Kalitta Motorsports dragster to a 3.728 as the first of 11 cars that ran in the 3.7-second zone under the lights. Langdon, who also won the U.S. Nationals in Super Gas in 2010, is coming off of two straight first-round losses, so the solid opening run was certainly good news to the team.
Reigning world champ Steve Torrence, who won the Dodge NHRA Indy Nationals here about a month ago, sits second with a 3.731. In an emotional show of support, Torrence's Capco car is wearing the Nitro Ninja body panels of injured crew member Dom Lagana. Clay Millican is just a few ticks behind Torrence with a 3.733 and reigning U.S. Nationals champ Doug Kalitta has the Mac Tools dragster in the No. 4 position with a 3.726.
Privateer Doug Foley provided the surprise of the session with his newly-sponsored Red Line Oil dragster, posting a 3.756 for the No. 5 spot. Former Indy champs Antron Brown (3.760) and Cory McClenathan (3.762), and T.J. Zizzo, who will be gunning for a win in the delayed Lucas Oil NHRA Summernationals final on Saturday, round out the top eight with a 3.769. Pat Dakin (3.788), 2018 winner Terry McMillen (3.799), Billy Torrence (3.799), and 10-time Indy winner Tony Schumacher (3.863) also had solid runs on their opening laps.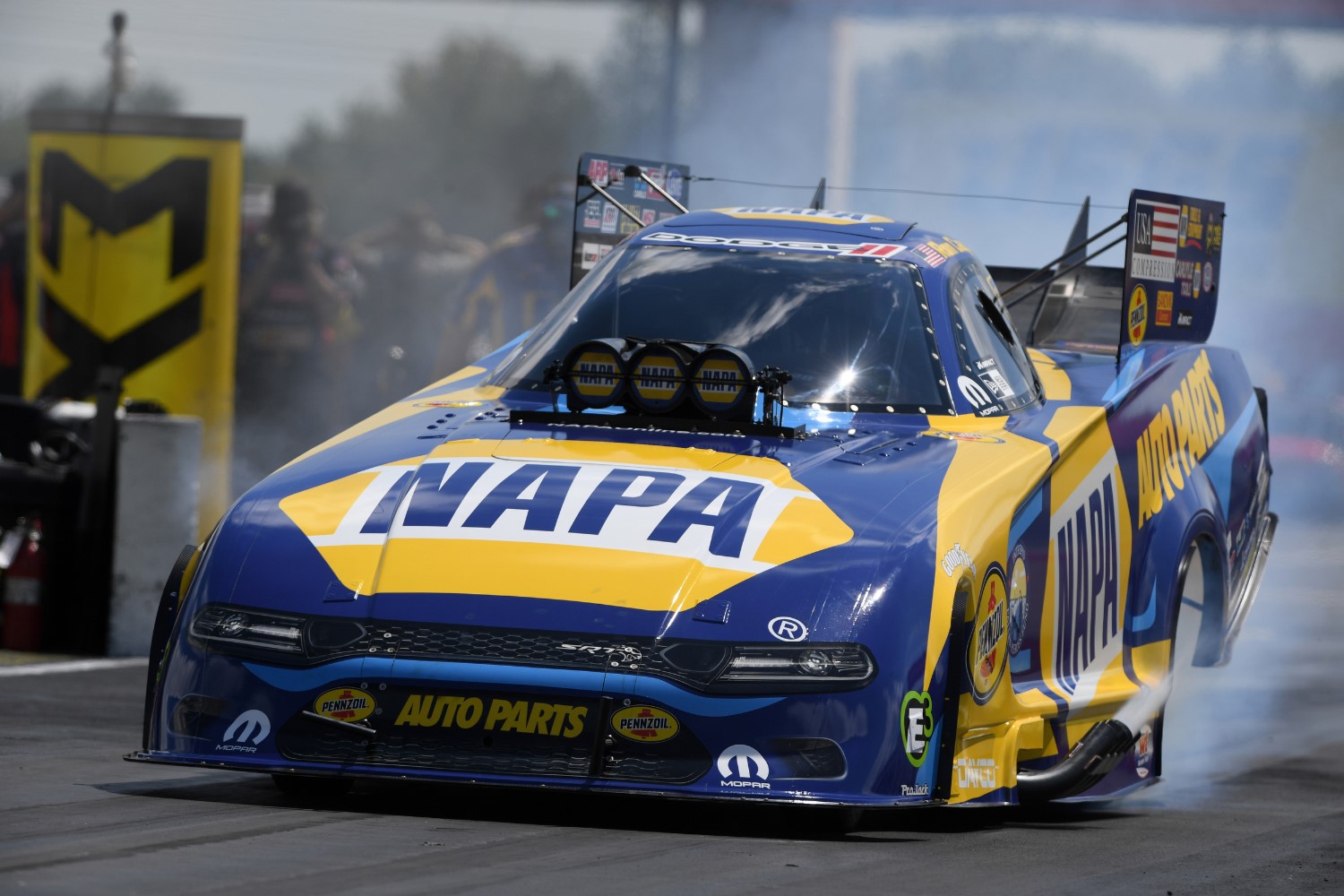 Capps, winner of the Dodge NHRA Indy Nationals here a month ago, remained red-hot with the Rahn Tobler-tuned NAPA Auto Parts Dodge, grabbing the No. 1 spot in Funny Car with a 3.895. Capps is still looking for his first U.S. Nationals victory.
Bob Tasca III, another driver looking for his first taste of Indy glory with his Motorcraft/Quick Lane Mustang with the field's other 3.8-second pass, a 3.895. Ford teammate Tim Wilkerson also looked solid on his opening pass in the Levi, Ray & Shoup machine with a 3.918 that has his ranked third, tying his season-best.
Former Indy champ Alexis DeJoria is on the hint for another Gi Go crown and paced her ROKit/ABK Beer Toyota to a solid 3.932 for the No. 4 spot in her comeback season.
Matt Hagan, winner of the E3 Spark Plugs NHRA Nationals in NHRA's Return to Racing event in Indy clocked a strong 3.977 in his Mopar Charger as he prepares to go for a double-win weekend. Hagan will face DSR teammate Jack Beckman Saturday afternoon in the rain-delayed Lucas Oil NHRA Summernationals final.
The field drops off precipitously after that as Bob Bode is sixth with a fiery 4.259 as a number of teams struggled to find the right combination in their first night pass since the sport's return in early July.
Six-time NHRA world champion Greg Anderson earned the provisional pole in Pro Stock on Friday night with a strong 6.549 effort in his Summit Camaro at Indy. Anderson, who has already been the top qualifier 104-times in his long and successful career, leads a large and talent-heavy field battling to qualify for the 66th annual Denso Spark Plugs U.S. Nationals.
Past Indy winner Chris McGaha holds down the No. 2 spot after Friday's first run with a 6.553 out of his Harlow Sammons Camaro, which would be his best starting spot of the season if it holds. McGaha's son, Mason, in his third race in the Pro Stock class, also made a solid run with a career-best 6.636 that is currently good for the No.13 spot. Matt Hartford also picked up a bonus point with his Total Seal Camaro by running a 6.572, 208.88
Friday's lone run threw a curveball to several Pro Stock teams including points leader Jeg Coughlin Jr., who finished the session on the bump spot with an off-pace 6.653. Coughlin's Elite teammate, three-time and reigning champ Erica Enders, is eighth after a 6.591 effort in her Melling Chevy.
There is a Smith at the top of the standings in Pro Stock Motorcycle but it's Angie Smith, not her husband, Matt. Angie Smith has won a race, and she's been to the semifinals another 14 times but has never qualified No. 1 in her career, which now spans 176 races. Following a strong 6.807 run in the Friday's opening qualifying session at the Denso Spark Plugs NHRA U.S. Nationals, Smith is on track to win her first green (low qualifier) hat if she can hand on through both of Saturday's runs. Smith was the No. 6 qualifier at the two previous events held at Lucas Oil Raceway at Indianapolis this summer. After her first run, the Denso-backed rider holds a significant edge over second-ranked Eddie Krawiec's Harley-Davidson while Smith's teammate, Scott Pollacheck, continued his string of is third with a 6.864.
Not every rider in the field was able to make a representative run on Friday night. Six-time world champion Andrew Hines' Harley FXDR bogged and he registered an off-pace 7.075. Hines' teammate, Angelle Sampey, coming off a win at the most recent Indy event in August, also missed the tune-up and finished with a 6.945. Likewise, Matt Smith, who has been the top qualifier at 39 events in his career including the most recent event last month, could muster only a 6.939 on his Denso EBR.