Justin Ashley Wins Rain Delayed Summernationals
Rookie sensation Justin Ashley continued to turn heads during the 2020 NHRA Mello Yello Drag Racing Series season collecting his first career Top Fuel victory today at Lucas Oil Raceway in Indianapolis. Ashley, driver of the Strutmasters.com Top Fuel dragster powered by MANSCAPED, outran veteran TJ Zizzo in the final round of the postponed NHRA Summernationals. It was the first final round for both drivers who had to wait over a month to win their first NHRA national event.  zzzz
"It is very emotional for me. This is something I dreamed about since I was a young kid," said Ashley surrounded by his team after the victory. "I grew up around the race track so I knew this was going to be an emotional moment.  I pictured it in my head over and over again. To actually be here right now means the world to me. The amazing thing is it is not even about me. It is about my crew guys behind me. It is about this Davis Motorsports team. They are the reason I am here holding this Wally. It is because of them and it is because of my parents who always believed in me. Right now I just have to take a deep breathe, take the moment in and enjoy this one as a team and then make no mistake we have to regroup and get focused for tomorrow."
As the No. 14 qualifier the young driver from Melville, New York, reached today's final round which was run as part of qualifying for the U.S. Nationals by defeating some of the toughest competitors in the category.  On July 19th Ashley defeated No. 3 qualifier Shawn Langdon, No. 6 qualifier Doug Kalitta and No. 2 qualifier Leah Pruett during the original event which was cut short due to rain.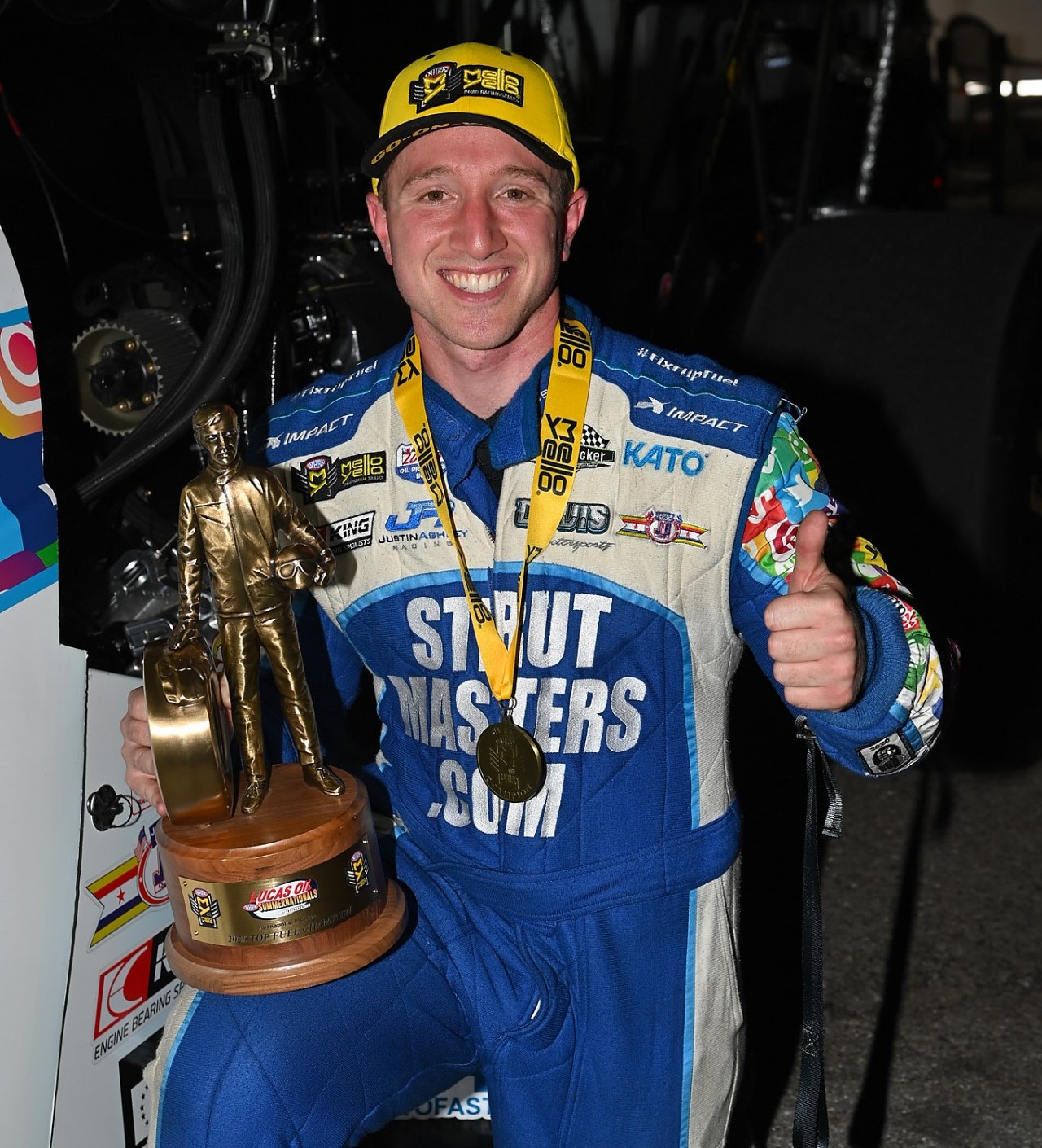 "I think every race we go to we expect to win," explained Ashley. "At the same time you want to be realistic about your expectations. We lay it on the line and do the very best we can. We are very fortunate and very grateful to be standing here with a Wally only eight races in to my career when you are racing against the best competition in the world. I am well aware of that. I know for a fact that TJ's first win is right around the corner. That is coming soon too."
Winning from the No. 14 spot has only happened in Top Fuel on five occasions before today, most recently by Tony Schumacher at Norwalk in 2008. The lowest qualifier to win a Top Fuel race was Clayton Harris who won from the alternate position ironically during another Summernationals event, the 1973 Summernationals in Englishtown, New Jersey.
Ashley, a second generation driver, joins a legendary list of sons who have fathers that have also won an NHRA national event in either Top Fuel or Funny Car. His father, Mike Ashley, is a three-time Funny Car winner including a win at the historic U.S. Nationals in 2007. The list of father/son winners includes: Connie and Scott Kalitta, Kenny and Brandon Bernstein, Larry Dixon Sr. and Jr., Billy and Steve Torrence, Don and Tony Schumacher and Jim and Mike Dunn.
"Those guys are legends," confessed Mike Ashley. "They are guys that I have always looked up to. I still look up to them even today. For Justin and I to even be mentioned in the same sentence as them is such an honor. It really is. It just goes to show you how good this team really is."
Don Schumacher Racing teammates Hagan and Jack Beckman were battling to see who would have the honor of registering DSR's 350th team win, a total that started 50 years agio at this event when Don Schumacher won the Funny Car crown.
Hagan was gunning for his second win at Lucas Oil Raceway at Indianapolis this summer after having won the E3 Spark Plugs NHRA Nationals at the historic facility. The two-time world champion defeated Ron Capps, J.R. Todd, and low qualifier Bob Tasca III to get to the final. Beckman drove his Infinite Hero Dodge to wins over Chad Green, Tim Wilkerson, and Tommy Johnson Jr. prior to the final.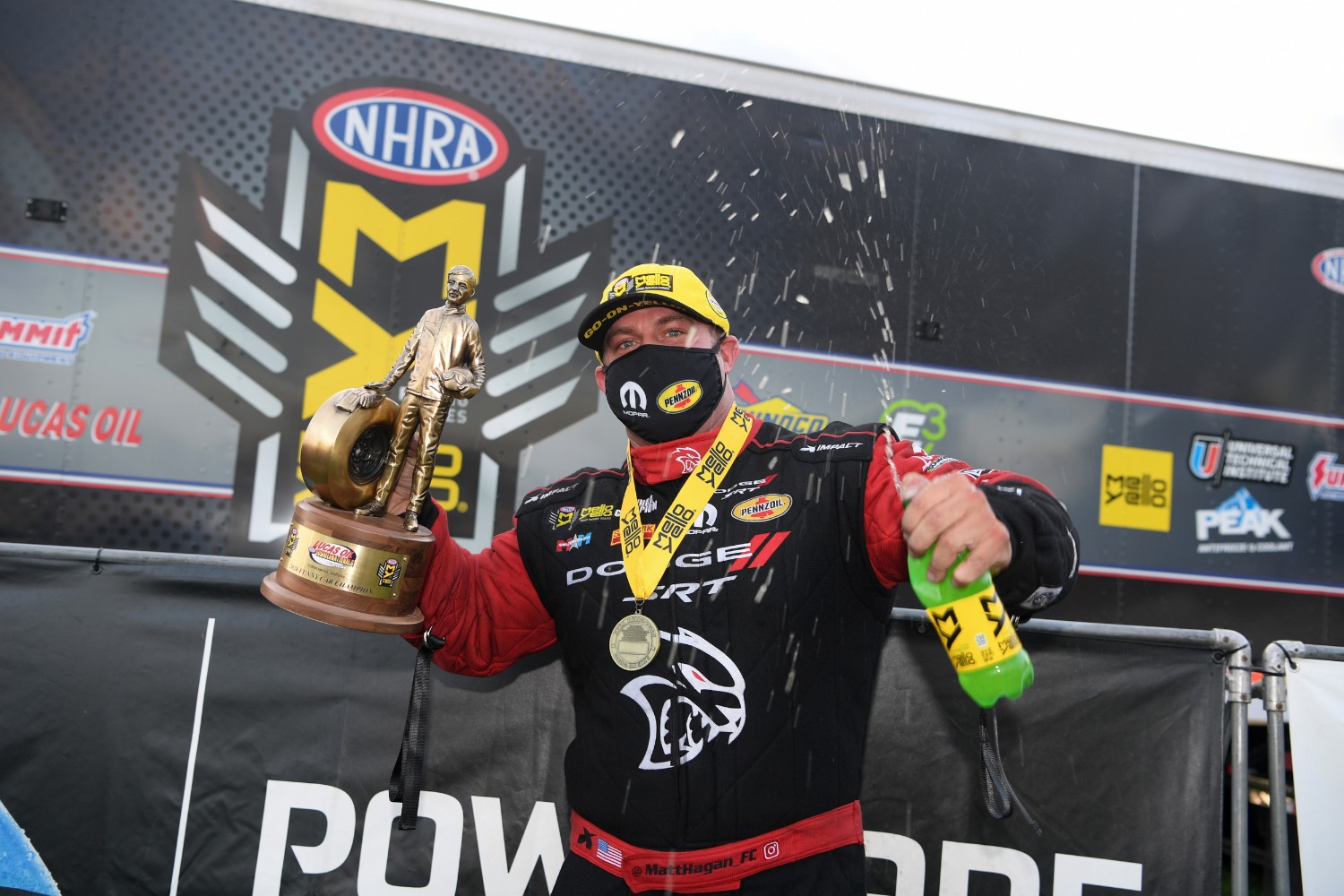 The two left within a few thousandths of a second in the final before Hagan's SRT Hellcat Redeye Dodge pulled away for a convincing win. 3.91 to 3.94 to collect the 35th win of his career, all of which have come under the DSR umbrella.
"This is amazing and what a huge milestone to get for Don," Hagan said. "I was probably as nervous as I am running for a championship because you want to get it done for Mopar. This car is running so well, I'm just trying to do my job on the starting line. Don has been a big part of my career and to get a Wally on a Saturday, it doesn't get much better than that."
Green drove his nitrous-assisted Bond Coat Camaro to his first career win in the E3 Spark Plugs Pro Mod Series presented by J&A Service, taking an exciting race from the supercharged entry of Jason Scruggs. The two left the starting line almost as one, with a minuscule .002-second advantage to Green but Scruggs quickly pulled ahead and seemed headed to a sure win before his car slowed and allowed Green to pass for the win 5.82 at 250.09 mph to Scruggs' slowing 5.904 at just 204 mph.
To get to the final, Scruggs had bested Bo Butner, Mike Castellana, and Clint Satterfield in his three pre-final races while Green had defeated Todd Tutterow, Brandon Snider, and Kristopher Thorne.
Andras and teammate Jay Turner entered the Summernationals almost two months ago separated by just two points at the top of the Mickey Thompson Tires Top Fuel Harley standings, so their final round could potentially decide the season championship. Andras took the win, his third in four events so far this season, with a 6.38 to defeat Turner's engine-expiring 6.92/
Turner made it to the final by beating Rich Vreeland and Tyler Wilson while Andras had topped Ricky House and Ryan Peery.
The final round of the SAMTech.edu Factory Stock Showdown, which also was delayed by the weather, was not contested as neither of the finalists chose to attend the U.S. Nationals.