Van Gisbergen clean sweeps Sunday's two races in Townsville
Four consecutive weeks of racing wrapped up in spectacular style in Townsville today, with Red Bull Holden's Shane van Gisbergen winning both of today's races at the Robson Civil Projects Townsville SuperSprint.
Van Gisbergen fought his way to the front in the opening race of the day after starting from 4th position, while in the second race he put in the best ever fightback in Townsville history, coming from 12th to take the lead in the dying stages.
The Vodafone Safety Car was key for van Gisbergen in this afternoon's second race. He pitted at the same time Penrite Racing youngster Anton De Pasquale lost control and crashed into a tire wall at high speed.
With fresher tyres than the rest of the field over the closing stages of the race, the 2016 Supercars Champion fought his way through to the front, overtaking McLaughlin in the dying stages before holding on for the win.
"What an awesome race," said van Gisbergen.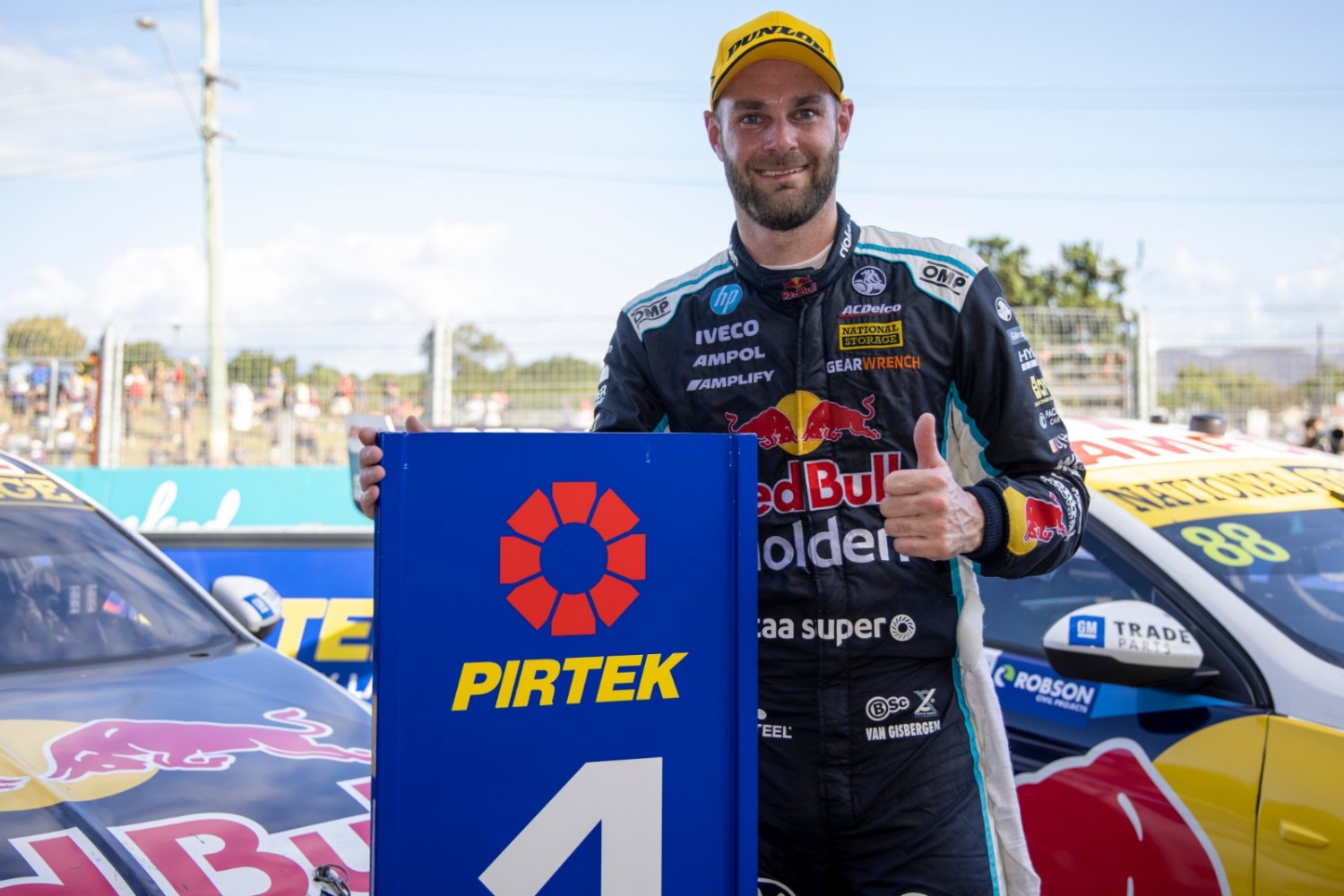 "We had a great car. I got stuck in the first stint and it was going to be interesting trying to get back to the podium but the Safety Car worked out perfectly.
"Big battle at the end, I tried to do the team thing to help Jamie, but awesome result."
McLaughlin wasn't happy with the move van Gisbergen made to go past and take the lead, as it allowed Whincup to go through as well and take second position.
The #17 Mustang ace, who had started 10th, hung on for third but was left disappointed by van Gisbergen's late-race move.
"I had nothing left, I was trying my best," said McLaughlin.
"I think if we didn't have the Safety Car we might have been a real good shot, we were looking after our tyres there but the Safety Car happened and I was just hanging on.
"Shane was playing the team game there, he's made plenty of clean passes there over the years and that was pretty average, just a big push-off there.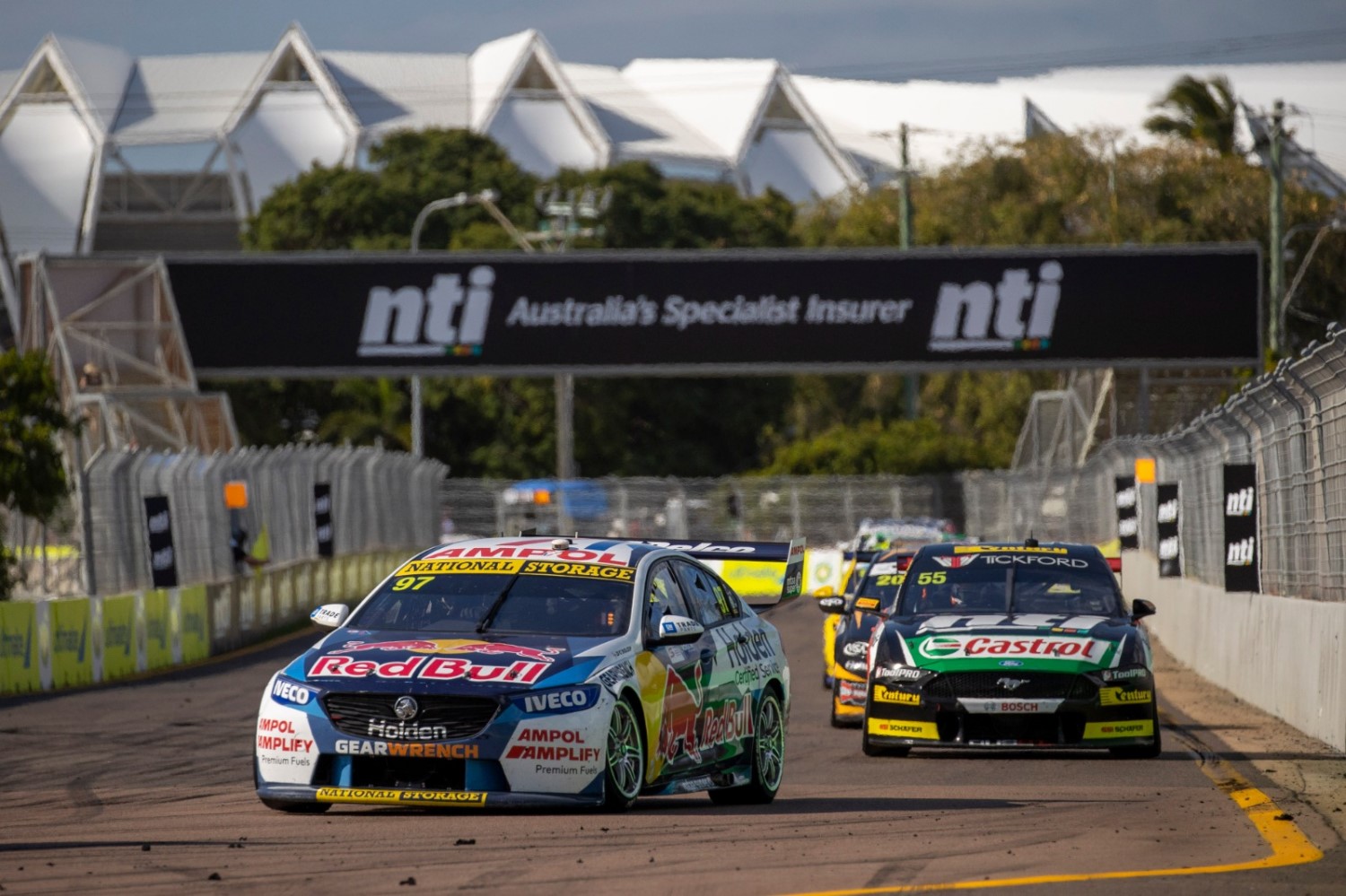 "I get that he's playing the team game but it would have nice to have a bit more of a fair battle."
The wins for van Gisbergen today were his first for 2020 and kept him in 5th on the Championship standings.
The victories meant the Triple Eight team became the first in history to win 200 Virgin Australia Supercars Championship races.
Scott McLaughlin now holds a 143-point Championship lead over Jamie Whincup as teams take a weekend off to prepare for the final double-header of the year at The Bend in South Australia later this month.
Townsville Race 2 Results
| | | | | |
| --- | --- | --- | --- | --- |
| POS | # | DRIVER | TEAM | TIME |
| 1 | 97 | Van Gisbergen | Red Bull Holden Racing Team | 49:32.758 |
| 2 | 17 | McLaughlin | Shell V-Power Racing Team | +8.395 |
| 3 | 88 | Whincup | Red Bull Holden Racing Team | +10.293 |
| 4 | 8 | Percat | R&J Batteries | +13.567 |
| 5 | 6 | C. Waters | Monster Energy Racing | +14.807 |
| 6 | 20 | S. Pye | DEWALT Racing | +16.128 |
| 7 | 55 | J. Le Brocq | Supercheap Auto Racing | +33.857 |
| 8 | 5 | Holdsworth | Truck Assist Racing | +36.309 |
| 9 | 18 | Winterbottom | IRWIN Racing | +38.404 |
| 10 | 25 | Mostert | Mobil 1 TM Appliances Online | +42.971 |
| 11 | 15 | R. Kelly | Castrol Racing | +43.193 |
| 12 | 2 | B. Fullwood | Mobil 1 TM Middy's Racing | +43.421 |
| 13 | 44 | Courtney | Boost Mobile Racing | +44.405 |
| 14 | 14 | T. Hazelwood | Team Black Duck | +48.110 |
| 15 | 9 | Reynolds | Penrite Racing | +48.304 |
| 16 | 99 | A. de Pasquale | Penrite Racing | +49.481 |
| 17 | 35 | G. Jacobson | Yellow Cover Racing | +52.139 |
| 18 | 3 | M. Jones | Team CoolDrive | +52.505 |
| 19 | 19 | A. Davison | Local Legends Racing | +52.673 |
| 20 | 12 | Coulthard | Shell V-Power Racing Team | +52.752 |
| 21 | 22 | C. Pither | Team SYDNEY | +56.058 |
| 22 | 4 | J. Smith | SCT Motor Sports | +58.301 |
| 23 | 34 | J. Kostecki | UNIT Racing | +58.785 |
| 24 | 7 | Heimgartner | NED Whisky Racing | +1:03.753 |
Townsville Race 3 Results
| | | | | |
| --- | --- | --- | --- | --- |
| POS | # | DRIVER | TEAM | BEHIND |
| 1 | 97 | Van Gisbergen | Red Bull Holden Racing Team | +0.000s |
| 2 | 88 | Whincup | Red Bull Holden Racing Team | +0.994 |
| 3 | 17 | McLaughlin | Shell V-Power Racing Team | +3.032 |
| 4 | 25 | Mostert | Mobil 1 TM Appliances Online | +3.454 |
| 5 | 20 | S. Pye | DEWALT Racing | +6.837 |
| 6 | 14 | T. Hazelwood | Team Black Duck | +7.660 |
| 7 | 8 | Percat | R&J Batteries | +8.100 |
| 8 | 12 | Coulthard | Shell V-Power Racing Team | +9.451 |
| 9 | 44 | Courtney | Boost Mobile Racing | +10.015 |
| 10 | 5 | Holdsworth | Truck Assist Racing | +12.073 |
| 11 | 9 | Reynolds | Penrite Racing | +12.078 |
| 12 | 6 | C. Waters | Monster Energy Racing | +13.085 |
| 13 | 18 | Winterbottom | IRWIN Racing | +14.138 |
| 14 | 55 | J. Le Brocq | Supercheap Auto Racing | +14.712 |
| 15 | 19 | A. Davison | Local Legends Racing | +15.074 |
| 16 | 15 | R. Kelly | Castrol Racing | +15.616 |
| 17 | 7 | Heimgartner | NED Whisky Racing | +16.084 |
| 18 | 2 | B. Fullwood | Mobil 1 TM Middy's Racing | +17.151 |
| 19 | 3 | M. Jones | Team CoolDrive | +18.346 |
| 20 | 35 | G. Jacobson | Yellow Cover Racing | +19.361 |
| 21 | 4 | J. Smith | SCT Motor Sports | +19.766 |
| 22 | 34 | J. Kostecki | UNIT Racing | +20.366 |
| NC | 99 | A. de Pasquale | Penrite Racing | +16 Laps |
| NC | 22 | C. Pither | Team SYDNEY | +39 Laps |