Harvick holds off Dillon to win Southern 500
Kevin Harvick and Denny Hamlin keep alternating winning NASCAR Cup Series races. The #1 seed for the playoffs, Harvick, held off Austin Dillon by 0.343s to win the Southern 500 at Darlington Sunday.
Two of Harvick's competitors helped Harvick win this time.
Martin Truex Jr. cut across Chase Elliott's nose and the two ended up hitting the wall while battling for the lead with 15 laps remaining.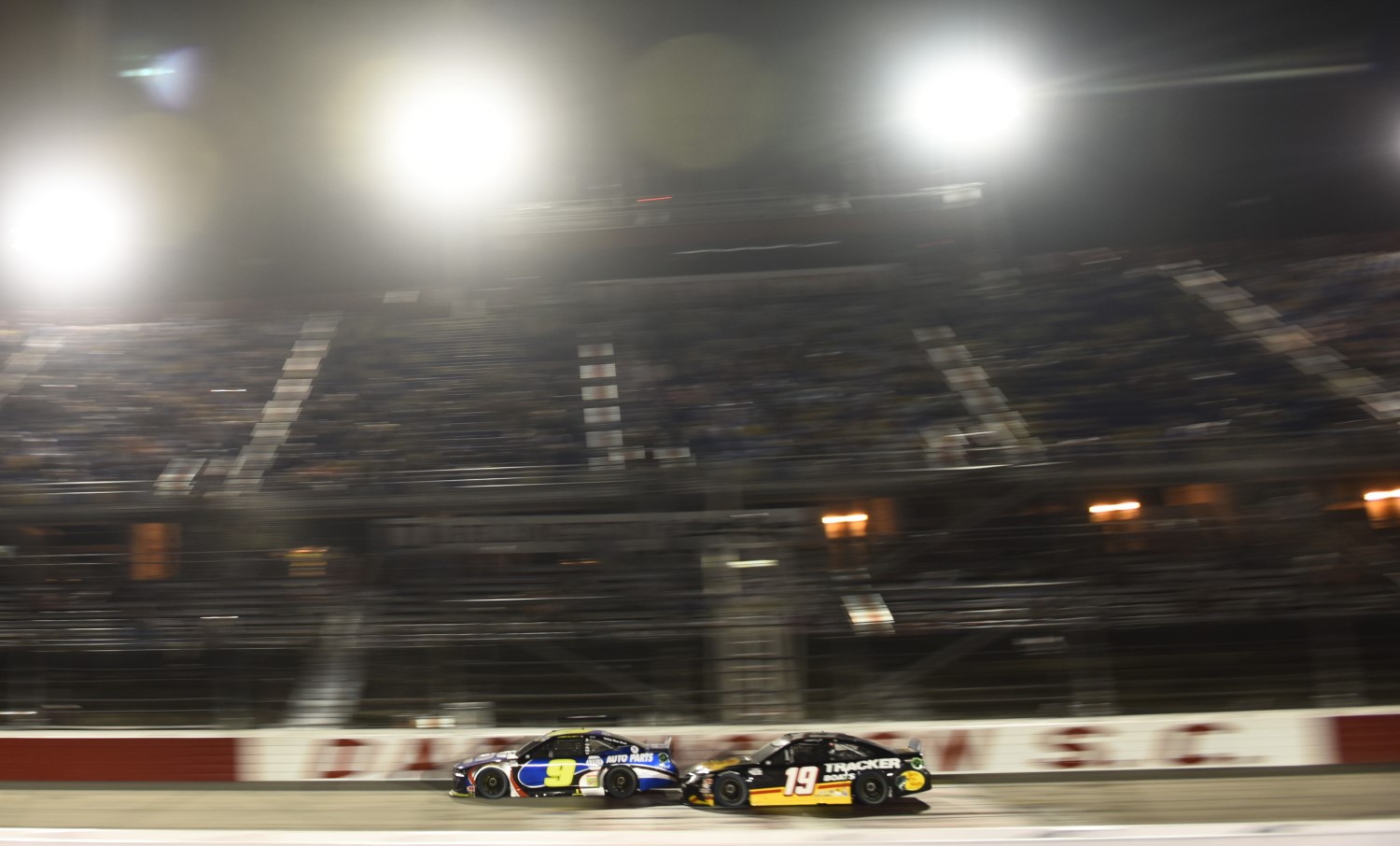 "Just not enough room there for the both of us," Truex said of the contact with Elliott in Turns 1 and 2. "I thought I had enough of a run to clear him and I think it was close, obviously. I thought I had enough momentum and distance on him that he was going to let me in there. I didn't expect him to be on my right rear. I was committed and once I realized he was there, nothing I could do."
"Lot to be proud of. I hate it for the 9 team. It was nothing intentional, just two guys there going for the win. If it was my fault, I apologize, I really felt like I had the position to get in there."
Denny Hamlin, a pre-race favorite and six-race winner this year, rallied to a 13th-place finish after going down a lap and dropping to 19th place with just under 60 laps remaining. The driver of the No. 11 Joe Gibbs Racing Toyota led 19 laps and ran among the top five for most of the race but had trouble getting to pit road during a green-flag run — getting caught up in traffic and hit from behind by Johnson's No. 48.
Joey Logano took advantage of his competitors mishaps to finish 3rd in his Penske Ford while Erik Jones and William Byron rounded out the top-5.
Harvick's Stewart-Haas Racing No. 4 Ford led just 32 of the 367 laps in the opening race of the NASCAR Cup Series Playoffs, taking command when Elliott and Truex collided in a contest for the lead with 15 laps left. His eighth victory of the season was his third at the historic 1.366-mile track and the 57th of his Cup Series career. The win also provided him an automatic berth in the Round of 12, the next three-race bracket in the 10-race postseason.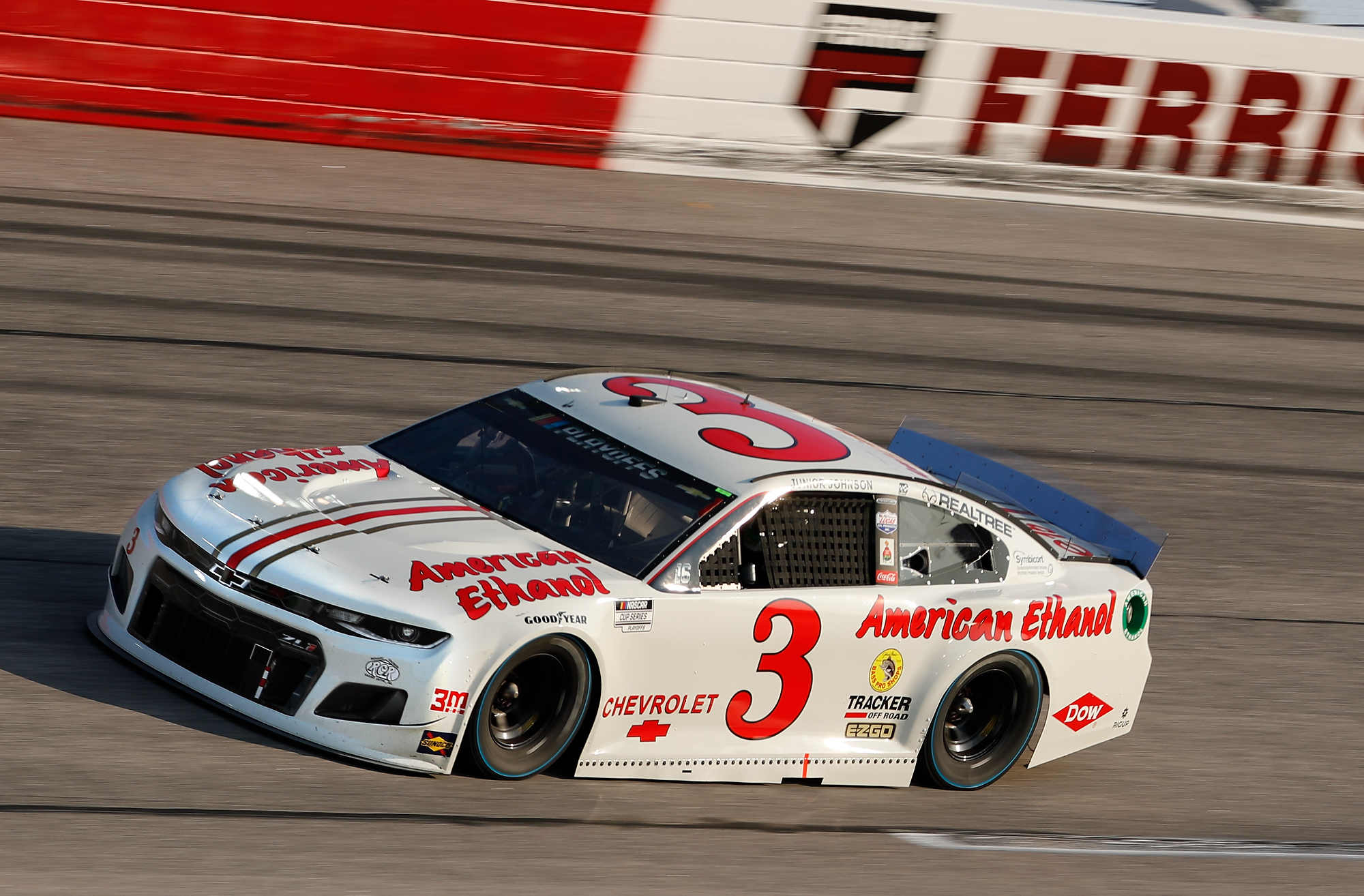 Truex led 196 laps and swept the stage wins, adding a pair of playoff points to his total, but wound up 22nd after hitting pit road two laps after contact with Elliott and the wall. Elliott led 115 laps and finished 20th.
All three Team Penske drivers ran into trouble at points of the 500-miler, but Logano recovered best. Ryan Blaney started at the rear of the field after a pre-race penalty for improperly mounted ballast on the No. 12 Ford, an infraction that also cost him 10 points in the standings and the loss of crew chief Todd Gordon. Travis Geisler, the organization's competition director, filled in as interim crew chief. Blaney finished 24th.
Brad Keselowski scraped the wall in the opening stage, but came back to finish 11th in Penske's No. 2 Ford. Logano's No. 22 Mustang sustained damage in a stack-up at the start of the final stage, but he rallied for a top-three result.
NASCAR issued a pre-race penalty to the No. 12 Team Penske Ford team after pre-race inspection uncovered improperly mounted ballast.
Ryan Blaney, who entered the NASCAR Cup Series Playoffs ranked seventh in the standings, started Sunday's Cook Out Southern 500 from the rear instead of seventh.
In addition, the team was docked 10 driver and owner points, and crew chief Todd Gordon was ejected.
What excuses will they have next? Despite being flush with new sponsorship money Bubba Wallace and the Richard Petty team continue to disappoint.  Wallace ran as high as 5th at one point but his No. 43 Chevy broke down, and he ended up next-to-last in 38th.
KEVIN HARVICK VICTORY LANE INTERVIEW
WAS THIS ONE OF THOSE NIGHTS YOU DIDN'T HAVE THE BEST CAR AND SHOWED WHAT THIS TEAM IS MADE OF?  "First thing I want to say is welcome back, fans.  This interview is a hell of a lot more fun with you guys up there.  I just want to say thank you to everybody from NASCAR, all of you fans here in South Carolina.  I've got to thank Busch Beer, Mobil 1, Hunt Brothers Pizza, Jimmy John's, Ford Mustang, everybody at Stewart-Haas Racing.  We just wound up fighting all night long.  This Busch Beer Ford Mustang wasn't where we wanted it to be, but the leaders got tangled up there and the next thing you know we were racing for the win."
HOW SIGNIFICANT IS THIS WIN FOR THE 4 TEAM?  "Anytime you can win the Southern 500 is a good day.  This is one of the most prestigious races in our sport and this is one the most prestigious racetracks in our sport, so anytime you can win at Darlington it's a big deal, but, man, Southern 500!"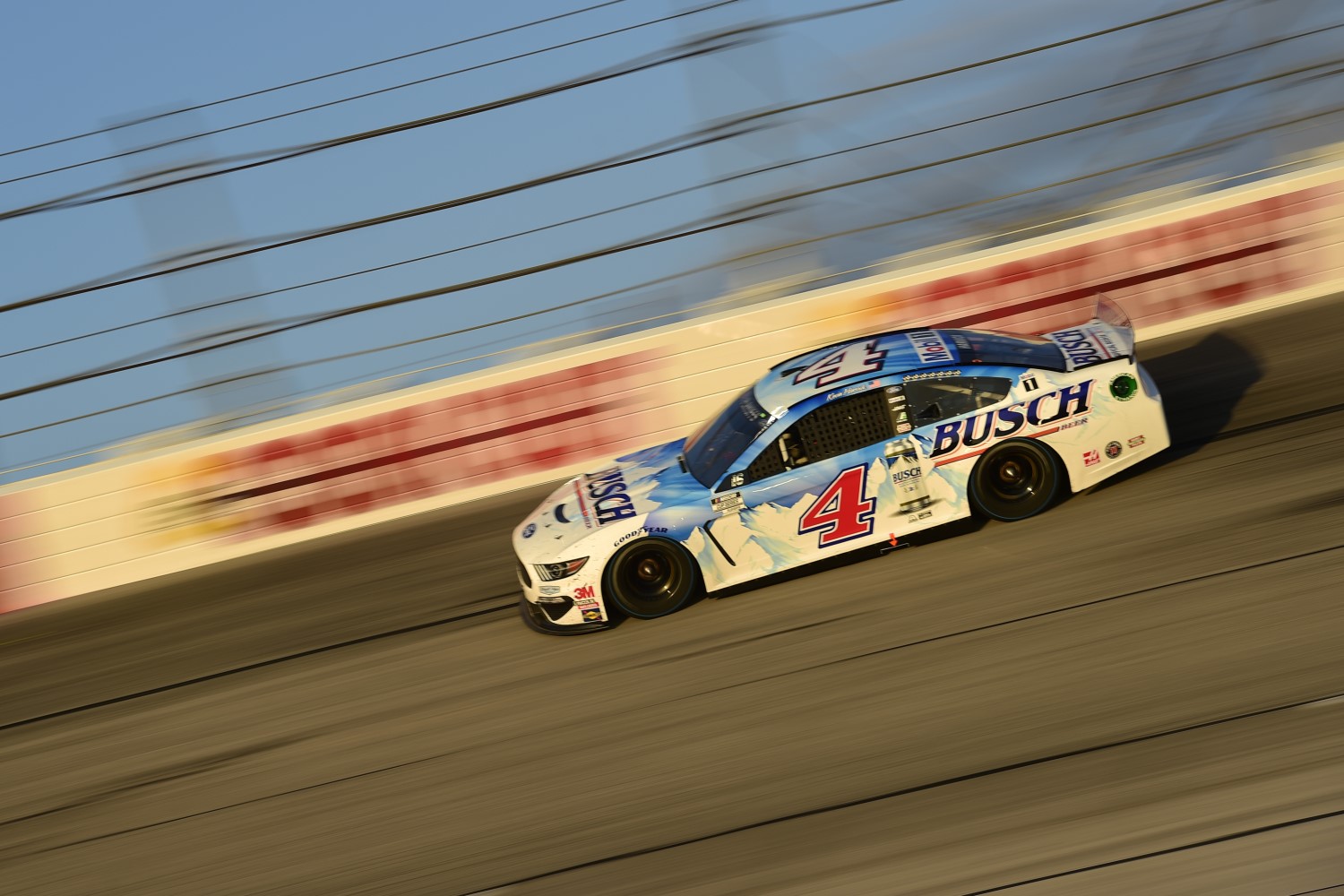 WHAT DID YOU SEE WITH TRUEX AND ELLIOTT?  "Obviously, those guys had trouble.  I didn't see what happened.  I just heard my spotter tell me that something had happened.  I've just got to thank everybody on our Busch Beer Ford Mustang.  They did a heck of a job tonight just keeping us in the game.  Our car wasn't very good, but we just kept fighting and kept ourselves up in the front with some great pit strategy and were able to stay up there and fight and wound up in the right spot."
YOU SHORT-PITTED SEVERAL TIMES.  WAS THAT WHAT YOU HAD TO DO?  "We kept having a lot of trouble with the right-rear tire cording.  The car was really loose all night long for whatever reason and would cord the right-rear tire, so I think that was probably about as far as they felt like we were comfortable of going and wound up being the right strategy in the end."
AUSTIN DILLON WAS ABLE TO GET SO CLOSE TO YOU.  WHAT HAPPENED IN THREE AND FOUR?  "I just drove in there and wanted to hit my marks and hit the bottom.  I knew I had a cushion and just wanted to maintain the best that I could.  I just had to get back to the start-finish line, so I just didn't want to miss my marks."
YOU'VE WON BEFORE HERE, BUT THIS IS THE SOUTHERN 500.  WHAT DOES IT MEAN TO YOU?  "This is one of the most prestigious races in our sport and obviously everybody in our sport knows the history that Darlington has for our sport, so anytime you can win here is pretty special."
Race Results
| | | | | | | | |
| --- | --- | --- | --- | --- | --- | --- | --- |
| Fin | Str | No. | Driver | Team | Laps | Led | Status |
| 1 | 8 | 4 | Kevin Harvick (P) | Busch Beer Throwback Ford | 367 | 32 | Running |
| 2 | 12 | 3 | Austin Dillon (P) | American Ethanol Chevrolet | 367 | 0 | Running |
| 3 | 13 | 22 | Joey Logano (P) | Shell Pennzoil Ford | 367 | 0 | Running |
| 4 | 30 | 20 | Erik Jones | Sport Clips Toyota | 367 | 0 | Running |
| 5 | 3 | 24 | William Byron (P) | Liberty Univeristy Throwback Chevrolet | 367 | 0 | Running |
| 6 | 4 | 88 | Alex Bowman (P) | ChevyGoods.com/Truck Hero Chevrolet | 367 | 1 | Running |
| 7 | 15 | 18 | Kyle Busch (P) | M&M's Toyota | 367 | 0 | Running |
| 8 | 16 | 1 | Kurt Busch (P) | Monster Energy Chevrolet | 367 | 5 | Running |
| 9 | 10 | 10 | Aric Almirola (P) | Go Bowling Ford | 367 | 0 | Running |
| 10 | 9 | 14 | Clint Bowyer (P) | PEAK Throwback Ford | 367 | 0 | Running |
| 11 | 5 | 2 | Brad Keselowski (P) | Discount Tire Ford | 367 | 0 | Running |
| 12 | 14 | 41 | Cole Custer # (P) | HaasTooling.com Ford | 367 | 0 | Running |
| 13 | 2 | 11 | Denny Hamlin (P) | Federal Express Toyota | 367 | 19 | Running |
| 14 | 26 | 42 | Matt Kenseth | McDelivery Chevrolet | 367 | 0 | Running |
| 15 | 31 | 6 | Ryan Newman | Oscar Mayer Ford | 367 | 0 | Running |
| 16 | 19 | 34 | Michael McDowell | Love's Travel Stops Ford | 367 | 0 | Running |
| 17 | 35 | 37 | Ryan Preece | Bush's Beans Chevrolet | 367 | 0 | Running |
| 18 | 22 | 48 | Jimmie Johnson | Ally Throwback Chevrolet | 367 | 0 | Running |
| 19 | 29 | 47 | Ricky Stenhouse Jr. | Kroger Chevrolet | 367 | 0 | Running |
| 20 | 1 | 9 | Chase Elliott (P) | NAPA Auto Parts Throwback Chevrolet | 367 | 114 | Running |
| 21 | 11 | 21 | Matt DiBenedetto (P) | Motorcraft/Quick Lane Ford | 366 | 0 | Running |
| 22 | 6 | 19 | Martin Truex Jr. (P) | Bass Pro Shops Toyota | 366 | 196 | Running |
| 23 | 24 | 8 | Tyler Reddick # | Cat Power Chevrolet | 366 | 0 | Running |
| 24 | 7 | 12 | Ryan Blaney (P) | Menards/Maytag Ford | 366 | 0 | Running |
| 25 | 28 | 96 | * Daniel Suarez | ARRIS now CommScope Toyota | 364 | 0 | Running |
| 26 | 20 | 17 | Chris Buescher | Fastenal Ford | 364 | 0 | Running |
| 27 | 25 | 13 | Ty Dillon | GEICO Chevrolet | 363 | 0 | Running |
| 28 | 23 | 15 | Brennan Poole # | Remember Everyone Deployed. Today Chevrolet | 362 | 0 | Running |
| 29 | 34 | 77 | Ross Chastain(i) | Dirty Mo Media Chevrolet | 360 | 0 | Running |
| 30 | 37 | 27 | JJ Yeley(i) | Jacob Companies Ford | 360 | 0 | Running |
| 31 | 32 | 0 | Quin Houff # | Permatex Chevrolet | 357 | 0 | Running |
| 32 | 38 | 7 | * Josh Bilicki(i) | Insurance King Chevrolet | 356 | 0 | Running |
| 33 | 39 | 51 | Joey Gase(i) | Carolina Cooker Ford | 351 | 0 | Running |
| 34 | 21 | 95 | Christopher Bell # | Rheem Toyota | 349 | 0 | Running |
| 35 | 33 | 66 | * Timmy Hill(i) | RoofClaim.com Toyota | 296 | 0 | Overheating |
| 36 | 18 | 38 | John Hunter Nemechek # | Citgard Ford | 245 | 0 | Accident |
| 37 | 27 | 32 | Corey LaJoie | Trump 2020 Ford | 234 | 0 | Accident |
| 38 | 17 | 43 | Bubba Wallace | Cash App Chevrolet | 217 | 0 | Transmission |
| 39 | 36 | 53 | James Davison | Signing Day Sports Chevrolet | 162 | 0 | Engine |