Toyota's Langdon Wins NHRA U.S. Nationals
Toyota driver Shawn Langdon (above) capped a dominating weekend by defeating Leah Pruett in the Top Fuel finals to win the 66th annual DENSO Spark Plugs NHRA U.S. Nationals at Lucas Oil Raceway, Sunday.  Langdon's Kalitta Motorsports teammate J.R. Todd fell just short of matching Langdon in advancing to the final round in Funny Car.
The win is the first for Langdon since returning to the Top Fuel ranks this season and marks his second career U.S. Nationals win after winning in 2013.
After winning the pole position on Saturday, Langdon opened race day up with a win over Joey Haas in round one and then dispatched Cory McClenathan in round two as he registered a pair of 3.72-second passes.  That would set up a wild semifinal showdown with Justin Ashley where both cars were up in smoke almost immediately on the hit. Langdon was able to get back on the gas quicker and went on to win the pedal-fest to advance to the finals against Leah Pruett.
In the final round, Langdon would lay down a 0.015-second reaction time and never trailed as he ran his best pass of the weekend with a 3.705-second run for the victory.
Today's win marks Shawn Langdon's second career U.S. Nationals Top Fuel victory after previously winning in 2013. The triumph is his first in a Top Fuel car since winning at World Wide Technology Raceway outside of St. Louis in 2016. He spent the 2018 and 2019 seasons driving a Funny Car where he became just the 17th driver in history to win in both Nitro classes.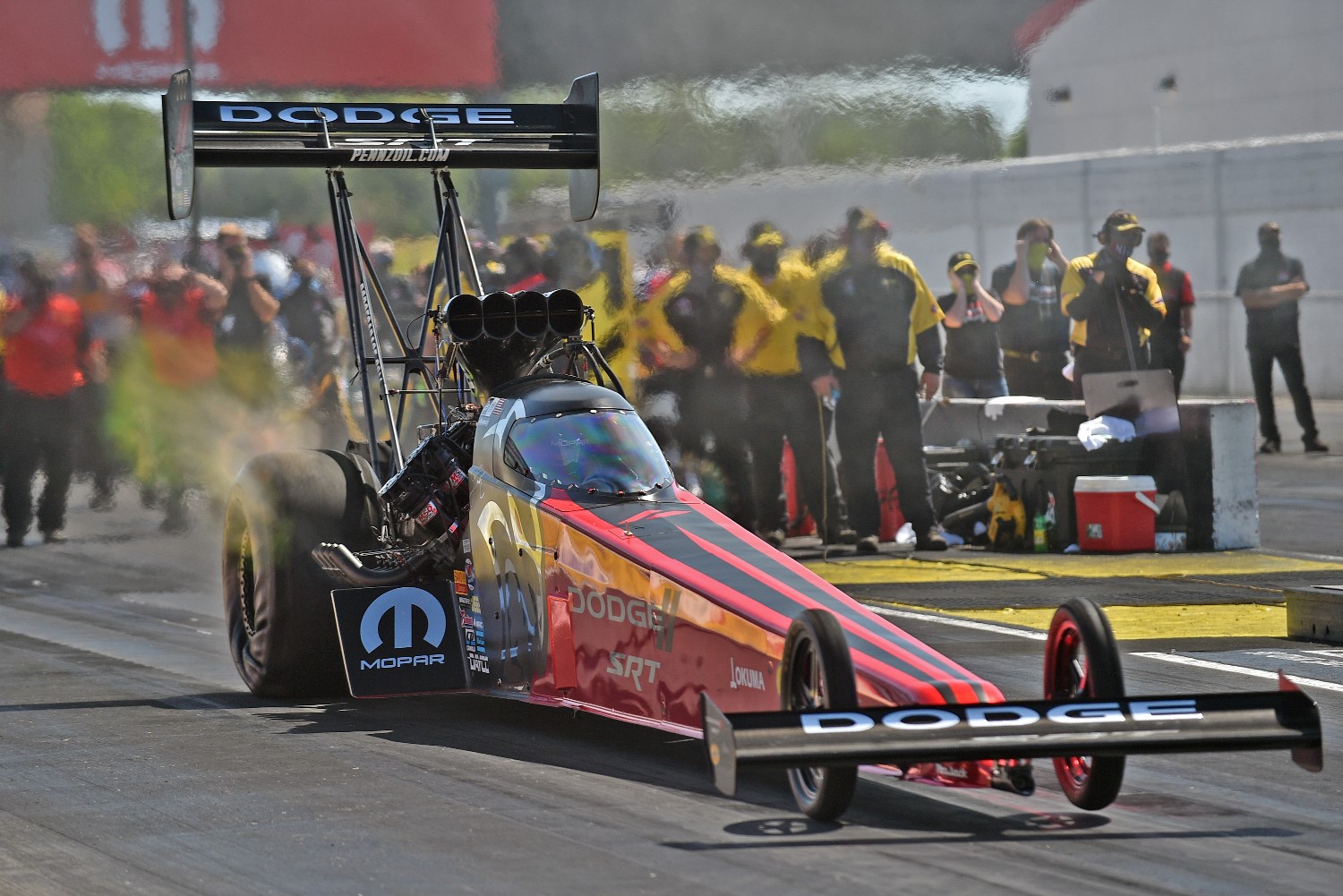 Pruett's team completed a major comeback from a shaky qualifying effort in which the SRT Hellcat Redeye special was not qualified until the third and final session, but tuner Todd Okuhara showed from round one that he had the combination dialed in. Pruett's red rocket opened with low e.t. of eliminations, a 3.703, to defeat 2018 Indy winner Terry McMillen, and dodged a bullet in round two against teammate Tony Schumacher when their car began to haze the tires at half-track; fortunately for them, Schumacher's Okuma/Sandvik railed and begun to drop cylinders and Pruett got the win with a 4.31.
Pruett, who won the U.S. Nationals SAMTech.edu NHRA Factory Stock Showdown in 2018, got the chance for her first Indy Top Fuel crown by defeating reigning world champ Steve Torrence in the semifinals, beating the 10-time Indy winner on a 3.743 to 3.724 holeshot.
To get there, Pruett powered her way past Terry McMillen in the opening round to meet DSR teammate Tony Schumacher in the quarterfinals. Lady luck played a part in providing her an opportunity to advance as Schumacher dropped a cylinder early in his run while Pruett's dragster smoked the tires, requiring some pedaling to get back on track and across the finish line to move on to the semifinals against Steve Torrence.
Pruett's 0.053-second reaction time against her opponent's 0.093, gave her the edge she needed to turn on the win lights with a 3.743 sec /322.34 mph pass to Torrence's quickest run of the event at 3.724/325.14 capturing the holeshot win with a margin of victory of 0.0215-seconds.
Pruett then faced Shawn Langdon for the first time in a final round match-up, but saw her opportunity to battle for the win go up in tire smoke at halftrack, settling for a runner-up finish. As a consolation prize, her efforts this weekend moved her into second place in Top Fuel Championship standings.
"This Big Go did not disappoint on the intensity meter from needing to make a good lap in Q4 just to make the show to throwing down a .70 in the first round against Terry (McMillen) who brought a .72. Those are the conditions we love to flourish in," said Pruett. "After the second round they moved up the session 35 minutes and in one of the most impressive moments was the preparation for the semifinal round. To see this Dodge SRT team stay cool and calm and deliver what we did in the semis makes me very proud. We fed off of that and tried to duplicate that for the final and had clutch wear issues. Leaving here second in points is incredible. The team faced a lot of challenges today mechanically, mentally and time-wise and we are going to take this as a building block for Gainesville."
From his seventh-seed position, Jack Beckman drove his Infinite Hero Dodge Charger SRT Hellcat through the eliminations ladder and to a coveted win at arguably the most famous and prestigious drag race in the world, 66th annual National Hot Rod Association (NHRA) U.S. Nationals at Lucas Oil Raceway in Indianapolis.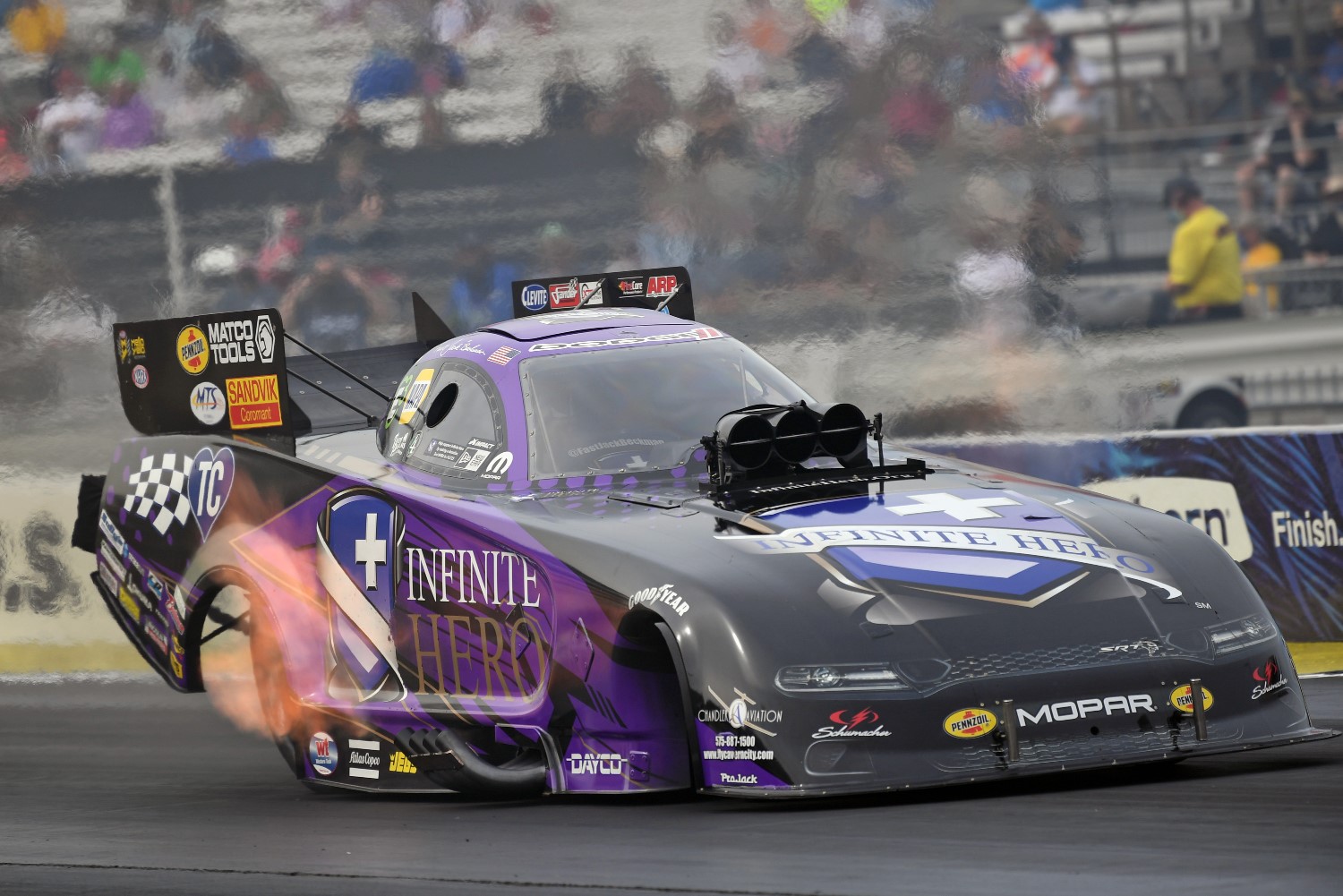 Beckman and his crew's consistent efforts this season and throughout the weekend afforded them a chance to advance to a fourth final round appearance in six events thus far this year. The veteran Funny Car driver began his charge through the field with a solid 3.909-second elapsed time run to defeat Cruz Pedregon. He added a clean pass for a quarterfinal win over DSR teammate Ron Capps before deposing Tim Wilkerson with a holeshot win in the semifinals. For the final elimination round, Beckman staged his Mopar machine next to J.R. Todd then took it straight down the track for a 3.908-second winning effort to beat his opponent's 3.960-second pass.
The win propelled Beckman back atop the NHRA Funny Car world championship leaderboard with just five races left on the 2020 calendar. With his second victory of the year, Beckman also captured a second national event title at the historic race affectionately known to drag racing fans as "the Big Go" to accompany the one he earned in 2015.
"This is my second U.S. Nationals Funny Car title and I don't know if we can ever top your first win but today we showed that we can kill it with consistency, we can have issues and rally back," said the 2012 Funny Car world champion. "The crew chiefs made great decisions and the crew guys found a couple anomalies in the pants and jumped right on it. Nobody panicked and we made this car go down the track all four times today. We learned this trophy. We are back in the Funny Car points lead. That's for final rounds this year. It has been a crazy 2020, but I'm thinking we can get a couple more of these with our Dodge Charger."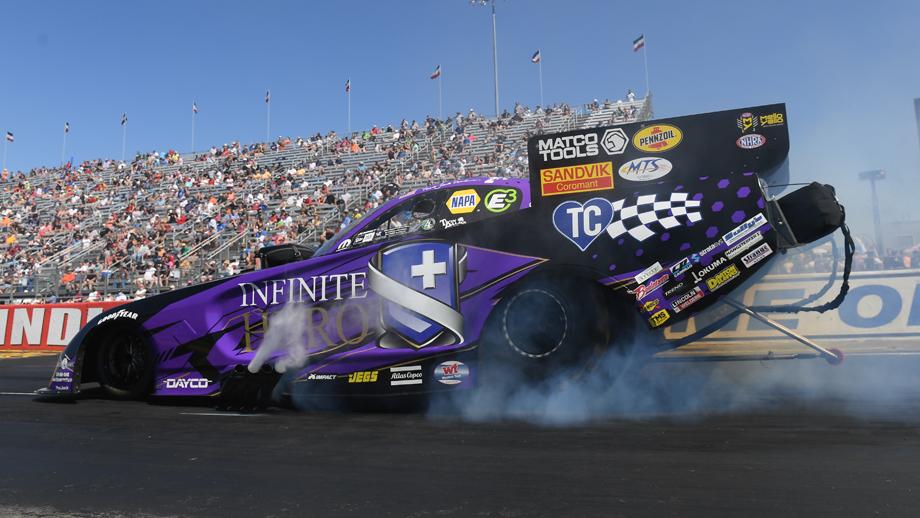 After qualifying the Infinite Hero Dodge seventh with a 3.94, tuners Dean Antonelli and John Medlen tuned Beckman to a better-still 3.90 in round one to defeat past U.S. Nationals champ Cruz Pedregon but dodged a bit of a bullet in the second frame when their purple Dodge slowed to a 4.00; fortunately for them, their teammate, Ron Capps, who won the Dodge NHRA Indy Nationals here three weeks ago, started to haze the tires and slowed to a 5.45 in the NAPA Auto Parts Dodge.
"If this is the last time I race at Indy, this team left nothing on the race track," said Beckman, who reached his 67th career final round. "This is what drag racing is all about. I hope I can continue to keep doing this, but I'm going to revel in this right now. Our team was just awesome today."
Beckman, winner earlier this year at the season-opening Winternationals, had reassumed the points lead in round one expand it by beating Capps and then added more tallies to his ledger by beating former Indy winner Tim Wilkerson on a semifinal hole shot. 3.915 to 3.914.
Erica Enders has won a lot of Pro Stock races and three world championships, but for the last 12 months, she's been haunted by the "one that got away" at the 2019 U.S. Nationals. Enders was a significant favorite in the final round against teammate Alex Laughlin but lost after she encountered a mechanical issue. Enders recalls the loss as one of the most disappointing moments of her career, but redemption came a year later when he won her second title at the Denso Spark Plugs NHRA U.S. Nationals.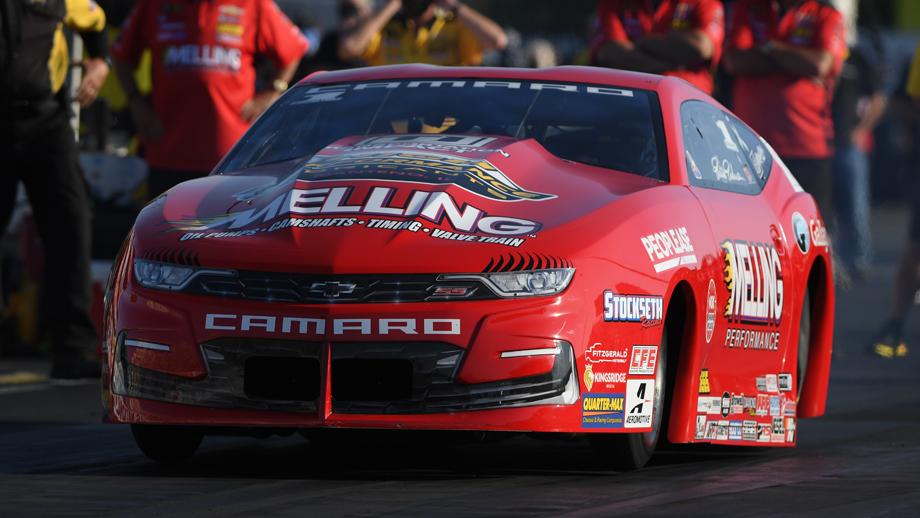 Facing Matt Hartford in the final, Enders did what she does best; leave the starting line with a nearly-perfect .009 reaction time and her Melling Camaro did the rest with a 6.606 that was just enough to cover Hartford's game 6.610. In the class' 50th anniversary season, Enders remains one of just 25 drivers that have won the U.S. Nationals in Pro Stock.
"This is really sweet and it means the world to me," Enders said. "You work your entire life for something like this and it's a dream come true. I've drag raced for 30 years and raced in Pro Stock for 16 years, and so many people have made this possible. This Chevy Camaro is mean, I've got the three baddest crew chiefs on the property in Rick Jones, Rickie Jones and Marc Ingersoll, and I've got the best team in the world. This is just amazing."
The entire 16-car field was separated by less than a tenth of a second, and Enders narrowly escaped disaster in round one when she had an uncharacteristically late .080 light in her round one race against Kenny Delco. Enders survived that encounter and went on to beat Deric Kramer and rookie Mason McGaha to reach her 53rd final round.
Full list of winners
| | |
| --- | --- |
| Driver | Class |
| Shawn Langdon | Top Fuel |
| Jack Beckman | Funny Car |
| Erica Enders | Pro Stock |
| Scotty Pollacheck | Pro Stock Motorcycle |
| Megan Meyer | Top Alcohol Dragster |
| Doug Gordon | Top Alcohol Funny Car |
| Terry Emmons | Super Stock |
| Jerry Emmons | Stock Eliminator |
| Troy Williams Jr | Super Comp |
| Ray Sawyer | Super Gas |
| Raymond Miller II | Super Street |
| Danny Nelson | Top Dragster |
| Steve Jackson | Pro Mod |
| Randal Andras | Top Fuel Harley |
| Aaron Stanfield | Factory Stock Showdown |
| Allen Firestone | Jegs Top Sportsman |
| Chad Green | Indy 2 Pro Mod |
| Cody Webber | Jegs Top Dragster |
| Craig Bourgeois | Jegs Comp Eliminator |
| Jackie Fricke | Jegs Top Alcohol Dragster |
| Jeremy Mason | Jegs Super Gas |
| Justin Ashley | Indy 2 Top Fuel |
| Kristopher Thies | Jegs Super Street |
| Kyle Rizzoli | Jegs Super Stock |
| Matt Hagan | Indy 2 Funny Car |
| Matt Smith | Pro Bike Battle |
| Randal Andras | Indy 2 Top Fuel Harley |
| Raymond Drew | Jegs Top Alch Funny Car |
| Slate Cummings | Jegs Stock |
| Stephen Yantus III | Hemi Shootout |
| Trevor Larson | Jegs Super Comp |