Rumor: What does Elon Musk have in store on Sept 22nd?
(Update)
Tesla's Battery Day presentation on Tuesday brought with it a number of important updates, though CEO Elon Musk didn't touch on quite as many topics as originally expected.
New Battery Technology
Essentially, the so-called biscuit tin is a new kind of battery cell that, while cylindrical in design and using lithium-ion chemistry, has very few similarities to previous cells. As Roadshow's Kyle Hyatt reported, "The most significant change happens inside the larger cell canister and involves removing the tabs that act as the positive and negative connection points between the anode and cathode and the battery casing."
Tesla's senior vice president of powertrain and energy engineering, Drew Baglino, described how the company's new cells, dubbed "4680," are larger and simpler to make than the "2470″ cylindrical battery cells it purchases from Panasonic and other suppliers today. A Tesla battery pack would require fewer cells with the new shape and design.
Baglino said the larger cells alone will increase range by 16%, along with other manufacturing and design changes underway at Tesla, would eventually improve the range of its cars by more than 50% and would use little or no Cobalt.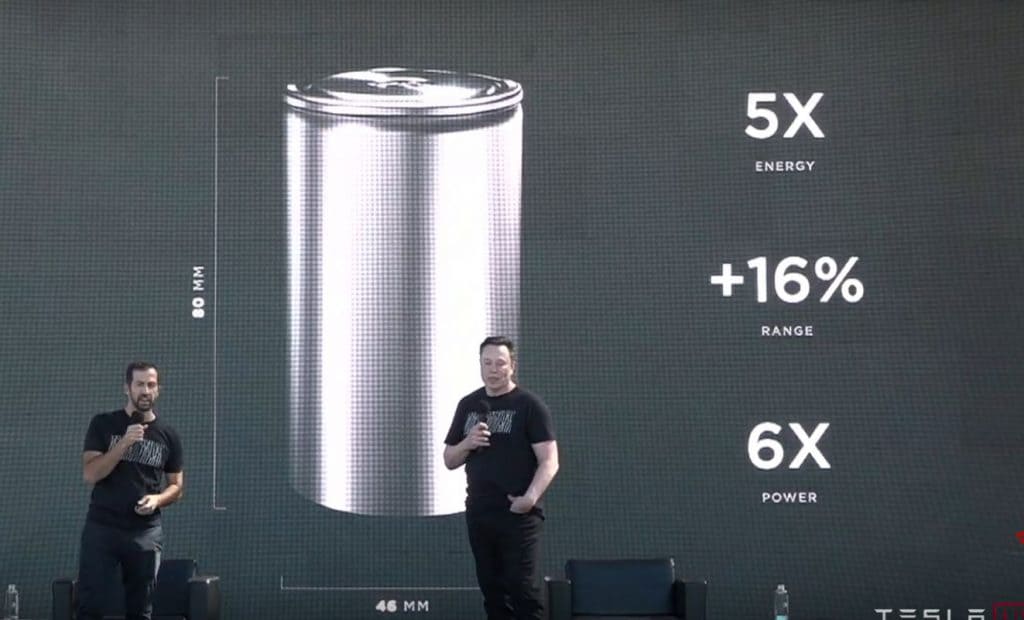 This would be a phenomenal achievement and way beyond current predictions for the industry. It could lead to a revolutionary reduction in EV pricing.
Associate Professor in Civil and Environmental Engineering at Carnegie Mellon University, Costa Samaras, said: "If Tesla can make a cheap, reliable battery with little or no cobalt, it will really improve the ability of EVs to scale up. Most cobalt is from the Democratic Republic of Congo and the mining has long generated human rights and child labor concerns."
Model S Plaid
The long-awaited, range-topping Model S Plaid was announced during the event and the specs are impressive. Musk said the 1,100 HP Plaid should have a range of over 520 miles, a top speed of more than 200 mph, a 0-to-60-mph time of under 2 seconds and a quarter-mile time of less than 9 seconds.  He said the car has lapped Laguna Seca at 1m30s, and he expects that to drop t 1m27s. He also said the Plaid will destroy the Nurburgring lap record for production cars.
The Model S Plaid ($135K) is now available to configure and order on Tesla's website. The first deliveries are expected to begin in late 2021.
Half a million Cybertruck preorders
The Tesla Cybertruck that debuted last November will enter production in the not-too-distant future, and has roughly 600,000 preorders.
Now, keep in mind, these are just preorders — $100 fully refundable deposits from people who are potentially interested in a Cybertruck. How many the company will actually end up selling right off the bat obviously remains to be seen.
Full Self-Driving beta
Musk is working to unlock the full potential of his cars' Autopilot technology, and says a private beta test of the Full Self-Driving suite should be available in the coming months.
"We had to do a fundamental rewrite of the entire Autopilot software stack… We're now labeling 3D video, which is hugely different from when we were previously labeling single 2D images," Musk said. "We're now labeling entire video segments, taking all cameras simultaneously and labeling that. The sophistication of the neural net of the car and the overall logic of the car is improved dramatically."
Musk sums up his impressions clearly: "It's profound."
A $25K Tesla
Musk says the new battery technology and improved production techniques that they reviewed will enable Tesla to make an appealing $25,000 EV .
"We're confident that long-term we can design and manufacture a compelling $25,000 electric vehicle," Musk said. It's expected to arrive in the next three years.
Sales to increase 30-40% in 2020
At Tesla's 2020 shareholder's meeting, Tesla CEO Elon Musk said that the company's vehicle deliveries in 2020 would be up 30% to 40% from last year, a range that encompasses its previous prediction of 500,000 cars delivered this year.
The new guidance from Musk implies deliveries of between 477,750 and 514,500 cars, a range that encompasses the company's previously stated goal to deliver half a million cars in 2020.
---
September 9, 2020
He's changed the online payment systems – At the turn of the millennium, he disrupted the world's financial system by inventing PayPal.
He's changed the space industry.
He's changing the automotive industry.
And now he's about to change the battery industry.
We're talking about Elon Musk of course.
Musk is a rare quintessential combination of intelligence, fortitude, sarcasm, wit, and visionary that has produced a genius worthy of mention amongst the greats including the founding fathers and the likes of Ford, Rockefeller and yes Tesla himself.
Tesla's upcoming Battery Day is creating a huge amount of speculation as to what Elon Musk has up his sleeve. And Musk has teased with several tweets.
This is the day when Tesla makes announcements to its investors and then follows this up with public presentations of the latest technologies the company has developed. These revolve mostly around battery enhancements, but since batteries are such a significant component of an EV, the implications can be immense. The next Battery Day will be on 22nd September, and here are the rumors surrounding it:
The most anticipated Battery Day announcements will revolve around the so-called "Million Mile Battery." There have been several theoretical research papers released from the Tesla battery research team led by Jeff Dahn that help us with the speculation. The papers talk about a single-crystal cathode that allows 90% capacity after 4,000 charge-discharge cycles, where typically the figure is more like 1,000 cycles for current technology.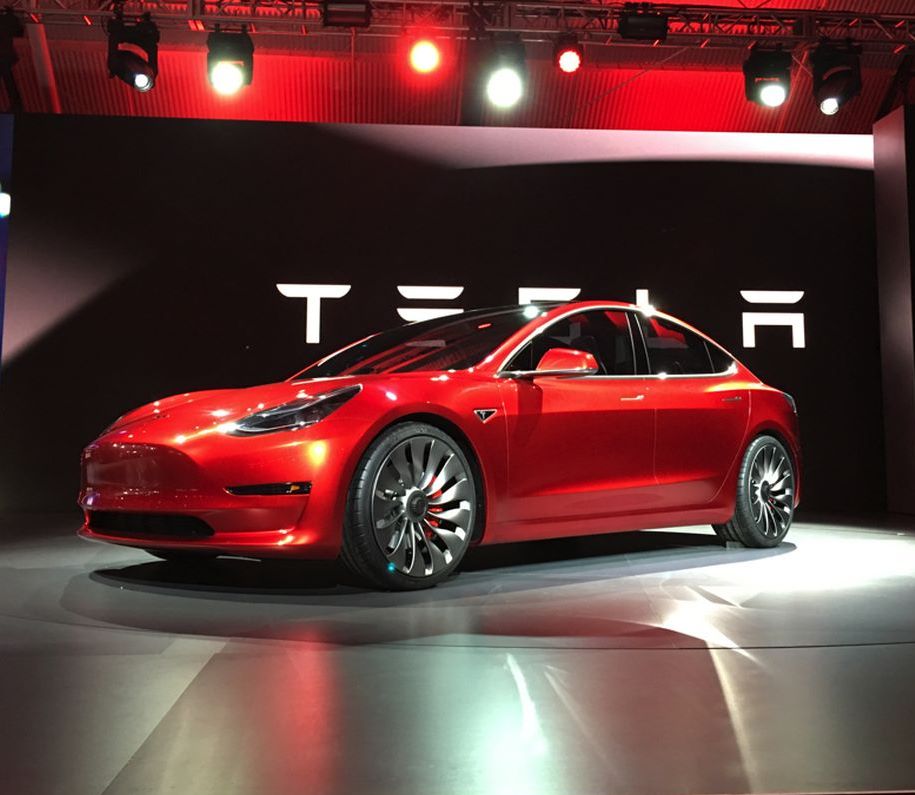 Tesla Model 3
Another technology that would help with the arrival of the Million Mile Battery is the silicon nanowire anode writes James Morris of Forbes. Silicon nanowire anodes could be a complete game changer, because of the massive effect they have on energy density. The technology would allow battery cells that are half the weight and take up half as much space as current lithium-ion batteries, paving the way for a 400Wh/kg energy density, where the batteries in the current Tesla Model 3 have a density of around 250Wh/kg. It would mean Tesla cars would have a range of 500-miles or more on a single charge.
In May 2019, Tesla purchased Maxwell Technologies for $218 million. This appeared to be driven by Maxwell's dry battery electrode technology, which improves production efficiency by a factor of 16 and lowers manufacturing costs by up to 20% – both key factors when taking EVs to a mass market.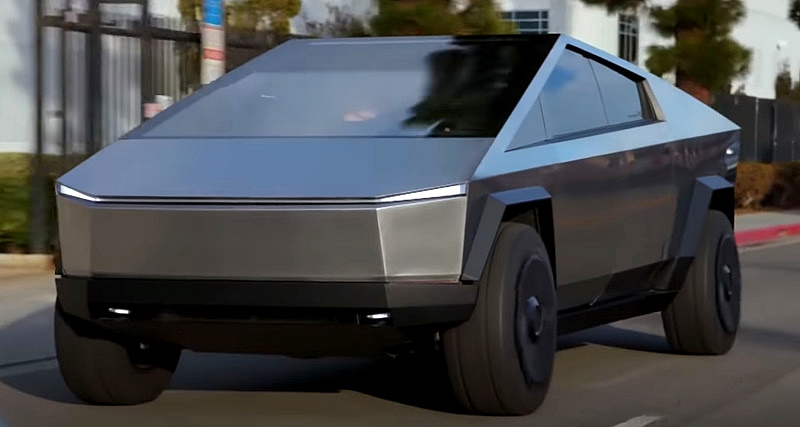 Tesla Cybertruck
Maxwell's technology has also been shown to improve battery performance, boasting a current battery density of 300kWh/kg and a roadmap to 500kWh/kg. So the acquisition of Maxwell would mean Tesla could produce cheaper batteries more quickly, and potentially with greater range in the future.
Tesla has also purchased Hibar, which builds equipment for the production of batteries. In other words, Tesla is gearing up to produce its own batteries in great quantity, with reduced costs alongside greater density and improved density, again paving the way for more affordable EVs.
Tesla Semi
Finally, according to Electrek, Musk is promising new painting systems and a revolution in body engineering when the Model Y starts production in Berlin. One of the developments is likely to be huge casting machines that produce car bodies in fewer, larger pieces to minimize welding, lowering production costs while speeding up manufacturing. This clearly isn't a battery announcement, but with the Berlin Gigafactory due to start production in July 2021, it's highly likely that Musk will announce details of progress towards this goal at the Battery Day.
What else might Musk announce?
Stay tuned to AR1.com as Battery Day is just 2 weeks away.