Another Barrichello Climbs To Top Step Of IMS Podium
Once again, there is a Barrichello who can call himself a race winner at Indianapolis Motor Speedway.
Eighteen years after Rubens Barrichello won a Formula One race on the IMS road course, his son, Eduardo, scored two USF2000 Championship presented by Cooper Tires wins on the reconfigured circuit.
The 18-year-old driver was supported in the Sept. 3-4 event by his father and fellow countryman Tony Kanaan, the 2013 Indianapolis 500 presented by Gainbridge winner.
"I feel as though there's a connection between me and the track," said Eduardo, who was 1 year old when Rubens won the 2002 United States Grand Prix. "I really love this track … my dad won here in F1 and raced here in INDYCAR, and (the circuit) suits me, though I don't know why. We've done pretty well here."
Rubens finished 11th in the 2012 Indianapolis 500 and was named that race's Rookie of the Year.
Barrichello's wins were part of the Road to Indy weekend at IMS, which also included two rounds of the Battery Tires Global Mazda MX-5 Cup presented by BFGoodrich Tires.
Barrichello, who turns 19 on Sept. 23, won the first and second USF2000 races; Miami's Reece Gold won the third.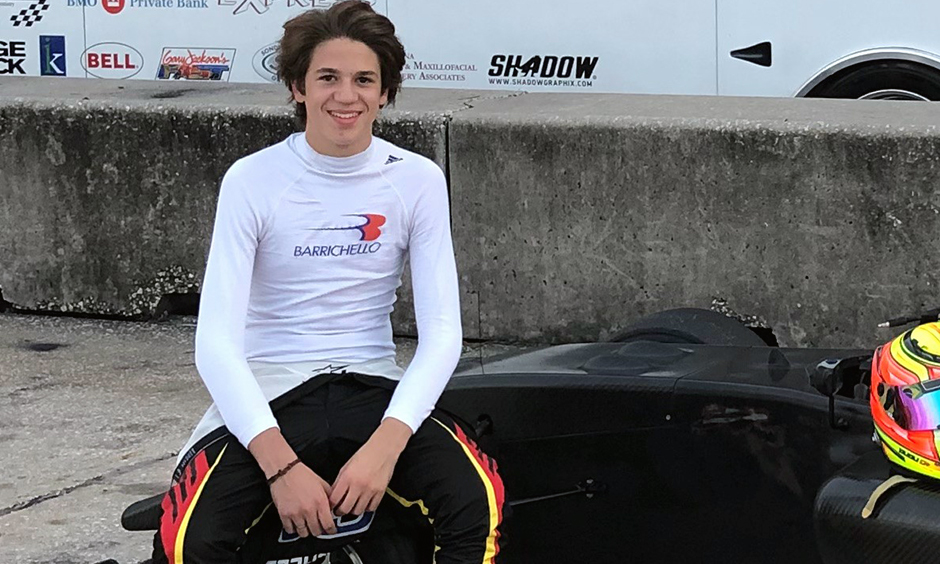 Sting Ray Robb celebrated his birthday weekend in the best way possible, sweeping the Indy Pro 2000 tripleheader. The Payette, Idaho, native turned 17 on Sept. 3, the day he won the first of the three series races on the IMS road course.
Robb started second in the opening race, then won the pole for the second two races. He led 55 of the weekend's 63 laps and took the series lead heading to this weekend's series doubleheader at the Mid-Ohio Sports Car Course.
"I feel like I'm back in my karting days, when we were able to run up at the front every weekend and started winning," Robb said.
The unfortunate part of the Indy Pro 2000 event was Braden Eves' accident in the first race. The Exclusive Autosport driver flipped onto its roll hoop. Eves was treated for injuries and will sit out the next several races.
Todd Lamb of Gainesville, Georgia, won a Mazda MX-5 Cup race for the first time in three years, and he did so by besting championship leader Robert Noaker in the second of two races at IMS.
The 50-year-old driver of Atlanta Speedwerks started from the ninth position and took the lead with 10 minutes remaining, battling with Selin Rollan and Michael Carter. Lamb's last series win came at Watkins Glen International in 2017.
Orlando's Rollan won the weekend's first race for Spark Performance.
The MX-5 series will join the Road to Indy at the NTT INDYCAR SERIES' Mid-Ohio event this weekend. Curt Cavin, Indianapolis Motor Speedway