24 Hour of Le Mans: what's new for 2020?
Due to the current COVID-19 pandemic and for the first time in Le Mans history, this year's event will be staged behind closed doors.  Fans will be able to watch all the action from home on television or via various digital platforms including the official FIA WEC app. Full details including TV listings will be revealed early next week.
September date change
This year's race will be staged in September instead of its traditional date in June.  The autumnal slot means the drivers will race through approximately two extra hours of darkness and track temperatures will be cooler.  Speaking exclusively to the WEC's official podcast WEC Talk, Goodyear's Ben Crawley remarked that it could potentially be one of the quickest Le Mans in history with the change of temperature meaning tires could perform to the absolute maximum. Click HERE to listen to the full episode.
Did you know?
In the 87 editions of Le Mans to date, only three have taken place outside its traditional slot in June.  The inaugural 1923 race was held on the last weekend of May, while the 1956 race was delayed until July due to circuit modifications.   Finally, the 1968 edition was held on the final weekend in September as a result of widespread civil unrest in France earlier that year.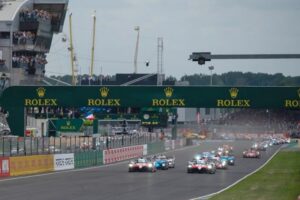 Hyperpole
The traditional qualifying session for Le Mans has been shaken up for 2020. There will now be two stages, designed to encourage sheer speed and spectacular track action.
On Thursday there will be qualifying and at the end of this session, 24 competitors – the six best in each class – will go on to compete in a new "Hyperpole" session the following day [Friday].  Hyperpole will determine the first six places on the grid for each class.
Entry List
There will be 60 cars – and 180 drivers – taking part in this year's race (six LMP1 cars; 24 LMP2s; 8 LMGTE Pro entries and 22 LMGTE Am cars).  Brits make up the most popular nationality of drivers competing with a total of 34 in the provisional list, while France is represented by 29 different home drivers.   Click HERE for the latest entry list.
No pre-race Test Day 
Due to the COVID-19 pandemic, there will be no official Test Day planned ahead of the race. However, all drivers who have not competed at Le Mans within the last five years must complete a minimum of 10 laps (including a minimum of five full timed laps) across Free Practice 1 and Free Practice 2.  They must also attend a training session with an ACO approved simulator operator (one day training) before Tuesday 15 September at the very latest.
Change of start time
The start of this year's race will be at 14h30 CEST on Saturday 19 September instead of its more recent 15h00 start time.