Enfinger wins NASCAR Trucks regular-season finale at Richmond
With seven laps to go in Thursday's NASCAR Gander RV & Outdoors Truck Series regular-season finale at Richmond Raceway, Grant Enfinger stole the lead from reigning champion and teammate Matt Crafton and held it to the end to further solidify his own spot in the 2020 playoffs. Enfinger is now tied for a series-best three wins this year.
Enfinger led 18 of the 250 laps around the .75-mile track in Virginia. He beat Crafton by 1.033 seconds to the finish line. Ben Rhodes crossed in third, while Brett Moffitt and Tyler Ankrum were fourth and fifth, respectively.
Codie Rohrbaugh, David Ragan, polesitter Austin Hill, Timmy Hill and Stewart Friesen completed the top 10 in the ToyotaCare 250.
The Gander Truck Series' 10-driver playoff field is now officially set.
Before the green flag even waved at Richmond, six winners already solidified their spots in the postseason. Sheldon Creed led with three victories. Zane Smith and Enfinger owned two apiece. Crafton, Rhodes and Austin Hill all had one.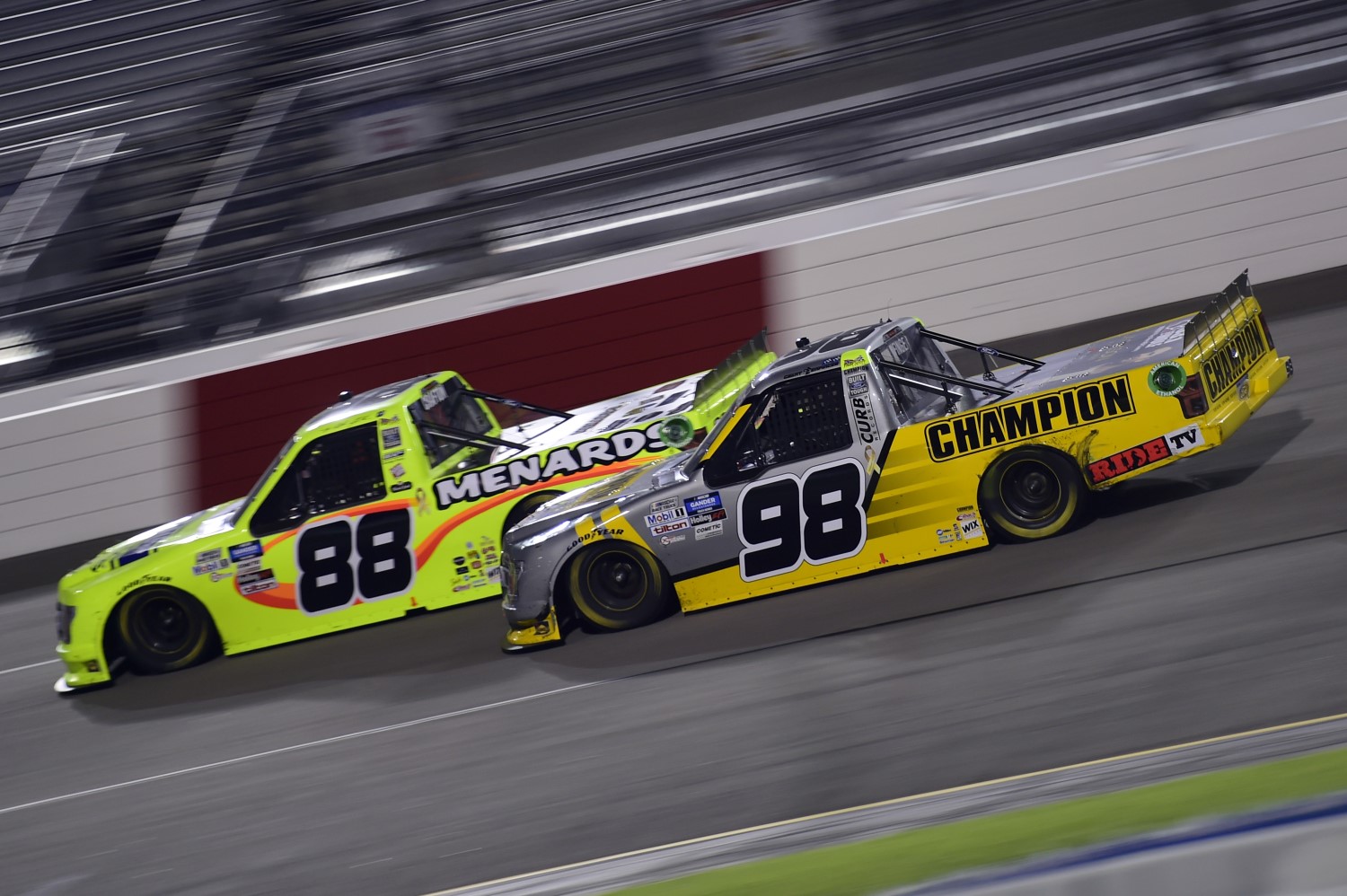 Those who qualified by points are Moffitt, Christian Eckes, Ankrum and Todd Gilliland.
On just Lap 8, former champ Johnny Sauter was forced to make an unscheduled pit stop due to a mechanical failure. He was in a must-win position when it came to the playoffs, sitting five spots and 125 points below the cutline. He ultimately finished 27th.
Smith won Stage 1 on Lap 70. Rhodes won Stage 2 on Lap 140.
Austin Hill clinched the regular-season championship during the final stage.
Results
| | | | | | | | |
| --- | --- | --- | --- | --- | --- | --- | --- |
| Fin | Str | No. | Driver | Team | Laps | Status | Led |
| 1 | 5 | 98 | Grant Enfinger | Champion/Curb Records Ford | 250 | Running | 18 |
| 2 | 10 | 88 | Matt Crafton | Ideal Door/Menards Ford | 250 | Running | 25 |
| 3 | 2 | 99 | Ben Rhodes | Tenda Heal Ford | 250 | Running | 66 |
| 4 | 4 | 23 | Brett Moffitt | Superior Essex Chevrolet | 250 | Running | 32 |
| 5 | 11 | 26 | Tyler Ankrum | Chevy Silverado Chevrolet | 250 | Running | 0 |
| 6 | 28 | 9 | Codie Rohrbaugh | Pray for Joshua Chevrolet | 250 | Running | 0 |
| 7 | 21 | 17 | David Ragan | Select Blinds Ford | 249 | Running | 0 |
| 8 | 1 | 16 | Austin Hill | United Rentals Toyota | 249 | Running | 65 |
| 9 | 15 | 56 | Timmy Hill | Hill Motorsports Chevrolet | 249 | Running | 0 |
| 10 | 13 | 52 | Stewart Friesen | Halmar Racing To Beat Hunger Toyota | 249 | Running | 0 |
| 11 | 9 | 21 | Zane Smith # | ATARI HOTELS Chevrolet | 249 | Running | 44 |
| 12 | 14 | 51 | Chandler Smith | JBL/Smith General Contracting Toyota | 249 | Running | 0 |
| 13 | 12 | 2 | Sheldon Creed | Chevy Accessories Chevrolet | 249 | Running | 0 |
| 14 | 17 | 22 | Austin Wayne Self | GOTEXAN/AM Technical Solutions Chevrolet | 249 | Running | 0 |
| 15 | 16 | 2 | Tate Fogleman # | Solid Rock Carriers Chevrolet | 249 | Running | 0 |
| 16 | 19 | 15 | Tanner Gray # | Ford/Ford Performance Ford | 249 | Running | 0 |
| 17 | 8 | 38 | Todd Gilliland | Frontline Enterprises Inc Ford | 249 | Running | 0 |
| 18 | 3 | 18 | Christian Eckes # | Safelite AutoGlass Toyota | 249 | Running | 0 |
| 19 | 25 | 24 | Sam Mayer | AWA Chevrolet | 249 | Running | 0 |
| 20 | 26 | 20 | Spencer Boyd | Bucks For The Brave Chevrolet | 247 | Running | 0 |
| 21 | 22 | 68 | Clay Greenfield | Rackley Roofing Toyota | 247 | Running | 0 |
| 22 | 30 | 40 | Carson Hocevar | Scott's Chevrolet | 247 | Running | 0 |
| 23 | 6 | 19 | Derek Kraus # | Gates Hydraulics/NAPA Belts & Hoses Toyota | 246 | Running | 0 |
| 24 | 23 | 3 | Jordan Anderson | Bommarito.com/Sefton Steel Chevrolet | 246 | Running | 0 |
| 25 | 33 | 33 | Josh Bilicki(i) | INSURANCEKING.COM Toyota | 245 | Running | 0 |
| 26 | 7 | 4 | Raphael Lessard # | Mobil 1 Toyota | 245 | Running | 0 |
| 27 | 20 | 13 | Johnny Sauter | Vivitar Ford | 242 | Running | 0 |
| 28 | 35 | 41 | Ryan Huff | Hustler/Land & Coats Chevrolet | 239 | Running | 0 |
| 29 | 24 | 45 | Trevor Bayne | Plan B Sales/Proceller8 Chevrolet | 237 | Running | 0 |
| 30 | 32 | 6 | Norm Benning | H&H Transport Chevrolet | 235 | Running | 0 |
| 31 | 34 | 49 | Ray Ciccarelli | CMI Motorsports Chevrolet | 231 | Running | 0 |
| 32 | 29 | 0 | Josh Reaume | Motorsports Safety Group Toyota | 217 | Running | 0 |
| 33 | 18 | 30 | Danny Bohn | North American Motor Car/Sierra Delta Toyota | 175 | Electrical | 0 |
| 34 | 27 | 44 | Natalie Decker | Ruedebusch Development Chevrolet | 155 | Running | 0 |
| 35 | 36 | 83 | Tim Viens | CMI Motorsports Chevrolet | 50 | Accident | 0 |
| 36 | 31 | 10 | Jennifer Jo Cobb | Fastener Supply Company Chevrolet | 0 | Clutch | 0 |