F3: Hughes beats out Zendeli by 0.008s in Mugello Free Practice
All eyes may be on the six title contenders in Mugello, but none of them could go fastest in the first session of the season finale, as HWA RACELAB's Jake Hughes (above) beat out Trident's Lirim Zendeli in FIA Formula 3 Free Practice. Hughes led almost the entire session and finished on 1:36.423, just 0.008s faster than Zendeli, with the Hitech Grand Prix of Dennis Hauger another tenth back.
F3 enjoyed the luxury of the maiden voyage around Mugello, and it was the Charouz of Michael Belov who took us on the first full lap of the beautiful Tuscan circuit. Hauger was the first to set a flyer, taking the time down to 1:39.077, as the field began to get a feel for the circuit.
There were only 28 cars out on track, as Hitech Grand Prix haven't entered a driver in car no.4 for the weekend, while Igor Fraga did not take part in the session for Charouz.
Most of the grid were keen to get out there, having no previous experience of the circuit in F3 machinery. Jake Hughes took an entire second out of the quickest lap time, slicing it down to 1:38.011.
The Briton – who raced at Mugello with HWA in the Formula Regional Championship last season – appeared to be the most comfortable driver out on track. The Round 8 race winner took another chunk out of the fastest time, lapping at 1:36.423.
Trident were also looking quick on home soil, as David Beckmann and Zendeli ran second and third, but no one was able to match Hughes' lap time, with both drivers running two tenths slower.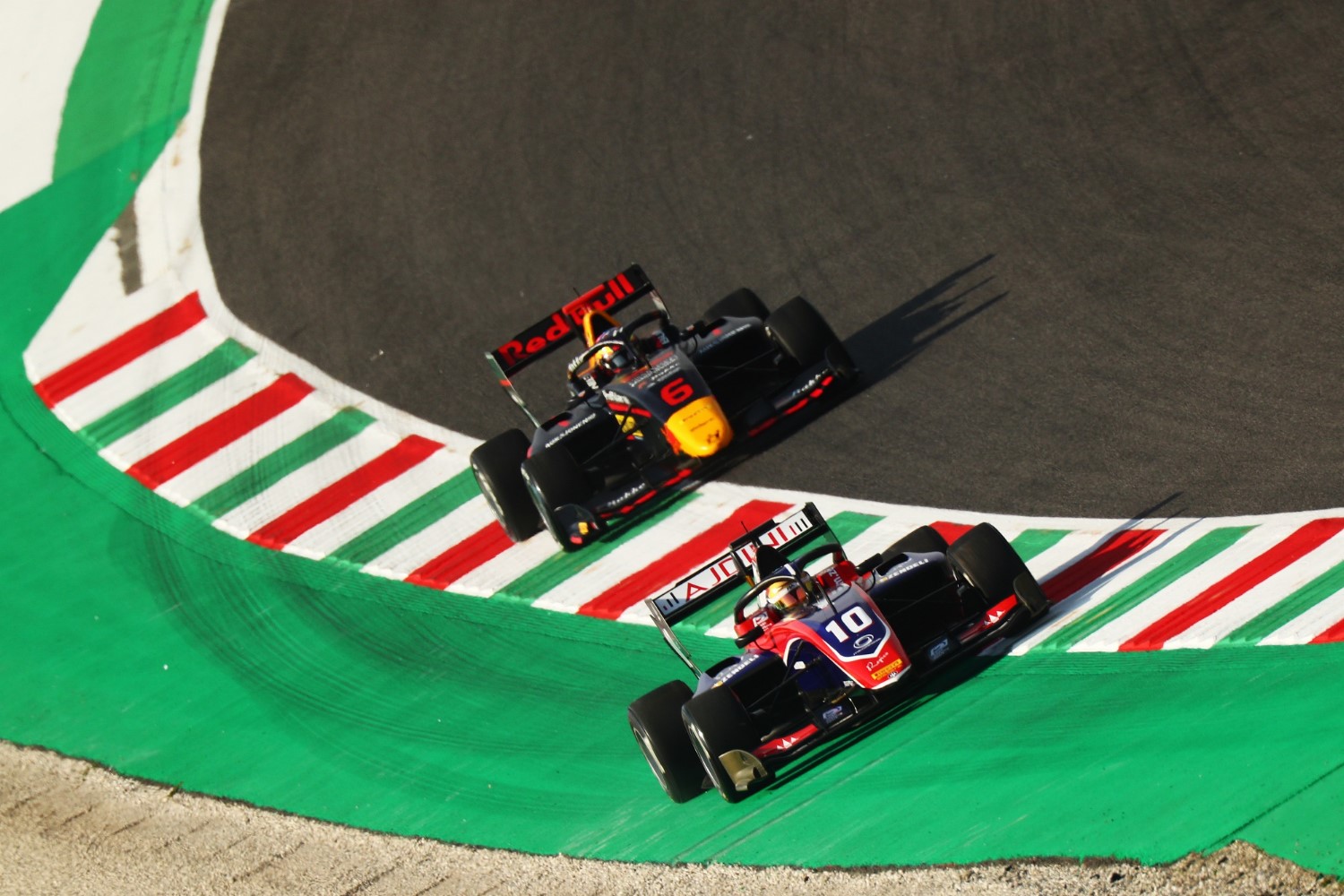 The quick lap times cooled significantly in the second half of FP, as the field focused on getting to grips with the new circuit. Hauger – who also had experience of Mugello from last season, in Italian F4 – had another attempt at stealing first place, but fell a tenth short of Hughes' marker and took second. Zendeli was the only other driver to truly have a final stab at taking P1, and got closer than Hauger, but was still 0.008s slower.
Beckmann finished behind them in fourth, ahead of Théo Pourchaire, who was the highest placed of the title contenders.
Matteo Nannini continued his recent upturn of form, with a P6 finish, ahead of Sebastián Fernández, Logan Sargeant, Frederik Vesti and Liam Lawson. Championship leader, Oscar Piastri, was back in P13.
With four vital Championship points at stake for pole position, the final qualifying session of the season looks set to be an unmissable battle, when action resumes at 2.05pm (local time).
Practice Results
| | | | | | | | |
| --- | --- | --- | --- | --- | --- | --- | --- |
| Pos | No. | Driver | Team | LAPS | TIME | GAP | INT. |
| 1 | 15 | J. Hughes | HWA RACELAB | 14 | 1:36.423 | 0.000s | 0.000s |
| 2 | 10 | L. Zendeli | Trident | 18 | 1:36.431 | 0.008 | 0.008 |
| 3 | 6 | D. Hauger | Hitech Grand Prix | 20 | 1:36.554 | 0.131 | 0.123 |
| 4 | 11 | D. Beckmann | Trident | 18 | 1:36.619 | 0.196 | 0.065 |
| 5 | 7 | T. Pourchaire | ART Grand Prix | 19 | 1:36.680 | 0.257 | 0.061 |
| 6 | 22 | M. Nannini | Jenzer Motorsport | 17 | 1:36.813 | 0.390 | 0.133 |
| 7 | 9 | S. Fernández | ART Grand Prix | 19 | 1:36.861 | 0.438 | 0.048 |
| 8 | 3 | L. Sargeant | PREMA Racing | 17 | 1:36.871 | 0.448 | 0.010 |
| 9 | 2 | F. Vesti | PREMA Racing | 16 | 1:36.880 | 0.457 | 0.009 |
| 10 | 5 | L. Lawson | Hitech Grand Prix | 19 | 1:36.907 | 0.484 | 0.027 |
| 11 | 25 | M. Belov | Charouz Racing System | 20 | 1:37.086 | 0.663 | 0.179 |
| 12 | 16 | J. Doohan | HWA RACELAB | 15 | 1:37.113 | 0.690 | 0.027 |
| 13 | 1 | O. Piastri | PREMA Racing | 17 | 1:37.167 | 0.744 | 0.054 |
| 14 | 17 | R. Verschoor | MP Motorsport | 21 | 1:37.168 | 0.745 | 0.001 |
| 15 | 29 | A. Peroni | Campos Racing | 16 | 1:37.195 | 0.772 | 0.027 |
| 16 | 14 | E. Fittipaldi | HWA RACELAB | 15 | 1:37.315 | 0.892 | 0.120 |
| 17 | 27 | D. Schumacher | Carlin Buzz Racing | 15 | 1:37.326 | 0.903 | 0.011 |
| 18 | 8 | A. Smolyar | ART Grand Prix | 19 | 1:37.342 | 0.919 | 0.016 |
| 19 | 12 | O. Caldwell | Trident | 18 | 1:37.351 | 0.928 | 0.009 |
| 20 | 23 | R. Stanek | Charouz Racing System | 16 | 1:37.559 | 1.136 | 0.208 |
| 21 | 19 | L. Dunner | MP Motorsport | 18 | 1:37.575 | 1.152 | 0.016 |
| 22 | 21 | F. Malvestiti | Jenzer Motorsport | 18 | 1:37.749 | 1.326 | 0.174 |
| 23 | 18 | B. Viscaal | MP Motorsport | 21 | 1:37.944 | 1.521 | 0.195 |
| 24 | 20 | C. Williams | Jenzer Motorsport | 19 | 1:38.013 | 1.590 | 0.069 |
| 25 | 26 | C. Novalak | Carlin Buzz Racing | 20 | 1:38.144 | 1.721 | 0.131 |
| 26 | 31 | S. Floersch | Campos Racing | 18 | 1:38.278 | 1.855 | 0.134 |
| 27 | 28 | C. Das | Carlin Buzz Racing | 16 | 1:38.800 | 2.377 | 0.522 |
| 28 | 30 | A. Deledda | Campos Racing | 19 | 1:38.908 | 2.485 | 0.108 |