F2: Vips beats out Ghiotto in Mugello Free Practice
DAMS' Juri Vips topped his first FIA Formula 2 session in a long-run dominated Free Practice at Mugello, beating out Luca Ghiotto (shown above) by less than a tenth of a second, with Felipe Drugovich taking third place.
Most of the F2 grid had driven on the Mugello circuit in previous Championships, but never in the F2 car, so all 22 drivers opted to get out onto the tarmac at the first opportunity. The Trident pairing of Marino Sato and Roy Nissany were amongst the first to set a flyer, and the duo took first and second in the early stages.
Enjoying his third round in F2, Vips showed a turn of pace to go three tenths faster than them both to drop the quickest time down to 1:32.937. The DAMS driver then sliced this down by another four tenths to strengthen his grip on P1, ahead of Ghiotto and Drugovich.
The session was largely centered around gathering data, with the top five remaining unchanged for the middle period of the session. Jack Aitken locked up at the final corner and skidded into the gravel trap before tapping the wall. The Virtual Safety Car was deployed as his Campos machine was cleared away.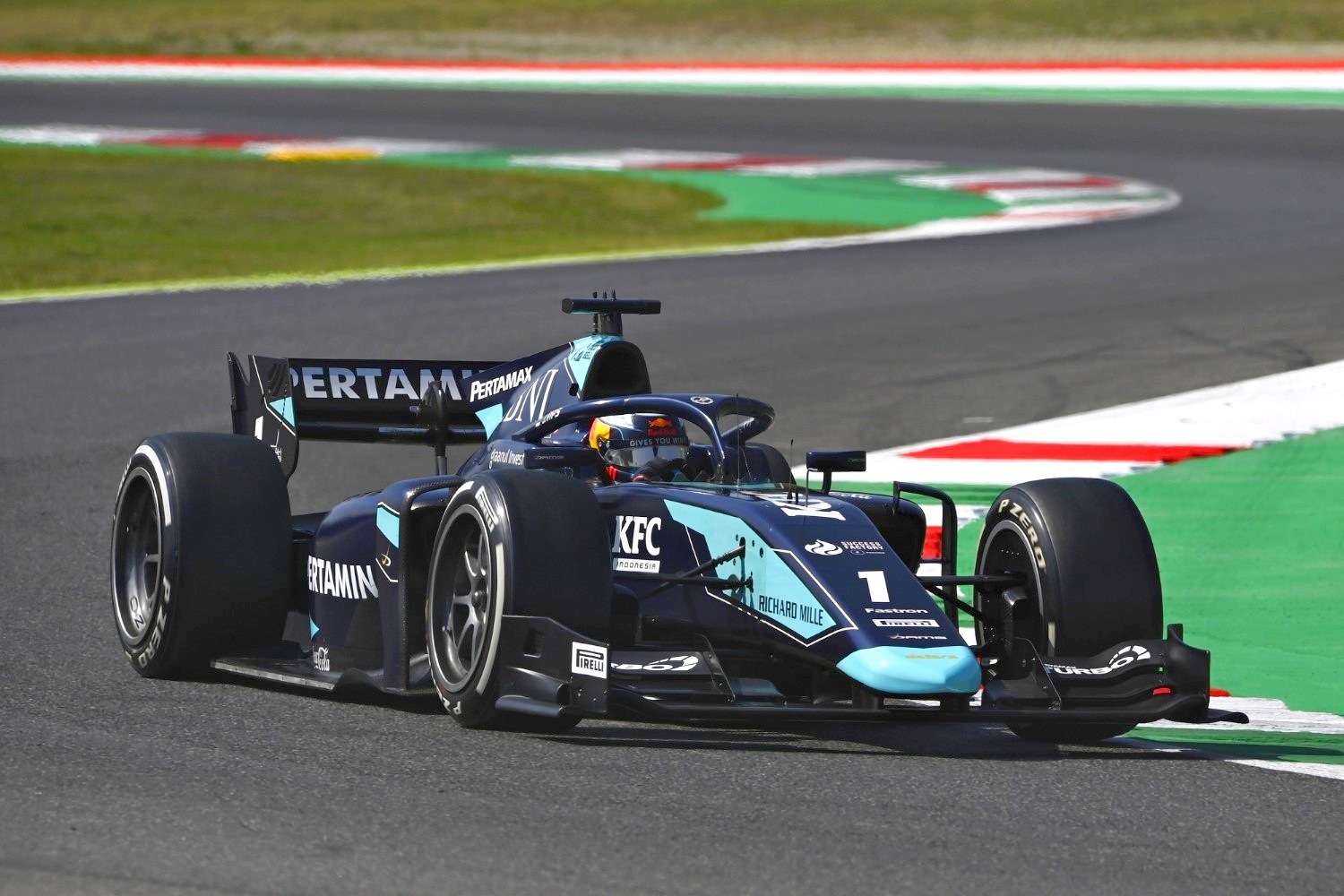 The remaining cars were back up to full speed with five minutes to go, but the focus remained firmly on longer-runs with fast laps at a premium. Yuki Tsunoda was the highest placed of the title contenders in fourth, following Vips, Ghiotto and Drugovich.
Dan Ticktum had the most recent experience of Mugello, having driven here in Formula Regional last season, but could only manage P5 on his return to the circuit. Sato was sixth, ahead of Aitken, Nikita Mazepin, Christian Lundgaard and Nissany.
The Championship top three were all out of the top ten, with Mick Schumacher 12th, directly followed by Robert Shwartzman and Callum Ilott.
A lot will have been learned from the first outing around Mugello, which sets the scene nicely for Qualifying later this afternoon at 5pm (local time).
F2 Practice Results
| | | | | | | | |
| --- | --- | --- | --- | --- | --- | --- | --- |
| Pos | No. | Driver | Team | LAPS | TIME | GAP | INT. |
| 1 | 1 | J. Vips | DAMS | 18 | 1:31.474 | 0.000s | 0.000s |
| 2 | 25 | L. Ghiotto | Hitech Grand Prix | 19 | 1:31.563 | 0.089 | 0.089 |
| 3 | 15 | F. Drugovich | MP Motorsport | 18 | 1:31.705 | 0.231 | 0.142 |
| 4 | 7 | Y. Tsunoda | Carlin | 21 | 1:31.757 | 0.283 | 0.052 |
| 5 | 2 | D. Ticktum | DAMS | 21 | 1:31.882 | 0.408 | 0.125 |
| 6 | 23 | M. Sato | Trident | 19 | 1:31.968 | 0.494 | 0.086 |
| 7 | 9 | J. Aitken | Campos Racing | 12 | 1:32.061 | 0.587 | 0.093 |
| 8 | 24 | N. Mazepin | Hitech Grand Prix | 20 | 1:32.097 | 0.623 | 0.036 |
| 9 | 6 | C. Lundgaard | ART Grand Prix | 20 | 1:32.101 | 0.627 | 0.004 |
| 10 | 22 | R. Nissany | Trident | 19 | 1:32.217 | 0.743 | 0.116 |
| 11 | 11 | L. Delétraz | Charouz Racing System | 21 | 1:32.296 | 0.822 | 0.079 |
| 12 | 20 | M. Schumacher | PREMA Racing | 18 | 1:32.331 | 0.857 | 0.035 |
| 13 | 21 | R. Shwartzman | PREMA Racing | 18 | 1:32.408 | 0.934 | 0.077 |
| 14 | 4 | C. Ilott | UNI-Virtuosi | 19 | 1:32.419 | 0.945 | 0.011 |
| 15 | 5 | M. Armstrong | ART Grand Prix | 20 | 1:32.451 | 0.977 | 0.032 |
| 16 | 12 | P. Piquet | Charouz Racing System | 21 | 1:32.608 | 1.134 | 0.157 |
| 17 | 3 | G. Zhou | UNI-Virtuosi | 18 | 1:32.682 | 1.208 | 0.074 |
| 18 | 16 | A. Markelov | BWT HWA RACELAB | 19 | 1:33.010 | 1.536 | 0.328 |
| 19 | 8 | J. Daruvala | Carlin | 21 | 1:33.016 | 1.542 | 0.006 |
| 20 | 17 | G. Alesi | BWT HWA RACELAB | 21 | 1:33.143 | 1.669 | 0.127 |
| 21 | 14 | N. Matsushita | MP Motorsport | 15 | 1:33.695 | 2.221 | 0.552 |
| 22 | 10 | G. Samaia | Campos Racing | 18 | 1:34.021 | 2.547 | 0.326 |