Vinales destroys Misano lap record for pole position
Yamaha enjoyed a very successful outing at the Gran Premio di San Marino e della Riviera di Rimini today. Monster Energy Yamaha MotoGP's Maverick Viñales scored pole position, setting a new All Time Lap Record, and headed the first ever top-4 all-Yamaha lockout in a qualifying session, rounded out by Valentino Rossi.
The Monster Energy Yamaha MotoGP Team showed their strong hand at the Gran Premio di San Marino e della Riviera di Rimini today. Maverick Viñales secured his 12th premier class pole position, breaking the previous All Time Lap Record by 0.218s. Valentino Rossi also put in a strong bid for the front row but came just short. He rounds out an all-Yamaha top-4 lockout, the Japanese manufacturer's first ever in a MotoGP qualifying session.
Viñales was the first rider to head out on track for the 15-minute shoot-out. His opening lap, a 1'32.130s, immediately put him at the top of the standings, but the competition was fierce, and the times were dropping fast. However, the Spaniard had a strategy in place.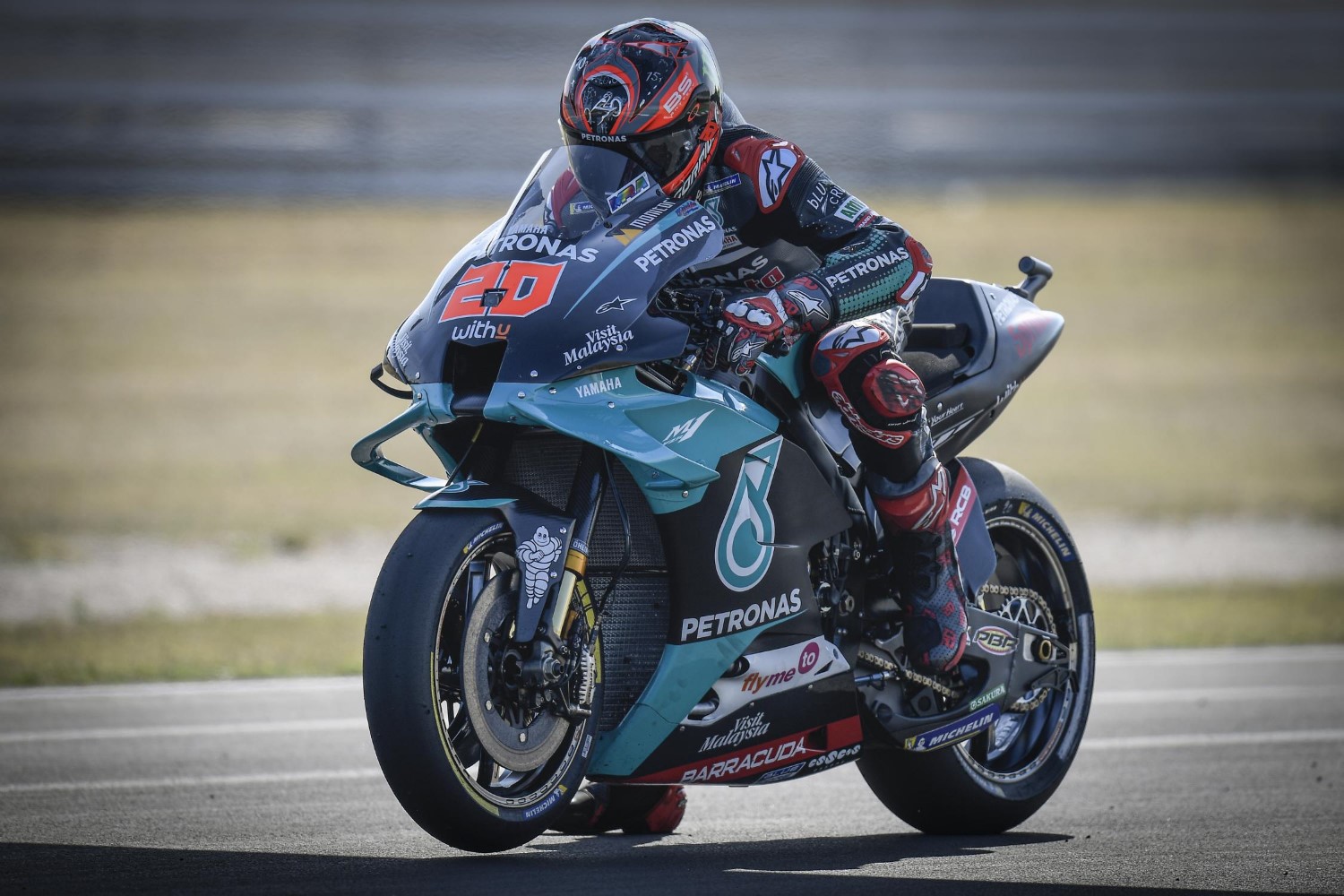 He rushed back to pit lane with the plan to swap bikes two times during Q2 in order to get in as many laps on fresh tires as possible. Thanks to this, Top Gun was the only rider out on track already on his second run when the other riders were in pit lane for their stop. This gave him the clear space to set another provisional P1 lap, a 1'31.787s, but there was still more to come.
The number-12 rider visited pit lane for the second time, with a little over three minutes remaining, to switch bikes again. He had time for just one more try and set an astonishing lap record of 1'31.411s, earning himself pole position with a 0.312s advantage over second place.
Rossi had topped the FP3 session in the morning and was determined to put in a top result again in Q2. He briefly went pole with his second flying lap, clocking a 1'31.877s, but was pushed back to second place by 0.086s shortly after, and he returned to the pits for a fresh rear tire with seven and a half minutes left.
When he re-entered the track, he had time for three more hot laps but wasn't able to further improve. Yet the local hero's earlier fastest lap was quick enough for him to remain in fourth place, 0.466s from first. The result earned Yamaha its first ever top-4 lockout in a MotoGP qualifying session.
How it Happened
It was Viñales who was the first rider to set a flying lap time in the second qualifying session. A 1:32.130 was a solid opening time, but it was going to be beaten. Alex Rins (Team Suzuki Ecstar) was sat behind Viñales on the first lap but the Spaniard ran on at the end of the back straight, before Q1's fastest rider Pol Espagraro (Red Bull KTM Factory Racing) crashed at Turn 15. That brought out the yellow flags which saw Quartararo have to sit up and scrap the lap, but the Frenchman was getting the hammer down on his second lap.
Another rider to be getting the hammer down on the second was Free Practice pacesetter Rossi. The Doctor was further down the road from Quartararo and sure enough, the nine-time World Champion went provisional P1 to send the 10,000 Misano fans wild. However, Quartararo would soon demote Rossi to second with a 1:31.791 with the riders then pitting to push some fresh tires in.
Viñales – who had slipped to P5 – was out on his lonesome and on his second run, a personal best time saw him stay 5th before a faster lap then came in for the number 12. Viñales went provisional pole, but only just. 0.004 was the factory Yamaha rider's advantage as he then pitted again in a two-stop strategy. With the other riders back out for their second runs, Quartararo couldn't improve his lap time on his first attempt – 0.038 was the Frenchman's deficit, with second fastest in Q1 Miguel Oliveira (Red Bull KTM Tech3) and Andrea Dovizioso (Ducati Team) quickly exchanging P6.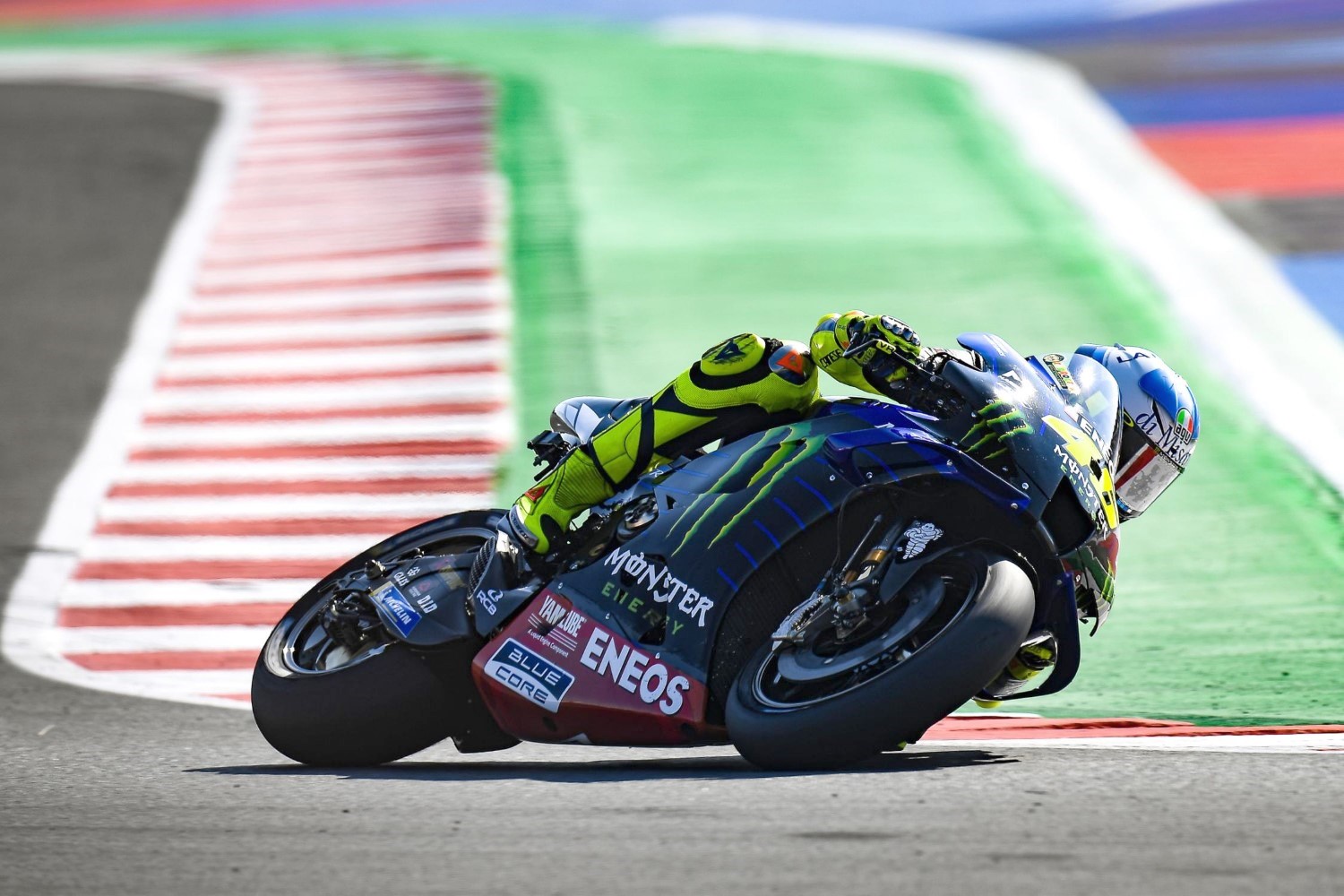 Rossi was then bang on the money but after losing two tenths in Sector 2, the Italian backed out of his lap. Compatriot Morbidelli and his teammate Quartararo were lighting the timesheets red in the first and second sectors, as Jack Miller (Pramac Racing) slotted himself into P6. Coming round the final sector, Morbidelli placed himself onto a dream provisional home Grand Prix pole position, with Quartararo unable to improve on his last flying lap. Third was the best Quartararo could hope for, but a black and blue Monster Energy stickered missile was outpacing the lot of them.
Viñales was two tenths under Morbidelli's time and this was an absolute stunner from Top Gun. Viñales didn't make any mistake in the final half of the lap to take the checkered flag with a new Misano lap record, taking the accolade away from Jorge Lorenzo. Viñales' time was nearly four tenths faster than Morbidelli as the Italian settles for a sterling second on home soil, his best qualifying result of the season.
Quartararo completes the front row, 0.380 adrift from Viñales' lap time. The 21-year-old didn't sound too disheartened with P3, he's looking strong to challenge for his third win of the season from the outside of the front row. Rossi spearheads Row 2 in P4 as The Doctor demonstrates there's plenty of life in the old dog yet, that's the number 46's equal best Saturday afternoon result of 2020. Joining Rossi on the second row is Miller who improves on his last lap to get the better of injured teammate Francesco Bagnaia (Pramac Racing). Both Pramac riders will be upbeat about qualifying in San Marino.
Quotes
Maverick Viñales
"I'm really happy because that lap was amazing! Not just because it gave me pole position, but more so because of the time itself. When I saw 1'31.4s I thought "This is a good lap time!". We knew our potential and took everything we had, and we made a really good lap. Honestly, I'm quite happy and impressed that at the end of the day we were so fast. Breaking the lap record was really hard for me. This morning we were still riding 1'31.9s. We weren't completely sure what we would be able to do in the afternoon, but I felt so good, especially in FP4 on the hard tire. For tomorrow, we don't know what will happen, but today and also on Friday we were strong, so tomorrow we are going to try to be strong again. I will push from the beginning. For sure, the race will be very long and tough, so we're going to try to be smart, and then we'll see what we can do."
Franco Morbidelli
I am very happy: I was trying to make a good qualifying lap and I achieved it! At the finish line I was looking at the big screen, saw myself in first and I was hoping it would be my first pole position, and at my home GP. But unfortunately Maverick [Viñales] was faster. Second position is still an important spot to start tomorrow's race from in order to have a good race. I have the chance tomorrow of taking my first MotoGP win and I will be trying to stay in the mix and see what happens. I'm feeling strong, but all the Yamahas are strong here, so I think there is still a little bit I need to improve. I'm ready to fight though.
Fabio Quartararo
It is good to be back on the front row, but today has been a bit strange. It's like last year: we were super fast in FP3 but struggled with the front end in qualifying. I am pushing a lot and am on the limit but it wasn't enough. The most important thing, of course, is the 27-lap race. I'm feeling positive because we have the pace for victory, so let's see what happens. I'm really looking forward to it though, really confident, because we have the pace again. I think it could be a good fight tomorrow as all of us at the front have the same bike; it could make it very interesting. I'm hoping for a great battle.
Valentino Rossi
"My day was good. This morning was fantastic for me, because to finish FP3 in P1 is always a great feeling in Misano. Also, I had a good pace, and I felt good with the bike. Here at this track the Yamaha is very competitive, very strong. We need to come back at the top, to fight for top positions, because the two weekends in Austria were very difficult to manage. This afternoon we tried some different things. I was not fantastic, and everybody has big doubts about the tires, both front and rear, because the choice is very open. So, we have to see, we have to fix some things. It's a shame about the front row, but starting from the fourth position is still good, and our pace is not so bad. It looks like the Yamahas have a very good pace. The battle will be hard as always, because especially Maverick, but also Quartararo and Franco, have been riding very well since Friday morning, so I think that we will have to start well, have to improve for tomorrow and try to fight for the podium."
Maverick Viñales
"I'm really happy because that lap was amazing! Not just because it gave me pole position, but more so because of the time itself. When I saw 1'31.4s I thought "This is a good lap time!". We knew our potential and took everything we had, and we made a really good lap. Honestly, I'm quite happy and impressed that at the end of the day we were so fast. Breaking the lap record was really hard for me. This morning we were still riding 1'31.9s. We weren't completely sure what we would be able to do in the afternoon, but I felt so good, especially in FP4 on the hard tire. For tomorrow, we don't know what will happen, but today and also on Friday we were strong, so tomorrow we are going to try to be strong again. I will push from the beginning. For sure, the race will be very long and tough, so we're going to try to be smart, and then we'll see what we can do."
Valentino Rossi
"My day was good. This morning was fantastic for me, because to finish FP3 in P1 is always a great feeling in Misano. Also, I had a good pace, and I felt good with the bike. Here at this track the Yamaha is very competitive, very strong. We need to come back at the top, to fight for top positions, because the two weekends in Austria were very difficult to manage. This afternoon we tried some different things. I was not fantastic, and everybody has big doubts about the tires, both front and rear, because the choice is very open. So, we have to see, we have to fix some things. It's a shame about the front row, but starting from the fourth position is still good, and our pace is not so bad. It looks like the Yamahas have a very good pace. The battle will be hard as always, because especially Maverick, but also Quartararo and Franco, have been riding very well since Friday morning, so I think that we will have to start well, have to improve for tomorrow and try to fight for the podium."
Qualifying Results
| | | | |
| --- | --- | --- | --- |
| POS | RIDER | TEAM | TIME/GAP |
| 1 | Maverick Vinales | Yamaha | 1m31.411s |
| 2 | Franco Morbidelli | Petronas Yamaha | 0.312s |
| 3 | Fabio Quartararo | Petronas Yamaha | 0.380s |
| 4 | Valentino Rossi | Yamaha | 0.466s |
| 5 | Jack Miller | Pramac Ducati | 0.641s |
| 6 | Francesco Bagnaia | Pramac Ducati | 0.643s |
| 7 | Alex Rins | Suzuki | 0.679s |
| 8 | Joan Mir | Suzuki | 0.691s |
| 9 | Andrea Dovizioso | Ducati | 0.773s |
| 10 | Johann Zarco | Avintia Ducati | 0.807s |
| 11 | Pol Espargaro | KTM | 0.855s |
| 12 | Miguel Oliveira | Tech3 KTM | 0.912s |
| 13 | Aleix Espargaro | Aprilia | 0.884s |
| 14 | Takaaki Nakagami | LCR Honda | 0.971s |
| 15 | Danilo Petrucci | Ducati | 1.007s |
| 16 | Brad Binder | KTM | 1.123s |
| 17 | Tito Rabat | Avintia Ducati | 1.380s |
| 18 | Iker Lecuona | Tech3 KTM | 1.427s |
| 19 | Stefan Bradl | Honda | 1.504s |
| 20 | Bradley Smith | Aprilia | 1.755s |
| 21 | Alex Marquez | Honda | 1.922s |