Power cruises to easy win in Honda Indy 200 Race 1
Will Power took off from pole on the Mid-Ohio Sports Car Course and led every lap, except during pit stops (66 of 75 laps), to win the first half of the Honda IndyCar 200 doubleheader in his #12 Penske Chevy by 7-seconds.
Power never put a wheel wrong day.  It was his first ever win at Mid-Ohio after winning his 60th IndyCar pole earlier in the afternoon.
"We've had a pretty trying year," said Power.  "Everyone really has, with COVID and all the social distancing that we've had this year.  The fact we are out here racing and that fact that we have some fans here (in Mid-Ohio) is great.  This is what we love to do – we love to drive and we love to entertain.  But it's great to have the Verizon Chevrolet in victory lane.  This is probably the first race in 10 years that I've just gone hard the whole time.  So many other races, we try and save fuel and play the strategy game and a lot of times it just doesn't work out.  Today, we said 'let's just go hard.'  We said let's just go hard and use my race pace and see what happens – and we won the race. This was just a race to put down good laps after good laps.  It was just a flawless day and a flawless race.  The whole Verizon team did a great job.  It's great to see Verizon in victory lane again, because it's been a while.  It's also great to finally win at Mid-Ohio – I'm over the moon about that."
With rain clouds looming and Power comfortably out front, Power's teammate Josef Newgarden held off the #27 Andretti Honda of Alexander Rossi for 2nd in his #1 Penske Chevy.
"It was a pretty straight forward day," said Newgarden.  "Where we started is where we finished with the PPG Chevrolet.  It was good to get by Ryan (Hunter-Reay) right there at the beginning of the race and that helped us for sure.  But, congrats to Will (Power) – he is still Will Power. He's been knocked down a little this year, but he drove really well and that was a clinic he put on out there today.  I'm really happy for him, but we were just a couple of tenths slower than him all day long today.  I could kind of tell we were fighting for second today.  Team Chevy – a 1-2 (finish) for us – so that's good for them and I'm proud of that.  We just need to be a little better.  We picked up some good points today, which is good."
Graham Rahal came home 4th in the #15 Rahal Honda right behind Rossi while Ryan Hunter-Reay fought hard to hold off Felix Rosenqvist for 5th.
After starting back in 17th, points leader Scott Dixon finished 10th and saw his points lead shrink to 76 points over Newgarden.
The clouds finally opened up after the checkered flag.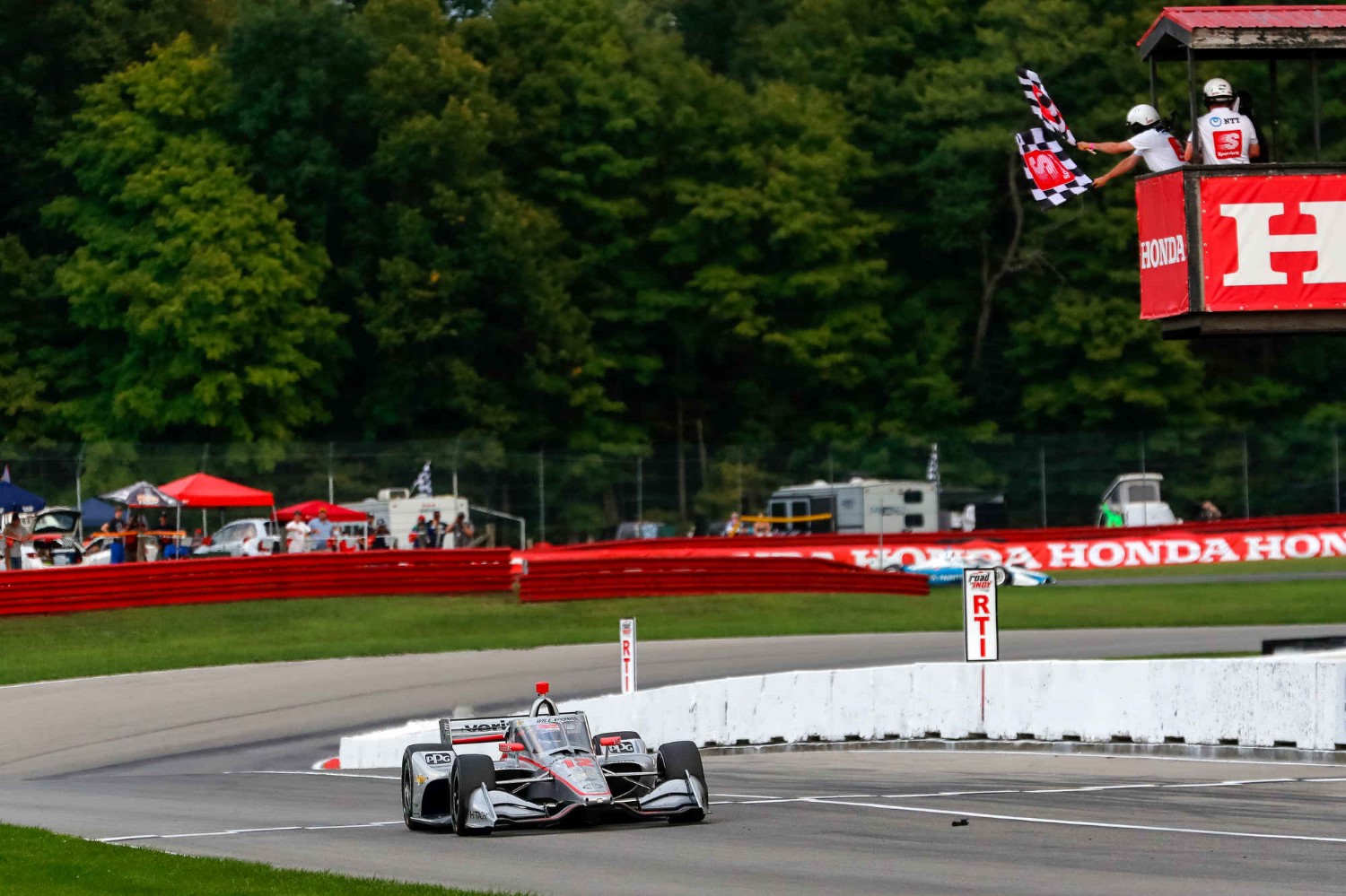 It was the fourth podium finish for Power this season, who last visited victory lane Sept. 1, 2019 at Portland International Raceway, 377 days ago. His previous podiums this season came at Road America-1, Iowa 2 and Gateway 2.
The Australian's victory was his first at Mid-Ohio and Team Penske's 11th win at the 13-turn, 2.258-mile road course, tying Chip Ganassi Racing with the most wins at the circuit. The win also extended Power's streak of consecutive seasons with at least one win to 14, dating back to 2007.
"It's just great to tick the Mid-Ohio box," Power said. "I've been on the podium here five times."
Power's biggest challenge came from 2016 Indianapolis 500 presented by Gainbridge winner Rossi, who used alternate pit strategies at every chance to try to get in front of 2018 Indy 500 winner Power.
On the first round of green flag pit stops between Laps 19-29, Rossi stayed out to try to overcut the leaders. Rossi led five laps during the cycle and jumped one position when green flag pit stops cycled through, from fifth to fourth.
Then, on Lap 46, Rossi was the first driver to pit as he flipped the script and attempted to undercut the leaders. Rossi gained another position, jumping from fourth to third once green flag pit stops cycled through on Lap 53.
Rossi held off a late-charging Rahal to score his second podium of the season. He also finished third at Road America-2.
"Yeah, it's good," Rossi said. "We just haven't had a lot of things go our way. I don't think we've had luck, but we haven't had pace, either. We're just really trying to go out and make the most of each opportunity we have for the rest of this year. The 27 NAPA/AutoNation guys did a great job. The car was good.
"Had we been able to clear Ryan a bit sooner and get Josef, we could have had a shot at it. The car's pace was really good. Regardless, it wasn't meant to be. Starting P6 was always going to be a bit of a challenge, but nonetheless it was a good day for us, and we get to do it all again tomorrow."
The biggest surprise might have come from points leader Scott Dixon, the winningest INDYCAR driver at Mid-Ohio with six victories. Dixon, whose most recent Mid-Ohio win came in 2019, quietly finished 10th, his second-worst finish of the season.
Dixon struggled in qualifying and started 17th. He looked strong early in the race, improving six spots in the first eight laps, placing him 11th. Unfortunately for Dixon, he remained around that spot for the remainder of the race.
Dixon's point lead over second place Newgarden shrunk by 20 points, and the five-time series champion leads the defending NTT INDYCAR SERIES champion by 76 points. Third-place Pato O'Ward, who finished 11th, is 120 points back of Dixon with four races left in the season
Winner's Quotes
WILL POWER, NO. 12 VERIZON TEAM PENSKE CHEVROLET RACE WINNER:
YOU FINALLY GOT IT DONE BUT MORE IMPORTANTLY, YOU GUYS JUST PUT TOGETHER A COMPLETE RACE. IT LOOKED FLAWLESS. WHAT DOES THAT DO FOR THIS TEAM MOVING FORWARD?
"It's great. It's been a pretty trying year. Obviously, for everyone it has. I mean, the circumstances are very tough with COVID-19 and all the social distancing that we have to do. But the fact that we're out here racing, and we have some fans is fantastic. We love to do it; we love to entertain, and we love to drive. I'm so happy to have the Verizon No. 12 car in Victory Lane. And this is probably the first race, I reckon, in about ten years that I haven't just gone hard. Every other race we save fuel and play a strategy game. Today I just said hey let's just go hard, man. Screw this. We don't want to get caught by a yellow. Let's just run hard and use my raw pace and see what happens. And we won the race, so it was a great strategy."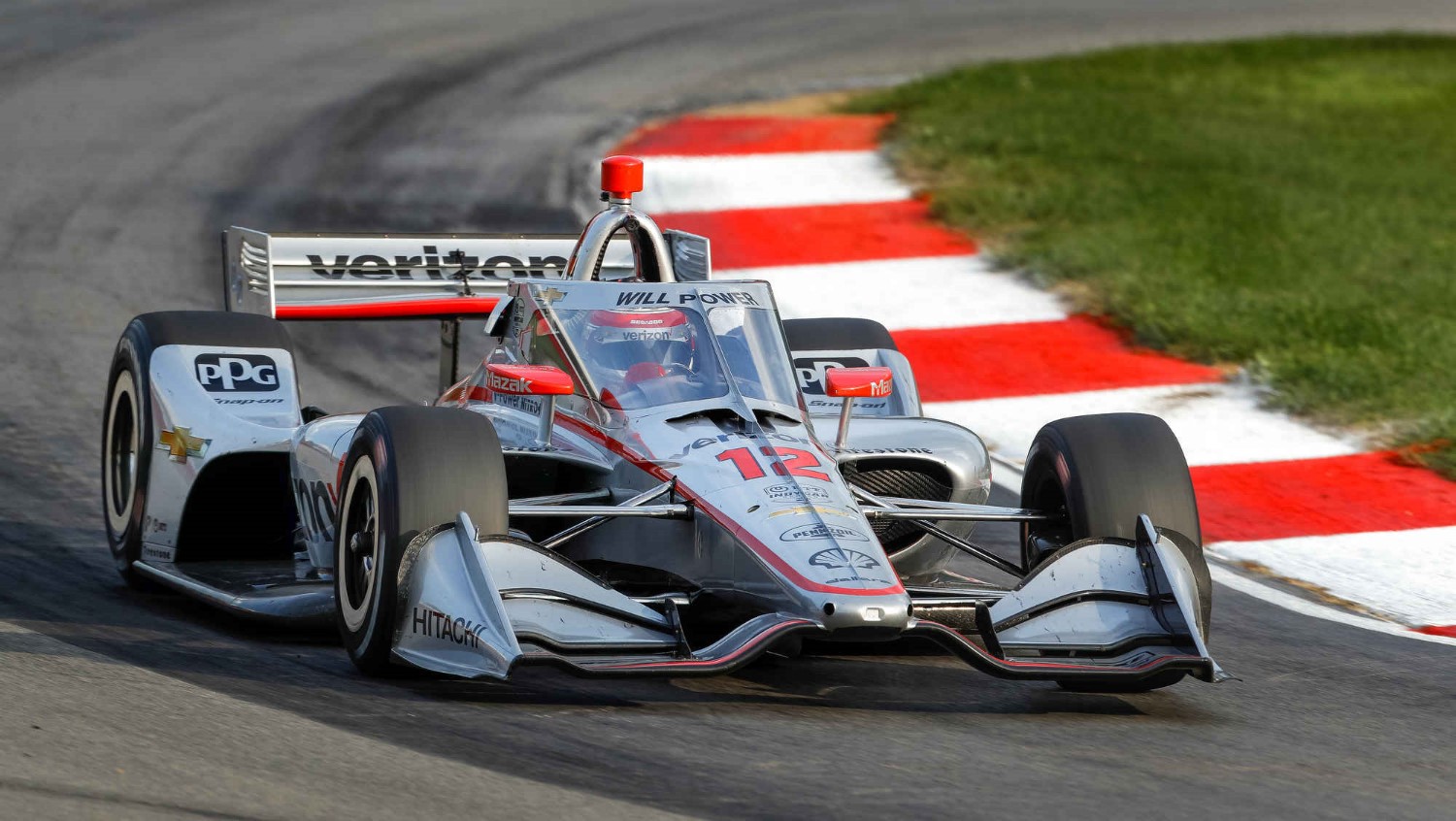 YOU MADE IT LOOK SO EASY. BUT BEHIND THE WHEEL, WERE THERE ANY MOMENTS THAT KIND OF GOT YOUR HEART RATE UP?
"No, it's just putting down good laps, lap after lap after lap. I'd get to someone I had to lap, and I'd get past and I'd push hard. It was just a flawless day. That's what you've got to do to win races in this series. The whole team did a fantastic job and to see Verizon in Victory Lane again is fantastic because it's been a while."
A COUPLE OF MILESTONES TODAY INCLUDING YOUR 60TH CAREER POLE, SECOND ALL-TIME. YOU ALSO PICK-UP YOUR FIRST WIN HERE AT MID-OHIO. WHAT DOES IT MEAN TO BE CHECKING SOME OF THOSE BOXES AND MOVING UP ON THE ALL-TIME WINS LIST, AS WELL?
"It's just great to tick the Mid-Ohio box. I have finished on the podium here five times; on the front row, I think we counted like nine times, and finally converted one. So, I'm absolutely over the moon."
THIS IS A VERY PHYSICAL COURSE. HOW DO YOU PREPARE TO COME BACK FOR THE SECOND RACE HERE EARLY TOMORROW?
"I'll definitely have an ice bath and a bit of massage and then try to sleep. It's hard to get the ole ticker to stop when you've executed like 75 hard laps. But we'll be all right. Everyone is in the same boat. I'm pretty fit. And I feel good."
---
JOSEF NEWGARDEN, NO. 1 PPG TEAM PENSKE CHEVROLET – Finished 2nd:
"It was a pretty straightforward day. We kind of finished where we started, I was lucky to get by Ryan Hunter-Raey at the start. We missed the chaos. It would have been amazing if this rain would have come 10 minutes sooner. I don't think I wanted this necessarily made a difference for us today, but it would have been fun to watch. Congrats to Will. He is still Will Power. He's been knocked down a little bit and has had some tough times. So really happy for him.
"I wish our PPG car could have been a little better. But I think we were a couple of tenths slower today each lap. I could kind of tell all race I was fighting for second. Team Chevy obviously did a great job so super proud of that.  Having PPG here in Ohio is always good.
"Tomorrow we just need to be a little bit sportier than we were. In the beginning it was kind of evident we couldn't run with Will. If we can pick up a couple of tenths a lap I think we can race with him. We did make up some points like you said. One place higher would have make it even bigger. We will do our best.
"I was tired after the hour and 15 minute practice which just shows you the physical toughness of this track. So to do another 75-lap race and get-up on the wheel to get something. I wish it would come through how tough these cars are to drive. Everybody up and down pit lane is working hard."
Race 1 Results
| | | | | | | | | | | |
| --- | --- | --- | --- | --- | --- | --- | --- | --- | --- | --- |
| Pos | No | Name | Laps | Diff | Gap | Led | ST | Engine | Points | Team |
| 1 | 12 | Will Power | 75 | 0.000s | 0.000s | 66 | 1 | Chevy | 280 | Team Penske |
| 2 | 1 | Josef Newgarden | 75 | 7.4523 | 7.4523 | 0 | 3 | Chevy | 360 | Team Penske |
| 3 | 27 | Alexander Rossi | 75 | 8.9922 | 1.5399 | 5 | 6 | Honda | 190 | Andretti Autosport |
| 4 | 15 | Graham Rahal | 75 | 9.2323 | 0.2401 | 0 | 8 | Honda | 268 | Rahal Letterman Lanigan Racing |
| 5 | 28 | Ryan Hunter-Reay | 75 | 13.2281 | 3.9958 | 0 | 2 | Honda | 225 | Andretti Autosport |
| 6 | 10 | Felix Rosenqvist | 75 | 14.1171 | 0.8890 | 0 | 7 | Honda | 236 | Chip Ganassi Racing |
| 7 | 60 | Jack Harvey | 75 | 18.2198 | 4.1027 | 0 | 5 | Honda | 207 | Meyer Shank Racing |
| 8 | 21 | Rinus VeeKay | 75 | 19.2468 | 1.0270 | 0 | 9 | Chevy | 205 | Ed Carpenter Racing |
| 9 | 88 | Colton Herta | 75 | 26.0264 | 6.7796 | 4 | 13 | Honda | 273 | Andretti Harding Steinbrenner Autosport |
| 10 | 9 | Scott Dixon | 75 | 32.7179 | 6.6915 | 0 | 17 | Honda | 436 | Chip Ganassi Racing |
| 11 | 5 | Pato O'Ward | 75 | 33.6137 | 0.8958 | 0 | 15 | Chevy | 316 | Arrow McLaren SP |
| 12 | 55 | Alex Palou | 75 | 34.4767 | 0.8630 | 0 | 20 | Honda | 178 | Dale Coyne Racing with Team Goh |
| 13 | 20 | Conor Daly | 75 | 39.3069 | 4.8302 | 0 | 4 | Chevy | 182 | Ed Carpenter Racing |
| 14 | 18 | Santino Ferrucci | 75 | 42.9962 | 3.6893 | 0 | 14 | Honda | 232 | Dale Coyne Racing with Vasser Sullivan |
| 15 | 8 | Marcus Ericsson | 75 | 43.6952 | 0.6990 | 0 | 21 | Honda | 199 | Chip Ganassi Racing |
| 16 | 59 | Max Chilton | 75 | 44.4717 | 0.7765 | 0 | 12 | Chevy | 82 | Carlin |
| 17 | 30 | Takuma Sato | 75 | 45.8415 | 1.3698 | 0 | 18 | Honda | 287 | Rahal Letterman Lanigan Racing |
| 18 | 22 | Simon Pagenaud | 75 | 46.2387 | 0.3972 | 0 | 10 | Chevy | 249 | Team Penske |
| 19 | 7 | Oliver Askew | 75 | 68.4106 | 22.1719 | 0 | 16 | Chevy | 166 | Arrow McLaren SP |
| 20 | 26 | Zach Veach | 74 | 1 LAPS | 34.5054 | 0 | 19 | Honda | 153 | Andretti Autosport |
| 21 | 4 | Charlie Kimball | 74 | 1 LAPS | 21.5818 | 0 | 22 | Chevy | 159 | AJ Foyt Enterprises |
| 22 | 14 | Dalton Kellett | 74 | 1 LAPS | 1.5666 | 0 | 23 | Chevy | 47 | AJ Foyt Enterprises |
| 23 | 98 | Marco Andretti | 74 | 1 LAPS | 4.8938 | 0 | 11 | Honda | 143 | Andretti Herta with Marco & Curb-Agajanian |
Race Statistics
Winner's average speed: 113.978 mph
Time of Race: 1:29:08.9095
Margin of victory: 7.4523 seconds
Cautions: None
Lead changes: 4 among 3 drivers
Lap Leaders:
Power 1 – 21
Rossi 22 – 26
Power 27 – 47
Herta 48 – 51
Power 52 – 75
NTT INDYCAR SERIES point standings: Dixon 436, Newgarden 360, O'Ward 316, Sato 287, Power 280, Herta 273, Rahal 268, Pagenaud 249, Rosenqvist 236, Ferrucci 232