Keselowski takes commanding win in Richmond
Brad Keselowski put on a command performance on Saturday night, solidifying his bid for a second NASCAR title with a victory Federated Auto Parts 400 at Richmond Raceway in the second race of the opening round of the NASCAR Cup Series playoffs.
Keselowski led a race-high 192 laps including the final 48 to beat out Martin Truex, Jr. and Keselowski's Penske teammate Joey Logano to power to his fourth victory of the season and 34th of his career, and in the process, automatically punches his ticket to the Round of 12.
Austin Dillon was fourth, follow by Chase Elliott.
It was a profound statement by the 2012 series champion, who hasn't made it past the second round of the playoffs in the last two seasons.
"It was a great race for us and the 2 team," said Keselowski. "I don't want to look too far ahead.  We've got to get there.  The next round is gonna be really difficult, but, still, I'm really pumped about this performance and the way we run at short tracks.
"The last two years I haven't made it all the way, so we've got to get all the way there, but if we can get to Phoenix, we're gonna be really good."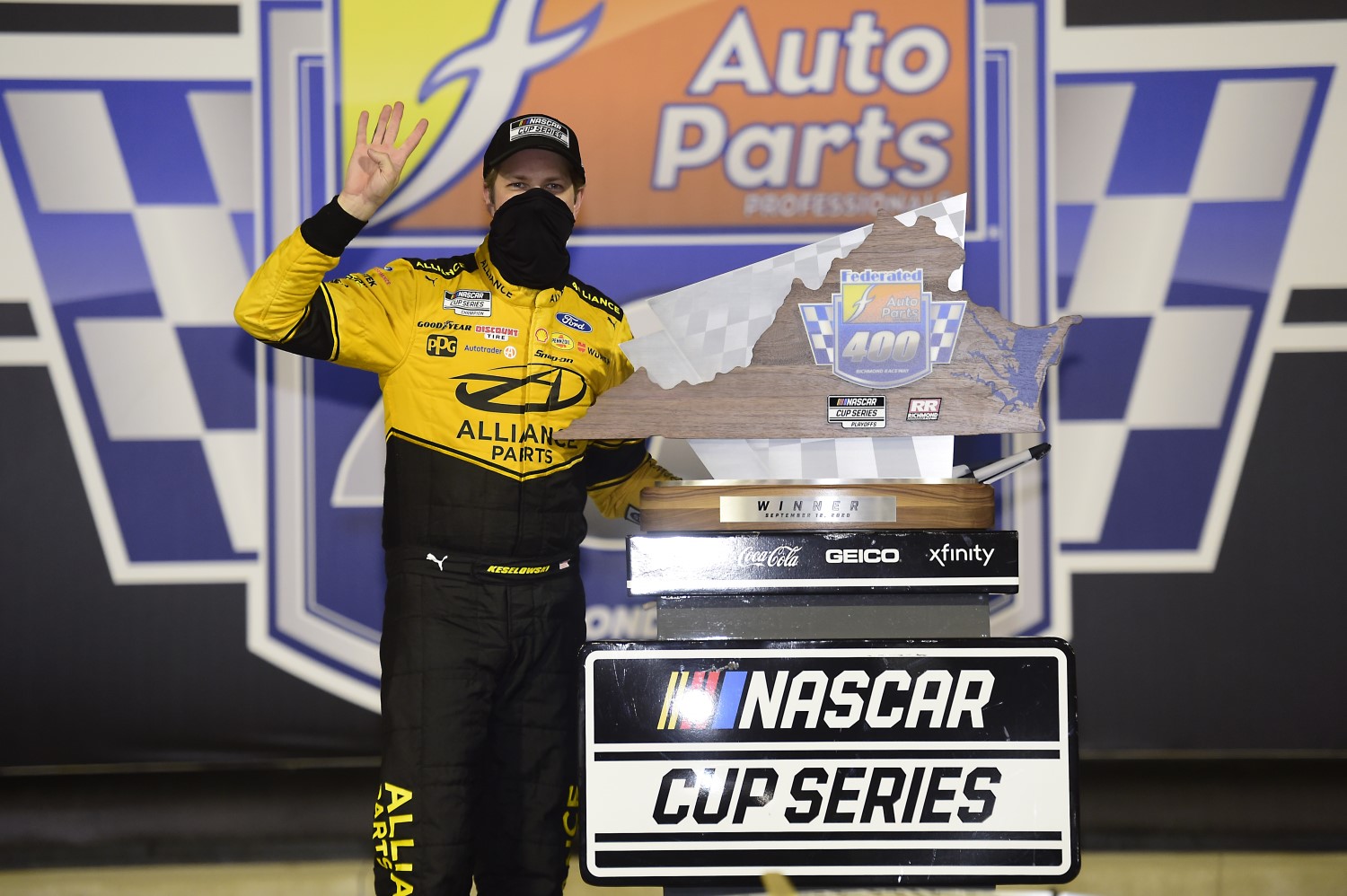 Keselowski started ninth on the night and wasn't much of a factor in the opening stage, as Austin Dillon surprised everyone with a strong run up front racing with Denny Hamlin, who scored the win in the first stage. Both drivers would get nabbed for speeding during the ensuing round of pit stops, and spend the first half of the second segment fight their way back through the field.
Keselowski took advantage and led for the first time in the second segment, fighting off charges from Kevin Harvick and resurging Austin Dillon en route to winning the second stage.
In the final 157-lap stage, Keselowski led the opening 50 laps trailed by Logano and Truex, Jr. Keselowski dominated the final stage, losing the lead briefly to Logano following a round of green-flag pit stops on with 92 laps to go and again to Austin Dillon with 50 laps to go before regaining the lead for the final time with a pass on Dillon on lap 353.
From there, Keselowski went nearly unchallenged to the finish, crossing the line 1.5 seconds over Truex, Jr.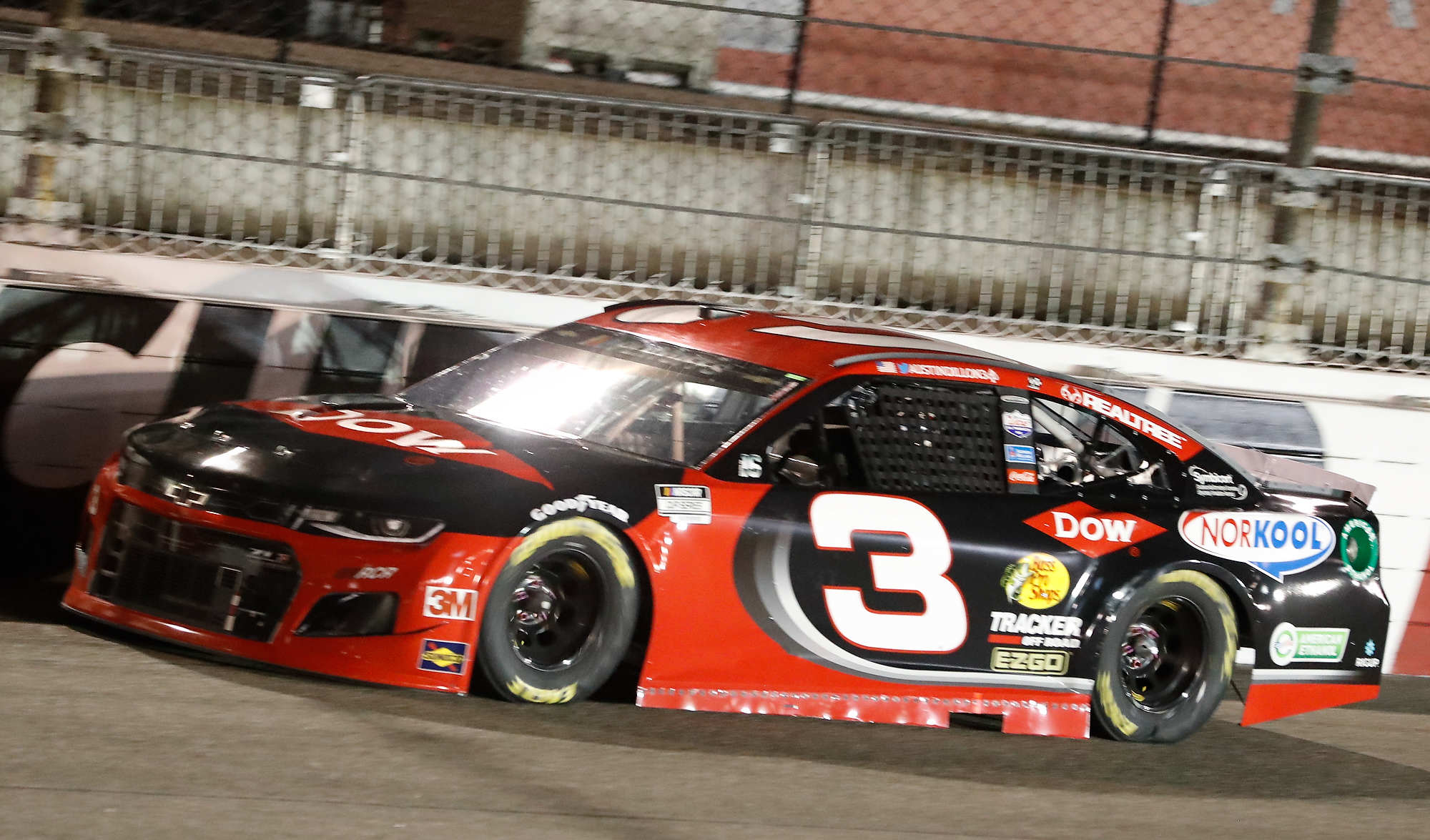 Saturday night's race featured just three caution flags – all of them scheduled, including a competition caution on lap 32 and the two stage breaks – leading to many teams having to adjust their pit strategies for long green-flag runs.
"I tell you, it's a chess game and I got blinders on.  I don't know what everybody is doing and who is where and who is on what strategy, but Jeremy Bullins, the whole 2 team, excellent performance," said Keselowski. "We knew this was gonna be a really big pit strategy race, but we had the speed, we had the strategy.  This team today did it all."
Truex's runner-up finish was a nice rebound from his disappointing run last week at Darlington, where he and Elliott tangled while battling for the lead late in the race. ….points, despite fighting all race with an ill-handling car.
"Just never really could get the balance right all night," said Truex, Jr. "It was slow on the short run early and slow on the long run late. Somewhere in between we would be pretty competitive, but we just never could really put it all together. I was really surprised that we ran second with how it felt early in the rave.
"It was a good rebound week. Obviously, want to win every one of them, but if we can run top-two or three every week like we've been for a while now, we'll be where we want to be."
Following his second-place finish last weekend at Darlington, Austin Dillon followed that up with his second top-five finish in a row with a fourth-place showing at Richmond – enough to bump him up to sixth in the playoff standings, 33 points above the cutoff.
"We had a massive day for stage points, which is going to help us out big picture-wise," said Dillon, who scored his career-best Richmond finish. "We had a speeding penalty in Stage 1, and to come from the back to the front in that Stage just shows how fast our Chevy was tonight
"This No. 3 team is on fire right now and showing up when it matters."
Kyle Busch finished sixth, followed by Harvick, Aric Almirola, Alex Bowman and Clint Bowyer.
Denny Hamlin struggled to make up ground late in the race and ended the day in 11th-place.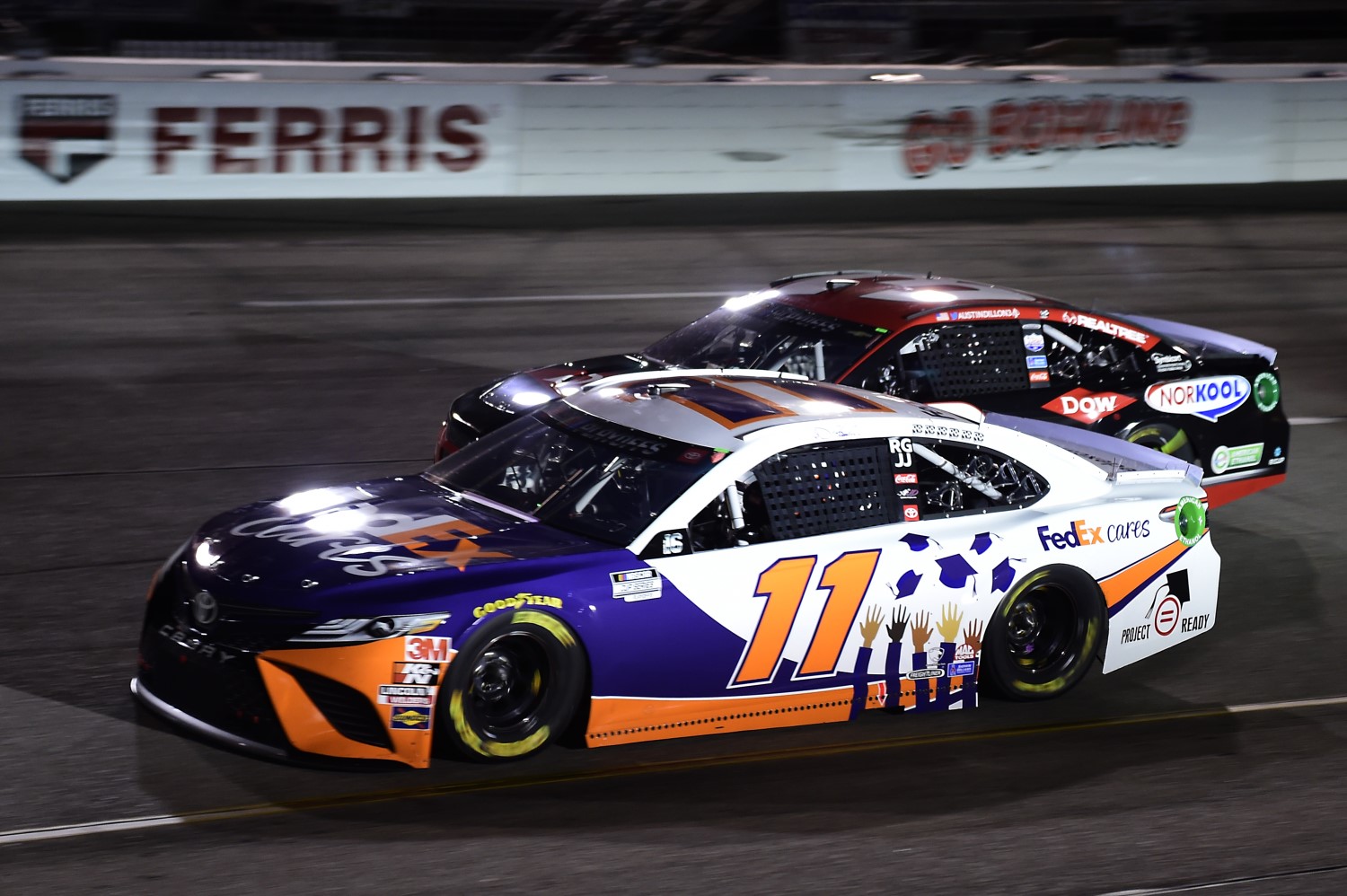 Matt DiBenedetto and Ryan Blaney found no help for their playoff chances, finishing 17th and 19th, respectively, and are now more than 25 points past the cutoff point to make it to the next round, both needed nothing short of a victory next weekend at Bristol in order to advance.
"We have to win next weekend. It is pretty plain and simple," said Blaney. "With the bad couple of races we have had here to start the playoffs off, we probably need to go out there and win Bristol. That is our mindset. That is our goal. It is our goal every week to win the race but now it is our season on the line. We will see if we can get it done."
Richmond Results
| | | | | | | | |
| --- | --- | --- | --- | --- | --- | --- | --- |
| Fin | Str | No. | Driver | Team | Laps | Status | Led |
| 1 | 9 | 2 | Brad Keselowski (P) | Western Star/Alliance Parts Ford | 400 | Running | 192 |
| 2 | 14 | 19 | Martin Truex Jr. (P) | Bass Pro Shops Toyota | 400 | Running | 0 |
| 3 | 2 | 22 | Joey Logano (P) | Shell Pennzoil Ford | 400 | Running | 45 |
| 4 | 3 | 3 | Austin Dillon (P) | DOW NORKOOL Chevrolet | 400 | Running | 55 |
| 5 | 12 | 9 | Chase Elliott (P) | NAPA Auto Parts Chevrolet | 400 | Running | 2 |
| 6 | 6 | 18 | Kyle Busch (P) | M&M's Toyota | 400 | Running | 4 |
| 7 | 1 | 4 | Kevin Harvick (P) | Hunt Brothers Pizza Ford | 400 | Running | 41 |
| 8 | 10 | 10 | Aric Almirola (P) | Smithfield Hometown Original Ford | 400 | Running | 0 |
| 9 | 4 | 88 | Alex Bowman (P) | ChevyGoods.com/Truck Hero Chevrolet | 400 | Running | 0 |
| 10 | 11 | 14 | Clint Bowyer (P) | Ford Performance Racing School Ford | 400 | Running | 0 |
| 11 | 22 | 8 | Tyler Reddick # | CAT Rental Store Chevrolet | 400 | Running | 0 |
| 12 | 7 | 11 | Denny Hamlin (P) | FedEx Cares Toyota | 399 | Running | 45 |
| 13 | 8 | 1 | Kurt Busch (P) | Monster Energy Chevrolet | 399 | Running | 15 |
| 14 | 13 | 41 | Cole Custer # (P) | HaasTooling.com Ford | 399 | Running | 0 |
| 15 | 26 | 95 | Christopher Bell # | Rheem Toyota | 399 | Running | 0 |
| 16 | 19 | 42 | Matt Kenseth | McDonald's Chevrolet | 399 | Running | 0 |
| 17 | 16 | 21 | Matt DiBenedetto (P) | Quick Lane Tire & Auto Center Ford | 399 | Running | 0 |
| 18 | 23 | 47 | Ricky Stenhouse Jr. | Kroger Chevrolet | 398 | Running | 0 |
| 19 | 15 | 12 | Ryan Blaney (P) | Menards/Libman Ford | 398 | Running | 0 |
| 20 | 24 | 37 | Ryan Preece | Kleenex Chevrolet | 398 | Running | 0 |
| 21 | 5 | 24 | William Byron (P) | Liberty University Chevrolet | 398 | Running | 0 |
| 22 | 17 | 20 | Erik Jones | Irwin SPEEDBOR Toyota | 398 | Running | 0 |
| 23 | 21 | 6 | Ryan Newman | Guaranteed Rate Ford | 397 | Running | 0 |
| 24 | 25 | 17 | Chris Buescher | Fastenal Ford | 397 | Running | 0 |
| 25 | 20 | 34 | Michael McDowell | Love's Travel Plaza Ford | 397 | Running | 0 |
| 26 | 30 | 43 | Bubba Wallace | Door Dash Chevrolet | 397 | Running | 0 |
| 27 | 34 | 32 | Corey LaJoie | Keen Parts Ford | 396 | Running | 0 |
| 28 | 27 | 13 | Ty Dillon | GEICO Chevrolet | 396 | Running | 0 |
| 29 | 28 | 96 | * Daniel Suarez | TOYOTA T-TEN Toyota | 396 | Running | 0 |
| 30 | 31 | 38 | John Hunter Nemechek # | MDS Trucking Ford | 396 | Running | 0 |
| 31 | 18 | 48 | Jimmie Johnson | Ally Chevrolet | 395 | Running | 0 |
| 32 | 33 | 0 | Quin Houff # | Trucker Appreciation Chevrolet | 390 | Running | 0 |
| 33 | 29 | 15 | Brennan Poole # | Chevrolet | 390 | Running | 1 |
| 34 | 32 | 27 | JJ Yeley(i) | Jacob Companies Ford | 388 | Running | 0 |
| 35 | 36 | 51 | Joey Gase(i) | donatelifevirginia.org Ford | 387 | Running | 0 |
| 36 | 35 | 77 | Reed Sorenson | Betterforyourhealth.com Chevrolet | 387 | Running | 0 |
| 37 | 38 | 53 | James Davison | Cruz and Associates Chevrolet | 385 | Running | 0 |
| 38 | 37 | 66 | * Timmy Hill(i) | CrashClaimsR.US Toyota | 100 | Rear Hub | 0 |