Herta wins pole for Honda Indy 200 in messy conditions
Late-night and early-morning stormy conditions at the Mid-Ohio Sports Car course caused chaos during IndyCar's qualifying session ahead of Sunday afternoon's Race 2 of the doubleheader weekend.
Four cars – including Saturday's pole-sitter and the winner of Race 1 Will Power – did not complete a single lap after plowing some Mid-Ohio Turn 1 dirt and grass while jockeying with teammate Josef Newgarden for the lead and clear air to start their runs.  Covered in mud – his Verizon Penske Chevy looked like a farm tractor.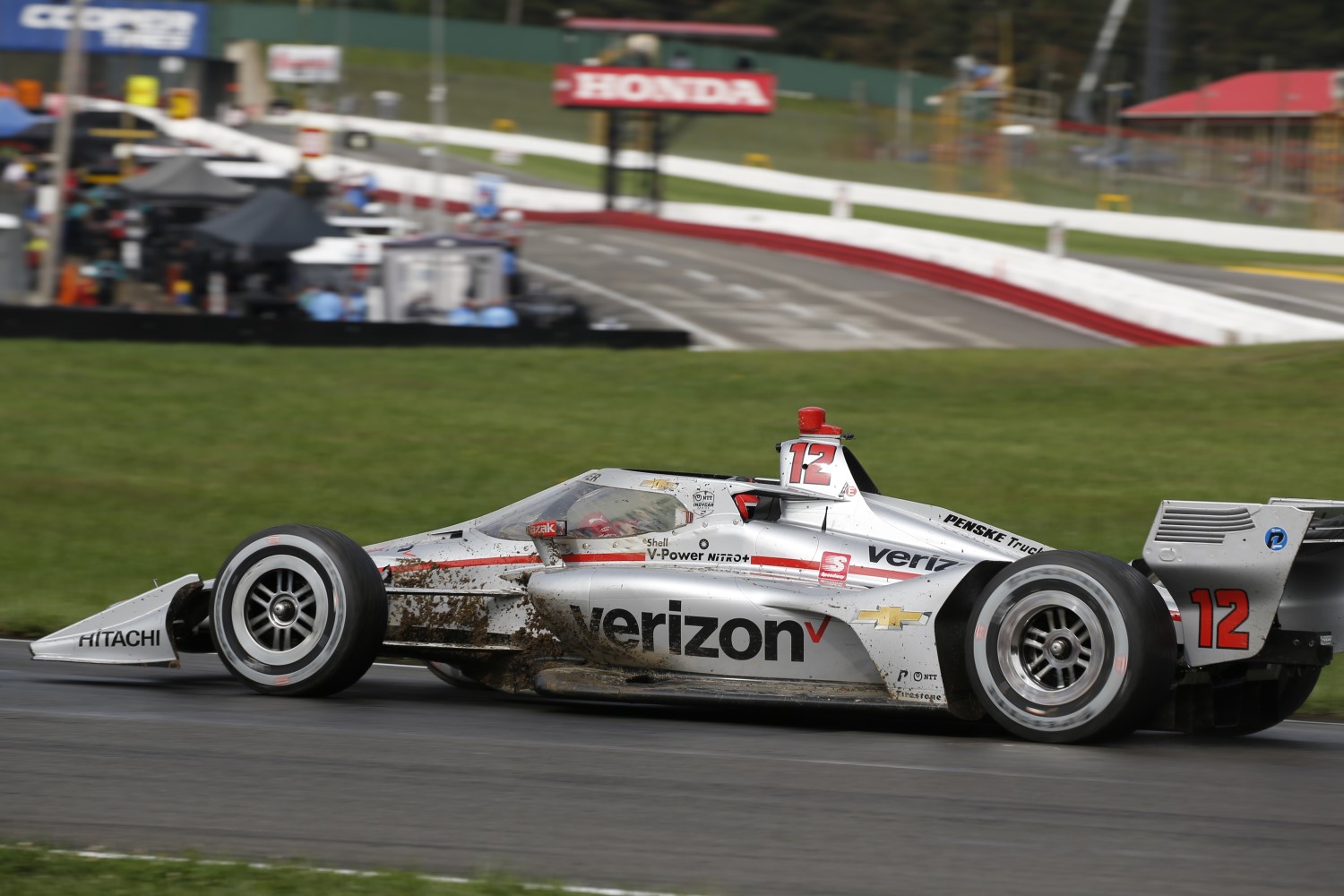 Moments later, Jack Harvey lost his rear tires and slammed into a tire barrier further down the track and had to have his car towed back to the garages.
After an extended red flag, Pato O'Ward spun his Arrow McLaren Chevy into the grass and caused another red-flag 45 seconds into the restart as the wet track made the IndyCar regulars look like a bunch of wankers. They plowed a lot of Ohio grass on Sunday morning.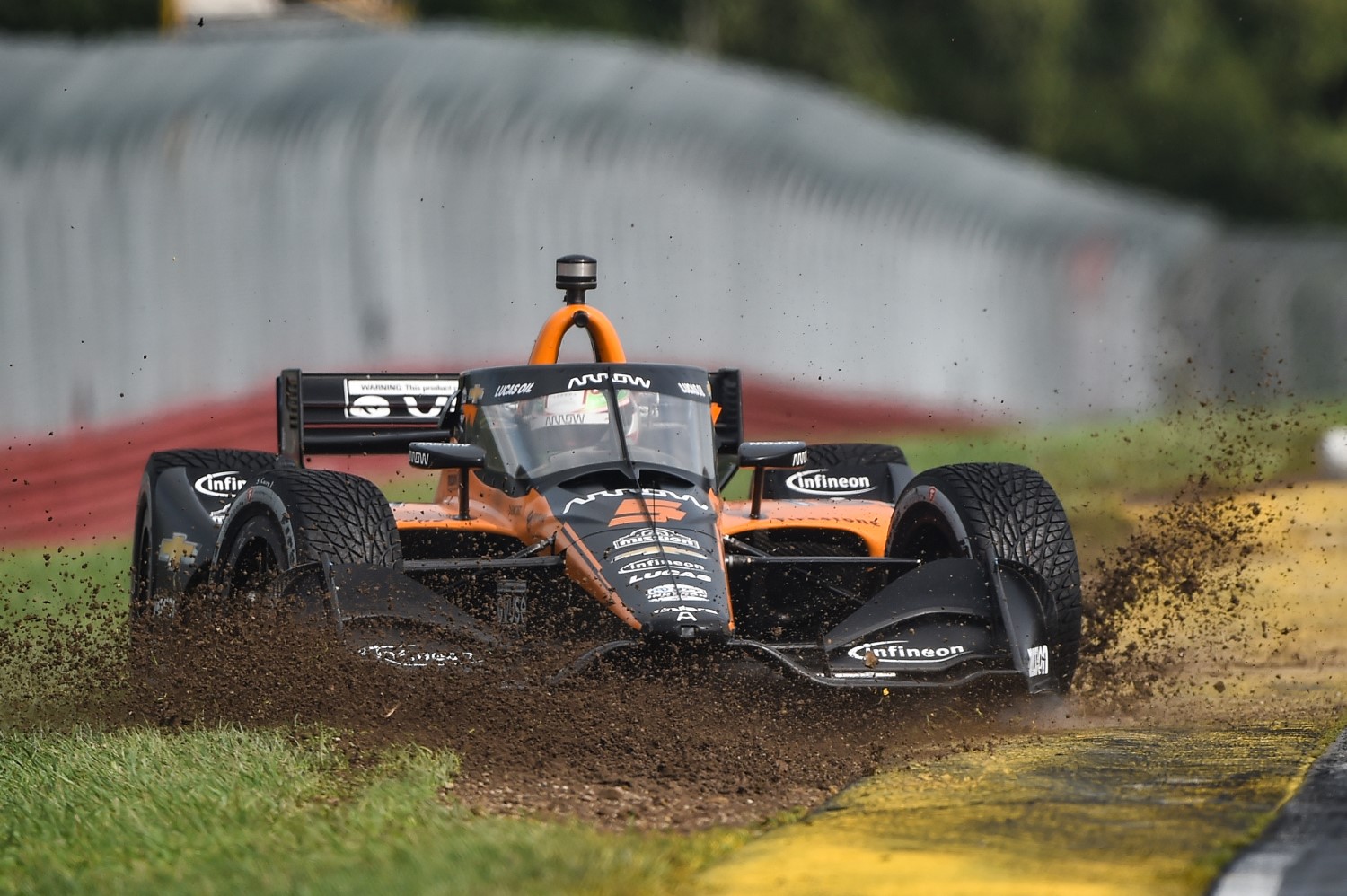 Tip-toeing on a slightly drying track in the 2nd qualifying group, Colton Herta put his Andretti Honda on pole for the 2nd half of the Honda Indy 200 doubleheader at Mid-Ohio.
Santino Ferrucci was quickest in the wetter Group 1 session and will start on the outside of row 1.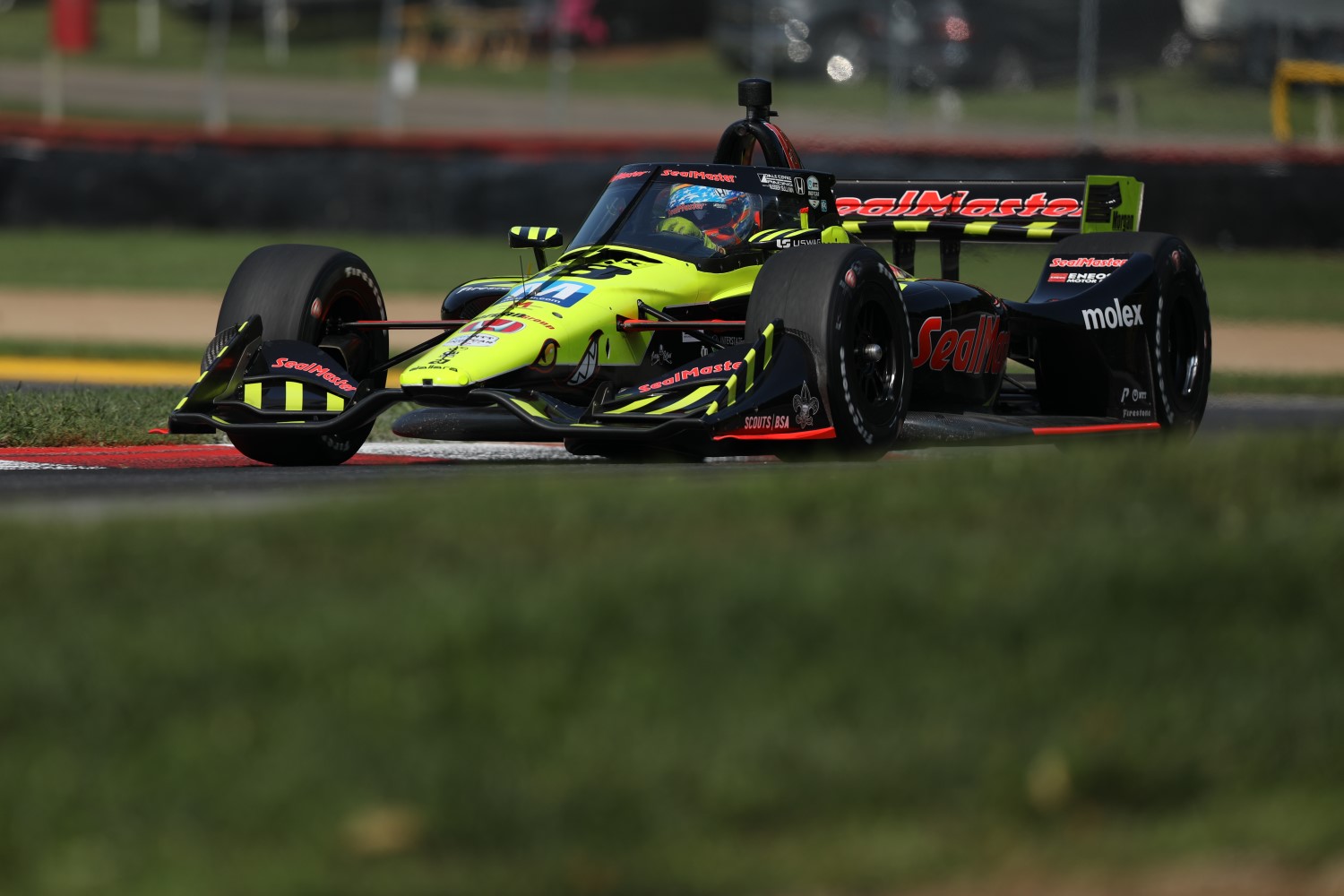 Points leader Scott Dixon will start 3rd in the #9 Ganassi Honda next to sensational rookie Alex Palou. The Dale Coyne team finished 1-2 (Ferrucci and Palou)  in the wetter session 1.
Felix Rosenqvist rounded out the top-5 in the 2nd Ganassi Honda.
Crashing on the wet track were yesterday's winner Will Power and Arrow McLaren SP driver Pato O'Ward.
The race starts at 1:00pm ET.
Race 2 Lineup
| | | | | | | |
| --- | --- | --- | --- | --- | --- | --- |
| Pos | Car | Driver Name | Engine | Time | Speed | Session |
| 1 | 88 | Herta, Colton | Honda | 01:26.2788 | 94.215 | Qualifications / Group 2 |
| 2 | 18 | Ferrucci, Santino | Honda | 01:27.4688 | 92.934 | Qualifications / Group 1 |
| 3 | 9 | Dixon, Scott | Honda | 01:27.0991 | 93.328 | Qualifications / Group 2 |
| 4 | 55 | Palou, Alex (R) | Honda | 01:30.7107 | 89.612 | Qualifications / Group 1 |
| 5 | 10 | Rosenqvist, Felix | Honda | 01:27.1414 | 93.283 | Qualifications / Group 2 |
| 6 | 22 | Pagenaud, Simon | Chevy | 01:31.7359 | 88.611 | Qualifications / Group 1 |
| 7 | 98 | Andretti, Marco | Honda | 01:27.4608 | 92.942 | Qualifications / Group 2 |
| 8 | 28 | Hunter-Reay, Ryan | Honda | 01:31.9096 | 88.443 | Qualifications / Group 1 |
| 9 | 1 | Newgarden, Josef | Chevy | 01:28.4174 | 91.937 | Qualifications / Group 2 |
| 10 | 27 | Rossi, Alexander | Honda | 01:32.7010 | 87.688 | Qualifications / Group 1 |
| 11 | 21 | VeeKay, Rinus (R) | Chevy | 01:29.0355 | 91.298 | Qualifications / Group 2 |
| 12 | 15 | Rahal, Graham | Honda | 01:33.1620 | 87.254 | Qualifications / Group 1 |
| 13 | 26 | Veach, Zach | Honda | 01:29.2354 | 91.094 | Qualifications / Group 2 |
| 14 | 7 | Askew, Oliver (R) | Chevy | 01:33.4681 | 86.969 | Qualifications / Group 1 |
| 15 | 8 | Ericsson, Marcus | Honda | 01:30.2652 | 90.055 | Qualifications / Group 2 |
| 16 | 20 | Daly, Conor | Chevy | 01:34.3343 | 86.170 | Qualifications / Group 1 |
| 17 | 12 | Power, Will | Chevy | No Time | No Speed | Qualifications / Group 2 |
| 18 | 59 | Chilton, Max | Chevy | 01:35.0273 | 85.542 | Qualifications / Group 1 |
| 19 | 60 | Harvey, Jack | Honda | No Time | No Speed | Qualifications / Group 2 |
| 20 | 14 | Kellett, Dalton (R) | Chevy | 01:35.0781 | 85.496 | Qualifications / Group 1 |
| 21 | 5 | O'Ward, Pato | Chevy | No Time | No Speed | Qualifications / Group 2 |
| 22 | 30 | Sato, Takuma | Honda | 01:39.8092 | 81.443 | Qualifications / Group 1 |
| 23 | 4 | Kimball, Charlie | Chevy | No Time | No Speed | Qualifications / Group 1 |