Sting Ray Robb Extends Championship Points Lead with Win at Mid-Ohio
Juncos Racing's Sting Ray Robb added his fifth win of the 2020 Indy Pro 2000 Championship Presented by Cooper Tires season during Round 12 of the doubleheader Surgere Indy Pro 2000 Grand Prix of Mid-Ohio this weekend. Teammate Artem Petrov earned two Top-5 finishes taking home fifth in Round 11 and fourth in Round 12. Robb now leads the Indy Pro 2000 Championship by 49 points with five races remaining.
The Indy Pro 2000 field returned for the fourth straight week in a row with Rounds 11 and 12 on the 2.258-mile, 13-Turn road course located at the Mid-Ohio Sports Car Course. One practice followed by two qualifying sessions kicked off the three-day event Friday.
Sting Ray Robb, who took over the points lead after three wins in the triple header at the Indianapolis Motor Speedway last week, qualified fourth for Round 11 and second for Round 12. Teammate Artem Petrov, driving the No. 42 Road To Success/Juncos Racing entry qualified sixth for Round 11, however an engine failure in qualifying for Round 12 put him in the 11th starting position. The crew worked overnight to repair the car in order to be ready for the first race of the weekend the following day.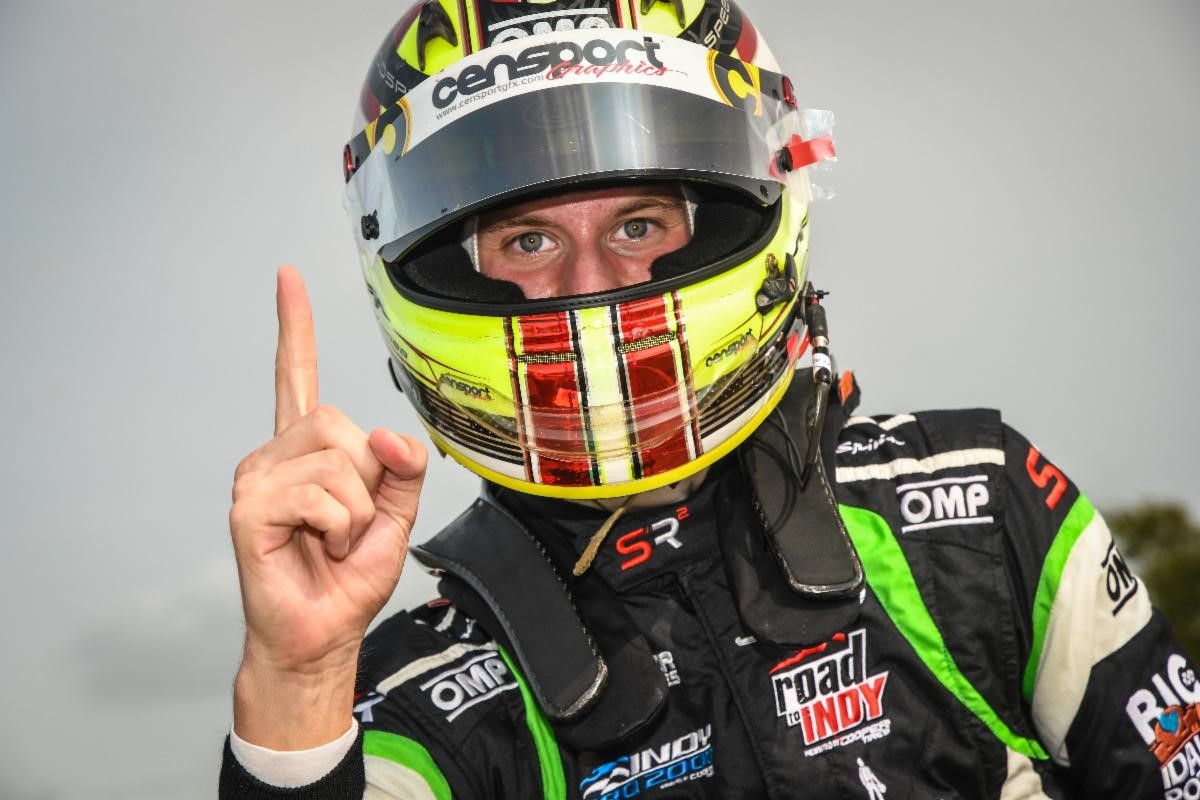 The Indy Pro 2000 field returned to the track Saturday for Round 11. The 25 lap race saw two cautions for drivers going off track and one lead change. Robb, driving the No. 2 Firehouse and Goodheart Animal Health Centers/Big Idaho Potato/Juncos Racing car finished where he started just off the podium in fourth. Petrov moved his way one position to finish just behind in fifth.
Race 1 How it Happened
Manuel Sulaiman today became the seventh different winner after just 11 rounds of an intensely competitive Indy Pro 2000 Championship Presented by Cooper Tires. Sulaiman, from Puebla, Mexico, held off a determined challenge from Singapore's Danial Frost (Turn 3 Motorsport), although both were trailing Sulaiman's unfortunate DEForce Racing teammate Parker Thompson until the Canadian suffered an engine failure midway through the 25-lap race.
New Zealander Hunter McElrea finished third for Pabst Racing, notching his fifth podium finish from his last seven starts.
The grid for the first of two races which will comprise this weekend's Surgere Indy Pro 2000 Grand Prix of Mid-Ohio was set in qualifying yesterday, with Frost claiming his first Cooper Tires Pole Award, fractionally ahead of Thompson and Sulaiman. All three were blanketed by just 0.057 of a second.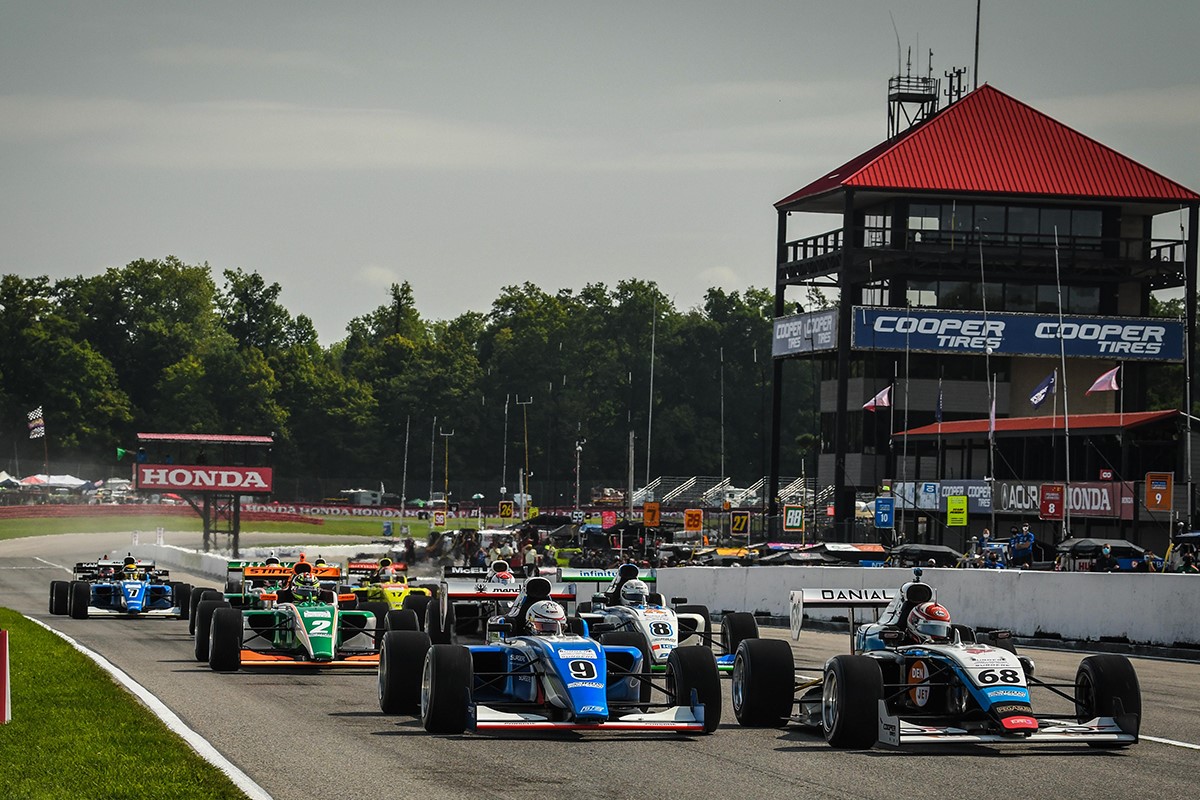 The two front row starters battled side by side as they entered Turn One, but it was Thompson who gained the upper hand to grasp the lead for the first time this season. Sulaiman slotted into third ahead of McElrea, who found a way past series points leader Sting Ray Robb (Juncos Racing), from Payette, Idaho, on the opening lap.
Devlin DeFrancesco (Andretti Steinbrenner Autosport) clung onto sixth, under intense pressure from the second Juncos Racing Tatuus PM-18 of Russia's Artem Petrov until the Italian-Canadian also experienced a mechanical problem which caused him to pull off the race track after five laps and brought out the caution flags for the first time.
Thompson continued to lead at the restart, only for his hopes of victory to expire dramatically just a handful of laps later. Cue another full-course caution.
Sulaiman, who already has two poles to his credit this season, took up the running once the green flags flew again, and even though Frost was never more than a few car lengths in arrears, Sulaiman held on expertly to secure the victory. He also secured a first-ever PFC Award for DEForce Racing.
McElrea lost a place to Robb after 10 laps but regained it again with just five laps remaining, and then added another championship point to his tally by posting the fastest lap on the last lap of the race.
After slipping back into clutches of teammate Petrov in the closing stages, Robb just managed to maintain the position, thereby extending his championship lead to 28 points over DeFrancesco.
Colin Kaminsky (Pabst Racing) from Homer Glen, Ill., finished sixth after a race-long battle with Jacob Abel (Abel Motorsports), from Louisville. Ky., who earned the Tilton Hard Charger Award after starting from 12th on the grid.
The second leg of the Surgere Indy Pro 2000 Grand Prix of Mid-Ohio is slated to start tomorrow at 9:00 a.m. EDT. Sulaiman again will start up front after edging Robb by just a scant 0.0291 of a second during a separate qualifying session yesterday afternoon.
Race 2 How it Happened
The floodgates well and truly opened for Sting Ray Robb. At the end of July, the youngster from Payette, Idaho, arrived at the Mid-Ohio Sports Car Course without a victory to his name after 48 previous starts in the Indy Pro 2000 Championship Presented by Cooper Tires. Fast forward six weeks and Robb, who recently celebrated his 19th birthday, now has five wins to his name for Juncos Racing and a commanding lead in the championship with just five races remaining this season. At stake is a scholarship valued at over $600,000 to cement graduation to Indy Lights Presented by Cooper Tires, the final step on the world-renowned Road to Indy Presented by Cooper Tires open-wheel development ladder, in 2021.
Parker Thompson, from Red Deer, Alb., Canada, finished second for DEForce Racing, followed by Abel Motorsports' Jacob Abel, from Louisville, Ky., who secured his first-ever Road to Indy podium.
Today's second leg of the Surgere Indy Pro 2000 Grand Prix of Mid-Ohio actually required most of the day to complete. The race began a little behind schedule this morning following a heavy rain shower, but then had to be stopped and restarted after the NTT INDYCAR SERIES headline event due to a variety of incidents and unsafe on-track conditions.
Mexico's Manuel Sulaiman originally started on pole position for DEForce Racing by virtue of claiming his third Cooper Tires Pole Award in qualifying on Friday. Unfortunately, moments after the green flag waved following a couple of exploratory laps behind the Pace Car, Sulaiman slid off the road and into the gravel trap at Turn One. Colin Kaminsky (Pabst Racing), from Homer Glen, Ill., and former points leader Devlin DeFrancesco (Andretti Steinbrenner Autosport), from Toronto, Ont., Canada, also fell victim to the treacherous conditions, leaving officials with little choice but to display the red flag. And with the clock ticking prior to NTT INDYCAR SERIES qualifying, the decision was made to reschedule the race until later in the afternoon, with the starting lineup determined by positions as they stood after one lap.
Robb, who initially had lined up second, duly inherited pole position for the rolling restart, flanked by Thompson. Row two of the grid was populated by Robb's teammate Artem Petrov, from Saint Petersburg, Russia, and Abel.
The weather at the second time of asking was perfect, sunny and warm and with all cars reshod with dry-weather Cooper tires. Robb made an exemplary start to lead the field into Turn One, and even though he remained under pressure from fellow Road to Indy veteran Thompson for the entirety of the remaining 20 laps, the American youngster made not the hint of a mistake. Robb's victory also brought a seventh PFC Award of the season for Ricardo Juncos as the winning team owner.
For Thompson, second place was bittersweet. He had seemed set for a long overdue first win of the season yesterday, only to be sidelined by an engine failure. Instead, it was DEForce teammate Sulaiman who took the checkered flag. With a fresh engine installed in his No. 9 car, Thompson tried his darnedest to complete a weekend sweep for the Texas-based team before ultimately having to settle for second.
A bold move on the opening lap saw Abel displace Petrov from third place, and even though he was unable to match the pace of the two leaders, Abel protected his third position all the way to the finish line, narrowly ahead of Petrov, Singapore's Danial Frost (Turn 3 Motorsport), Kaminsky and Sulaiman, who set the fastest lap of the race as he charged up from eighth on the reformed grid.
Abel also claimed the Tilton Hard Charger Award after having originally qualified 13th.
Robb's recent rich vein of form has catapulted him into a commanding 49-point lead over DeFrancesco, who finished a disappointing 11th, as the contenders head next to New Jersey Motorsports Park in Millville, N.J., for another triple-header event on October 10/11.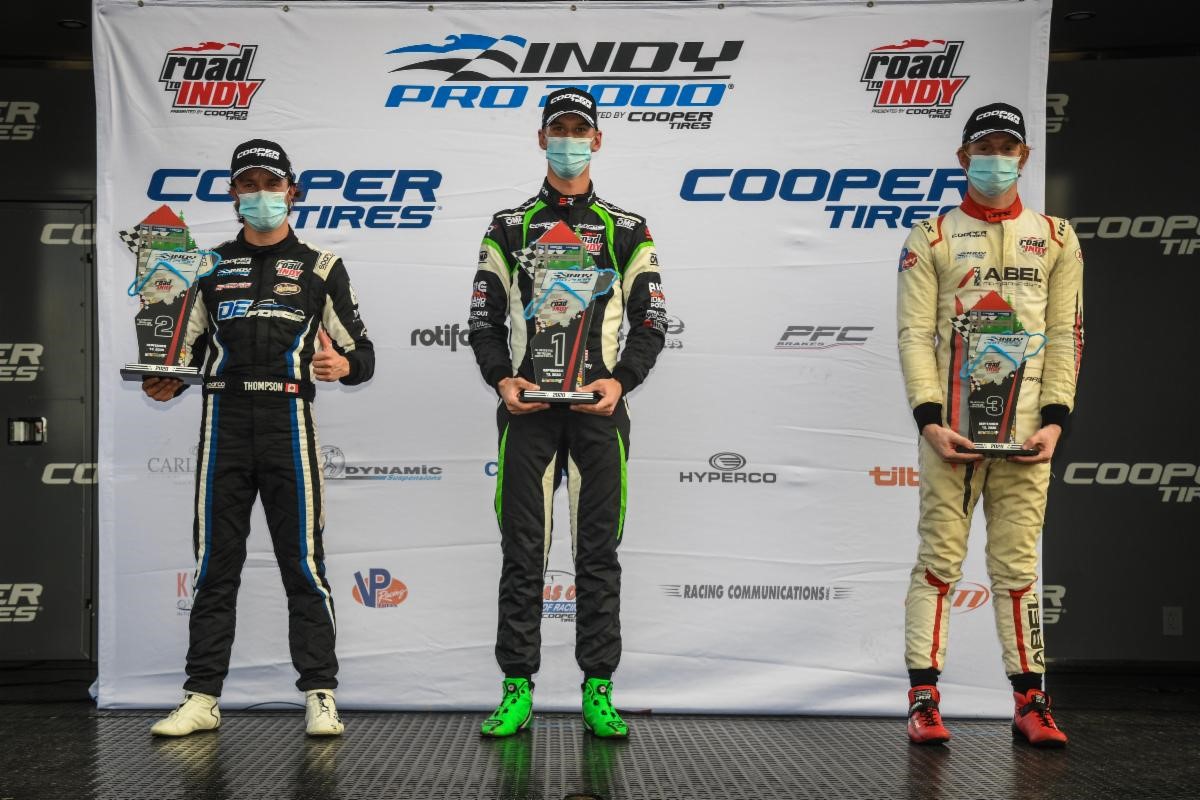 Provisional championship points after 12 of 17 rounds:
1. Sting Ray Robb, 306
2. Devlin DeFrancesco, 257
3. Artem Petrov, 243
4. Danial Frost, 242
5. Hunter McElrea, 219
6. Parker Thompson, 203
7. Manuel Sulaiman, 197
8. Braden Eves, 163
9. Colin Kaminsky, 161
10. Moises de la Vara, 142
Race 1 Quotes
Manuel Sulaiman (#8 Mandala/Viva Aerobus/Telcel/La Santa-DEForce Racing Tatuus PM-18): "This is just amazing, to achieve this win. We had the speed all weekend but we missed pole so that wasn't a good start, but we made up for it by getting the victory. It was so fun out there, especially since it is so difficult to pass. I knew we had the speed, I just waited to make my move. It's the first win for DEForce Racing, so that's so important for me and the team. They did a great job and they deserve this. I'm happy for them but I'm sorry for what happened to Parker. We could easily have been one-two."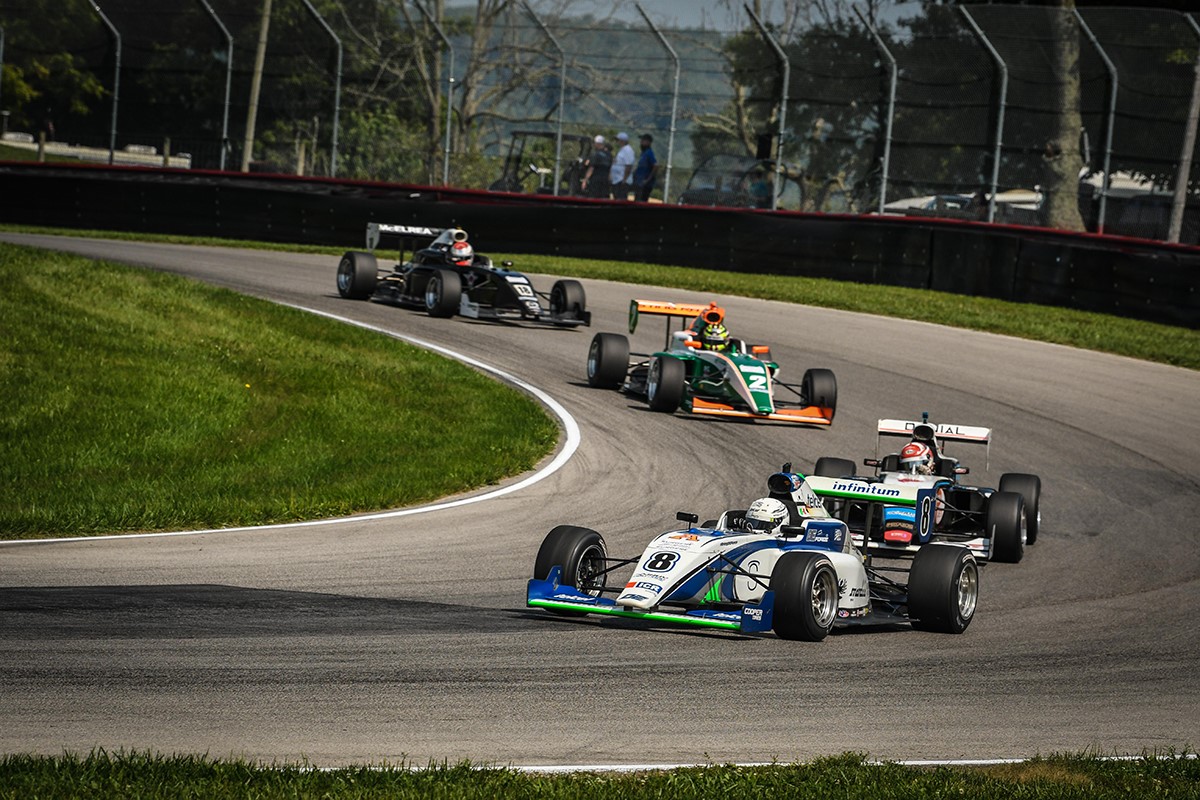 Danial Frost (#68 DEN-JET Turn 3 Motorsport Tatuus PM18): "There were some opportunities for the other drivers to get past me at the start so I tried my best to get back into it but the car just wasn't there early on. It really came on midway through the race and I could really push to the limits toward the end. I got close to Manuel but couldn't quite reach him. But it's a good result, good points and good momentum. So we'll focus on tomorrow's race and try to come out on top."
Hunter McElrea (#18 Giltrap Group/Miles Advisory Partners/Doric NZ/Bell-Pabst Racing Tatuus PM-18): "Well, I had four second-place finishes so I figured it was time to win, but I guess I needed to check off third place before I can get the win! I've been fast in practice and fast during the race numerous times. We just need to get our head around a quali car. We've made some good gains and we're in a good spot for tomorrow, starting third. I was a little weak on the restart and Sting Ray got by me, but I pushed him into a mistake and once I got past, I was gone – so we know the speed is there. I passed two cars today so if I can pass two cars tomorrow, we'll be in good shape."
Race 2 Quotes
Sting Ray Robb (#2 Firehouse-Goodheart Animal Health Centers-Juncos Racing Tatuus PM-18): "I'm so happy with how the weekend went. I thought we did a great job of adapting to all the changing conditions. We started out with an okay car. I was happy to qualify fourth and finish fourth yesterday. It helped us extend the points lead. Going out in the rain this morning was crazy, every lap just kept getting worse. I remember going into Turn Nine on the pace lap and there was a huge puddle. We decided to play it safe through the first few corners and that was all we needed to do to start up front on the restart. Parker was really fast, he made me work for it.
"We know we have a good points lead now but this doesn't change our strategy: We need to stay at the front of the pack all the time. Thanks to all the Juncos boys, they had their work cut out for them this weekend – and a huge thank you to all my supporters. It would be great to win that scholarship so they don't have to work so hard next year."
Parker Thompson (#9 DEForce Racing/Valkyrie Velocity-DEForce Racing Tatuus PM-18): "That was a tough one. I'm happy that DEForce got their first win on the Road to Indy yesterday, it was fantastic to see, but I definitely wanted my time in the limelight today. I thought it would be my time in the rain this morning. I think we had a good rain car and I've raced here before in the rain with some success. We got up to P2 on those first corners. But it's been a roller coaster of emotions this weekend, from missing out on pole by several hundredths of a second to missing out on a race win, then not getting to race in the rain today and settling for second. But I'm happy to get another podium for the team – I think we've shown that we're consistent challengers, race in and race out. But the No. 9 crew is going to want to get a win before we're done."
Jacob Abel (#51 Abel Construction/Bell Helmets-Abel Motorsports Tatuus PM-18): "There were so many unknowns this afternoon – I don't know if we've ever raced after two INDYCAR races! But that's just the way the weekend has gone. It's been crazy – we've had mechanical issues that really limited our track time, so a lot of bad luck to start the weekend. Our first full session was yesterday's race, but we had some pace, and I was able to charge forward. I had a good starting spot today and was fortunate to get through incidents in the rain this morning, which put me in a good position for the restart. We didn't have time to build up our setup, so it was a good result all things considered."
Race 1 Results
| | | | | | | | | |
| --- | --- | --- | --- | --- | --- | --- | --- | --- |
| Pos | SP | Car | Driver | Lap | Behind | Best Time | Pts | Status |
| 1 | 3 | 8 | Sulaiman, Manuel (R) | 25 | –.—- | 01:17.1133 | 31 | Running |
| 2 | 1 | 68 | Frost, Danial | 25 | 0.4058 | 01:17.0332 | 26 | Running |
| 3 | 5 | 18 | McElrea, Hunter (R) | 25 | 3.0990 | 01:17.0058 | 23 | Running |
| 4 | 4 | 2 | Robb, Sting Ray | 25 | 5.1469 | 01:17.4932 | 19 | Running |
| 5 | 6 | 42 | Petrov, Artem | 25 | 6.1372 | 01:17.6396 | 17 | Running |
| 6 | 10 | 19 | Kaminsky, Colin (R) | 25 | 7.3255 | 01:17.6449 | 15 | Running |
| 7 | 12 | 51 | Abel, Jacob | 25 | 8.0038 | 01:17.7489 | 14 | Running |
| 8 | 8 | 7 | Enders, Kory | 25 | 16.7780 | 01:18.2518 | 13 | Running |
| 9 | 11 | 3 | Comeau, Antoine | 25 | 17.1375 | 01:17.7711 | 12 | Running |
| 10 | 9 | 6 | de la Vara, Moises | 25 | 17.4699 | 01:18.4216 | 11 | Running |
| 11 | 13 | 57 | Kaminsky, Bob | 25 | 40.1861 | 01:20.4476 | 10 | Running |
| 12 | 14 | 83 | Finelli, Charles | 17 | -8 laps | 01:21.0695 | 9 | Contact |
| 13 | 2 | 9 | Thompson, Parker | 11 | -14 laps | 01:18.0192 | 8 | Mechanical |
| 14 | 7 | 17 | DeFrancesco, Devlin (R) | 4 | -21 laps | 01:19.1050 | 7 | Mechanical |
Race 2 Results
| | | | | | | | | |
| --- | --- | --- | --- | --- | --- | --- | --- | --- |
| Pos | SP | Car | Driver | Lap | Behind | Best Time | Pts | Status |
| 1 | 2 | 2 | Robb, Sting Ray | 22 | –.—- | 01:17.2475 | 31 | Running |
| 2 | 4 | 9 | Thompson, Parker | 22 | 1.0993 | 01:17.3434 | 25 | Running |
| 3 | 13 | 51 | Abel, Jacob | 22 | 8.6153 | 01:17.8615 | 22 | Running |
| 4 | 11 | 42 | Petrov, Artem | 22 | 9.0393 | 01:17.8642 | 19 | Running |
| 5 | 5 | 68 | Frost, Danial | 22 | 9.6488 | 01:17.8283 | 17 | Running |
| 6 | 7 | 19 | Kaminsky, Colin (R) | 22 | 10.2724 | 01:17.7824 | 15 | Running |
| 7 | 1 | 8 | Sulaiman, Manuel (R) | 22 | 10.7889 | 01:16.9605 | 16 | Running |
| 8 | 8 | 6 | de la Vara, Moises | 22 | 18.0206 | 01:18.1805 | 13 | Running |
| 9 | 3 | 18 | McElrea, Hunter (R) | 22 | 19.7028 | 01:17.2607 | 12 | Running |
| 10 | 10 | 3 | Comeau, Antoine | 22 | 20.8571 | 01:17.8639 | 11 | Running |
| 11 | 6 | 17 | DeFrancesco, Devlin (R) | 22 | 21.0113 | 01:17.9516 | 10 | Running |
| 12 | 12 | 57 | Kaminsky, Bob | 21 | -1 Lap | 01:20.4247 | 9 | Running |
| 13 | 14 | 83 | Finelli, Charles | 21 | -1 Lap- | 01:21.3847 | 8 | Running |
| 14 | 9 | 7 | Enders, Kory | 0 | -22 Laps | No Time | 7 | Contact |