IndyCar Mid-Ohio Honda Indy 200 postscript (And a word on Hamilton)
We talk all the time about Scott Dixon as this generation's greatest IndyCar driver, and I would contend that statement is justified. At 40 years of age, Dixon, Mid-Ohio notwithstanding,  is arguably driving as well as he ever has, and looks poised to earn his sixth IndyCar title this season. And if he can maintain this form for a few more seasons, the ultra-fit Dixon has an outside chance of launching an assault on A.J. Foyt's all-time record of 67 American Championship Racing victories.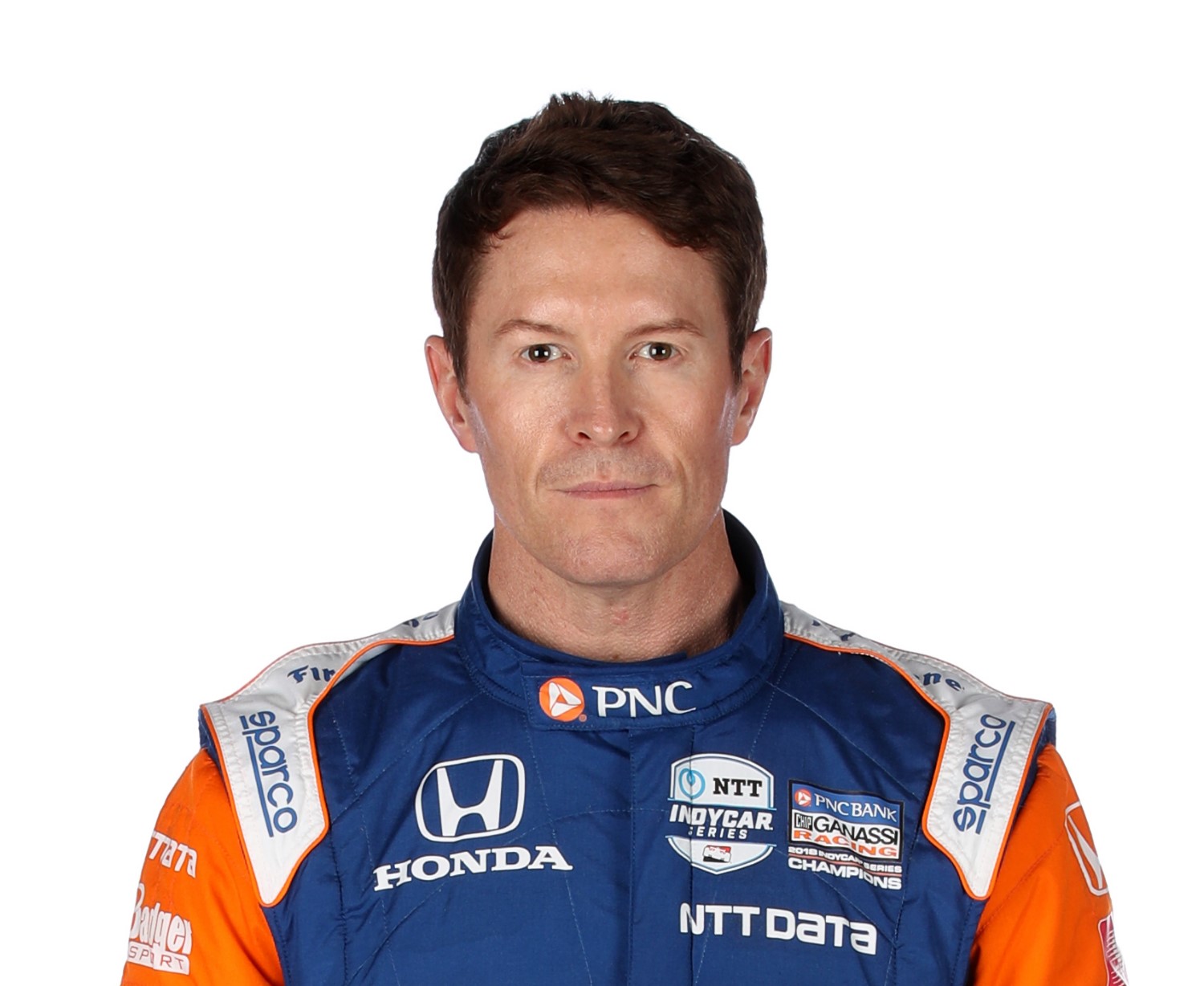 The above noted, with all the praise people such as myself lavish in the direction of Dixon (again, justifiably), it could be argued that we sometimes miss exactly what Will Power has accomplished. The 39-year-old Aussie scored his 60th career pole (second all-time) and 38th career win (6th all-time) Saturday. Considering Power scored his first win at the track most associated with Dixon's success, this might be a good time to take a brief look at the resume of Power's accomplishments.
First off, many may not know this, but Power is the winningest IndyCar driver in the history of Team Penske. Granted, he has been with the team for all or parts of 12 seasons, a luxury not many Team Penske drivers have enjoyed. Of course, one could also say that the ability to last that long at the sport's most decorated team has afforded Power this luxury. And when you consider the impressive list of names that have been in the employ of the sport's most decorated team, the fact Power has gone to victory lane the most does get one's attention.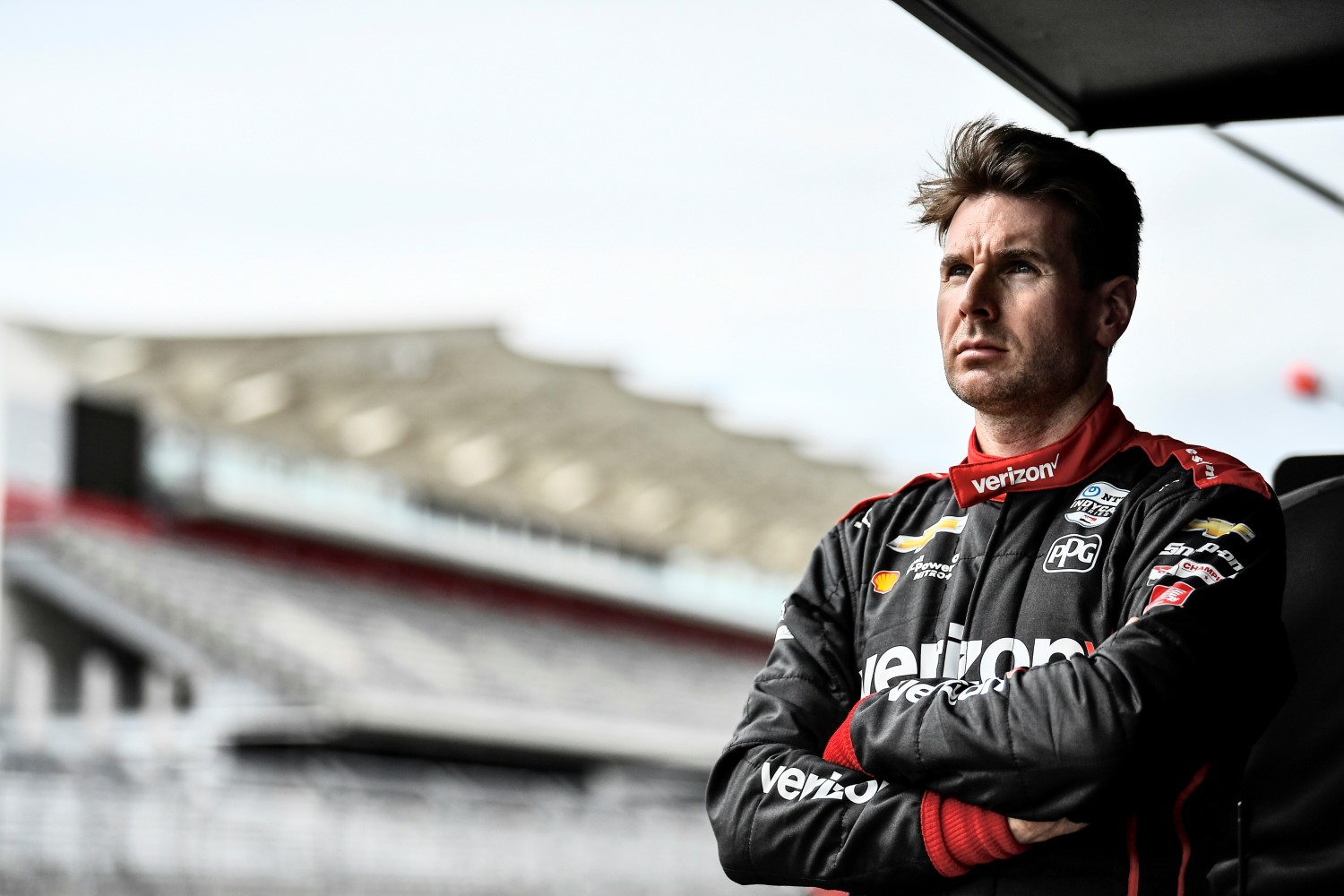 Now, just because he has the most wins doesn't make Power the most decorated driver in the history of the team. That distinction in my view is reserved for one Rick Mears. With his 4 Indianapolis 500 wins, cool, calm, calculated race craft, Mears was the driver most significant in helping to create the Penske brand. And even to this day no driver is more linked with the Penske brand than Mears.
However, this much is also true: no driver has won as much for as long as Power at Team Penske. And that's quite an accomplishment that probably deserves more attention than it has received from those such as myself.
Herta
Colton Herta managed to repeat Power's feat Sunday, winning race 2 from pole in largely dominant fashion. Perhaps, more impressive was Herta won pole by over a second in sloppy conditions that morning.
As indicated by his 3 IndyCar podium finishes all being wins, Herta clearly has the ability to close the deal when on his game. And save for two 19th-place finishes at Iowa this season, Herta has finished every race in the top-10, recording five top-5 finishes.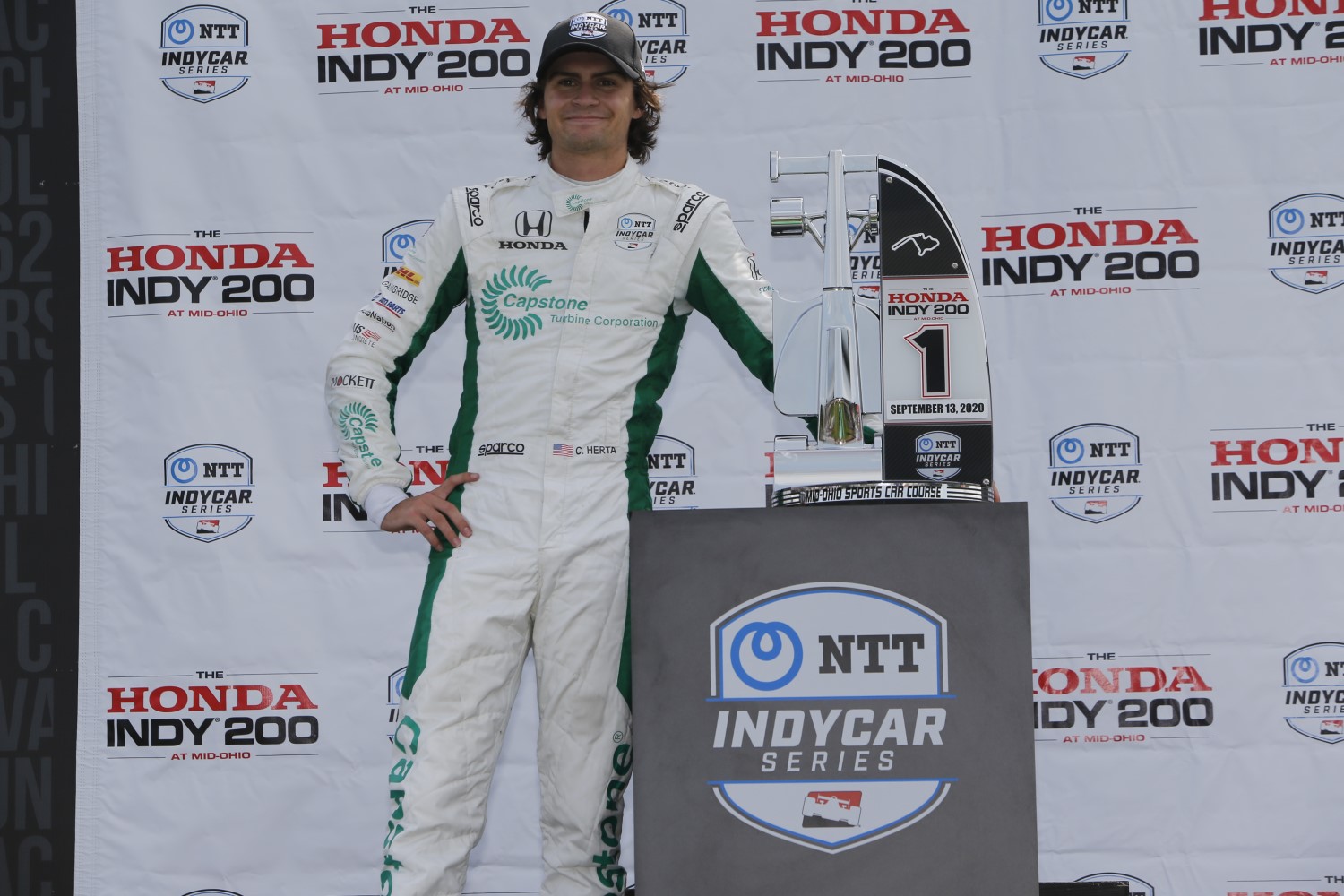 I'll be honest in noting that I am still getting my head around Herta so to speak. But the 20-year-old son of four-time Indy car winner Bryan Herta has a calm and demeanor combined with clear talent that screams future success. And he's beating all his Andretti teammates in the 2020 points chase.
As for Herta's teammates…..
After everyone had made their first pit stop during the opening stint Saturday, Alexander Rossi found himself in fourth-place behind teammate Ryan Hunter-Reay. Rossi, however, had gone longer during the first stint and was on the softer Firestone Reds, while Hunter-Reay, second-place Josef Newgarden and leader Power were on Blacks.
Now, if this were an F1 race, the call would have been easy: the driver on the lesser-preferred tire (RHR) would have yielded to the driver on optimal rubber (Rossi). Of course, F1 is fundamentally a Constructors' Championship and the interest of the team supersede that of the driver.
In IndyCar, it's a little different as there is no team championship. The cars of Hunter-Reay and Rossi are outfitted with their own individual sponsors. Thus, in business terms, Andretti Autosport would have been telling longtime supporter DHL to yield to longtime supporter NAPA. And this would have been something of a difficult decision to explain to Hunter-Reay and DHL (understandably).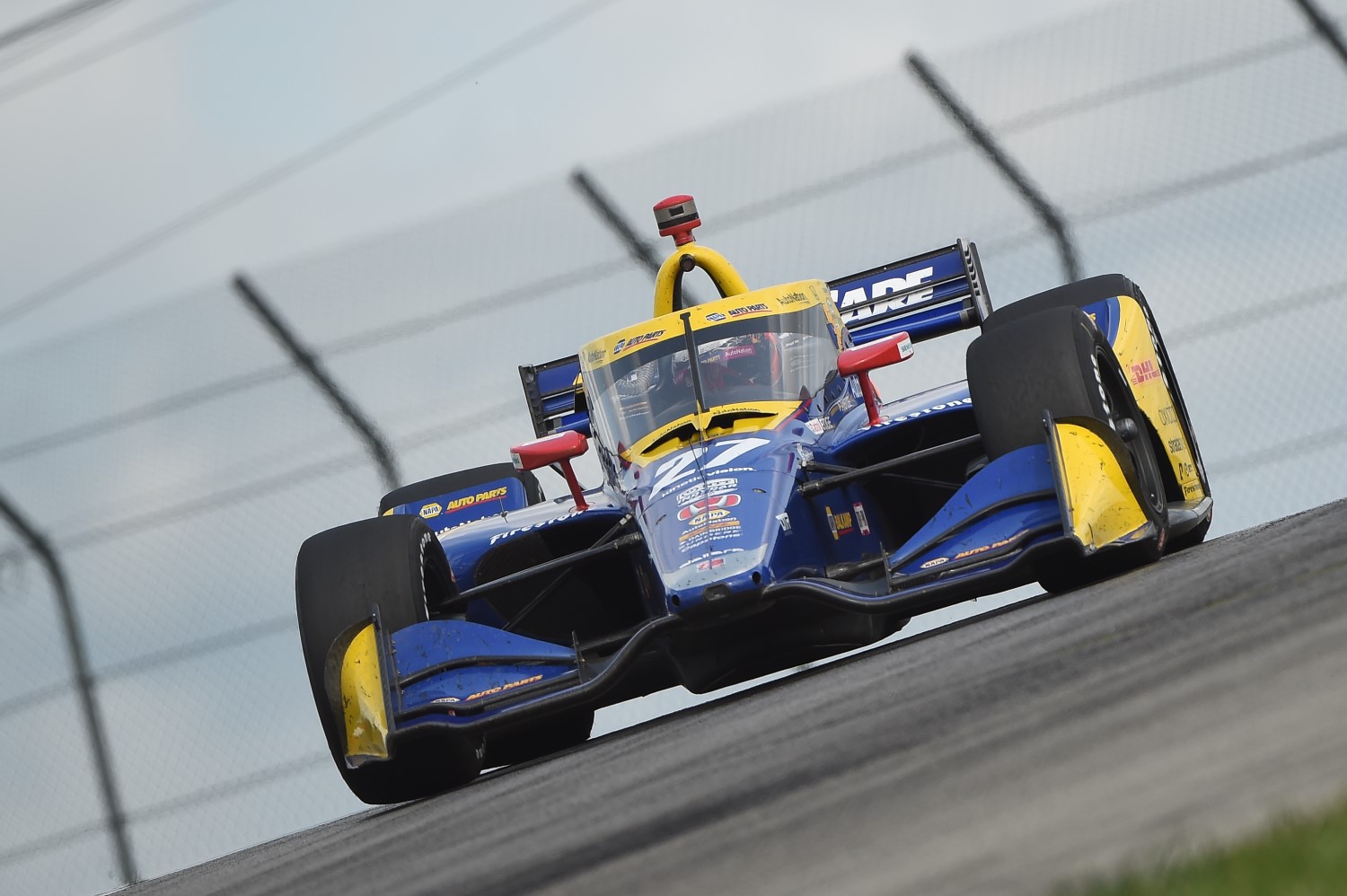 Complicating factors noted, RHR was unable to make any significant headway on the Penske cars on the same tire, and Rossi was unable to get by Hunter-Reay despite being on Reds. While Rossi ultimately finished third, the opportunity for Andretti Autosport to legitimately pressure the Penskes and perhaps earn a position on pit stops was squandered during that second stint.
Yes, it would have been a difficult call for Andretti Autosport. But the decision the team did make ultimately guaranteed the Penske pair would go unchallenged.
Hamilton
Let me be crystal clear in stating that I am not here to offer an opinion on Lewis Hamilton's political views. What follows would be the exact same if instead of wearing an "Arrest the cops who killed Breonna Taylor" shirt, Hamilton wore a MAGA hat on an F1 podium.
See, that time on the podium celebrating a Grand Prix win before a worldwide audience does not exist to support justice for Breonna Taylor, Donald Trump or whatever Lewis Hamilton wants to agitate for. It belongs to the sponsors of the team and race who have paid for that time and exposure and rightfully earned that time and exposure.
Second, do you know anyone who has ever said "I'm going to watch Formula One, because Lewis Hamilton is SO WOKE"? I don't. But I have heard people say they are willing to turn off the races over social justice matters as we've seen with declining ratings with the NFL, NASCAR and the NBA. Contrast this with the PGA, who has almost entirely avoided any political nonsense, and seen their ratings GO UP!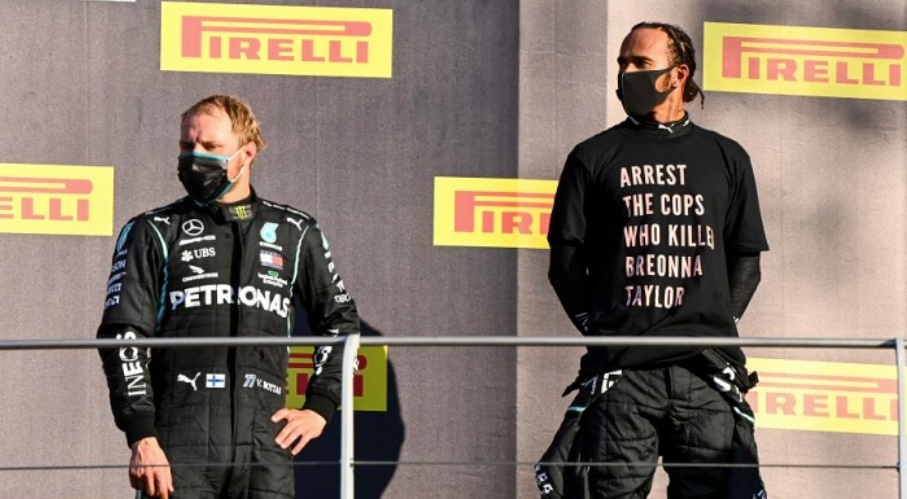 Sure, the sample size isn't enormous, but the data we have indicates that inserting politics into what people expect to be entertainment inevitably turns off part of your audience.
Shame on Lewis Hamilton for depriving F1 sponsors of their rightful exposure in lieu of advancing his agenda. Shame on Toto Wolff and Mercedes for acquiescing to their very talented driver in allowing his agenda to make a mockery of the podium celebration. And most of all shame on Formula One Management for letting Hamilton's antics get to this point.
With a simple $30 AR1 subscription, FOM could have avoided a lot of this nonsense. You might remember about a month ago, I wrote that Formula One Management needed to get Hamilton under control. At the time, his manufacturer had already surrendered a near century of branding by changing his car's paint scheme; FOM had allowed Hamilton and other drivers to protest before races; Hamilton had also been allowed to display a Black Lives Matter symbol.
Was all that good enough? Of course not. Hamilton had to escalate his agitation Sunday by making the podium his own political show. And there is no telling what he has planned next.
On A Related Note
Give INDYCAR credit for avoiding any of this political nonsense during their races. Yes, drivers will express political views on Twitter and it is your right to agree or disagree with their views. But during the race broadcasts, the series has been almost entirely apolitical.
Bravo to IndyCar
Brian Carroccio writes for AutoRacing1.com and can be reached at BrianC@AutoRacing1.com