#7 Toyota wins pole for 24 Hours of Le Mans
The #7 Toyota will start the 88th Le Mans 24 Hours from the front after earning a fourth consecutive pole position at the Circuit de la Sarthe as it chases a hat-trick of victories for the TS050 HYBRID in the legendary French race.
Kamui Kobayashi in the #7 car he shares with Mike Conway and José María López set a fastest lap of 3mins 15.267secs to earn his third pole position at Le Mans. The nearest challenger, Rebellion #1, was 0.555secs adrift.
Kazuki Nakajima earned third place in the #8 TS050 HYBRID he drives alongside Sébastien Buemi and Brendon Hartley following a tight battle at the front, setting a lap time just 1.382secs away from pole on the 13.626km circuit.
Pole position was decided by the new hyperpole format for the first time this year; the top six cars from each class, as determined by Thursday's qualifying session, fought for top spot in a 30-minute session. With fewer cars on track, traffic was less of a challenge, theoretically giving drivers a better chance to set clean flying laps.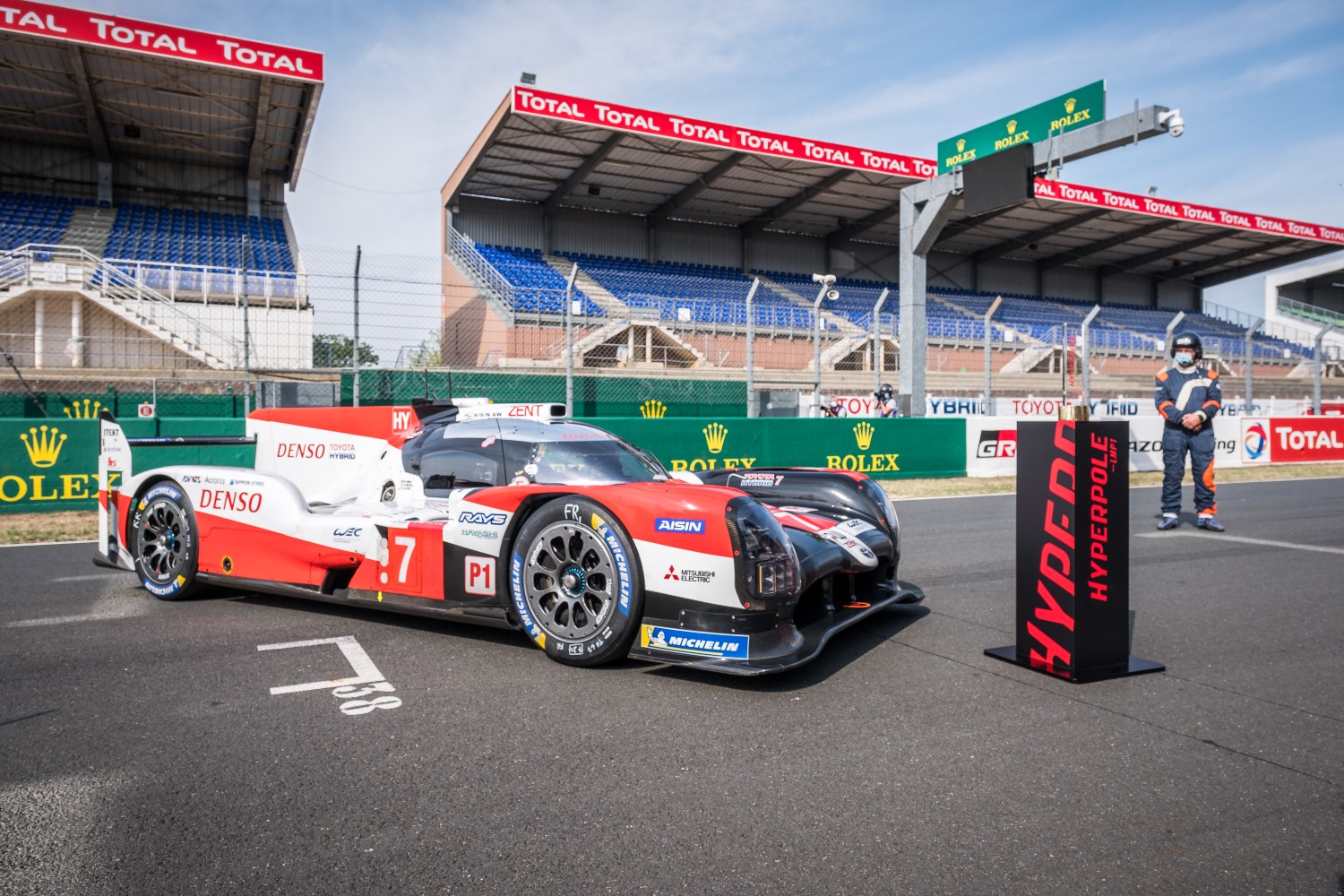 With temperatures of 23°C on a sunny late morning, the two TS050 HYBRIDs hit the track and took on the significant task of challenging Kamui's fastest-ever Le Mans lap of 3mins 14.791secs, set in 2017. Kamui got close and looked on course to beat it before having to abandon his final fast lap due to a track limits violation.
Nevertheless, with an average speed of 251.2km/h his lap was an impressive achievement and added to the pole positions he earned in Le Mans in 2017 and 2019. It ensures the 1,000hp, four-wheel-drive TS050 HYBRID will start its final Le Mans 24 Hours from the front, before a new hypercar-based category replaces the current LMP1 machines from next year.
The 59-car grid will start the 88th Le Mans 24 Hours, the penultimate round of the 2019-2020 FIA World Endurance Championship (WEC) season, at 2.30pm local time on Saturday.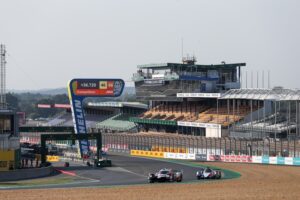 LMP1 Highlights
•    Kamui Kobayashi was quickest in Hyperpole at the wheel of the No 7. Toyota TS050 Hybrid. The Japanese driver set a lap time of 3:15.267 early in the session
•    Rebellion Racing's Gustavo Menezes clocked 3:15.822 in the Rebellion R13 Gibson, 0.555s adrift of Toyota's pace-setting time
•    Menezes' time in the No. 1 car is the quickest LMP1 non-Hybrid lap time in the history of Le Mans
•    Third quickest was the No. 8 Toyota driven by Kazuki Nakajima
•    Rebellion Racing's No. 3 car and the ByKolles Sport No. 4 Enso CLM P1/01 finished fourth and fifth respectively completing the top five grid positions ahead of tomorrow's race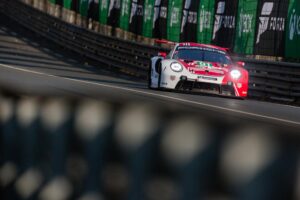 LMGTE Pro Highlights
•    Three different WEC manufacturers – Porsche, Ferrari and Aston Martin – finished in the top three after Hyperpole
•    Porsche takes the top spot for tomorrow's race as the No. 91 Porsche 911 RSR – 19 driven by Gimmi Bruni clocked the fast time in Hyperpole with 3:50.874
•    James Calado was second fastest in the Ferrari 488 GTE Evo, the Briton 0.241s adrift of the No. 91 Porsche
•    Aston Martin Racing will start third in LMGTE Pro tomorrow after Marco Sorensen was third fastest in the No. 95 Aston Martin Vantage
•    No. 97 (Aston Martin), No. 71 (Ferrari) and No. 92 (Porsche) fourth, fifth and sixth respectively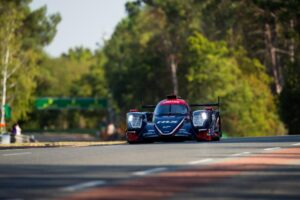 LMP2 Highlights
•    WEC category leaders United Autosports will lead the 24 LMP2 entries tomorrow after the No. 22 ORECA clocked a blisteringly quick time of 3:24.528 with Paul Di Resta at the wheel
•    ELMS entry G-Drive Racing second fastest, with No. 29 Racing Team Nederland third after recovering from an early off-track excursion with Nyck De Vries at the wheel
•    Danish WEC team High Class Racing fourth out of the six LMP2 cars competing in Hyperpole as Kenta Yamashita set a time of 3:25.426
•    Sister United Autosports car fifth overall, with No. 37 Jackie Chan DC Racing starting tomorrow's race in sixth position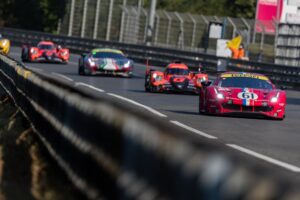 LMGTE Am 
•    In LMGTE Am, reigning ELMS GTE Champions Luzich Racing topped the Hyperpole times with Come Ledogar clocking 3:51.266 in the Ferrari 488 GTE Evo
•    Quickest out of the full-time WEC entrants and starting second in Am tomorrow is the No. 77 Dempsey Proton Racing entry as Matt Campbell ended Hyperpole 0.056s adrift of Ledogar
•    Rounding out the top three in Am Hyperpole was the No. 56 Team Project 1 entry in another Porsche 911 RSR
•    Aston Martin Racing (No. 98), TF Sport (No. 90) and Gulf Racing (No. 86) finished fourth, fifth and sixth respectively
•    Several lap times were deleted throughout the field due to abuse of track limits
Tomorrow's 24 hour race will commence at 14h30 CEST.
Pole Quote
Kamui Kobayashi (TS050 HYBRID #7): "I am really happy to be on pole position again. The team did a great job to prepare our car for this. In hyperpole we had two chances to set a quick lap, so we played it a bit safe with the first one. On the second one I pushed to the maximum but unfortunately I had to abandon the lap. It had been a quick lap up until then; I was trying to break my record and it was close. I think there was a chance to go faster so it's a pity it was deleted. Race speed looked good in practice so now we have to do the 24 hours. We have worked really hard to get to this point, so we will do our best for the race."
Race Lineup
| | | | | | | | |
| --- | --- | --- | --- | --- | --- | --- | --- |
| Pos | Class | No. | Drivers | Team | Time | Behind | Gap |
| 1 | LMP1 | 7 | Conway M. Kobayashi K. Lopez J. | Toyota Gazoo Racing | 3:15.267 | – | – |
| 2 | LMP1 | 1 | Menezes G. Nato N. Senna B. | Rebellion Racing | 3:15.822 | +0.555 | +0.555 |
| 3 | LMP1 | 8 | Buemi S. Hartley B. Nakajima K. | Toyota Gazoo Racing | 3:16.649 | +1.382 | +0.827 |
| 4 | LMP1 | 3 | Berthon N. Deletraz L. Dumas R. | Rebellion Racing | 3:18.330 | +3.063 | +1.681 |
| 5 | LMP1 | 4 | Dillmann T. Spengler B. Webb O. | Bykolles Racing Team | 3:23.043 | +7.776 | +4.713 |
| 6 | LMP2 | 22 | Albuquerque F. Di Resta P. Hanson P. | United Autosports | 3:24.528 | +9.261 | +1.485 |
| 7 | LMP2 | 26 | Jensen M. Rusinov R. Vergne J. | G-Drive Racing | 3:24.860 | +9.593 | +0.332 |
| 8 | LMP2 | 29 | De Vries N. Van Der Garde G. Van Eerd F. | Racing Team Nederla | 3:25.062 | +9.795 | +0.202 |
| 9 | LMP2 | 33 | Fjordbach A. Patterson M. Yamashita K. | High Class Racing | 3:25.426 | +10.159 | +0.364 |
| 10 | LMP2 | 32 | Brundle A. Owen W. Van Uitert J. | United Autosports | 3:25.671 | +10.404 | +0.245 |
| 11 | LMP2 | 37 | Aubry G. Stevens W. Tung H. | Jackie Chan Dc Racing | 3:25.875 | +10.608 | +0.204 |
| 12 | LMGTE Pro | 91 | Bruni G. Lietz R. Makowiecki F. | Porsche GT Team | 3:50.874 | +35.607 | +24.999 |
| 13 | LMGTE Pro | 51 | Calado J. Pier Guidi A. Serra D. | AFCorse | 3:51.115 | +35.848 | +0.241 |
| 14 | LMGTE Pro | 95 | Sørensen M. Thiim N. Westbrook R. | Aston Martin Racing | 3:51.241 | +35.974 | +0.126 |
| 15 | LMGTE Am | 61 | Ledogar C. Negri Jr. O. Piovanetti F. | Luzich Racing | 3:51.266 | +35.999 | +0.025 |
| 16 | LMGTE Am | 77 | Campbell M. Pera R. Ried C. | Dempsey – Proton Racing | 3:51.322 | +36.055 | +0.056 |
| 17 | LMGTE Pro | 97 | Lynn A. Martin M. Tincknell H. | Aston Martin Racing | 3:51.324 | +36.057 | +0.002 |
| 18 | LMGTE Pro | 71 | Bird S. Molina M. Rigon D. | AF Corse | 3:51.515 | +36.248 | +0.191 |
| 19 | LMGTE Am | 56 | Cairoli M. Perfetti E. Ten Voorde L. | Team Project 1 | 3:51.647 | +36.380 | +0.132 |
| 20 | LMGTE Pro | 92 | Christensen M. Estre K. Vanthoor L. | Porsche Gt Team | 3:51.770 | +36.503 | +0.123 |
| 21 | LMGTE Am | 98 | Dalla Lana P. Farfus A. Gunn R. | Aston Martin Racing | 3:52.105 | +36.838 | +0.335 |
| 22 | LMGTE Am | 90 | Adam J. Eastwood C. Yoluc S. | TF Sport | 3:52.299 | +37.032 | +0.194 |
| 23 | LMGTE Am | 86 | Barker B. Wainwright M. Watson A. | Gulf Racing | 3:52.346 | +37.079 | +0.047 |
| 24 | LMP2 | 24 | Grist G. Kapadia A. Wells A. | Nielsen Racing | 3:30.897 | +13.808 | +0.400 |
| 25 | LMP2 | 50 | Calderon T. Flörsch S. Visser B. | Richard Mille Racing Team | 3:31.020 | +13.931 | +0.123 |
| 26 | LMP2 | 34 | Binder R. Isaakyan M. Smiechowski J. | Inter Europol Competition | 3:31.393 | +14.304 | +0.373 |
| 27 | LMP2 | 11 | D'ansembourg C. Maris E. Tambay A. | Eurointernational | 3:33.747 | +16.658 | +2.354 |
| 28 | LMP2 | 17 | Kennard J. Pilet P. Tilley K. | Idec Sport | No Time | – | – |
| 29 | LMP2 | 28 | Bradley R. Chatin P. Lafargue P. | Idec Sport | No Time | – | – |
| 30 | LMGTE Pro | 91 | Bruni G. Lietz R. Makowiecki F. | Porsche GT Team | 3:52.036 | +34.947 | +0.048 |
| 31 | LMGTE Pro | 51 | Calado J. Pier Guidi A. Serra D. | AF Corse | 3:51.244 | +34.155 | +0.319 |
| 32 | LMGTE Pro | 95 | Sørensen M. Thiim N. Westbrook R. | Aston Martin Racing | 3:50.872 | +33.783 | +17.125 |
| 33 | LMGTE Pro | 97 | Lynn A. Martin M. Tincknell H. | Aston Martin Racing | 3:50.925 | +33.836 | +0.053 |
| 34 | LMGTE Pro | 71 | Bird S. Molina M. Rigon D. | AF Corse | 3:51.988 | +34.899 | +0.744 |
| 35 | LMGTE Pro | 92 | Christensen M. Estre K. Vanthoor L. | Porsche GT Team | 3:52.142 | +35.053 | +0.106 |
| 36 | LMGTE Pro | 63 | Macneil C. Segal J. Vilander T. | Weathertech Racing | 3:52.508 | +35.419 | +0.366 |
| 37 | LMGTE Pro | 82 | Bourdais S. Gounon J. Pla O. | Risi Competizione | No Time | – | – |
| 38 | LMGTE Am | 61 | Ledogar C. Negri Jr. O. Piovanetti F. | Luzich Racing | 3:53.292 | +36.203 | +0.322 |
| 39 | LMGTE Am | 77 | Campbell M. Pera R. Ried C. | Dempsey – Proton Racing | 3:53.334 | +36.245 | +0.042 |
| 40 | LMGTE Am | 56 | Cairoli M. Perfetti E. Ten Voorde L. | Team Project 1 | 3:53.598 | +36.509 | +0.264 |
| 41 | LMGTE Am | 98 | Dalla Lana P. Farfus A. Gunn R. | Aston Martin Racing | 3:52.778 | +35.689 | +0.270 |
| 42 | LMGTE Am | 90 | Adam J. Eastwood C. Yoluc S. | TF Sport | 3:52.961 | +35.872 | +0.183 |
| 43 | LMGTE Am | 86 | Barker B. Wainwright M. Watson A. | Gulf Racing | 3:52.970 | +35.881 | +0.009 |
| 44 | LMGTE Am | 83 | Collard E. Nielsen N. Perrodo F. | AF Corse | 3:53.621 | +36.532 | +0.023 |
| 45 | LMGTE Am | 99 | Andlauer J. Vuttikhorn I. Légeret L. | Dempsey – Proton Racing | 3:53.670 | +36.581 | +0.049 |
| 46 | LMGTE Am | 57 | Bleekemolen J. Fraga F. Keating B. | Team Project 1 | 3:53.838 | +36.749 | +0.168 |
| 47 | LMGTE Am | 54 | Castellacci F. Fisichella G. Flohr T. | AF Corse | 3:54.144 | +37.055 | +0.306 |
| 48 | LMGTE Am | 88 | Bastien D. De Leener A. Preining T. | Dempsey – Proton Racing | 3:54.281 | +37.192 | +0.137 |
| 49 | LMGTE Am | 70 | Abril V. Cozzolino K. Kimura T. | MR Racing | 3:54.628 | +37.539 | +0.347 |
| 50 | LMGTE Am | 72 | Blomqvist T. Chen M. Gomes M. | Hub Auto Racing | 3:55.308 | +38.219 | +0.680 |
| 51 | LMGTE Am | 55 | Cameron D. Griffin M. Scott A. | Spirit Of Race | 3:55.772 | +38.683 | +0.464 |
| 52 | LMGTE Am | 75 | Cressoni M. Mastronardi R. Piccini A. | Iron Lynx | 3:56.141 | +39.052 | +0.369 |
| 53 | LMGTE Am | 66 | Heistand R. Magnussen J. Root M. | JMW Motorsport | 3:56.383 | +39.294 | +0.242 |
| 54 | LMGTE Am | 78 | Beretta M. Felbermayr H. Van Splunteren M. | Proton Competition | 3:56.475 | +39.386 | +0.092 |
| 55 | LMGTE Am | 85 | Frey R. Gatting M. Gostner M. | Iron Lynx | 3:56.833 | +39.744 | +0.358 |
| 56 | LMGTE Am | 60 | Pianezzola S. Ruberti P. Schiavoni C. | Iron Lynx | 3:57.876 | +40.787 | +1.043 |
| 57 | LMGTE Am | 62 | Grimes B. Hollings C. Mowlem J. | Red River Sport | 4:00.084 | +42.995 | +2.208 |
| 58 | LMGTE Am | 89 | Brooks S. Laskaratos A. Piguet J. | Team Project 1 | 4:00.691 | +43.602 | +0.607 |
| 59 | LMGTE Am | 52 | Görig S. Ulrich C. West A. | AF Corse | No Time | – | – |