Le Mans Hour 6: Toyota in control and Ferrari 1-2 in LMGTE Pro
After 6 hours of racing, the 2020 edition of the 24 Hours of Le Mans had settled into a steady rhythm until the first Safety Car of the race was brought out at 20h14, closing up the field and offering opportunities for revised strategies.
Changes could still be ahead as night falls and the potential for rain showers remains.
LMP1
TS050 HYBRID #8 drivers Sébastien Buemi and Kazuki Nakajima, winners of the race for the past two years, and Brendon Hartley held an unexpected lead after six hours, despite losing time due to a puncture and brake duct cleaning at two pit stops.
The pole position #7 of World Championship leaders Mike Conway, Kamui Kobayashi and José María López held the advantage throughout most of the first quarter of the race, but lost time through no fault of their own due to a pit stop under the safety car.  Their nearest challenger, the #1 Rebellion, was a lap behind in third.
•    LMP1 category now led by the No. 8 Toyota TS050 Hybrid, driver Kazuki Nakajima capitalising on a safety car late in the fifth hour to move ahead of the No. 7 sister car
•    Pole-sitting No. 7 sister car second with Jose Maria Lopez at the wheel
•    No. 8 car lost time in the early hours with a puncture and later a brake duct cooling problem
•    Third and fourth place occupied by Rebellion Racing's No. 1 and No. 3 Rebellion R13 Gibson cars – the Swiss team not matching the pace of the Hybrid powered Toyotas
•    ByKolles Racing fifth out of the LMP1 entries, the squad hampered by an alternator problem in the race's third hour and returning to the track eight laps down
Night has fallen quite fast in September and we see a huge @Porsche safety car train! 🚂🚂🚂…🚂🚂🚂…🚂🚂🚂…#LeMans24 #WEC pic.twitter.com/xqwXhZaFWK

— WEC (@FIAWEC) September 19, 2020
LMGTE Pro
•    Reigning GTE Pro Le Mans champions, AF Corse Ferrari, hold first and second places in class after a race-long battle with the two Aston Martin Racing entries
•    No.71 Ferrari 488 GTE EVO of Davide Rigon has a 1s lead over the No. 51 sister car of James Calado, the Briton having made a strong start to take the lead from the pole-sitting No.91 Porsche
•    Aston Martin's No.97 leads No.95, with both cars having challenged for the lead through the race
•    The Porsche GT Team entries have struggled so far to maintain the same pace at its WEC rivals.  No.91 of Gianmaria Bruni is currently fifth in class, behind the Risi Competizione Ferrari
•    No.92 Porsche 911 RSR-19 lost 11 laps in the pits due to a power steering issue but is now back on track.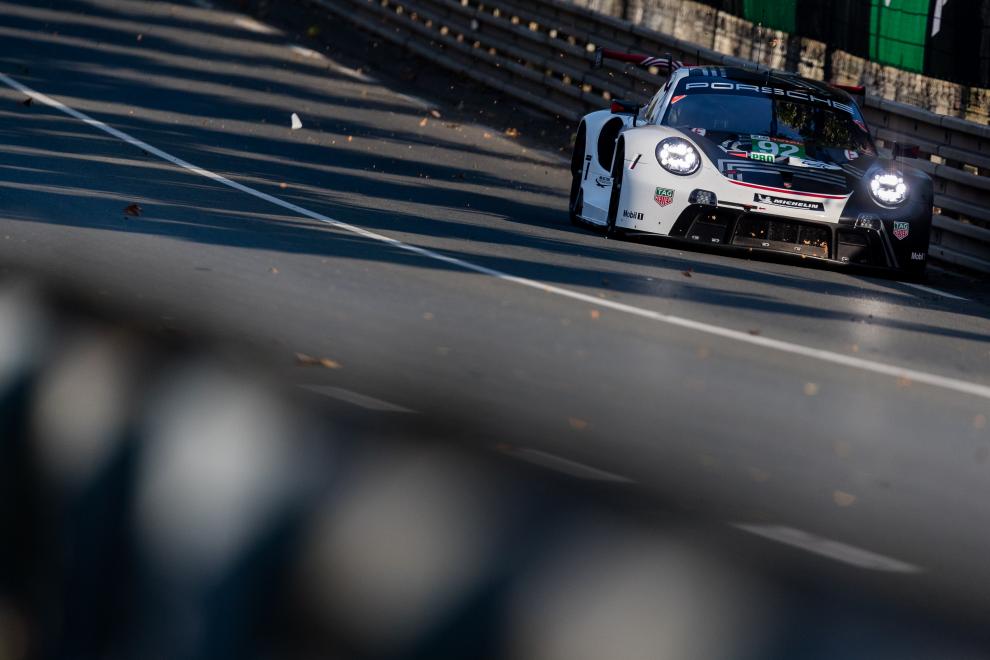 LMP2
•    The No. 37 Jackie Chan DC Racing heads the highly-competitive LMP2 field after Will Stevens and Ho-Pin Tung both made excellent progress during their stints before handing over to Gabriel Aubry in the race's fifth hour
•    No. 26 G-Drive Racing and No. 32 United Autosports entries second and third respectively
•    Second out of the eight LMP2 WEC entrants is the No. 38 JOTA entry now with Anthony Davidson at the wheel of the ORECA 07 Gibson equipped with Goodyear tires
•    No. 33 High Class Racing was second after the opening stages, later dropping to 23rd in class with gearbox issues
•    No. 29 Racing Team Nederland back of the field after losing time with an over-heating engine and sits 20th
•    No. 36 Signatech Alpine Elf entry, which was forced to make an early pit stop due to loss of water pressure, is climbing back up the leaderboard and is currently placed 14th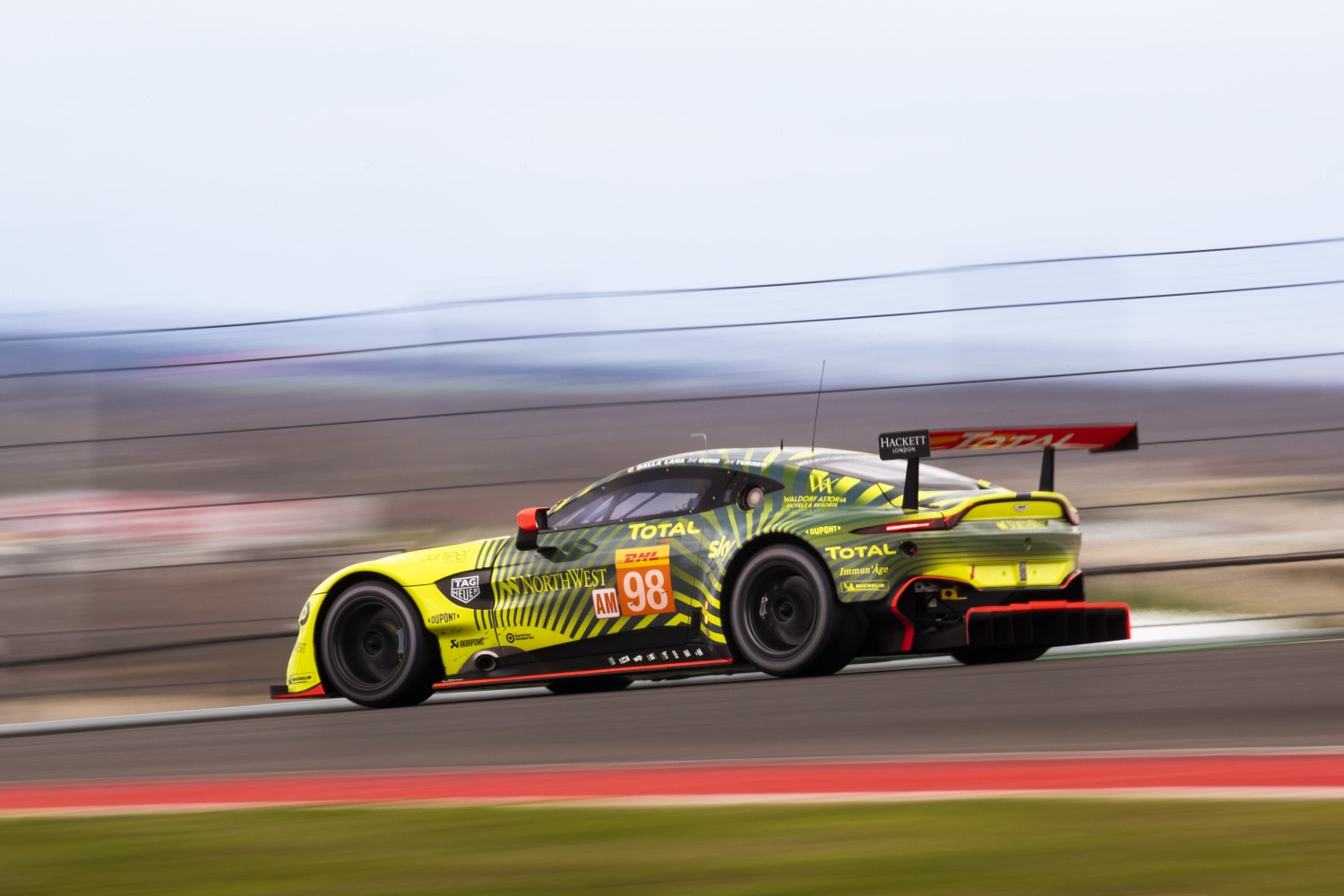 LMGTE Am
•    Aston Martin Racing has had a perfect first quarter of the 24-hour race, with the No. 98 factory car currently in the lead of the class
•    Just 1.4s behind is the No.90 TF Sport Aston Martin Vantage – both cars having had a trouble free race so far
•    In the mix until a drive through penalty for a Slow Zone infringement was the No.56 Team Project 1 Porsche 911
•    Ferraris hold third, fourth and fifth in the class, with the best of the WEC runners in this group being the No.83 AF Corse entry of Francois Perrodo.
•    The only Safety Car period of the race came just before the end of the first quarter when the No.52 AF Corse Ferrari of Alexander West impacted the wall at the Porsche Curves.  Since the field has been following the SC, night has fallen and there will be all to play for when the race goes green again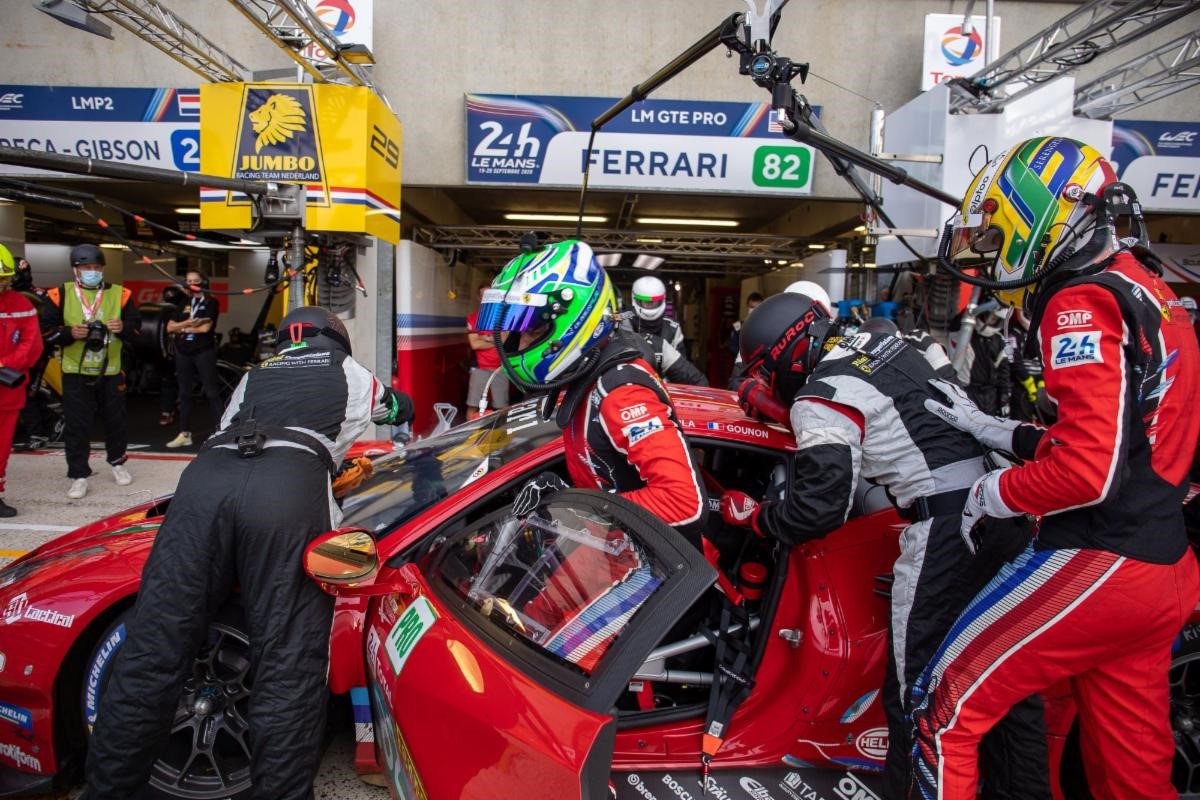 Leading Toyota Quotes
Mike Conway (TS050 HYBRID #7): "My first stint went pretty well right from the start. I was side by side with the #1 Rebellion going into turn one; we both kept it clean so it was very fair. I stayed in front although I could see the Rebellion was quick early on, so I pushed to pull a gap. In the middle of my stint the car balance was a bit difficult but it improved again towards the end. So we have been chasing the balance a little as the track conditions and temperatures evolved."
Kamui Kobayashi (TS050 HYBRID #7): "My stint was pretty challenging with all the traffic and lots of incidents. I had some bad luck with slow zones and lost quite a bit of time, particularly one which cost me 30 seconds. The traffic was really tough as well with so many cars on track so my priority was to stay out of danger. There is a long way to go so we need to just keep going like this."
Sébastien Buemi (TS050 HYBRID #8): "The conditions were good, surprisingly, considering that at the beginning of the week we were expecting lots of rain. At the beginning of the race I was behind the Rebellion then I had the puncture, so I didn't have the chance to fight with car #7. Then we lost time at the pit stops with the brake duct cleaning, so it's been a hectic start. I hope it will be a bit calmer and we can have a nice fight with the #7."
Brendon Hartley (TS050 HYBRID #8): "Unfortunately we have had a temperature issue with the front brakes on one side so we have had to manage that. We lost time at both driver changes because we were trying to get some rubber out of one of the ducts. That is compromising our car a bit but we are still in the fight and there's a long way to go. It felt good to be racing here again, and for the first time in the TS050 HYBRID. My stint was early in the race so I took it safe, no mistakes."
American Team: Risi Competizion Ferrari Quotes
Sébastien Bourdais, driver No. 82 Risi Competizione Ferrari 488 LM GTE-Pro:
"I think the car isn't too bad. We knew the car was better when the track was rubbering in. Obviously the track got completely washed off from all its rubber overnight. The start wasn't too bad. I could stick with them about was okay. Unfortunately, I started to feel some pretty serious tire degradation after mid-stint. We're on the plan to do a double stint on the tires. Some guys bailed out and changed tires after one stint and we stuck to the plan. It was not an ideal and I think I lost quite a bit on tire on my second stint. Now we're a bit far from the lead in class but hopefully we can pick up some time with the track rubbers in again because we've got some catch up to do."
Olivier Pla, driver No. 82 Risi Competizione Ferrari 488 LM GTE-Pro:
"We had a slow pit stop so I went out of the pits behind the No. 91 car. I was catching the others by the end of the stint. The second stint was a little difficult as I was suffering with a problem with one tire – the front left tire. The pressure was really low and was giving me a lot of understeer so I couldn't really use the car as I wanted so I was waiting for the front to grip up and staying on the brake every corner. We are working with Michelin to understand why we have this condition. It's a shame we lost so much time during that stint."
Jules Gounon, driver No. 82 Risi Competizione Ferrari 488 LM GTE-Pro:
"The stint went really well. I think we were in P7 when I got in and we went up to P5 so the pace was really good. I had a big fight with my colleague in the factory Porsche that was pretty aggressive with me but I managed to pass him for P5. We have lost a lot of time during slowdowns and safety cars but we are going to give it a go and try. We still have about 18 hours left so nothing is done yet. Let's continue to do a good race and then we see where we end up."
Hour 6 Standings (1/4 Mark)
| | | | | | | | | | |
| --- | --- | --- | --- | --- | --- | --- | --- | --- | --- |
| POS | NO. | CLASS | VEHICLE | DRIVER 1 | DRIVER 2 | DRIVER 3 | LAPS | BEHIND | GAP |
| 1 | 8 | LMP1 | Toyota TS050 – Hybrid | Sébastien BUEMI | Kazuki NAKAJIMA | Brendon HARTLEY | 100 | 0.000s | 0.000s |
| 2 | 7 | LMP1 | Toyota TS050 – Hybrid | Mike CONWAY | Kamui KOBAYASHI | Jose Maria LOPEZ | 100 | 10.124 | 10.124 |
| 3 | 1 | LMP1 | Rebellion R13 – Gibson | Bruno SENNA | Norman NATO | Gustavo MENEZES | 99 | 1 Laps | 1 Laps |
| 4 | 3 | LMP1 | Rebellion R13 – Gibson | Romain DUMAS | Nathanaël BERTHON | Louis DELETRAZ | 99 | 1 Laps | 4'34.807 |
| 5 | 37 | LMP2 | Oreca 07 – Gibson | Ho-Pin TUNG | Gabriel AUBRY | Will STEVENS | 95 | 5 Laps | 4 Laps |
| 6 | 26 | LMP2 | Aurus 01 – Gibson | Roman RUSINOV | Jean-Eric VERGNE | Mikkel JENSEN | 95 | 5 Laps | 3.541 |
| 7 | 32 | LMP2 | Oreca 07 – Gibson | Will OWEN | Alex BRUNDLE | Job VAN UITERT | 95 | 5 Laps | 8.975 |
| 8 | 38 | LMP2 | Oreca 07 – Gibson | Anthony DAVIDSON | Antonio Felix DA COSTA | Roberto GONZALEZ | 95 | 5 Laps | 2'23.739 |
| 9 | 31 | LMP2 | Oreca 07 – Gibson | Nicolas JAMIN | Julien CANAL | Matthieu VAXIVIERE | 95 | 5 Laps | 2'02.642 |
| 10 | 30 | LMP2 | Oreca 07 – Gibson | Jonathan HIRSCHI | Konstantin TERESCHENKO | Tristan GOMMENDY | 95 | 5 Laps | 6.024 |
| 11 | 22 | LMP2 | Oreca 07 – Gibson | Philip HANSON | Filipe ALBUQUERQUE | Paul DI RESTA | 95 | 5 Laps | 1.370 |
| 12 | 39 | LMP2 | Oreca 07 – Gibson | James ALLEN | Vincent CAPILLAIRE | Charles MILESI | 94 | 6 Laps | 1 Laps |
| 13 | 21 | LMP2 | Oreca 07 – Gibson | Juan Pablo MONTOYA | Timothé BURET | Memo ROJAS | 94 | 6 Laps | 2'31.105 |
| 14 | 50 | LMP2 | Oreca 07 – Gibson | Tatiana CALDERON | Sophia FLÖRSCH | Beitske VISSER | 94 | 6 Laps | 1'56.553 |
| 15 | 27 | LMP2 | Oreca 07 – Gibson | Henrik HEDMAN | Ben HANLEY | Renger VAN DER ZANDE | 94 | 6 Laps | 10.753 |
| 16 | 47 | LMP2 | Dallara P217 – Gibson | Roberto LACORTE | Andrea BELICCHI | Giorgio SERNAGIOTTO | 93 | 7 Laps | 1 Laps |
| 17 | 25 | LMP2 | Oreca 07 – Gibson | John FALB | Simon TRUMMER | Matthew MCMURRY | 93 | 7 Laps | 4.075 |
| 18 | 36 | LMP2 | Alpine A470 – Gibson | André NEGRÃO | Pierre RAGUES | Thomas LAURENT | 93 | 7 Laps | 2'26.869 |
| 19 | 28 | LMP2 | Oreca 07 – Gibson | Paul LAFARGUE | Paul Loup CHATIN | Richard BRADLEY | 93 | 7 Laps | 1.147 |
| 20 | 16 | LMP2 | Aurus 01 – Gibson | Ryan CULLEN | Oliver JARVIS | Nicholas TANDY | 93 | 7 Laps | 1'46.604 |
| 21 | 34 | LMP2 | Ligier JSP217 – Gibson | Jakub SMIECHOWSKI | René BINDER | Matevos ISAAKYAN | 93 | 7 Laps | 7.724 |
| 22 | 42 | LMP2 | Oreca 07 – Gibson | Nicolas LAPIERRE | Antonin BORGA | Alexandre COIGNY | 93 | 7 Laps | 5.014 |
| 23 | 17 | LMP2 | Oreca 07 – Gibson | Patrick PILET | Kyle TILLEY | Jonathan KENNARD | 93 | 7 Laps | 9.011 |
| 24 | 29 | LMP2 | Oreca 07 – Gibson | Frits VAN EERD | Giedo VAN DER GARDE | Nyck DE VRIES | 92 | 8 Laps | 1 Laps |
| 25 | 4 | LMP1 | ENSO CLM P1/01 – Gibson | Tom DILLMANN | Bruno SPENGLER | Oliver WEBB | 91 | 9 Laps | 1 Laps |
| 26 | 71 | LMGTE Pro | Ferrari 488 GTE Evo | Davide RIGON | Miguel MOLINA | Sam BIRD | 89 | 11 Laps | 2 Laps |
| 27 | 51 | LMGTE Pro | Ferrari 488 GTE Evo | Alessandro PIER GUIDI | James CALADO | Daniel SERRA | 89 | 11 Laps | 1.133 |
| 28 | 97 | LMGTE Pro | Aston Martin Vantage AMR | Maxime MARTIN | Alexander LYNN | Harry TINCKNELL | 89 | 11 Laps | 6.977 |
| 29 | 95 | LMGTE Pro | Aston Martin Vantage AMR | Nicki THIIM | Marco SØRENSEN | Richard WESTBROOK | 89 | 11 Laps | 2'38.905 |
| 30 | 24 | LMP2 | Oreca 07 – Gibson | Garett GRIST | Alex KAPADIA | Anthony WELLS | 88 | 12 Laps | 1 Laps |
| 31 | 82 | LMGTE Pro | Ferrari 488 GTE Evo | Olivier PLA | Sébastien BOURDAIS | Jules GOUNON | 88 | 12 Laps | 1'49.847 |
| 32 | 91 | LMGTE Pro | Porsche 911 RSR – 19 | Gianmaria BRUNI | Richard LIETZ | Frédéric MAKOWIECKI | 88 | 12 Laps | 8.571 |
| 33 | 63 | LMGTE Pro | Ferrari 488 GTE Evo | Cooper MACNEIL | Toni VILANDER | Jeffrey SEGAL | 88 | 12 Laps | 14.053 |
| 34 | 98 | LMGTE Am | Aston Martin Vantage AMR | Paul DALLA LANA | Ross GUNN | Augusto FARFUS | 87 | 13 Laps | 1 Laps |
| 35 | 90 | LMGTE Am | Aston Martin Vantage AMR | Salih YOLUC | Charles EASTWOOD | Jonathan ADAM | 87 | 13 Laps | 1.380 |
| 36 | 75 | LMGTE Am | Ferrari 488 GTE Evo | Rino MASTRONARDI | Matteo CRESSONI | Andrea PICCINI | 87 | 13 Laps | 3.847 |
| 37 | 83 | LMGTE Am | Ferrari 488 GTE Evo | François PERRODO | Emmanuel COLLARD | Nicklas NIELSEN | 87 | 13 Laps | 2'33.238 |
| 38 | 61 | LMGTE Am | Ferrari 488 GTE Evo | Francesco PIOVANETTI | Oswaldo NEGRI JR | Côme LEDOGAR | 86 | 14 Laps | 1 Laps |
| 39 | 35 | LMP2 | Ligier JSP217 – Gibson | Nobuya YAMANAKA | Nicholas FOSTER | Roberto MERHI | 86 | 14 Laps | 2'23.104 |
| 40 | 77 | LMGTE Am | Porsche 911 RSR | Christian RIED | Riccardo PERA | Matt CAMPBELL | 86 | 14 Laps | 2.289 |
| 41 | 56 | LMGTE Am | Porsche 911 RSR | Egidio PERFETTI | Larry TEN VOORDE | Matteo CAIROLI | 86 | 14 Laps | 7.635 |
| 42 | 72 | LMGTE Am | Ferrari 488 GTE Evo | Morris CHEN | Tom BLOMQVIST | Marcos GOMES | 86 | 14 Laps | 1'43.419 |
| 43 | 78 | LMGTE Am | Porsche 911 RSR | Horst Jr FELBERMAYR | Michele BERETTA | Max VAN SPLUNTEREN | 86 | 14 Laps | 2'53.266 |
| 44 | 66 | LMGTE Am | Ferrari 488 GTE Evo | Richard HEISTAND | Maxwell ROOT | Jan MAGNUSSEN | 85 | 15 Laps | 1 Laps |
| 45 | 86 | LMGTE Am | Porsche 911 RSR | Michael WAINWRIGHT | Benjamin BARKER | Andrew WATSON | 85 | 15 Laps | 6.574 |
| 46 | 99 | LMGTE Am | Porsche 911 RSR | Vutthikorn INTHRAPHUVASAK | Lucas LÉGERET | Julien ANDLAUER | 85 | 15 Laps | 0.798 |
| 47 | 60 | LMGTE Am | Ferrari 488 GTE Evo | Claudio SCHIAVONI | Sergio PIANEZZOLA | Paolo RUBERTI | 85 | 15 Laps | 4'11.861 |
| 48 | 85 | LMGTE Am | Ferrari 488 GTE Evo | Manuela GOSTNER | Rahel FREY | Michelle GATTING | 85 | 15 Laps | 19.950 |
| 49 | 62 | LMGTE Am | Ferrari 488 GTE Evo | Bonamy GRIMES | Johnny MOWLEM | Charles HOLLINGS | 84 | 16 Laps | 1 Laps |
| 50 | 89 | LMGTE Am | Porsche 911 RSR | Steve BROOKS | Julien PIGUET | Andreas LASKARATOS | 84 | 16 Laps | 11.287 |
| 51 | 54 | LMGTE Am | Ferrari 488 GTE Evo | Thomas FLOHR | Francesco CASTELLACCI | Giancarlo FISICHELLA | 83 | 17 Laps | 1 Laps |
| 52 | 57 | LMGTE Am | Porsche 911 RSR | Ben KEATING | Felipe FRAGA | Jeroen BLEEKEMOLEN | 82 | 18 Laps | 1 Laps |
| 53 | 52 | LMGTE Am | Ferrari 488 GTE Evo | Christoph ULRICH | Steffen GÖRIG | Alexander WEST | 80 | 20 Laps | 2 Laps |
| 54 | 70 | LMGTE Am | Ferrari 488 GTE Evo | Takeshi KIMURA | Vincent ABRIL | Kei COZZOLINO | 80 | 20 Laps | 31'18.461 |
| 55 | 33 | LMP2 | Oreca 07 – Gibson | Kenta YAMASHITA | Mark PATTERSON | Anders FJORDBACH | 77 | 23 Laps | 3 Laps |
| 56 | 92 | LMGTE Pro | Porsche 911 RSR – 19 | Michael CHRISTENSEN | Kevin ESTRE | Laurens VANTHOOR | 77 | 23 Laps | 27'38.094 |
| 57 | 55 | LMGTE Am | Ferrari 488 GTE Evo | Duncan CAMERON | Aaron SCOTT | Matthew GRIFFIN | 76 | 24 Laps | 1 Laps |
| 58 | 88 | LMGTE Am | Porsche 911 RSR | Thomas PREINING | Dominique BASTIEN | Adrien DE LEENER | 34 | 66 Laps | 42 Laps |
| 59 | 11 | LMP2 | Ligier JSP217 – Gibson | Adrien TAMBAY | Erik MARIS | Christophe D'ANSEMBOURG | 26 | 74 Laps | 8 Laps |